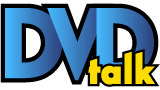 Other // R // December 9, 2003
---
CineFear's liner notes are pretty clever, actually: "See this long-lost blaxploitation classic as it was intended to be seen -- and take Abby home tonight!" This is not to say CineFear's DVD of Abby is the way the film was intended to be seen. No, the company is merely urging consumers to see it as it was intended -- somewhere, somehow. Or maybe they're just suggesting you find a woman named Abby and take her home.



Whatever the case, I doubt the movie Abby (1974) was ever "intended to be seen" in the form of a 16mm print with frames missing, with deep scratches and tears, faded color, heavy dirt, digital artifacting, and bad optical sound. Simply put, this is the worst looking DVD of a color film this reviewer has ever seen. That CineFear would use terms like "digitally-restored print" and "definitive edition" to describe this atrocity, and to further imply that this title has been legitimately licensed, is misleading if not downright fraudulent. Abby gets my vote as the Biggest DVD Rip-Off of 2003; indeed, this is much more a rip-off as a DVD than the movie of Abby ever was a rip-off of The Exorcist.



It was the alleged similarities with William Friedkin's 1973 film that led Warner Bros. to sue Abby's producers (along with distributor AIP) and thus gave the picture its notoriety. The case was settled out of court and the terms of the settlement were never disclosed. AIP destroyed their theatrical prints, and the film has never officially been licensed for home video release. In fact, Abby is much less blatantly a rip-off of The Exorcist than the dozens of pictures that followed it -- films like The House of Exorcism (1976) and The Tempter (1978), to name but two.



Abby does imitate, quite well at times, Friedkin's style and his use of subliminal shock cuts. Like The Exorcist, Abby has a long scene where the title character (Carol Speed) is given a series of tests at a hospital only to be referred to a psychiatrist. And like Linda Blair's possessed child, Abby foams at the mouth and swears like a sailor. None of this is especially inspired, and the demon possessing Abby talks so much that the film soon becomes silly instead of scary. Nonetheless, director William Girdler almost pulls off a couple of good scares, and a few early scenes are mildly unsettling.



The best thing about Abby, however, is its cast, and their success at creating an authentic portrait of middle class African-American life. Pictures like Superfly and Shaft's Big Score! had idealized heroes straight out of the pages of Ebony, and the women in those films were little more than sex toys. In Abby though, two of the three male leads are pastors and the other is a cop. Abby herself is a Christian marriage counselor, who lives with her pastor husband (Terry Carter) and religious mother (Juanita Moore, virtually reprising her character from Imitation of Life). Carter, along with William Marshall (as Carter's pastor/archeologist father) and Austin Stoker (as Abby's policeman brother) are uniformly excellent. They even almost make the big exorcism scene work, but the earlier, matter-of-fact scenes in the picture that establish their domestic tranquility, oddly enough, stand out more than the later, more routine horror aspects.






Video & Audio



CineFear describes their version of Abby as having been "unearthed after three decades." Presumably this is a reference to the print they used, which looks like it had been unearthed from a landfill. Literally everything about this transfer is awful. Low-budget blaxploitation movies usually lacked big studio polish, but companies like MGM, with their "Soul Cinema" releases, have demonstrated how even movies like Slaughter's Big Rip-Off and Black Mama, White Mama can look pristine with genuinely digital 16:9 transfers made off the original negative. And make no mistake, the original negative of Abby still exists and a DVD of this film could easily look as good as, say, Shaft or Foxy Brown. CineFear claims their release of this originally-mono movie to be stereo, but the cracklin'-and-a-poppin' audio sure sounds like it was derived from a battered 16mm optical track to me.



CineFear also demonstrates either an enormous contempt for its consumers or, perhaps, a complete ignorance of motion picture exhibition. Justifying their full-frame presentation, they write, "This film was not photographed in scope, therefore it is not, nor was it ever, available in wide screen format." Nonsense. During the 1970s, AIP's standard contract for negative pick-ups stipulated their films be shot either in 'scope or for 1.85:1 exhibition. (In fact, this was standard industry-wide.) In Abby's case, the producers delivered a film intended for 1.85:1 exhibition.



Extras



Extras begin with a trailer, distorted with analog videotape wrinkles though with a better color and resolution than the feature itself. A minute-long radio spot is also included, as well as a nice selection of stills, lobby cards, and poster art. An essay on Abby's story hypes the film as a "lost classic," though the film is neither.



Parting Thoughts



What's so offensive about DVDs like this how they undermine the hard work invested by real independent labels that legitimately license titles from their owners, then actually go to the time and expense of pulling original film elements and strive to make their releases look as good as they possibly can. DVDs like Abby only turn consumers and retailers off.



Describing his possessed wife's demonic behavior, Terry Carter tells father William Marshall late in the film, "It's been like a week in hell." Rather like watching this DVD.






Stuart Galbraith IV is a Los Angeles and Kyoto-based film historian whose work includes Monsters Are Attacking Tokyo! The Incredible World of Japanese Fantasy Films. He is presently writing a new book on Japanese cinema for Taschen.
Sponsored Links
Sponsored Links