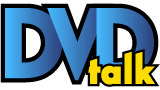 Blackmail/Juno and the Paycock
List Price: Unknown [Buy now and save at Amazon]
---
Features: Full Standard 1.33:1. Hitchcock Bibliography, Filmography and Cameo List. Audio Track: Mono. Bonus Betty Boop Cartoon. Insert with Poster Reprints, Production Notes.

The Movie:
By 1929 Alfred Hitchcock had established himself as a significant rising star in British cinema. Hitchcock was in the formative stage of his career and though he was gaining new respect with every project, he didn't yet wield the clout necessary to choose his own scripts, actors and crew. Still, the 'Hitchcock touch' was apparent in many of his early films and they bear viewing today as important milestones in a soon to be legendary career.

Whirlwind Media's vintage Hitchcock double feature including Blackmail and Juno and the Paycock is a fascinating pairing of one of the director's best films and one that was produced out of simple contractual necessity. Blackmail featured Hitchcock's triumphant return to the suspense genre and stands as an undisputed classic to this day. Juno and the Paycock is uninspired busy work the likes of which almost every nascent Auteur at the time had at one point or another to complete.

Blackmail concerns the exploits of young Alice White (Anny Ondra.) Alice is a beautiful blond in the typical Hitchcock mold that, during an attempted rape, kills her attacker and flees the crime scene. The plot develops when a witness surfaces and an attempt is made to blackmail White. Along the way we're treated to a variable litany of Hitchcock devices that would appear again and again throughout his later works. Chief among these are such thematic elements as the difference between appearance and reality, authority and incompetence, innocence and guilt. Blackmail is replete with Hitchcock icons such as spiral staircases, knives, food, chases atop national monuments and a host of others. Blackmail was also the first British sound feature, a fact that Hitchcock used to great advantage with innovative techniques that would help define the new medium (consider especially the post-manslaughter scene in which the word 'knife' is isolated in the soundtrack and seems to stab out at guilt ridden Alice.)

Juno and the Paycock is a simple adaptation of Sean O'Casey's popular stage play and is arguably the most uncinematic of Hitchcock's films. The plot revolves around on Jack Boyle who, upon learning that he's about to come into a large inheritance, goes on an ill advised spending spree. When the inheritance falls through mayhem erupts and Jack's family is left broke and destitute. Juno and the Paycock was well received at the time of its release but is a wholly insignificant entry in the Hitchcock oeuvre.

The Picture:
Though there are flaws in the source material used for this DVD I was very pleasantly surprised with the overall presentation. Both films are marred by occasional scratches, dirt, holes and dropped frames but are, in the main, well preserved and eminently watchable. The DVD represents a passable digital media preservation of the movies but don't expect a Criterion level restoration. Of particular note is the fine transfer of the material to disc. The contrast and brightness levels are excellent, exhibiting fine shadow detail and deep blacks. A good deal of care seems to have been taken to avoid bothersome edge enhancement effects and the DVD is completely free of digital artifacts. The transfer is so crisp in fact that some of the optical effect shots and rear screen projections begin to take on the look of cardboard cutouts.

The Sound:
The audio tracks on both films are in a little worse condition than the video elements. They have the sound of a dirty and scratched 45-rpm record but the dialogue and music cuts through the murk and is easily understandable throughout. The only major flaw is an inconsistency in recording levels that leaves some scenes a bit too subdued and others a touch too loud. Be that as it may, the dynamic range is surprisingly broad and afore mentioned flaws so unobtrusive that they never distract from enjoyment of either film.

The Extras:
You'll find a few perfunctory extras on this disc including a handful of text screens with a Hitchcock filmography, bibliography and cameo list. There are no theatrical trailers but Whirlwind did include a contemporary Betty Boop cartoon (Betty in Blunderland) from 1934. The disc contains a three-fold printed insert that gives a little historical background on each film, details the cast and crewmembers and reproduces the original one-sheet posters.

Conclusion:
Considering the embarrassingly substandard nature of many public domain Hitchcock titles on DVD Whirlwind should be lauded for the care they took with this disc. It is clearly a cut above its peers and deserves a place on the shelf of any Hitchcock fan. There's no question in my mind that each and every Hitchcock film will be fully restored eventually and that you'll see better versions of these movies in the years to come but these restoration efforts will surely focus on the better known works at first. Until then I heartily recommend the Whirlwind version of Blackmail and Juno and the Paycock.
---
C O N T E N T

---
V I D E O

---
A U D I O

---
E X T R A S

---
R E P L A Y

---
A D V I C E
Highly Recommended
---
E - M A I L
this review to a friend
Sponsored Links
Sponsored Links