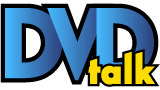 List Price: $29.95 [Buy now and save at Amazon]
---
Reviewed by Glenn Erickson

Jonathan Miller's 1966 BBC adaptation of the Lewis Carroll novel was perhaps the first production
that didn't treat Alice's journey down the rabbit hole as a children's story. Shot in dreamy
B&W and populated by a stellar group of English actors, Miller's attempt to capture
Carroll's whimsical poetry is a lesson in creative adaptation, and worthy of study by Carroll
scholars.

Synopsis:
Alice (Anne-Marie Mallik) leaves her sister on a warm afternoon to follow the
White Rabbit (Wilfrid Brambell) into a strange fantasy world. Logic and sensibility are absent in
a strange land of uncommunicative and opinionated creatures ruled by a Queen whose petulant solution
to minor annoyances is to order heads to be chopped off. Despite the provocations, Alice sticks
to her own way of seeing things.

This version of Alice starts out looking more like Picnic at Hanging White Rabbit, if
Peter Weir had shot anything in B&W. Alice and her sister have their hair brushed and then walk
out to lie down in a fertile-looking grassy area, in the hot sun. They're more like nubile young
nymphs awaiting adult adventures than children's heroines. A bit of classical poetry about dreaming
is heard (not Carroll's), further cueing us that Miller wants this to be a dream, and not some
mid-60s drug trip version of the tale.


Ravi Shankar provides an interesting score that adds to the oddness of the journey
instead of evoking thoughts of a guru-inspired mind trip. A blast of percussion cues the entrance of
Wilfrid Brambell's 'white rabbit' character, and the chase is on.


The show uses some open countryside and what appears to be an abandoned estate for its setting, but
embellishes the tale only with quaint costumes. In this literary version, the fantastic content is
in the text - all of the animal and insect creatures of the story are simply people in
exaggerated period costumes, as if their names - Dormouse, Gryphon, Caterpillar - were code words.
Only the Cheshire Cat is a real cat, glimpsed like an apparition in the sky.


The words get all of the emphasis. Alice is a rather inexpressive girl directed in a way not to garner
sympathy or attention as the heroine. She's simply the cypher for experiencing the maddening
characters in Carroll's twisted tale. Big name talents are submerged in their roles, and the odd
atmosphere doesn't leave room for star recognition effects. John Gielgud and Michael Redgrave make
their
way through their readings of Carroll's puzzling prose. Finlay Currie has a brief appearance. Leo
McKern is hilarious playing the 'Duchess' in huge dress, and not even altering his voice! People
looking for Peter Sellers in a comedy turn will be disappointed - he's simply a passive appendage
to the
procession of the Queen of Hearts (Alison Leggatt) and makes an observation here and there.


I've never seen a version of the Mad Tea Party that worked as well as this one, animated or
live-action. 1
Michael Gough, Peter Cook and Wilfrid Lawson are three contrasting studies in boorish insincerity and
bad manners, and are truly maddening by their attitudes and behavior - there's no Disney splashing
of tea or other slapstick. Cook wears an insulting smile, and Gough is much more effective than usual,
clenched up in a knot as if harboring some terrible grudge.


Alice rather passively tolerates the various snubbings, insults, and abuses from the mad inhabitants
of Wonderland. When shown a headsman at the ready with his axe, she dismisses the Queen's order to
chop off her head with a curt, upperclass 'Nonsense!' The oneiric threat never materializes.
There's a bit of running about here and there, but the show doesn't end in the expected chaos - we
simply return to two dreamy girls (with perspiration on their faces) in the hot countryside.

---

HVe's disc of Alice in Wonderland is a fine presentation of the shot-on-film English television
production. There's a lot of delicate detail in the image, with the slightly washed-out exteriors
particularly well captured. The sound is also very clear, which greatly helps understanding the clipped
English dialogue. There aren't any subtitles to help with that, I'm afraid.


Fans and students of Lewis Carroll will be fascinated by producer-writer-director Jonathan Miller's
commentary, which covers the entire production starting with his personal take on the story. He
hated the animated versions and wanted to capture what he thought was the essence of the strangely
modern fantasy tale that had so often been reduced to a pageant of bad costumes and hammy stars
reciting lines they didn't understand. 2


There's also a brief stills gallery (name photographer Terence Spencer captured the stars on the set
for Life Magazine) an essay by Carroll expert Wheeler Winston Dixon, and an eight-minute silent
version of the story from 1903. It's a barely-surviving mess of nitrate disintegration, but is still
technically impressive.


Pre-Python Eric Idle is said to be somewhere in the ensemble cast of this literary curiosity ...
Here's hoping for more Region 1 BBC discs from Home Vision Entertainment.

---

On a scale of Excellent, Good, Fair, and Poor,
Alice in Wonderland rates:

Movie: Good

Video: Good

Sound: Good

Supplements: Director's commentary track, Behind-the-scenes stills gallery,
Cecil Hepworth's 1903 version, essay by critic Wheeler Winston Dixon

Packaging: Keep case

Reviewed: December 11, 2003

---

Footnotes:


1. I did see a 1972
live-action
version with good production values, when National General tested it in Westwood for a Saturday
audience of kids. Peter Sellers was in that one two, I believe. The movie was pretty, but it just
sat there, unexciting and creatively dead. I don't think it got much of an American release - the
theater chain seemed to have used the 'preview' opportunity as a free outing for its
employees' children - who were thoroughly bored.
Return


2. Ever seen the early 30's Paramount all-star version? ... it's
also a static bore, even with designs by William Cameron Menzies. Alice would probably
fare better reinterpreted rather than literally produced - as with Brazil, which is easily
the best 'version' of George Orwell's 1984.
Return

DVD Savant Text © Copyright 2003 Glenn Erickson
Go BACK to the Savant Main Page.
---
C O N T E N T

---
V I D E O

---
A U D I O

---
E X T R A S

---
R E P L A Y

---
A D V I C E
Recommended
---
E - M A I L
this review to a friend
Sponsored Links
Sponsored Links