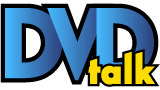 List Price: $19.95 [Buy now and save at Amazon]
---
Movie: Fantasy stories are some of the most difficult to review because you have to accept their structure as unique (as long as the show is internally consistent), they are usually driven by mythical elements not unlike those we are familiar with and they are generally directed at a fragmented market niche rather than a generalized audience. On top of that, you'll be bombarded by those who are slavering fan boys of the show if you say anything bad or called a sell out if you are too liberal in your praise. With that in mind, I turned my reviewer eye to a little computer animated movie, Aero-Troopers.



The movie centered on a young boy, Joshua, who started off the show by seeing his village blown from the sky in a hail of fireballs. You see, all life here floats in small forests that hang freely in the skies. There are a number of villages sparsely populated and two warring factions, the Aero-Troopers and the pirates, to worry about. There is also a huge force of nature called Nemeclous, a huge mechanical whale of sorts that flies the skies tearing apart anything in its path (much like Godzilla in those Toho movies).



Joshua is saved by the aero-troopers and hooks up with another kid his age, Micah, and the two quickly become friends. One day, as they fool around with some defense guns, the floating ship they are in falls under attack and the two are pressed into service, with Micah receiving a grievous injury. The two are also befriended by a warrior who routinely saves them from various dangers but as they learn the secrets of the aero-troopers, they also learn that they must become self sufficient or they will be unable to help fight the forces that seek to control the Universe they live in.



As the show progresses, Joshua and Micah find they are instrumental in the events coming to a head, and their paths will forever change those around them. Okay, if this sounds like a cross between Star Wars, Treasure Planet, and Moby Dick, that's because it shares so many elements from those adventure-laden features. That Mark Hamill (Luke Skywalker in the original Star Wars trilogy for those living under a rock) was the lead voice in this movie only served to intrigue me further as I have held him in high regard for decades. I won't reveal too many secrets since spoilers bother me too but suffice it to say, there was a lot to like with this feature.



The common themes of loss, redemption, and loyalty to something bigger than yourself were all present in spades here, sometimes in a slightly preachy manner but often enough, balanced against the adventure elements that younger audiences seem to appreciate more. The pacing of the movie seemed pretty solid as well since even the slower moments of extrapolation were fairly short. It seemed more like the first chapter in an ongoing story than a complete feature, which makes me wonder if there will be further adventures with this crew.



The weaknesses of the show had more to do with the technical aspects than anything else. The CGI used to animate this one seemed more like the style used a few years back in some computer games than a modern release with a huge budget. Kids are less fussy about such things than adults, which was proven to me when I held a little showing for a girlfriend's kids. They seemed to fixate on the screen and wanted to watch it again after it ended. The lighting, shading, and textures were still well done, even if a bit dated and if the show were to be picked up by a syndicated network or released on a regular basis, I'm sure it would find an audience. I would have also liked to have some extras included on the DVD but that might be a function of my screener copy (which annoyed me every few minutes by telling me in big, bold yellow lettering that it was a screener) and if this becomes a series, perhaps some unique extras will be included.



I'm going to give this one a rating of Recommended due to the simple fact that for all its limitations, it succeeded in capturing the attention of two pre-teenagers that thrive on driving me crazy. Hamill is an icon to many people of my generation and it's good to see him trying new projects in the fantasy genre, I just hope he continues to do more since his talent is wasted otherwise (I liked him in the ill-fated Flash television show too-how about a DVD boxed set?). If you have children or enjoy fantasy shows, check this one out. It seemed like there is more to come, I just hope this is not wishful thinking on my part.



Picture: The picture was presented in non-anamorphic widescreen with an aspect ratio of 1.85:1, as originally shot. The computer-generated graphics were dated but did show a lot of talent in how the techniques were used to simulate reality. The colors accurate, the blacks looking true and the backgrounds worthy of using for your computer desktop, this one looked better than average considering the budget this one had. I didn't see any compression artifacts or video noise, making me think the DVD transfer was handled appropriately.



Sound: The audio was presented in 2.0 Dolby Digital stereo English. The vocals and music were both exceptionally clear and some care was obviously taken to preserve this aspect of the show. The voice acting was usually well done too, making this a solid effort for those who can appreciate the nuances of such craftsmanship. There were no subtitles for the deaf however.



Extras: There were no extras on my screener copy.



Final Thoughts: I liked this one enough to rate it positively. It had a lot to like and the story aspects shined through any technical limitations present. While it had no extras, I think families will enjoy this one enough to merit its inclusion in your video library. If this one ever reaches television, I just hope it has a better fate than the awesome href=http://www.dvdtalk.com/reviews/read.php?ID=8581>Firefly, another show ahead of its time, cancelled by poor reasoning of network executives.
---
C O N T E N T

---
V I D E O

---
A U D I O

---
E X T R A S

---
R E P L A Y

---
A D V I C E
Recommended
---
E - M A I L
this review to a friend
Sponsored Links
Sponsored Links