In 10 Words or Less
A better release of Jim Carrey's first huge movie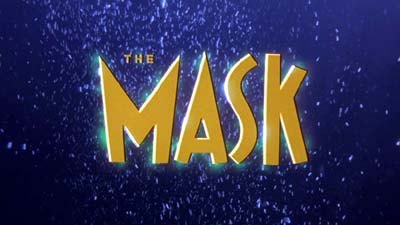 The Story So Far...
New Line released The Mask as a Platinum Series DVD way back in the early days of DVD, circa 1997. Back then, slapping a commentary and two deleted scenes onto a disc with letterboxed and pan-and-scan video was enough to earn special edition status. Boy, how times have changed in the eight years since.
Read DVDTalk's review of the first disc here.
The Movie
Jim Carrey had been in a few films prior to 1994, most notably Once Bitten and Earth Girls Are Easy, but it was that year that he made his mark on pop culture, starring in Ace Ventura: Pet Detective, Dumb and Dumber and the biggest hit of his year, The Mask. Combining his rubber-faced comic ability and his charm, the film was the perfect vehicle to make him a star.
Carrey plays a nice-guy bank worker named Stanley Ipkiss, whose life is boring, as he gets walked over by everyone, including his best friend Charlie (Richard Jeni, "Platypus Man.") The only things that give him any joy are his Jack Russell terrier Milo and his cartoon videotapes. That's until he finds a mask that unlocks his Id, turning him into a living cartoon. Free to be who he'd want to be, he lives a dual life as low-key Stanley and wild-child The Mask.
The mask enables him to seduce the girl of his dreams, night-club singer Tina Carlyle (Cameron Diaz, in her first movie role). Unfortunately, Tina's boyfriend is a mobster named Dorian (Peter Greene, Pulp Fiction), and he doesn't like the idea of someone moving in on his turf. Stanley's got other problems though, like the police trailing him to figure out his connection to The Mask, and an intrepid reporter, Peggy Brandt (Amy Yasbeck, Robin Hood: Men in Tights), who's looking for a big break.
Originally intended as a horror franchise to replace A Nightmare on Elm Street, the comic-book adaptation took on a lighter tone, blending homages to animation legend Tex Avery with Carrey's free-spirit and musical scenes to create a film that's hard to categorize or resist. For most of the movie, the film is carried by Carrey, leading into a big action climax that is a bit too pat for this kind of film, but that can be forgiven, considering how fun the trip there is.
While Carrey is the engine, his co-stars, Diaz and his terrier pal, Milo, are scene stealers in their own rights. Diaz is probably more beautiful in this film, with two of the most stunning introductions on celluloid, than she has ever been. Milo is just as adorable, giving one of the best performances seen by a dog. The trio gives just about everything an audience would want in a film.
Surprisingly, the special effects still look good, 11 years later. Considering that this movie was made in the early days of CGI development, (Jurassic Park, which came out a year earlier, didn't animate humans), that it still works is a testimonial for creativity, while the way it translates to DVD is even more impressive. Of course, it helps that the CGI was a means to an end, and not the end itself. The fun of the story makes it all come together.
The DVD
New Line's second shot at a Platinum Edition The Mask is a one-disc release that comes packaged in a Mask-appropriate green keepcase. An animated anamorphic widescreen main menu featuring Carrey as the whirling dervish offers options to watch the movie, select scenes, view special features and set up the languages. The spinning Mask is used to transition to the static submenus. The scene selection menus have animated previews and titles for each scene, while the language options include English Dolby 5.1 EX, DTS ES 6.1 and stereo surround, with English and Spanish subtitles.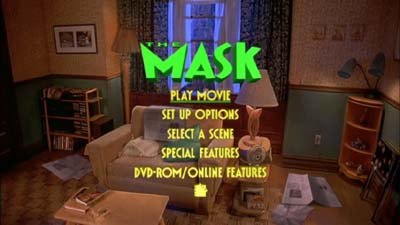 The Quality
Like its sequel, The Mask sports a very nice anamorphic widescreen transfer that bursts with color. Despite the film's age, the level of quality is as good as many recent films and it doesn't suffer from graininess. For the most part, the special effects blend well with the real footage, but the quality is too high for The Mask's make-up, which is overly obvious. Detail is good, though there's some light edge enhancement and softness to the image. Nowhere is dirt or damage a distracting factor.
Audiophiles will find plenty to like about the sound on this DVD, especially the choices. Three separate English tracks are included, with a top-end DTS ES 6.1 mix among them. The Dolby 5.1 EX mix is good, with a nicely spread-out soundfield, utilizing the surrounds to excellent effect. As good as it is, the DTS mix is much better, even in you don't have a 6.1 speaker set-up. The mix is so much more dynamic, with little sound effects coming through as clear as center-stage dialogue. As a comic-book/cartoon hybrid with big musical scenes, sound is a key to the presentation, and this mix is as good as it gets. Considering the improvements in home theater technology since the film was released, it may sound as good in your living room as it did at the multiplex.
The Extras
The bonus features start off with a pair of deleted scenes that were included on the original DVD as well, though here they have optional commentary by director Chuck Russell. An alternate open that gives more background about the mask is cute, but cheesy, but a scene later on with Yasbeck's character was cut because of concerns about violence. It's better off cut because it didn't work either way.
Two audio commentaries are next, which ups the total from the first disc by one. Of course, that original 1997 commentary, a screen-specific track from Russell, is one of the two here. He's a very comfortable commentator, and he comes prepared with plenty of information, stories from the set and thoughts on filmmaking.
The new commentary features a total of eight participants, including Russell, co-chairman of New Line Bob Shaye, writer Mike Werb, executive producer Mike Richardson, producer Bob Engelman, ILM visual effects supervisor Scott Squires, animation supervisor Tom Bertino and cinematographer John Leonetti. The octet didn't share the mic, so this is an edited, non-screen specific track, with a moderator who introduces the voices. Before listening, I had forgotten how much I dislike moderated commentaries. Occasionally, the topics discussed relate to what's going on in the film, but for the most part, it's an oral insider's history of the film. The information is pretty interesting, including finding out what actors were considered for the various roles, but it's not really something you "watch" since you can't hear the film and what you can hear doesn't match up with what you see.
Though they are listed as documentaries, four short featurettes make up the bulk of the visual content on this DVD. Combined, it's over an hour's worth of video, covering the production, discovering Diaz, the influence of Avery and working with animals on films. The production featurette, "Return to Edge City" is the longest, at almost a half-hour, and features memories and thoughts from a wide assortment of people involved in the film's production. Much of the info from this, and the other three featurettes, is covered in the new commentary, but here, it's illustrated with clips, behind the scenes footage and talking heads shots.
"Introducing Cameron Diaz" goes into details about how she got the part of Tina, almost in spite of herself. Footage of her reading for the casting director is a nice bit of rare content probably never seen by most viewers. Focused more on the production is "Cartoon Logic," which looks at Tex Avery's influence on the film. Old Avery cartoons are shown and compared to shots in The Mask, serving as a real education on the man's work, as animation historian John Canemaker was brought in to talk about Avery's spot in history.
The final featurette, "What Makes Fido Run," covers the use of trained dogs in films, not just in The Mask, some of which was explored on the DVD for Son of the Mask. This time, it's a bit more positive, with interviews with several animal trainers, who talk about auditioning and what it takes to train a dog to perform.
A selection of trailers, including The Mask's theatrical preview, wraps things up. Like its sequel, The Son of the Mask, all the bonus materials are done in anamorphic widescreen, which is a nice touch. Despite the positive aspects of this DVD, there's one concern, and that's making the featurettes into commercials. "Introducing Cameron Diaz" and "What Makes Fideo Run" both use footage from other related films (not surprisingly New Line films), which are then promoted as being on-sale at the end of the featurette. It just feels cheap.
While the extras on the DVD are pretty cool, what you get when you pop the disc into your computer's DVD-ROM drive tops it by bringing it all together into a neat package, titled the Interactive Viewing Experience. This is a script-to-screen application with the ability to take you to any piece of dialogue in the movie, offer related behind-the-scenes materials, play screen-appropriate trivia, and display a transcript of what's happening on-screen, along with storyboard comparisons. The depth of this program is truly incredible, especially the dialogue search. There's also the usual New Line DVD-Rom links.
The Bottom Line
Because of the subject matter, The Mask will never be considered a classic, but it's just a fun movie. With Carrey exploding unrestrained across the screen, a script that gives him plenty to do and special effects that were state-of-the-art at the time (and still hold up well today), this film is a genre masterpiece. Now, 11 years after it was in theaters, there's finally an acceptable DVD release. New Line's put a decent amount of material on this disc, along with a very impressive DVD-ROM application and an excellent anamorphic transfer. Anyone who owns the first disc can feel comfortable making the upgrade, if only for the video improvement, but the additional bonuses make it an easy decision as well.