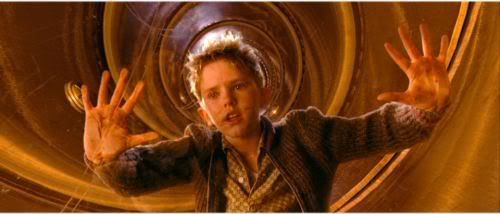 It's certainly not the first live-action/animated hybrid in cinematic history, but Luc Besson's Arthur and the Invisibles (AKA Arthur and the Minimoys, 2006) still reminds us that films need more than pretty visuals to make a lasting impression. Based on the French children's book series (written by Besson), we follow the exploits of young Arthur (Freddie Highmore), who lives alone with his grandmother (Mia Farrow) in a secluded country home. She often tells Arthur about the Minimoys---a group of small, elf-like creatures living under the grass in the garden outside---and the treasure they still hold, which originally belonged to Arthur's grandfather.
The treasure, of course, is quickly becoming a necessity for the quiet country-dwellers, who just happen to owe a large sum of money to a ruthless land developer. Arthur takes it upon himself to find the treasure and pay the rent, so off he goes in search of clues to find the secret world of the Minimoys. Eventually, he locates the creatures, including---but certainly not limited to--- the King (Robert De Niro), Princess Selenia (Madonna) and her obnoxious younger brother, Betameche (Jimmy Fallon). Of course, the good guys have their own set of problems, brought upon by the dastardly M (David Bowie) and his brutish band of baddies.
Along the way, you'll wonder why the Minimoys look so much like Treasure Trolls...and, of course, you'll see if Snoop Dogg can resist the urge to swear during his limited screen time.
It's charming on the surface, so there's no doubt that some youngsters may be entertained by the colorful goings-on. Still, a major red flag pops up during the film's breezy 94-minute lifespan: the relatively slipshod voice dubbing and frenzied pace that results from it. As the film's original French language track is missing from this DVD release, the English dub feels cramped and scattershot during many sequences. This would be especially evident if we were given both to compare; as it stands, viewers will simply have to keep up with some of the fast-paced dialogue. The animation is certainly well done, but there's no point to it if the story doesn't follow along smoothly.
As such, Arthur and the Invisibles can't help but feel like a hundred other half-baked kiddie flicks: distracting enough for one viewing, but forgettable in the long run. Despite the mild charm and solid visuals, it's simply too generic for its own good---and if there's one thing that a family film shouldn't be, it's generic. The Weinstein Company's DVD package follows suit, boasting a solid technical presentation but little in the way of bonus material.
Quality Control Department
Video & Audio Quality
Presented in its original 2.35:1 aspect ratio and enhanced for 16x9 displays, this mishmash of live action footage and digital animation looks very good from start to finish. The film's warm but natural color palette is bold and bright, image detail is strong and there are no major digital problems to be found. The English-only Dolby Digital 5.1 Surround mix is solid and generally quite active, though small portions of the dialogue could've used a bit more punch. Optional English and Spanish subtitles have been included during the main feature only.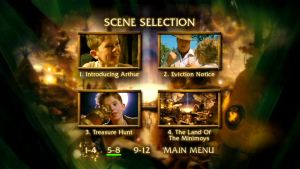 Menu Design, Presentation & Packaging

Seen above, the animated menu designs are basic and easy to navigate. The 94-minute main feature has been divided into a scant 12 chapters, while no obvious layer change was detected during playback. This one-disc release is housed in a standard black keepcase and includes a promotional insert.

Bonus Features

A few brief extras are included here, but nothing of major significance. First up is a short Voice Acting Featurette (7 minutes) featuring some of the less-famous actors featured in the film. We also get a pair of Music Videos related to the film (Jewel's "Quest for Love" and Elijah's "Beautiful Day"), as well as a 2-minute clip of Studio Footage with Jewel talking about her contribution. Aside from a fleeting Game Promotion, the extras conclude with a pair of Trailers; interestingly enough, one was made by a young fan for a Nickelodeon contest.

All bonus features have been presented in 1.33:1 and non-anamorphic widescreen formats. Unfortunately, no optional subtitles or Closed Captions are included here, unlike the main feature itself.

Final Thoughts

Arthur and the Invisibles is hardly indispensable entertainment, whether you're a young viewer or a lifelong fan of animation. The blend of live action and digital environments is fairly well-rendered and seamless, yet there's hardly enough story (or memorable characters, for that matter) to keep everything afloat. The Weinstein Company's DVD presents the film without the original French language track, missing out on a great opportunity to compare both versions; even so, at least the technical presentation is solid. It's mildly recommended for interested parties, but let's be honest here: if you pass up Arthur and the Invisibles, you're really not missing out on much. Skip It.
---
Randy Miller III is an affable office monkey based in Harrisburg, PA. He also does freelance graphic design projects and works in a local gallery. When he's not doing that, he enjoys slacking off, second-guessing himself and writing things in third person.
---