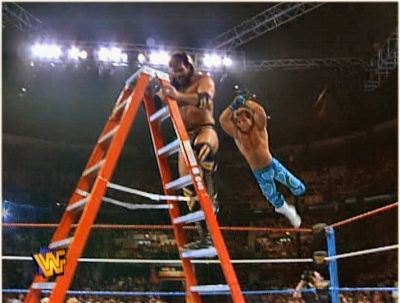 Somewhere between my affinity for globetrotting documentaries, Martin Scorsese films and The Criterion Collection, I found a soft spot for professional wrestling. Don't ask me how this happened; it just did. Despite this declaration, I shower daily, all my teeth are accounted for, I have a college degree...and, most importantly, I have a wife with the same merits. I'm not alone, of course. The wrestling fans I know aren't slack-jawed yokels; they simply appreciate the spectacle and illusion that this genuine sport creates, in the same way movie lovers enjoy fast-paced fights and thrilling chase sequences. Long story short: we know this stuff is "fake", but we like it anyway.
Speaking of fast-paced fights and thrilling chase sequences, it's doubtful that you'll find a better example of these in wrestling than a ladder match. Typically, here's how it works: a desired object (such as a championship belt) is suspended high above the ring, only accessible by a ladder. The only way to win, of course, is by obtaining the object before your opponent does---and doing so requires much more physical risk than a traditional wrestling match. One slip could lead to a concussion, a broken bone or worse---but if there's one thing that any athlete should understand, it's that physical risk is always a reality.
Contrary to popular opinion, the ladder match was not created by the WWF in the early 1990s. It may have reached mainstream popularity through the promotion---evolving quite a bit in the process, of course---but the basic concept was dreamed up by an athlete and booker named Dan Kroffat in Canada's Stampede Wrestling, circa 1972. Though this type of match didn't exactly spread quickly, more ladder matches were held in various promotions throughout the years---and for history's sake, one such bout (from Smoky Mountain Wrestling, circa 1979) is included in The Ladder Match, WWE's three-disc "best of" compilation. For the most part, though, the ladder match's evolution during the last decade devours most of this collection's nine-hour running time. Even though a few key matches didn't make the cut, there's certainly enough memorable footage here to satisfy wrestling fans.
Of course, the presentation of these matches should be of interest to fans, and The Ladder Match does a passable job in most respects. As with all WWE DVD releases from the past several years, WWF's stylized logo from the "Attitude Era" has been blurred out completely (as a result of the World Wildlife Fund lawsuit), while all mentions of the company name by ringside commentators have been muted. This editing should be all-too-familiar to wrestling fans by now, so it's hardly a distraction anymore. The entrances to each match---including pyrotechnics, music, and a few recap montages---appear to be complete and intact across the board, which is certainly a nice touch. These matches also include new introductions by WWE personality Todd Grisham---and though a few of them are rather groan-inducing, Grisham is often paired with a participant from each one (including Edge, Ric Flair and Jeff Hardy).
In any case, a few nitpicks keep this collection from being perfect. The exclusion of the classic Razor Ramon vs. Shawn Michaels ladder match---their first of two, from Wrestlemania X---is fairly surprising (NOTE: a few highlight clips are shown), though this particular match has already been included in Michaels' From the Vault DVD. Other fan favorites (including a few RVD vs. Jeff Hardy bouts and a tag match from Judgment Day 2003) are also missing in action---and though it's almost foolish to expect everything of note, WWE has come frustratingly close. Perhaps a future installment of The Ladder Match may fill in the gaps, but it's still tough to be disappointed overall.
Here's the bottom line: from start to finish, these matches speak for themselves. There's roughly nine hours of terrific content here, including plenty of death-defying leaps and nail-biting finishes. From TV tapings to sold-out pay-per-views, the bulk of these bouts stole the show on their respective nights. We'll see a pair of early matches from WWF's more innocent years (including a classic between Bret Hart and Shawn Michaels, held a year before Wrestlemania X), the introduction of "Tables, Ladders and Chairs", a few notable "Money in the Bank" contests and much more. Though a few laughable storylines clog up otherwise flawless matches (including the eye-rolling "Custody Match" from Summerslam 2005), this is WWE's most consistently entertaining and accessible release thus far.
Complete Match Listing
(21 matches on 3 single-sided DVDs)

Disc One

Jake Roberts vs. Big Daddy Ritter [AKA Junkyard Dog] (Stampede Wrestling, 1979)
Bret Hart vs. Shawn Michaels (WWF House show, 7/92)
Shawn Michaels vs. Razor Ramon (WWF Summerslam, 1995)
Triple H vs. The Rock (WWF Summerslam, 1998)
Edge & Christian vs. The New Brood (WWF No Mercy, 1999)
Dudley Boyz vs. Hardy Boyz vs. Edge & Christian (WWF Summerslam, 2000)
3 Count vs. Jung Dragons vs. Jamie Knoble & Evan Karagias (WCW Starrcade, 2000)
Chris Benoit vs. Chris Jericho (WWF Royal Rumble, 2001)

Disc Two:

Edge & Christian vs. Dudley Boyz vs. Hardy Boyz (WWF Wrestlemania X-7, 2001)
Edge & Christian vs. Dudley Boyz vs. Hardy Boyz vs. Jericho & Benoit (WWF Smackdown, 5/4/01)
Christian vs. Edge (WWF No Mercy, 2001)
Eddie Guerrero vs. Rob Van Dam (WWF Raw, 5/27/02)
Jeff Hardy vs. The Undertaker ( WWF Raw, 7/1/02)
Kane & Hurricane vs. RVD & Jeff Hardy vs. The Dudleys vs. Jericho & Christian (WWE Raw, 10/7/02)
Chris Jericho vs. Christian (WWE Unforgiven, 2004)

Disc Three

Benoit vs. Jericho vs. Edge vs. Shelton Benjamin vs. Christian vs. Kane (WWE Wrestlemania 21, 2005)
Eddie Guerrero vs. Rey Mysterio (WWE Summerslam, 2005)
Edge vs. Matt Hardy (WWE Raw, 10/3/05)
Edge vs. Ric Flair (WWE Raw, 1/16/06)
John Cena vs. Edge (WWE Unforgiven, 2006)
Jeff Hardy vs. Johnny Nitro (WWE Raw, 11/20/06)
London & Kendrick vs. MNM vs. The Hardys vs. Regal & Taylor (WWE Armageddon, 2006)
Quality Control Department
Video & Audio Quality
Presented in its original 1.33:1 aspect ratio, The Ladder Match is easily on par with the most recent crop of WWE DVD releases. Colors are generally bold and bright, though some of the older footage shows its age at times. Mild pixellation and artifacts can be seen during certain pyrotechnic sequences, but these are generally kept to a minimum. Overall, fans shouldn't find much to complain about.
Most of the audio has been presented in a fairly standard 2.0 Surround mix; likewise, it's about as good as the source material will allow. Sounds and play-by-play commentary come through loud and clear, though the older footage is obviously a bit flat in comparison. Not surprisingly, subtitles and Closed Caption support have not been included.
Menu Design, Presentation & Packaging

Seen above, the animated menu designs are basic and easy to navigate. Each match has been presented with a new introduction (which can be bypassed), while no obvious layer changes were detected during playback. This three-disc release is housed in a foldout digipak case with an index booklet; a slipcover is not included, but you won't miss it.

Bonus Features

No traditional extras have been included here (unless you count the new intros), but it's hard to complain with roughly nine hours of content to dig through. Still, a few optional audio commentaries would've been interesting, as well as a few of the missing matches mentioned above. A proper star rating has not been given for this department, but that certainly doesn't mean this collection isn't worth the price of admission.

Final Thoughts

Even at roughly nine hours in length, there's still never a dull moment during WWE's The Ladder Match collection. This entertaining, action-packed three-disc set gives wrestling fans plenty of bang for the buck---and even with a few surprising omissions, they've managed to cover the bases fairly well. Audio/video quality is easily on par with recent WWE releases, while the technical lack of bonus features is only due to the presentation format. With a relatively low retail price and sky-high replay value, it's no surprise that The Ladder Match is a must-have for wrestling fans...if they haven't bought it already, of course. Highly Recommended.
---
Randy Miller III is an affable office monkey based in Harrisburg, PA. He also does freelance graphic design projects and works in a local gallery. When he's not doing that, he enjoys slacking off, second-guessing himself and writing things in third person.
---