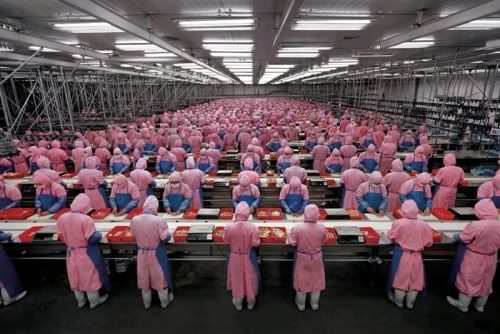 Global Warning, simply put, is a collection of three films with forward-thinking global views, including Jennifer Baichwal's Manufactured Landscapes (2006), Basil Gelpke & Ray McCormack's A Crude Awakening (2007) and Hélène Choquette & Jean-Philippe Duval's Refugees of the Blue Planet (2006). Having reviewed the first two films for DVD Talk as stand-alone releases earlier in the year, portions of this text contain brief summaries and links to the original disc reviews. Like most DVD boxed sets, Global Warning is essentially an easy, economical way to get a large amount of like-minded content in one package. The three films are as follows:
It'll test your patience at times, but that certainly doesn't mean Manufactured Landscapes (86 minutes, at top) isn't worth your time and attention. This slow-burning documentary combines striking images by Canadian photographer Edward Burtynsky with footage shot at the original locations, creating what some might call a "moving exhibition". This series of photographs includes landscapes and people directly affected by industry---and though the initial idea came to Burtynsky in Pennsylvania over 20 years ago, it flourished more recently in enormous Chinese factories like the one above.
The latter environment sets the tone for Manufactured Landscapes; during the opening sequence, a camera pans across the massive factory floor for roughly eight minutes. The scope of the workers' production is fully realized but never explained in detail; more than anything else, it simply shows consumers how their consumables are made. Workers are lined up like cattle outside, disciplined by supervisors for letting faulty products slip through the cracks. Scavengers extract valuable metal fragments from discarded computer parts. A young woman assembles an electrical accessory at blistering speed, happily reporting that she'll make hundreds more in a standard work day.
It's not always the driving message, but Manufactured Landscapes reminds us that our actions directly influence the planet. Perhaps the best example of this is during the construction of China's Three Gorges Dam, a massive structure that required millions of citizens to move their homes; during the initial release of water, Earth's rotation was momentarily affected. Luckily, these points are driven home without heavy-handed scare tactics and overt preachiness: the documentary is nearly dialogue-free, save for select comments from Burtynsky and several of the Chinese locals.
Read the complete review of Manufactured Landscapes (published 4/7/07)
It doesn't take a rocket scientist to understand that crude oil is a limited natural resource, yet so much of the world is still completely dependent on it. We use it for heating, transportation, manufacturing---and when the well finally runs dry, what then? Directed by documentary filmmakers Basil Gelpke and Ray McCormack, A Crude Awakening (85 minutes, below left) provides a balanced look at this rapidly growing dilemma, tagged with this unsettling phrase: "We're running out, and we don't have a plan". By all accounts, their argument is perfectly reasonable---especially now, as countries like China and India are ramping up their own American-sized appetites for oil. Soon, we'll be longing for the days of paying three bucks a gallon.
Peppered with comments from energy analysts, including oil geologist Colin Campbell, energy investment banker Matthew Simmons, former Iraqi oil minister Fadhil Chalabi and professor David L. Goodstein, A Crude Awakening provides little comfort to those hoping our reserves will never run out. Their argument is that oil production peaked long ago---and since supply will never again overshadow demand, we must focus our attention towards alternate resources. Current options like ethanol and wind energy are summarily ruled out, as the analysts claim they're not practical or potent enough. Nuclear power is too dangerous to use as a primary source. Solar energy is hinted as being the most viable option, though progress in that department is slow at the moment.
Hammering the point home are clips from vintage commercials, educational films and the like, promising a seemingly endless supply of the oil we've learned to depend on for more than a century. These, combined with older scenes of once-thriving cities who exported oil decades ago, stand in stark contrast to the present situation: our resources are rapidly dwindling, while the once-thriving cities are now depicted as barren wastelands. It's not a pretty picture. Then again, A Crude Awakening is intended to be a wake-up call, not a celebration.
Read the complete review of A Crude Awakening (published 7/31/07)
As the shortest and least compelling of the three main features, Hélène Choquette and Jean-Philippe Duval's Refugees of the Blue Planet (58 minutes, above right) raises awareness of those displaced by environmental disasters. An opening scene proclaims that 2003 marked the first time in history when these "environmental refugees" outnumbered those displaced by war or political conflicts. It's a striking enough observation, though one that doesn't quite connect on all counts. Locations include the Maldive Islands (a republic in the Indian Ocean), in which countless people have been adversely affected by rising sea waters; Brazil, where folks have been affected by sprawling eucalyptus plantations; and Canada, showing us victims of "sour oil" and the toxic hydrogen sulfide emissions it produces.
Where the film does succeed, fortunately, is the simple explanation of the environmental problems and how they've affected the victims. Outside of the direct regions, it's unlikely that most viewers will be aware of the specific issues and people affected. Sadly, some of these stories tug incessantly at our heartstrings in a heavy-handed manner; we understand some are the victims of corporate arrogance, yet it's their stubbornness to stay local that's really killing them. This makes Refugees of the Blue Planet a personal and mildly affecting film...which ultimately comes undone, thanks to vague buck-passing and an overly maudlin approach.
Still, the bulk of Global Warning will certainly be of interest to documentary fans worldwide. This handy three-disc package is compact and fairly priced, though Amazon buyers will only find it at the Canadian site. Owners of the stand-alone Canadian releases will find these DVDs identical, from the technical presentations right down to the menu designs. Let's take a closer look, shall we?
Quality Control Department
Video & Audio Quality
Presented in their original 16x9 enhanced aspect ratios, all three films look excellent in most respects. The natural color palettes are often bold and bright, image detail is solid and black levels are typically right on target. Portions of each main feature aren't quite as visually impressive, though it's often due to the rough source material. Overall, fans shouldn't find much to complain about here.
Likewise, the Dolby Digital 5.1 and 2.0 Surround mixes are relatively clean and pleasing. Dialog is clear and easily understood, though portions of muffled dialogue include forced subtitles. Music cues and background noise is often strong but rarely fights for attention. No subtitles or Closed Captioning support is included during the main features or bonus material, though forced English subs are provided for translation purposes.
NOTE: For more detailed technical notes on Manufactured Landscapes and A Crude Awakening, please refer to the reviews linked above.
Menu Design, Presentation & Packaging

Seen above, the plain-wrap menu designs are basic and easy to navigate; with this being a Canadian release, all three DVDs feature optional French menus and bilingual title fonts. Each main feature has been divided into roughly a dozen chapters, while no obvious layer changes were detected during playback. This three-disc release is housed in biodegradable digipak cases with a slipcover; similar to An Inconvenient Truth, the inks used are even vegetable-based. The entire package takes up slightly more shelf space than a single-width keepcase.

Bonus Features

Manufactured Landscapes leads off with a rather large Stills Gallery, comprised of several dozen photographs with commentary by Edward Burtynsky (roughly 30-60 seconds for each one). This includes the bulk of his work featured during Manufactured Landscapes, so hearing additional thoughts from the man behind the camera is especially interesting. Aside from general location details and the like, Burtynsky also shares the early stages of his idea and how it gradually developed. In any case, it's about as close to a feature-length audio commentary as we're going to get.

Also included is a collection of Deleted Scenes (6 clips, 39:22 total), including "Diana Lu's Extended House Tour", "Karaoke Bar in Qiligang", "Extended Old Shanghai Walkabout", "Stone Cutter Interview", "TED Conference - Monterey, California" and "Wushan", presented with optional audio commentary by Jennifer Baichwal. The director does a fine job of explaining why some of these scenes were trimmed and cut, though they're almost equally interesting on their own.

Next up is a pair of Interviews conducted by Richard Goddard; the first is with Baichwal and Burtynsky (19:04), while the second features cinematographer and collaborator Peter Mettler (5:19). Both are fairly dry and some information is repeated from other bonus features, but they're still worth a look for fans of the film.

Closing things out is the film's Theatrical Trailer (2:02). All bonus features are presented in widescreen format, but only the still gallery is 16x9 enhanced. No optional subtitles or Closed Captions are included for these supplements.

A Crude Awakening includes a Bonus Chapter entitled "Petrostates" (4:21); featuring additional comments by professor Terry Lynn Karl, this additional scene focuses on the countries affected by oil dependency.

On a similar note are four Additional Interviews with Colin Campbell (19:56), Matthew Simmons (24:39), Fadhil Chalabi (23:40) and David L. Goodstein (18:42). More than simple deleted scenes, these excerpt collections offer additional insight and details that the main feature didn't quite have time for. All are recommended viewing, though Simmons and Goodstein are particularly well-spoken.

Last but not least is the film's Theatrical Trailer (1:59), which provides a solid account of A Crude Awakening without excess sensationalism. All bonus features are presented in 1.78:1 anamorphic widescreen; unfortunately, none include optional subtitles or captions. Overall, this is a solid and streamlined assortment of extras that fans should enjoy.

Refugees of the Blue Planet includes no bonus features, unfortunately.

Final Thoughts

Compact but layered with plenty of detail, Global Warning should appeal to environmentally-conscious documentary fans. Two of the three main features (Jennifer Baichwal's Manufactured Landscapes and Basil Gelpke & Ray McCormack's A Crude Awakening) are well worth your time and attention, though the third (Hélène Choquette & Jean-Philippe Duval's Refugees of the Blue Planet) is a less compelling effort. Either way, Mongrel Media's three-disc package is a thoughtful, fairly-priced collection with a solid technical presentation and a few choice bonus features. Owners of the stand-alone releases won't be getting anything new here, though Global Warning is a solid blind buy for new viewers. Recommended.
---
Randy Miller III is an affable office monkey based in Harrisburg, PA. He also does freelance graphic design projects and works in a local gallery. When he's not doing that, he enjoys slacking off, second-guessing himself and writing things in third person.
---