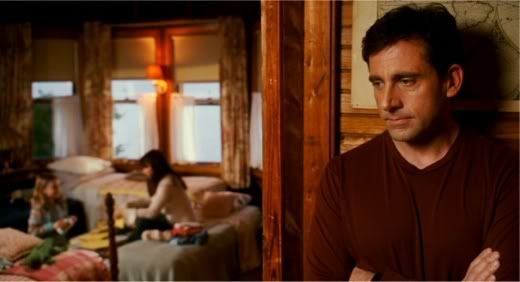 In lesser hands, Peter Hedges' Dan In Real Life (2007) would've been a generic rom-com filled with slapstick gags, easy punchlines and family stereotypes. Instead, it's a charming and occasionally bittersweet tale of dependency and understanding, packed tightly with honest performances and a terrific atmosphere. Our story follows Dan Burns (Steve Carell), an advice columnist and single parent who's raised three daughters alone since his wife's death four years ago. Dutifully packing lunches and folding laundry despite little recognition, he's become an introvert longing for love...while simultaneously steering one daughter from a polite and persistent young admirer.
Soon enough, the Burns clan departs for a family gathering in Dan's native Rhode Island, which seems to temporarily relieve his isolation. During a short trip into town, Dan meets the lovely Anne-Marie (Juliette Binoche) and immediately feels a personal and romantic connection, though she hurriedly departs after a brief phone call from her new boyfriend. Upon returning to the family home, unfortunately, Dan realizes that Anne-Marie's new boyfriend is his brother, Mitch (Dane Cook). For the next few days, they've got to live with the secret under one roof...and they do a fairly good job of it, at least for awhile.
Right from the start, it's easy to see that Dan In Real Life has been trimmed of its fat without feeling too rushed. The Burns family is on the road before the opening credits finish rolling, but they feel like perfectly three-dimensional characters already. Largely removed from his popular Office persona, Carell turns in a charismatic and thoughtful lead performance that carries the film nicely. His sense of comedic timing leads to a generous handful of laughs along the way---but luckily, he's in very good company here. Aside from Binoche and Cook, supporting roles are handled nicely by Alison Pill, Brittany Robertson and Marlene Lawston (as Dan's daughters), as well as the dependable John Mahony and Dianne West (as his parents).
Much of the chemistry on display during Dan In Real Life is astoundingly good; more often than not, we feel as if we're part of an actual family gathering...albeit one with more "quality time" than most viewers may be accustomed to. Such relatively close quarters only enhance Dan's occasional bouts with loneliness, even when nieces and cousins carry on happily in the next room. Original music by Norwegian artist Sondre Lerche only adds to the atmosphere; in short, Lerche's songs maintain the film's introspective nature while providing a much-needed layer of comfort and hope. It's a potent combination in all respects, supporting our emotions without spelling them out for us.
Though most of Dan In Real Life flows by quite smoothly, it can't help but hit a snag or two along the way. We're thankfully spared of most romantic comedy clichés, though a few superfluous bits of slapstick have made the final cut. A somewhat awkward side-story involving one of Dan's childhood friends (played by Emily Blunt) doesn't quite hit the right notes. Our story also suffers from a somewhat self-indulgent epilogue during the closing credits, hurriedly tying the story up in a neat little bow. Luckily, for the bulk of Dan In Real Life's 98-minute lifespan, it doesn't need to connect the dots so clearly---and despite such nitpicks, this earnest and satisfying film can and should be enjoyed many times over.
Presented on DVD by Touchstone Home Entertainment, Dan In Real Life plays just fine on the small screen. The film has been paired with a strong technical presentation and a handful of decent extras, rounding out the one-disc package quite nicely. In all respects, those who like the romantic drama/comedies a bit off the beaten path should find Dan In Real Life a refreshing diversion. Let's take a closer look, shall we?

Video & Audio Quality
Presented in its original 1.85:1 aspect ratio and enhanced for widescreen displays, Dan In Real Life looks surprisingly good from start to finish. The lush but often sparse New England landscape provides a perfect backdrop for our story, while the naturally-lit indoor scenes are also pleasing. The film's generally muted color palette appears bold and strong during most scenes; black levels and image detail are also solid the whole way through. A separate Blu-Ray release is also available, though fans limited to standard resolution should feel confident that these visuals look terrific.
The audio presentation is slightly more subdued, though it's hardly disappointing in the least. English, French and Spanish tracks are all available in Dolby Digital Surround 5.1, featuring cleanly-recorded audio and crisp musical cues. Surround activity is typically limited to background ambience and music, creating a natural soundstage that maintains the film's tone adequately. English captions, as well as French and Spanish subtitles, are offering during the main feature and bonus material.
Menu Design, Presentation & Packaging

Seen above, the charming menu designs are basic and easy to navigate. The 98-minute main feature has been divided into a scant 14 chapters, while no obvious layer change was detected during playback. This one-disc release is housed in a standard black keepcase; also included are a matching embossed slipcover and a promotional/chapter insert.

Bonus Features

Leading things off is a feature length Audio Commentary with co-writer/director Peter Hedges, who delivers a solid track from start to finish. Dan In Real Life is obviously a personal story for Hedges, who was raised by his single father from childhood and recounts many memories along the way. Tidbits about the film's production are also peppered throughout, from the natural settings to the cast's "family bonding" before filming began. An additional cast commentary would've been a thoughtful inclusion, but Hedges' track should satisfy most fans of the film.

Several of the director's comments are echoed in "Just Like Family: The Making of Dan In Real Life" (14:58, below left). Though mildly promotional at times, this collection of cast and crew interviews---paired with behind-the-scenes footage, of course---is pleasing enough and worth watching. Of slightly greater interest is "Handmade Music: Creating the Score" (9:46, below right), a chat with select crew members and Sondre Lerche, the film's talented young composer/musician. Hedges also admits his reverence for films like The Graduate; specifically, why he chose to use the music of one particular artist rather than a mixture. In all respects, Lerche's thoughtful and poignant music is certainly up to the task.
A selection of Deleted Scenes (11 clips - 20:05 total, with optional director commentary) is also on board, and some of these little moments are actually quite good. Hedges speaks briefly about why certain scenes were cut---especially during the film's opening scenes, since he wanted to keep momentum going up front. Also on the cutting room floor is a handful of Outtakes (3:25), including a few amusing improv moments and line flubs by the cast. An easily-found Easter Egg is also tucked away on the bonus features menu, featuring a collection of slips by Carell. Happy hunting!
All bonus features are presented in 16x9 widescreen (save for the outtakes) and include English captions, as well as French and Spanish subtitles...yes, even the audio commentary. Such thoughtful attention to detail does not go unnoticed, so let's hope more studios follow suit in the near future. Excellent work!

Earnest and heartfelt, Dan In Real Life isn't the laugh-out-loud comedy that some may be expecting---and more often than not, it's all the better for it. Carell's solid performance is anchored by solid supporting characters, great production design and perfectly paired songs. Though portions of the film drift slightly towards familiar territory, it's a satisfying story that wears its heart on its sleeve. Touchstone's DVD presentation is solid overall, pairing a great technical presentation with a handful of generally interesting bonus features. Fans of Carell, as well as those who enjoy poignant drama sprinkled with comedy, should certainly enjoy what Dan In Real Life has to offer. Highly Recommended.
---
Randy Miller III is an affable office monkey based in Harrisburg, PA. He also does freelance graphic design projects and works in a local gallery. When he's not doing that, he enjoys slacking off, second-guessing himself and writing things in third person.
---