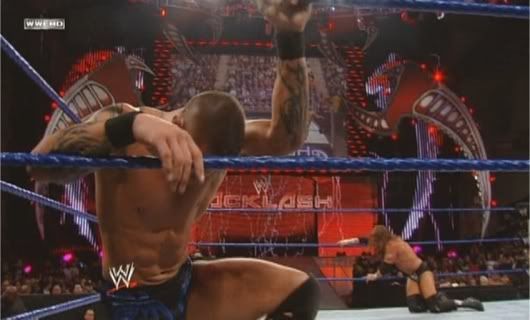 Generic Pre-Review Wrestling Disclaimer: Long before my affinity for globetrotting documentaries, Martin Scorsese films and The Criterion Collection, I found a soft spot for professional wrestling. Don't ask me how this happened; it just did. Despite this declaration, I shower daily, all my teeth are accounted for, I have a college degree...and, most importantly, I have a wife with the same merits. I'm not alone, of course. The wrestling fans I know aren't slack-jawed yokels; they simply appreciate the spectacle and illusion that this genuine sport creates, in the same way movie lovers enjoy fast-paced fights and thrilling chase sequences. Long story short: we know this stuff is "fake", but we like it anyway. Give us a break.
After the three-disc package WWE put together for Wrestlemania XXIV, last month's Backlash 2008 feels almost miniscule in comparison. Even so, this annual pay-per-view is used to falling in the shadow of WWE's largest extravaganza: as one the company's "minor" spectacles, Backlash typically feels like a slightly larger version of what fans can see on a bi-weekly basis...with a $40 price tag, of course. This pay-per-view began as part of the In Your House series; originally priced at $14.95 apiece, these affordable events gradually rose in price and stature as the years went by. The first installment of Backlash aired in April 1999, back when Nicole Bass, Droz, The Big Boss Man, Al Snow, Goldust and the late Owen Hart were still active wrestlers for the company. Ten years later, it appears that the WWE roster has changed quite a bit.
As expected from only a four-week stretch since Wrestlemania XXIV, there wasn't a great deal of time for the WWE creative team to effectively set up many new feuds and angles, which is perhaps the main disadvantage of holding monthly pay-per-views. As a result, several of these matches are continuations of Wrestlemania stories, from several of the mid-card bouts to the main event itself---and in turn, several similar matches would be held at the most recent PPV, Judgment Day 2008. For now, though, let's focus on the event at hand: Backlash 2008 was held at the First Mariner Arena in Baltimore, Maryland on April 27th. Featuring talent from all three WWE brands, there's a little something for everyone during this three-hour event. Here's what the card looked like:
Complete Match Listing
(7 matches on 1 single-sided DVD)

MVP vs. Matt Hardy (United States Championship Match)
Kane vs. Chavo Guerrero (ECW Championship Match)
The Big Show vs. Great Khali
Shawn Michaels vs. Batista [With special guest referee Chris Jericho]
Mickie James, Maria, Ashley, Michelle McCool, Cherry & Kelly Kelly vs. Beth Phoenix, Melina,
Jillian. Victoria, Natalya & Layla (12 Diva Tag Team Match)
The Undertaker vs. Edge (World Heavyweight Championship Match)
Randy Orton vs. John Cena vs. Triple H vs. JBL (WWE Championship Match)
As with the majority of recent WWE pay-per-views, what's here is generally a mixed bag; in fact, only three of the seven matches manage to stand out. Michaels vs. Batista (above left) proves to be a solid match, stemming from their feud during the weeks leading up to this event. Jericho also does a fine job as referee during this bout, keeping things surprisingly fair and balanced. Edge vs. Undertaker (above right) is a decent if not slightly predictable rematch from Wrestlemania XXIV---but let's be honest, the Dead Man's finisher is getting a bit old at this point. Another highlight is the WWE Championship match (at top), which falls under "Fatal Four-Way" rules. Like the similar bout from Wrestlemania XXIV, the in-ring action is effective and the ending is neither rushed nor predictable.
Unfortunately, other matches don't stand out so much. Perhaps the "best of the least impressive" is Matt Hardy vs. MVP, which has its moments but feels roundly anti-climactic; not surprising, since it leads off the show. The 12 Diva Tag Team match is surprisingly not horrible, but it still isn't memorable enough to rank among the evening's highlights. The Big Show's brawl with Great Khali is predictably slow and lumbering, but at least it's fairly short. Speaking of short, Chavo Guerrero vs. Kane proves to be another quick squash, though not nearly as quick as the Wrestlemania XXIV slaughter. Overall, these less impressive moments don't slow things down too much---and for the most part, they're over and done with before the first hour is finished.
Even so, Backlash 2008 is fairly middle-of-the-road as far as WWE events are concerned. With only three genuinely interesting matches, it's not surprising that fans who shelled out $40 for the pay-per-view were generally disappointed---and with a $25 price tag on this DVD, it's doubtful that said fans will buy it again. For this reason, Backlash 2008 should mainly appeal to casual WWE fans who didn't witness the event live. Whether or not this translates to a purchase or rental should become obvious soon enough, as this one-disc package proves to be a relatively thin affair. Let's take a closer look, shall we?
Quality Control Department
Video & Audio Quality
Beginning with Wrestlemania XXIV, WWE has switched to a widescreen aspect ratio for current pay-per-view DVD releases (though it doesn't look like Backlash 2008 will get the Blu-Ray treatment). Presented in its original 1.78:1 aspect ratio and enhanced for 16x9 displays, this three-hour event is plagued with all the digital problems of past releases; most notably, pixellation and heavy compression artifacts. Colors are generally bold and bright, though image detail still remains a bit flat and unimpressive. Wrestling fans should know what to expect, but WWE still has a long way to go in the visual department.
On the audio front, Backlash 2008 maintains the company's recent switch to true 5.1 audio, which isn't disappointing in the least. Crowd noise fills the front and rear channels during many matches, creating a more involving atmosphere overall. Play-by-play commentary (also available in Spanish) and in-ring action are also clear as a bell, rounding out the audio treatment quite nicely. Unfortunately, optional subtitles and Closed Caption support have not been included with this release.
Menu Design, Presentation & Packaging

Seen above, the unintentionally hilarious menu designs are basic and easy to navigate. The three-hour main feature has been divided into a dozen chapters (one per match and "filler" event, listed above), while no obvious layer change was detected during playback. This one-disc release is housed in a standard black keepcase and includes a handy chapter index.

Bonus Features

Not much to choose from here, but a few tidbits have been included. Up first is Todd Grisham Interviews Triple H (1:45), in which the superstar humbly expresses his thoughts on the Fatal Four-Way WWE Championship Match. Also included is Exclusive RAW Footage featuring Triple H and Randy Orton (5:03), which was originally cut short by "Commissioner" William Regal. Nothing of major interest happens during or after the end of this rematch, but fans should check it out nonetheless. Still, here's hoping that WWE doesn't continue the trend of presenting exclusive network footage on $25 DVD releases.

Final Thoughts

It's certainly not the strongest WWE pay-per-view of the year, but Backlash 2008 is still a decent enough event to satisfy casual wrestling fans. Though less than half of the matches truly stand out, even the least impressive moments don't slow things down too much. WWE's technical presentation is ambitious but the visuals are still lacking, while the slim extras don't add much value to the package. Wrestling enthusiasts may have picked this up already...but if you're not devoted enough to have bought it by now, a weekend spin is probably your best bet. Rent It and wait patiently for Summerslam (or Judgment Day, at the very least).
---
Randy Miller III is an affable office monkey based in Harrisburg, PA. He also does freelance graphic design projects and works in a local gallery. When he's not doing that, he enjoys slacking off, second-guessing himself and writing things in third person.
---