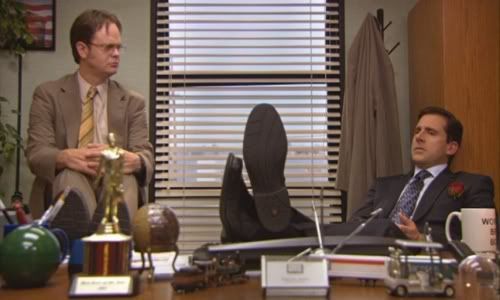 Cubicle dwellers rejoice, for another season of The Office is soon upon us. This successful saga of pranks, printers, and paper has remained a genuine weekly highlight for the last four years, especially since the first and second seasons provided such a sturdy foundation. Early criticisms of the show being a cheap imitation of Ricky Gervais and Stephen Merchant's British series were soon put to rest---and by now, they're recognized as completely different entities altogether. Greg Daniels' adaptation of The Office for American audiences quickly yielded fantastic results: it's kept us guessing in-between fits of laughter, even dropping in touches of melancholy and surprise while our guards were down. The series has developed a considerable fan base of all ages, races and salaries since its original inception---and if we're lucky, it'll stick around for a little while longer.
Even so, getting a chance to finally review The Office in its fourth season is like seeing Radiohead during the Amnesiac tour: definitely a cool opportunity, but it would've been even more awesome a few years earlier. This in no way implies a dip in quality for what may very well be the best television comedy of the decade (sorry, Arrested Development); it's just that a fraction of the excitement and spark has worn off since the beginning. Unfortunately, that's how the human brain operates: no matter how great something seems at first, we can't help but become downright familiar with it after awhile. Since the pitch-perfect second season and its worthy follow-up set the bar so high, many fans couldn't help but feel slightly disappointed with how sections of the fourth season played out. The infamous WGA writer's strike certainly didn't help matters---but now that the dust has cleared and we can view this season as a semi-complete unit, does it manage to hold up?
Absolutely, it does. In fact, considering this is the fourth season of a series that many didn't think would last one season (and given the events of earlier this year), The Office feels remarkably consistent and comfortable in its own skin. From start to finish, this truncated 14-episode run manages to keep the ball rolling nicely, offering plenty of classic moments and terrific setups for the upcoming fifth season. But before we get to the real meat of this review, let's take a look at what's included in this four-disc collection:

"Fun Run" ²
"Dunder Mifflin Infinity" ²
"Launch Party" ²
___



"Money" ² *
"Local Ad" *
"Branch Wars"
"Survivor Man"



"The Deposition"
"Dinner Party" *
"Chair Model"
"Night Out"



"Did I Stutter?" *
"Job Fair"
"Goodbye, Toby" ²
___

² - Indicates double-length or "super-sized" episode
* - Includes optional Audio Commentary (see below)
Undoubtedly destined to be the most underrated year of The Office to date, Season 4 only suffers from an erratic presentation style; on the writing front, it's roughly as strong as ever. The first four episodes attempt to kick things off in a big way: as double-sized outings, they only prove that sometimes we can have too much of a good thing. The chief offense during these episodes is what I call "EMS" ("Excessive Michael Syndrome"); we've seen hints of it before, but the relatively consequence-free blunders he makes here are a bit tough to swallow. Running over an employee, driving into a lake and kidnapping a pizza delivery boy certainly fit the bill, and it's these moments that slightly derail otherwise solid episodes. Most fans obviously approach The Office with an extreme suspension of disbelief, but the series is strongest when it walks the line more carefully.
Fortunately, "Money" feels more confident and fluid than the first three episodes: it blends multiple subplots seamlessly, pushing characters forward and providing plenty of laughs in the process. In fact, the vast majority of Season 4 lives up to the better moments of past years---and even during the slightly less impressive stretches, it's still darn good television. "Local Ad" and "Survivor Man" both feature strong character moments (especially in the home stretch), while "The Deposition" ends the first half of the season on an extremely high note. Loyal viewers undoubtedly remember this episode as the last before the lengthy WGA strike---and to the cast and crew's credit, the series regains momentum with "Dinner Party", perhaps the most entertainingly uncomfortable episode to date. In fact, the strong second half of Season 4 maintains a return to form for The Office, planting several seeds that serve as excellent cliffhangers during the satisfying season finale, "Goodbye, Toby".
As in past seasons, character relationships have shifted slightly while maintaining a strong dynamic. The spark between Kelly and the always-entertaining Darryl (brought upon by Kelly's breakup with the newly-promoted Ryan) proves to be a pleasant surprise, while the writers also suspend the unique Dwight-Angela romance to include the enthusiastically smitten Andy. Pam and Jim's relationship, undoubtedly the heart of the series (especially during the bulletproof Season 2), has been subtly brought back down to Earth---and refreshingly enough, their natural chemistry remains one of the series' most magnetic elements. While most sitcoms play out "will-they-or-won't-they" relationships and abandon the actual charm of love and marriage, The Office plays it smart by playing it straight. On the other hand, it reminds us how completely unbalanced relationships (in this case, Michael and Jan) often lead to disaster.
While the overall execution and flow of the series remains generally intact, it won't be hard for fans to notice a darker tone to certain characters and overall episodes. Perhaps I'm in the minority (or perhaps I'm just too big a fan of black comedy), but this noticeable shift didn't bother me in the least. Aside from the occasional doses of "EMS", every snide remark and bitter confrontation happens for a specific reason---and let's face it, how could we really appreciate the lighter moments without occasional jolts of controlled chaos? Some may feel slighted by the tinges of nastiness that creep in from the corners...but in my mind, these are just more layers that make The Office such a fantastic series. They're also the reason why we'll all stick around for as long as possible.
Presented on DVD by Universal, The Office: Season 4 will only disappoint those who don't like to pay through the nose for quality television. In any case, those who don't mind shelling out the extra dough will find Season 4 a truly worthy purchase: combining an excellent technical presentation with the usual assortment of entertaining extras, there are certainly worse ways to spend your hard-earned money. Let's take a closer look, shall we?

Presented in their original 1.78:1 aspect ratios, these 14 episodes look right on par with past season collections. The series' natural color palette has been preserved nicely, image detail is solid and black levels are consistent. Digital eyesores such as edge enhancement and pixellation are nonexistent, rounding out the presentation nicely. Overall, fans of The Office should know what to expect.
As expected, the audio treatment is equally satisfying. Presented in Dolby Digital 5.1 Surround (with an optional 2.0 Spanish dub), the natural soundstage comes through clean and clear. Surround activity is generally reserved for background noise and rare music cues, while most of the action is anchored squarely up front. Dialogue is clear and never fights for attention. Optional English captions have been included during the episodes and all applicable bonus features.

Seen above, the lightly animated menu designs are smooth and simple to navigate. Each episode has been divided into several chapter breaks, though selection sub-menus are not present. Obvious layer changes were not detected during the actual episodes. This four-disc set follows the same packaging style as Seasons 2 and 3, featuring a foldout digipak case with a slipcover and overlapping hubs for the discs. Episode listings and descriptions are printed on the interior of the digipak case, while one additional printed bonus has also been tucked neatly inside (while supplies last - see below).

On typical DVDs, Deleted Scenes are hardly enthralling---but as any fan of The Office will tell you, they're simply icing on the cake. Roughly 10 minutes of additional and extended scenes have been included for all 14 episodes (over two hours in all!)...even the double-length ones, for those keeping score at home. Complete sub-plots are presented here, as well as additional "talking head" interviews and other curiosities. As always, these are nearly as good---and in some cases, better---than the final footage, while their carefully-structured format makes these chunks of comedy more like miniature bonus episodes.
Next on the list are full-length Audio Commentaries during "Money", "Local Ad" "Dinner Party" and "Did I Stutter?". The rotating cast of participants includes cast members Rainn Wilson, Jenna Fischer, Melora Hardin, Brian Baumgartner, Ed Helms, Leslie David Baker, Creed Bratton, Craig Robinson and Kate Flannery; producer B.J. "Ryan" Novak; writers Paul "Toby" Lieberstein, Michael "Cousin Mose" Schur, Jennifer Celotta, Anthony Ferrell, Lester Lewis, Lee Eisenberg, Ryan Koh, Brent Forrester, Justin Spitzer and Gene Stupnitsky; and finally, directors Jason Reitman and Randall Einhorn (NOTE: Most participants fill more than one creative role, but the titles above represent how they introduce themselves). These chatty commentaries are light on serious discussion, while the lack of a few cast members is understandable enough (Steve Carrell and John Krasinski, for starters). It's a shame that the number of commentaries keeps dropping every year, but the larger groups for each one ensure that there's hardly a dull moment. Overall, die-hard fans who burnt through previous Office commentaries should know what to expect by now.
Two pint-sized extras have also been tacked onto the first and second discs: "Rabies: The More You Know" (0:22) is an amusing public service announcement, while Michael Scott's Dunder Mifflin Ad (1:22, below left) presents his infamous "Director's Cut" of the company promo seen in "Local Ad". What, no "Corporate Crap-Fest" version for comparison's sake?
The remainder of the stand-alone extras has been herded over to the fourth disc, leading off with a rather lengthy Blooper Reel (22:39); it's as funny as expected, full of the usual flubbed lines and do-overs. The Office Convention: "Writer's Block" (52:53, above right) is a Q&A with a baker's dozen of the show's writers, taken from last year's Scranton gathering. The production values leave a bit to be desired, but this is still an interesting session that fans should enjoy. Why there isn't more footage from the convention is a bit disappointing: I was lucky enough to make the trip last October, and there were plenty of great moments despite the miserable weather (see below). Last but not least is the amusing Summer Vacation Promo (3:02), which was aired before Season 4's premiere.
As mentioned above, also tucked inside this package is an Episode Script for "Dinner Party", similar in size and format to the one found in Target's "Nifty Gifty Edition" of Season 3. If nothing else, this script serves as an interesting contrast to the final episode, since it's free from the actors' improvisation and last-minute alterations. NOTE: A sticker on the packaging implies that this will be included while supplies last, so be sure to pick it up soon if you're interested.
All extras have been presented in 1.33:1 and non-anamorphic widescreen format, while optional English captions have been included during each and every bonus feature. Despite Universal's continued reluctance to present the widescreen extras in 16x9 (especially the deleted scenes), it's great to see such a consistent effort for the deaf and hearing-impaired. A fair trade, but both would be nice.
Season 4 may not represent the series' creative peak thus far, but there's no doubt that fans of The Office will enjoy this collection from top to bottom. A darker tone can be seen during some episodes; even so, it's never overwhelming and balances with the comedy quite well. The writer's strike slowed momentum during its broadcast run, though it's hardly evident when these episodes are viewed back-to-back. Plenty of seeds have been planted to pique interest for the upcoming fifth season, but this solid run of episodes stands tall on its own two feet. Universal's four-disc package is only disappointing in its price point, which remains the same despite offering less content. Even so, the season (as a whole) is strong, the technical presentation is excellent and there's no shortage of extras---so without a doubt, fans of The Office should feel completely satisfied with this package. Highly Recommended That's what she said.
DVD Talk Review Link: All things The Office (British and American!)
Better Late Than Never: A few photos from the Office Convention (October 2007)
---
Randy Miller III is an affable office monkey based in Harrisburg, PA. He also does freelance graphic design projects and works in a local gallery. When he's not doing that, he enjoys slacking off, second-guessing himself and writing things in third person.
---