DVD TEMPLATE In 10 Words or Less
Problem solving and basic skills, from the classic Disney crew
Reviewer's Bias*
Loves: Animation
Likes: Disney
Dislikes: Goofy
Hates: Short kids DVDs

The Story So Far...
Mickey Mouse, Minnie Mouse, Donald Duck, Daisy Duck, Goofy and Pluto are the stars of Mickey Mouse Clubhouse, a magical (possibly imaginary) place they hang out and solve various problems. The CG animated series airs on Playhouse Disney, the Disney Channel programming block for preschoolers. There have been a handful of DVD releases from the series, and DVDTalk has reviews of several titles.
The Show
I have to give Disney a little credit here, as, for once, a collection of episodes from a single show has actually stuck to its theme (more or less.) Most of the time, a title like Big Splash would mean one episode, the one lending the disc its name, would fit the concept, while the others were pretty much random. Here, each show is water-related, and that's a positive step for these anemic kids DVDs. If you're going to skimp on actual content, the least you could do is make collections that make sense.
Mickey Mouse Clubhouse is definitely not the animated version of the old Mickey Mouse Club (which, now that I write it, could be a pretty good idea.) It's really just your usual kids cartoon, blending in some education with a mission, but it does star some of the biggest icons in kids cartoons. As a result, it's got an instant in with any kid who's ever been to Disney or watched a Disney movie. That it also mixes in catchy, simple songs and makes the young ones watching feel like part of the show via direct address may be pages from an old playbook, but they still work, as evidenced by the way my little girl chants "Meeska Mooseka Mickey Mouse" along with the show.
The series shows the group trying to fix a problem each episode, like leading lost ducks to the beach or fishing for red gooey fish for a hungry kitten. They aren't mindblowing challenges, but enough to pad out a 20-minute show. Helping the gang is Toodles (or possibly Tootles) a Mickey Mouse symbol (ears and head) that appears when called and provides access to the mouseketools, four objects (one, a mystery item) which will help with the group's mission. Though the applications may be a little out-there (like using rubber duckies to weigh down a runaway bubble) it's a solidintroduction to problem solving, to go along with the lessons in counting and shape identification.
Like most such shows, formula rules the day, so each episode starts and ends mostly the same way, and you can be pretty sure how the story is going to progress, especially with the mouseketools device, since you need to use all four to complete your mission. Such segmentation is advantageous though, as it makes the episodes move fast and smoothly. Plus, the hot dog dance at the conclusion of each story features a fun little song you don't mind hearing a few times.
In addition to the main six stars, the show features some recognizable faces from Disney's animation past, including Figaro the cat and big galoot Pete. Pete though poses a slight concern, as he isn't the friendliest of characters, as anyone who remember his original appearances can attest to. Here, he's toned down a bit, but his behavior could be confusing to kids. In one episode, he'll be best buddies with Mickey and his pals, and then he's trying to rip them off when they rent a boat from him. It certainly isn't the finest modeling material on the subject of friendship.
Also less than impressive is the CG animation, which I would put a step below shows like The Backyardigans and the new Winnie the Pooh, at time looking like the incomplete renders you see in the extras on Pixar DVDs. Perhaps the intention was to keep it simple for preschoolers, as the character models are solidly crafted, but it doesn't look as good as other similar shows. That I'm familiar with the old Disney cartoons and the soulful animations of these characters doesn't help either, as these versions feel less "alive."
Here are the episodes included on this set:
Donald's Ducks
Pluto's Bubble Bath
Mickey Goes Fishing
Pete's Beach Blanket Luau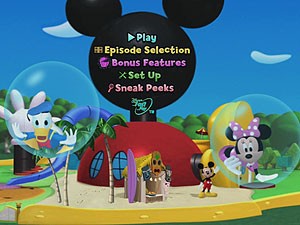 The DVDs
A one-disc release, the DVD is packed in the standard Disney white DVD keepcase. The disc features an animated, full-frame menu, with options to play all, select episodes, check out the bonus material and adjust the set-up. Audio options include English, Spanish and French, while subtitles are available in English SDH, Spanish and French, with no closed captioning. As usual for Disney, the disc features FastPlay, which will play all the content without using the menus.
The Quality
The visuals may be simplistic on these full-frame transfers, but they look excellent, with bright, vivid color and a nice level of detail (when there's detail to display.) There are no issues with dirt or damage (naturally) and compression artifacts are not an issue.
The Dolby Digital 2.0 audio is just what you'd expect from a kid's show, as the dialogue is clean and clear, along with the fun, bouncy music. There's nothing dynamic about the mix, but your kids definitely won't notice that.
The Extras
The disc has three short set-top activities to check out. The first one lets you select options to build a tiki mask, while the second is a game where you pick the four objects Donald shouldn't have brought to the beach. The last part is a hot vs. cold quiz. It may be of minor interest to a preschooler, but won't hold their attention for long.
There's also a set of eight previews/commercials.
The Bottom Line
This is a cute show, with a slight taste of learning, but it's mostly a good time for younger viewers who enjoy Mickey and friends. The DVD offers fine audio and video, and some very minor extras, so you'll have to decide just how much you need a handful of Mickey Mouse, and whether you'd rather just tape it off TV.