"Be an ass for love!"
The Movie
My feelings about Couples Retreat can best be expressed in a monologue by a man in the deleted scenes--let's call him "Gay Guy No. 3"--who overhears the growing discomfort of our main male characters. They have made a realization about the bar they've wandered into, prompting the observer into action: "What is it with you straight guys? Why do you always assume that we want you? Look at you! You are the most out-of-shape people in here! You have zero sense of fashion, you look like a senior bowling team that's lost on the way to the mall, and honestly fellas, this is the truth--you're a gay 'four'."
Phew, that felt good. Thanks Gay Guy No. 3...I needed that. After nearly two hours of tedium, only a moderate amount of relief awaited in the bonus features--which still weren't enough to make this vacation worth it. I had to ask myself how so many cool, talented actors could have agreed to do this film (I'm not including Vince Vaughn and Jon Favreau in that group, but don't worry--Couples Retreat has enough problems that my usual disdain for their typical on-camera personas didn't even come into play). But the answer is obvious: Bora Bora. For a trip to paradise, I'd probably sign on the dotted line, too. In the bonus features, producer Scott Stuber notes: "What's unique about it for a comedy is that the location is going to be a character, and the idea that we're gonna be able to have a location that's as much a part of the film as the other people is a great thing." It's actually a great thing, because the breathtaking location is the only character here with personality (save for one smoldering Puerto Rican...more on him later).
It's been an unlucky 13 years since Favreau and Vaughn (co-writers here, Vaughn also produced) played the field in Swingers, and now they're joined by real-life bud (and A Christmas Story stud) Peter Billingsley in his feature directorial debut. The two actors play characters on the other side of Swingers--but are just as immature and unhappy. Guitar Hero salesman Dave (Vaughn) is married to Ronnie (Malin Ackerman) and has two kids; Joey (Favreau) is hitched to high school sweetheart Lucy (Kristin Davis), who he knocked up at prom; the anal-retentive, Powerpoint loving Jason (Jason Bateman) is married to Cynthia (Kristen Bell), the two trying unsuccessfully to have a child; while recently divorced Shane (Faizon Love) has started dating sassy Trudy (Kali Hawk), a woman half his age who likes to call all of her boyfriends "Daddy". The passion and spontaneity, it seems, has dissipated from all of their lives.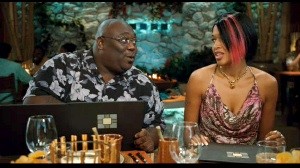 When Jason and Cynthia reveal to the gang that they're contemplating divorce, they enlist their friends' help for a possible solution: a trip to Eden, an exotic island resort that will be cheaper if everyone tags along. As the couple decides whether they want to "push forward or fold-up shop", everyone else can drink, sightsee and cavort. Sounds like fun, but the gang is worried about the "couples skill building" exercises that turn out to be mandatory. Along with the upper-crusty Euro staff, the therapy sessions and the "nurturing" seminars of Zen weirdo Dr. Marcel (Jean Reno), the friends are soon up to their necks in new age nonsense.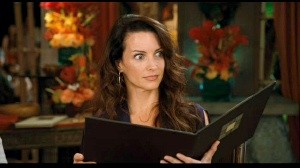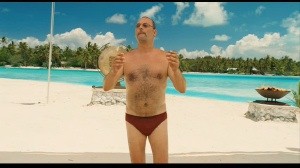 Even the couples who thought life was good start to question their relationships as some probing therapists (including typically funny men John Michael Higgins and Ken Jeong, who have minimal screen time) ask uncomfortable questions. The gang starts to fracture, and for Joey--who clearly wasn't happy with Lucy from the start--the solution lies at Eden East, the singles side of the resort. Portly Shane also has trouble keeping up with his active girlfriend, while doubts start to creep in to Dave and Ronnie's heads. As one member of the group goes missing, the sexes split up and sneak over to the other side of the resort--where temptation may tear them apart for good!
There are so many problems with Couples Retreat, and none of it has to do with the set-up (or with the fact that these five average dudes would land five sexy females with such rockin' bods). This movie is dull, safe and predictable, a juvenile mess about upper-middle class men caught in a mid-life crisis. Worst of all, it's not the slightest bit funny--the neutered jokes aren't clever, and because this is a PG-13 film they aren't raunchy, either. I knew I was in trouble early on after a few exchanges set the tone: Dave can't bring himself to care about which sink knobs Ronnie picks for their home renovation--nickel brush, nickel chrome or brush chrome (Get it! They're all silver! Wives can be so silly!)--while Shane, desperate to cling to his youth by buying a motorcycle, deflects Dave's objection:
"Dave, you're white. You can't understand this. This is something different."
"Don't play the race card with me, Fruit Loop!"
By that point I was banging my head against the wall...and this was just 4 minutes and 30 seconds into the film. You're in for a long ride: Couples Retreat runs a ridiculously long 110 minutes (114 if you wait for the pointless closing credits bumper), and I was stunned that this was the theatrical version--it feels like a bloated monster with everything (plus the kitchen sink) thrown in. It gets sidetracked and loses focus far too easily, including an agonizing video game standoff near the end (imagine my surprise when I discovered that plenty of deleted and extended scenes not included in the film waited in the bonus features).
Sequences are slapped together like Mad Libs for Middle-Aged Men: Throw in a male nudity scene that causes our staunch heterosexuals to get uncomfortable ("Is his junk out?!"), then balance it with some cool random action sequence (guns! sharks!) and ogling at boobs to keep the testosterone levels comfortable, then throw in a few gay jokes to bring the discomfort back. In addition to a stripping exercise, the gang partakes in some tantric yoga led by slightly slimy Salvadore (Carlos Ponce), who gets a little too close and suggestive for everyone's comfort (save for Lucy, who kinda likes the attention). It's a sequence that should work and might, if you're in a silly mood. But--like the rest of the movie--it's too obvious and easy ("Am I straight enough here, or am I curving a little?" asks Jason, at which point I beg for mercy).
At least Ponce gives his character (which returns later) a flair and energy that helps him stand out from his surprisingly dull co-stars, who aren't given much to do other than mope, fight and complain; the script really saps these usually charismatic stars of their charm. The women in particular aren't given much to do (Bell has one line that made me smile but is sadly wasted otherwise; Ackerman doesn't get to have any fun), while Love's character ("What do I look like, Harriet Tubman?") feels tacked on and not really part of the group (an international poster controversy didn't help matters). Bateman is also wasted, his character too close in type to lead Vaughn.
Favreau's wandering-eye Dave is the most unlikable character here. In addition to his instant and non-stop fascination with the single ladies, he also likes to be rude to the staff ("I don't understand what you're saying--you sound like Chewbacca!") and gets caught in some compromising positions--including masturbation with the complementary lotion (complete with Kleenex prep...we all know how that is, right fellas?!) and a massage erection, sequences I can't believe were written by grown men. And the repetitiveness of many of the jokes (seriously guys, stop saying "ball cancer" and "asstastic") is suffocating, proving they don't know when less is more.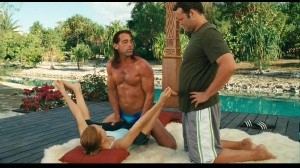 The script is also filled with other tired scenarios, jokes and references that we've seem a million times over, with nothing new brought to the table. Oral sex jokes, happy endings, weak foreigner bashing ("I think you're being a little extreme here, Mr. Belvedere!"), sexting, twating, daddy's nervousness at his scantily clad daughter and digs at Applebees and cheesy resorts ("Screw him! Where's he get the ass to run down Sandals? Sandals rocks!") are just some of the tedious nuggets awaiting you, with plenty of improve exchanges not helping matters. As for the weak, tacked-on ending? It doesn't even involve any of the main characters (perhaps Vaughn just wanted to put his dad in front of the camera again).
In the bonus features, there are a few bloopers and a short feature involving the tantric yoga sequence. It's far funnier than anything in the film, and I would rather watch two hours of that footage than the feature. One of the biggest wastes of talent ever assembled, Couples Retreat is a safe, overlong standup routine about the superficial problems of married life and male insecurities--without a fresh idea, a funny sequence or a poignant observation in its brain-dead body. If sitting stoned-faced for two hours as you stare at the screen waiting for a laugh sounds like a good idea, have at it...otherwise, retreat now or forever hold your grief.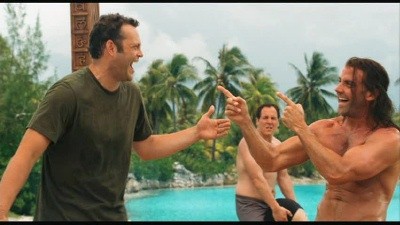 The DVD
Video:
The anamorphic 1.85:1 transfer is well done, especially in the scenes that highlight the stunning locations with bright blue water and green landscapes. Away from those settings, the image is very warm and soft, with comforting brown tones, but still with nice texture and detail.
Audio:
The 5.1 track (also available in French, Spanish and a Descriptive Video Service track, a nice option you don't see often) is fine--dialogue is always solid and clear, but the film fumbles a few opportunities to immerse you in the settings. A little more use of rear channels to put you in that tropical paradise during water, wind and rain sequences would have been nice, but there's nothing wrong with what's here. Subtitles come in English, French and Spanish.
Extras:
Ample, but not amazing. All of the deleted scene footage includes optional audio commentary from actor/producer/writer Vince Vaughn and director Peter Billingsley. The alternate ending (2:47) isn't really alternate, just a tacked-on scene that at least has the main characters on camera, unlike the ending in the film.
You also get seven deleted scenes (totaling 7 minutes), including two quick clips with Joey and Lucy cheating on each other ("There's only one thing I like pumping more than iron..."), which are just sad and tacky, not funny. You also get a scene with three lead women talking; it features a Malin Ackerman line that appeared in the trailer ("You don't wanna see this is a bikini...I haven't waxed since the Stanley Cup."). Also included is "Don't Go Left", the aforementioned gay bar sequence (at 3:05, the most substantial clip here) at (are you ready?) The White Swallow.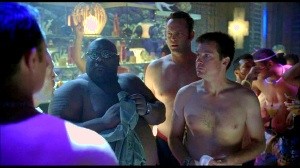 Up next are three extended scenes (totaling 4:20), which primarily give the two women in Shane's life more time to be obnoxious ("I've been on the business end of a lot of Johnsons...I've had every color, every shape, every size!"). Given the cool people in the cast, the gag reel (3:16) isn't as long or funny as I had hoped, but a few laughs creep in (like Jason Bateman and Carlos Ponce breaking form during the tantric yoga).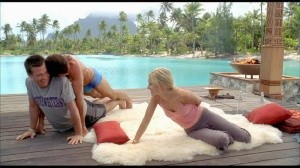 Therapy's Greatest Hits (5:25) is a combination of deleted footage and bloopers from the therapy sessions, featuring the couples and therapists (which include Charlotte Cornwell and Amy Hill in addition to Higgins and Jeong) bouncing material off each other, including more repetitive material (including "How you havin' it?" and a big penis bit).
Paradise Found: Filming in Bora Bora (6:13) gathers the cast and crew for a short and mostly useless piece about how gorgeous the locale is (duh!), glossing over the more interesting aspect of the production designer's job. You also get Behind the Yoga (4:25), the best thing on this disc. It focuses on the scenes involving the gang and Ponce, and shows them all taking tantric yoga classes to prepare for the shoot. As mentioned earlier, I'd rather watch two hours of this footage (along with the yoga-centric bloopers on the gag reel) than the film--it made me laugh a lot more. The yoga bit in the film is not funny, but seeing the actors learn the craft and then try to keep a straight face while doing it is.
An audio commentary rejoins Vaughn and Billingsley, and I was surprised at how dry it was. The mostly monotone guys are too slow and almost disinterested; in addition to some pockets of quiet (wake up, boys!), they don't seem very prepared with fun stories or observations. They are also too obvious and descriptive--but the biggest problem is that there's zero enthusiasm or excitement. It's just plain boooooring.Trailers round out the package.
Final Thoughts:
One of the biggest wastes of talent in recent memory, Couples Retreat is as tired as the married middle-aged men it chronicles. Safe and predictable, it's overlong and unfocused--a middling mess of easy gags and obvious observations we've seen a million times in equally unfunny efforts. It brings nothing fresh or new to the table, and--save for the gorgeous locations and a few laughs in the yoga-themed material--it's an empty escape, a crime considering all the cool talent on board. At least they got a nice trip to Bora Bora out of it, right? Skip It.