Toned down a bit from the nasty, violent first season...but who's complaining when gorgeous Angie dons another tight T-shirt? Almost six years after the appearance of Season One, Shout! Factory rescues another moribund TV series release with Police Woman: Season Two, a six-disc, 24-episode collection of the iconic NBC police actioner's 1975-1976 season. Starring Angie Dickinson, Earl Holliman, Charles Dierkop and Ed Bernard, Police Woman's sophomore season holds up quite well after 35+ years; any self-respecting fan of classic 70s cop shows isn't going to pass up this good-looking set. No extras, unfortunately, this go-around.
The mean streets of Hell-A in the year of our Gerry Ford, 1975. Undercover police officer-of-centerfold-quality Sergeant Lee Ann "Pepper" Anderson (Angie Dickinson) works out of the Criminal Conspiracy Unit of the Los Angeles Police Department (no uniform, unlimited supply of the latest model Fords, not required to eat in the cafeteria with Reed, Malloy or Friday). Intelligent, tough, blonde, and sexy as hell, Pepper is frequently persuaded to don the varied guises of a hooker, a call girl, a street walker, a whore, a tramp, or a slut in order to get up close and personal with the usually male targets of her unit's investigations. Her supervisor, Lieutenant Bill Crowley (Earl Holliman), dons the guise of "macho Burt Reynolds-Lite 70s stud" every day (too-tight jeans and shirt, leather jacket, suspicious pompadour, sideburns), and guides Sergeant Anderson through their dangerous assignments together...while never failing to throw out some barely H.R.-approved flirtatious suggestions to the luscious Pepper. Co-team members Detective Pete Royster (Charles Dierkop) and Detective Joe Styles (Ed Bernard) don the guises of "might-as-well-be-comedic-relief-supporting players" every day, including a wide array of outrageous 70s fashions (full pimp regalia, bedazzled newspaper boy caps, the occasional leisure suit, and farmer overalls sans shirt) as they play back-up all the way to their top-billed, higher-salaried co-stars. A tight family, Pepper and her boys watch each others' backs as they take heat from above and below--from police superiors and politicians and lawyers who hinder their investigations, to the pimps, thieves, and murderers who set out to waste the unit.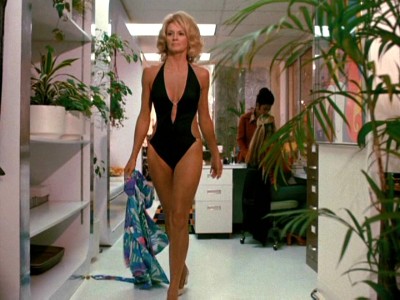 I don't know where Police Woman is now on the pop culture radar, but when it was first spun-off from NBC's critically-acclaimed anthology show, Police Story, it was considered hot stuff by network standards of the day. Police Woman, the first female-anchored hour-long drama to score with audiences, was noted not only for the sight of big-screen star Angie Dickinson in a seemingly unending series of revealing clothes, but also for a relatively aggressive quota of violence dished out week in and week out (at least in the first season). Looking back at the Big Three's male-dominated history, there's no denying that Police Woman's success at the height of the feminist movement in America (even if the show wasn't specifically aimed at a female audience) opened up the network schedules to more and more shows headlined by women, eventually changing the way TV looked. Seen today within the context of vintage 70s cop shows, Police Woman holds up quite well with its contemporaries of the day; newer viewers may snicker a little bit at the dated clothes and dialogue, and the (now) tame violence, but its writing is tight, the direction smooth and polished, and the performances appropriately straight (with just a hint of a smile from obviously amused Dickinson).
By 1974, when Dickinson began Police Woman, her career in motion pictures had pretty well stalled (whether from changing audience tastes or self-imposed, due to her caring for her developmentally challenged daughter). Lead roles in big studio pictures like The Bramble Bush, The Sins of Rachel Cade, Captain Newman, M.D., The Chase, and Point Blank, had given way to less and less prominent outings, including TV roles (The Norliss Tapes) and even exploitation numbers (the divine Big Bad Mama from 1974). So the success of Police Woman (it came in as the 15th most-watched television show of its premiere 1974-1975 season) was a huge shot in the arm for the talented Dickinson, resurrecting her career and arguably, through association with this iconic series, making her a "name" and keeping her working on important projects to this day. A skilled actress who was rarely pushed to her potential (Boorman and De Palma probably got the best out of her), Dickinson may not have had all that much to do here in Police Woman, but she did it gamely, and with a subtle hint of fun and even bemusement at her situation, and it somehow clicked with audiences--a classic case of the right actress, in the right project, at the exact right time, if there ever was one.
And she's knee-weakeningly sexy, too...which never hurt any actor. I was 9 when Police Woman came out, and even I knew what was what when it came to Angie Dickinson (my old man never missed the show). The producers obviously knew, too, because every chance they get, they pour her amazing body into some kind of revealing outfit purely to satisfy the titillation factor of the viewers...and that's cool with me. And why shouldn't it be? She's terrific-looking, and she certainly looks at ease wearing those outfits (unlike most of our newer crop of anxious, kill-joy, "I'm a grown woman but I act like a confused little girl" actresses, Dickinson knows she's hot and has no P.C. compunction about flaunting it). Part of Police Woman's charm is this very open exploitation of Dickinson's sex appeal, used within the stories as part of her skills to temporarily confuse and bring down the baddies, but never done cheaply (Pepper may be hot, but she's strictly a "good girl," right down the line). Even though Police Woman has an undeserved reputation in some corners as the precursor to "jiggle TV," it's probably important to keep in mind that it's a spin-off of one of the 70s' most respected drama anthologies: Joseph Wambaugh's Police Story. And while it doesn't always live up to the high standards of its host series, Police Woman does consistently deliver entirely respectable, solid stories throughout this season.
Not that I don't like a little silliness thrown in now and again. The premiere episode, Pawns of Power (love that title), has none other than Robert Goulet in full 70s regalia (gold chains, big clunky gold watch, turtleneck, Botany 500 blazer, inky black hair and 'stache, angry red eyes), driving around in a semi that's hauling a mobile casino, as Pepper, in a sheer, forming-fitting tied-off bippy shirt and tennis skirt, deals the cards. Score! They show Pepper speaking into her halter, sending a message to her listening team...but where the hell did they put the mike in that delicious get-up (and how about the transmitter...wait, don't ask). Later on, Pepper is thrown into the tank with a bull who snarls at her, "I told you to move it, angle face!" before everyone is rolling around on the floor (I wanted to dive right in and get the living crap beat out of me), and Bill eyes the nude Pepper's rear end under a towel and leers, "The merchandise still looks pretty good," before he snatches it away. That kind of 70s TV slays me; it plugs right into my childhood TV-watching memories like a circuit cable. And there are plenty of similar examples in this second season of Police Woman. In The Score, Pepper lays down some jive about some speed she's buying: "If this is righteous stuff, I'll be back," while her dealer sums up Pepper's astrological karma: "Should have known Gemini has two faces: pig...and undercover pig!" One of my all-time favorites, Don Stroud, is hilarious in Blaze of Glory, playing a redneck bank robber who puts the moves on kidnapped Pepper (laugh-out-loud funny when they all start slapping and hitting each other in the back of the van). John Rubinstein dresses up as a combination Elton John/Gary Glitter in Glitter With a Bullet (see Frank Gorshin put the moves on Pepper). And lovely Joan Collins, sans English accent, comments on the sad state of affairs in Hollywood for gorgeous actresses like her: "I was an actress back when you didn't have to be a freak to get a job," to which Holliman responds with a laugh, "I hear 'glamour' is coming back."
One of my favorites this season, Paradise Mall, written by Frank Telford, has a young Bruce Boxleitner killing off blondes...once he dresses them up as brides. Holliman helpfully announces, "We've got a real psycho on our hands," (a line like that sent me into heaven as a kid), but he tops himself with this rallying cry to the troops: "You might as well call your mamas and tell them to turn on the electric blankets...'cause Daddy ain't gonna be home tonight!" (Bruce's screaming death charge before he's drilled is fantastic). The Chasers features a solid cast of pros including Ida Lupino and Ian McShane in an interesting insurance scam plot (the cameraman does a cool jiggle shot during McShane's rifling of an apartment--nice touch). Director Alexander Singer has a couple of good entries here, Cold Wind and Above and Beyond, with his requisite excellent framing, including a sweet bank heist (check out all the wasted dudes in the van), and Kenneth Mars performing a spectacular high dive, head-first, off his prison bunk. Farewell, Mary Jane has a particularly gory demise via airplane prop, but even better is Angie's unabashed appraisal of guest star Sam Elliott: "That is one hunk of choice male flesh." The Purge is a good showcase for Earl Holliman (he zaps a 15-year-old kid by mistake), while David Huddleston is great, as always, as a wily, unsentimental con man. Silence has the equally gorgeous Joanna Pettet coming off well as a deaf suspect; Angie Dickinson gives a nod to a former co-star when shot ("How come it never hurts when John Wayne is shot,"); while Buddy Lester has a small, funny bit as a booster who not only hits on Pepper, but takes off running when caught...and nobody cares (Holliman eating some bad food is priceless, too--they should have let him lighten up a bit in the series). And the tense, well-structured Incident Near a Black and White has a nicely self-reflexive moment when Pepper, in uniform with Bill, has to enter a run-down slum ("You've seen Reed and Malloy do this a hundred times--just follow the script, honey.").
It's too bad NBC didn't just follow the script and let Police Woman build in its successful first season timeslot. Instead, the anxious network tried a little counterprograming, playing shuffleboard with their 15th-rated series, moving it from Friday nights at 10:00pm (where it had Nielsen Top Ten support from Sanford and Son, Chico and the Man, and The Rockford Files), to Police Story's Tuesday night spot at 9:00pm (the earlier timeslot also necessitated toning down the show's violence). With no help from its lead-off, Movin' On, and zero hold-over from another Police Story spin-off, Joe Forrester, Police Woman still won its time slot against CBS' Switch and ABC's The Rookies...but at a big cost, dropping perilously from 15th to 30th for the 1975-1976 season. Police Woman would never recover, dropping out of the Nielsen Top Thirty altogether for its last two low-rated seasons.
The DVD:
The Video:
The full-screen, 1.33:1 transfers for Police Woman: Season Two look exceptionally good, with strong, bright color, a sharp image, and little or no imperfections (scratches or dirt). Grain is minimal; edge enhancement acceptable. Nice
The Audio:
The Dolby Digital English mono audio track is acceptable, with little hiss, and all dialogue heard cleanly. No subtitles or close-captions.
The Extras:
Unlike the first season, which apparently had multiple commentary tracks by Holliman and Dickinson...no extras here.
Final Thoughts:
Solid police actioner from the too-cool 70s...with plenty of sexist eye candy thrown in courtesy of the devastating Angie Dickinson (and we don't apologize for liking that). Police Woman holds up quite well after all these years: the scripts are solid, the production is polished, and the performances are restrained and on-note. Kudos to Shout! Factory for rescuing another abandoned DVD TV series. I'm highly recommending Police Woman: Season Two.
---
Paul Mavis is an internationally published film and television historian, a member of the Online Film Critics Society, and the author of The Espionage Filmography.