Man card revoked. But seriously, most anyone reading this review is probably shopping for their kids or grandchildren, save for the occasional Brony and/or single-digit reader who hopefully has no access to YouTube's comment section. For those folks, Hasbro's My Little Pony needs no introduction, but here's one anyway: this popular franchise has been kicking for over 30 years, ensuring that anyone who grew up with these cute li'l horse action figures dolls is undoubtedly sharing the Pony love with their little ones now. As was the custom with most 1980s toy lines, an animated tie-in was produced: now known as "Generation 1", a DVD of the first season was produced in 2004 and has since gone waaay out of print. A "Generation 2" series surfaced in 1998, followed by "G3" in 2003 and "G4" (Friendship is Magic) in 2010.
So yeah, there's no shortage of these plastic, pastel-colored horsies on most store shelves and DVD racks, which is good and bad news for parents looking to throw their kids an occasional bone. Having a three-year old daughter has naturally led to a reluctant awareness of My Little Pony...but as a self-respecting product of the 1980s, who am I to deprive her of superfluous material goods? Having little to no knowledge of the franchise beforehand (other than a few clips of Friendship is Magic, which confirmed my suspicions that I am not, in fact, a Brony), I grabbed this screener just to see how my daughter would like it. We've watched plenty of good and bad kiddie shows before...so hey, why not? Not surprisingly, she liked it more than I did, though I still wouldn't say this material continuously held her interest.
For the record, these four "movies" are actually direct-to-DVD episodes (approx. 30-44 minutes each) from the "G3" series and include "Princess Promenade", "Dancing In The Clouds", "The Runaway Rainbow" and "Friends Are Never Far Away", all released on DVD in 2005-06 as main features or bonus episodes. As the original Paramount DVDs have since gone out of print, this Shout Factory collection serves up all four episodes in one handy package. So yeah, the total lifespan of both discs is barely longer than your average flick, but it's still a better value than the original releases.
As for these episodes? The plots are paper-thin, the characters are hard to tell apart and very, very little actually happens. There's pretty much zero educational value, since the vague lessons are more social ("believing in yourself", "forgiving others") than letters, numbers and the like. This isn't a problem, but all the good intentions and pretty colors in the world will never keep this franchise from being surface-level fun that simply entertains more than challenges young viewers. Even so, these "G3" episodes of My Little Pony still have a few things going for them, including catchy song breaks and a slower, more relaxed vibe than most kiddie shows in recent memory. Simply put (and again, from my limited frame of reference), this incarnation seems to be more polished and entertaining than "G1" and less obnoxious than Friendship is Magic. If that sounds like your bale of hay, pony up $15 and go for this Classic Movie Collection.
Quality Control Department
Video & Audio Quality
Presented in their original 1.33:1 aspect ratios, each of these mid-2000 productions looks passable enough on DVD (and, from what I can tell, the same as Paramount's original releases). Image detail tends to run a little on the soft side, although the series' smooth, pastel-heavy design doesn't lend itself to a crisp, razor-sharp appearance. Colors are generally nice and bright without feeling too saturated, though I could easily spot a few mild compression artifacts, jagged lines and stray moments of interlacing along the way. It's doubtful that any young fans of My Little Pony will notice (or care) about any such problems, but they're definitely there if you're looking. Overall, a watchable effort.
---
DISCLAIMER:
The screen captures featured in this review are strictly decorative and do not represent this DVD's native 480i image resolution.
---
Not surprisingly, the Dolby Digital 2.0 Stereo mixes don't aim very high either, but what's here pretty much gets the job done. These dialogue driven episodes feature a modest amount of channel separation, although the occasional song breaks seem to be mixed a little low. I definitely see what they were going for, as the songs have a kind of soft, fuzzy "VHS" quality by design...but the end result is a
little
hard to make out at times. No subtitles or captions are included.
Menu Design, Presentation & Packaging
Seen above, the static menu designs offer smooth, simple navigation. Each 20 to 40-minute feature is divided into several chapter stops, though no selection sub-menus are present. This two-disc package is housed in a clear hinged keepcase with colorful double-sided artwork and no inserts. Both DVDs appear to be locked for Region 1 players only.
Bonus Features
Not much, just a few Sing-Along Songs from the included episodes. It's nice to see some effort here, though the misleading promise of "four movies" and +/- two hours of content on both discs may leave die-hard fans wanting more.
Final Thoughts
Well, this two-disc release is certainly aimed at a specific audience...so if you've got a young My Little Pony fan in your life, this Classic Movie Collection should be right up your alley. As with most compilations, your interest may also depend on whether or not you own any of these four adventures already. Either way, it's a decent value at less than $15, especially since the majority of these episodes are getting a little tougher to find outside of third-party vendors. Shout Factory's DVD package looks more or less identical to the original Paramount discs and one or two of the minor bonus features are carried over. Overall, single-digit franchise fans and ironic gift lovers should try before they buy. Rent It.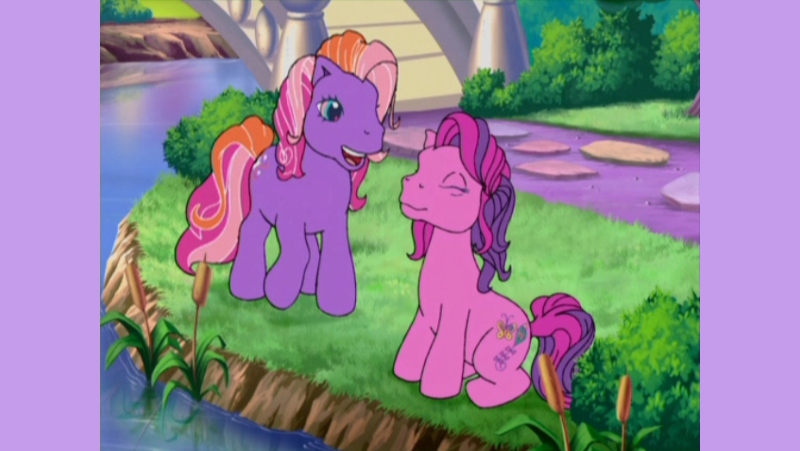 ---
Randy Miller III is an affable office monkey by day and film reviewer by night. He also does freelance design work, teaches art classes and runs a website or two. In his limited free time, Randy also enjoys slacking off, juggling HD DVDs and writing in third person.
---