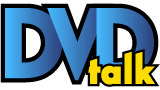 List Price: $15.99 [Buy now and save at Hkflix]
---
The Movie:


Director Zhang Yimou's career has taken an interesting turn lately. After decades building a reputation for carefully-observed, politically-minded character dramas, his last two pictures in a row have been big-budget martial arts epics. It's an unexpected change of pace that not everyone has been comfortable with. Although both Hero and now House of Flying Daggers were huge box-office hits in his native China, and Hero also opened fairly big in the United States, some of the filmmaker's older fans have accused him of selling out for mainstream success. Is that a fair criticism? Perhaps. Then again, maybe the poor guy was just tired of seeing all of his movies banned in his homeland and wanted to make something fun and beautiful to look at. Who can fault him for that?



In late 9th Century China, a Robin Hood-like society of revolutionaries has been stealing from the corrupt government to give to the poor. Local military captains Leo and Jin are ordered to capture the faction's leader within 10 days. To accomplish this, Jin goes undercover as a bandit calling himself "Wind" and attempts to woo a blind girl (Zhang ZiYi) suspected to be the leader's daughter, a plan that works all too well. As they escape from a series of traps that he and Leo contrived, Jin develops real feelings for the girl, and soon must inadvertently become a real criminal in order to keep his cover and protect her. Complications ensue, followed by not just one but two major plot twists, at least one of which is frankly pretty obvious early on.



Like Hero, House of Flying Daggers is a visual tour-de-force featuring vibrant, painterly photographic compositions and stunningly choreographed fight scenes. The use of visual effects and CGI are even better integrated in this one, seamlessly creating a fantasy world where warriors can fly through the air and a thrown blade can dodge and weave to a target at its master's will. The storyline, though complex on a basic plot level (the twists and turns are intricately structured, if not necessarily surprising), is a bit simplistic as a narrative, unfortunately, yet is still satisfyingly grounded in the rich emotions of its characters. Filmmaker Zhang remains a gifted storyteller even when, in cases like these last two films, his focus has shifted toward telling his stories through images and action rather than plot and dialogue.



House of Flying Daggers is a smaller, less epic film than Hero, with more emphasis on character and less on action. Nonetheless, it similarly contains some truly breathtaking scenes such as the early brothel sequence or the bamboo forest battle, and climaxes with a gorgeous finale (both visually and emotionally). It's more art film than action movie and won't be to everyone's liking (nor was Hero), but is a beautiful piece of work from a major filmmaking artist.



Scheduled for a limited American theatrical release this December, the film was a big hit in Asia earlier in the year and is already available on DVD in China and Hong Kong now. The DTS edition from Edko Films is coded for Region 3 NTSC playback and will require compatible hardware to operate. It can be purchased at many Hong Kong retailers (or your local Chinatown, if you have one nearby) for $15 or less.



The DVD


Video:


Like Hero, this movie is beautifully photographed with striking use of color. Sadly, the DVD transfer doesn't capture it very well. Some scenes come across great, especially anything dominated by the color green. However, the picture on the whole is too bright and contrasts are severely blown out. Brightly-lit scenes such as the brothel sequence at the beginning of the movie look washed out. The entire film exhibits serious white crush, where details that should be visible in the brightest portions of the image are simply not encoded onto the disc at all. Perhaps some of the contrast manipulation may be an intentional stylistic choice, but certainly not to the extent that we see on disc. The result looks dupey and video-ish, as if the movie were shot on videotape by a camera operator who didn't know how to set his white balance.



The 2.35:1 anamorphically enhanced picture (the opening credits are windowboxed on all four sides of the frame) is otherwise fairly sharp without noticeable edge enhancement artifacts. Compression quality is only mediocre, with a significant amount of image shimmer in those fine details that are visible. A knowledgeable reader has informed me that the video master is a PAL-to-NTSC conversion done poorly, which might account for the dupey appearance and some of the shimmer. Edko's DVD for Hero was also flawed and only rated so-so scores for picture quality, but this is a big step backwards even from that.



Audio:


Where the picture quality fails, the audio quality picks up the slack. The full bit-rate 1509 kb/s DTS 5.1 soundtrack has outstanding breadth and dimensionality. It's crisp, spacious, highly directional, and has clean, rocking bass. Surround effects fill the entire rear soundstage, including a center channel if you have ES matrixing enabled. The mix as a whole may not be as overwhelming as that for Hero, just as the movie itself is more restrained, but it's still a fantastic sonic experience.



A Dolby Digital 5.1 track is also available for those not DTS-capable, which is also fine though it doesn't blow your socks off quite the same way. If you have the equipment, go with the DTS.



Both audio selections contain the original Mandarin language soundtrack. No dubbing options are available. Optional English or Chinese subtitles have been provided. The English subs appear half-in and half-below the 2.35:1 picture, which may not bother the majority of viewers but is an annoyance for those front projection users who mask their screen to the wider ratio.



Extras:


Bonus features are nearly non-existent. We get a theatrical trailer, a photo gallery, and some filmographies (in English). That's the extent of it.


No ROM supplements have been included.



Final Thoughts:


A shoddy video transfer mars a notable foreign release. The disc is cheap, and I can recommend it for those interested in seeing the movie before it comes to cinemas (or who doubt it will hit theaters near them). Otherwise, I'd say hold out for a better edition later on. Starmax in Korea is scheduled to release their own DVD soon, which may hopefully use a different video transfer. If not, waiting for the inevitable Region 1 copy may be the best strategy.
---
C O N T E N T

---
V I D E O

---
A U D I O

---
E X T R A S

---
R E P L A Y

---
A D V I C E
Recommended
---
E - M A I L
this review to a friend
Sponsored Links
Sponsored Links