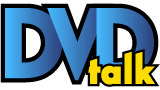 List Price: $18.95 [Buy now and save at Hkflix]
---
The Movie

Earlier this year, I reviewed The Vampire Effect, which is the U.S. title for The Twins Effect. The movie was a huge success in Hong Kong. It's no surprise that a sequel was on the horizon. Unfortunately for the fans (and anyone else) of the first film, The Twins Effect 2 isn't much of a sequel. In fact, there is no relation between the two movies except that it reuses much of the same cast. However, the movie does take a similar approach, providing a mix of martial arts and cheesy comedy. Overall, I didn't feel that this "sequel" fared as well. In fact if I hadn't been reviewing it, I would have shut it off about ten minutes into it.


Essentially this film continues to play off of the popularity of the international pop star duo, Charlene Choi and Gillian Chung, also known as the Twins. In this sequel purely by name, Choi and Chung co-star in a pretty ridiculous film. The story takes place in a world where guys are treated like slaves. When the evil empress was young, her lover laid with her younger sister. It sent her in an uproar of hate, so naturally she killed her father and took the throne. Now years later, an unlikely hero played by Jackie Chan's son, Jaycee Fong, must fulfill an "ancient" prophecy to obtain Excalibur and kill the evil empress and restore equality between men and women.


There are several factors that make this movie a bad one. First, the story itself isn't too original and tends to be pretty boring. The developments in the plot tend to take a long time to unravel. It sets the wrong mood for the movie, which is slow, because high-paced fight scenes get thrown in and it gets somewhat confusing, as the pace of the movie jumps between slow and fast. Another difficulty I had was with the relationships that developed between the characters. There were a lot of quick-loving relationships formed, some of which came too conveniently and others were plain odd. There were also several supporting characters included in the movie, who had way too much time in front of the camera. They tended to add absolutely nothing to the overall story. Even some of the main characters did not fill their roles too well.


In addition, the movie was supposed to be a little silly and it was. There were several touches of comedy that were created from characters acting or doing stupid things. For the most part, they tended to be annoying. However, there were a few characters who managed to pull it off and left me laughing quite hard. Of course, it didn't happen enough.


Overall, this movie was a big disappointment. I really enjoyed the first movie, but this sequel only by name was really awful. The characters were pretty annoying, the storyline was very weak, and the acting, it could have used some work. On a positive note, there were some pretty entertaining fight scenes. There was one especially good one with Jackie Chan and Donnie Yen.


The DVD

Navigation through the DVD menus can be somewhat troublesome, simply because they aren't in English. Unless you can read Chinese, you might not have any idea what you are clicking on. Fortunately, there are many options and you should be able to figure out what is what in a matter of seconds.


Video:

One of the best things about this release is the video quality. The video is given in 1.78:1 ratio anamorphic widescreen color. The picture is absolutely stunning, providing a very clear and sharp image, with colors looking very rich. I noticed no issues with compression artifacts or other major visual distortions.


Audio:

The audio is another positive aspect of this release. There are a total of three language options, Chinese DTS digital, Chinese 5.1 Dolby digital, and Mandarin 5.1 Dolby digital. I do not have a DTS enabled setup, but I can vouch for the 5.1 tracks. Both sounded very good, providing audible dialogue, with sound effects and music coming off rich and vibrant. Dialogue tends to remain in the forward channels, while the sound effects and music tend to take advantage of surround sound. The language options also include subtitles in traditional and simplified Chinese and English.


Extras:

The special features are found on the second disc and it contains a variety of extras that should be fun for the fans. The first extra is not very exciting, unless you can read Chinese. "The Story" is text about the movie, but it's in Chinese. There is no option to view it in English. "Characters" contains background information about the movie's characters. It is viewable in both Chinese and English. The main extras are the "Making Of" featurettes. It's your standard behind the scenes and it is available in English and Chinese. There a second featurette that is only in Chinese. In addition, there are also five behind the scene clips that are each approximately 2 minutes long. The other extras include a movie trailers, music video, casts & credits, and several photo galleries. Overall, the extras weren't very impressive. While there may seem to be a lot of them, none are that entertaining.


Final Thoughts:

This was a pretty bad movie. It has very little to offer in entertainment. Sure there are a few good fight scenes and a joke or two that are funny, but considering the rest of the content (awful storyline, some bad acting, etc.) this movie has very little to offer. Fans of Choi and Chung should line up, but everyone else, skip it.
Sponsored Links
Sponsored Links