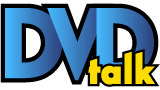 For a Few Dollars More - Ultimate Edition
Fox // R // June 3, 2005 // Region 2
List Price: $36.23 [Buy now and save at Yesasia]
---
Note: This is an import title in NTSC format from Japan. Though available online and at many specialty shops throughout America, a region-free or Region 2/NTSC player is required when viewing this title.

Sergio Leone famously stole Akira Kurosawa's Yojimbo (1961) lock, stock, and barrel for his uncredited remake, A Fistful of Dollars (Per un pugno di dollari, 1964), the film that officially launched the Spaghetti Western genre. What qualities that film has - and it is a good picture, even Kurosawa said so - ultimately are carried over to greater or lesser extent from Yojimbo. Even Ennio Morricone's superb score mirrors the orchestral approach and sardonic attitude of Masaru Sato's equally influential work in the Japanese film.


But with the immediate follow-up, For a Few Dollars More (Per qualche dollaro in piu, 1965), Leone's own style begins to emerge. It's not a terribly cohesive work, as the director seems more concerned with the showy set pieces than with the big picture (something that would soon change), by at times the film's a knock-out.


The relatively simple story follows two bounty hunters, Monco (Clint Eastwood, his character made nameless for the initial U.S. release) and Colonel Douglas Mortimer (Lee Van Cleef), both of whom reckon that "where life has no value, death, sometimes, has its price." Eventually they realize they're after the same man, El Indio (Gian Maria Volonte) a pot-smoking psychopath who'd just as soon murder members of his own dwindling gang as anyone, if the mood strikes him. With Indio planning to rob the seemingly impregnable El Paso Bank, Monco and Mortimer decide the team up, though neither trusts the other.


Like both The Good, the Bad, and the Ugly and Once Upon a Time in the West (1967), Leone takes his time, introducing his characters one-by one, and for the first time really fills his Techniscope frame with his trademark grotesques, in tight close-ups, and injects his screenplay with operatic flourishes that reached their zenith over the course of his next two pictures.


In many respects, the film belongs to Van Cleef almost more than it does Eastwood. Though the ads work overtime to suggest he's the bad guy, in fact Van Cleef plays a sympathetic character whose own interests in El Indio would be expanded much further and more darkly by Leone with the Charles Bronson character in Once Upon a Time in the West. It's no wonder Van Cleef became a huge European star after this. Ironically, the once busy character actor had made few films in the couple years prior to this, and had been reduced almost exclusively to TV Westerns by 1965. His was a real comeback story.


And MGM's new "Ultimate Edition" DVD really is.


The label's Region 1 DVD, with its 4:3 letterboxed transfer, is now more than four years old and destined for the scrap heap. Leone fans in other parts of the world are already enjoying this two-disc set, packaged in much the same way as the Region 1 The Good, the Bad, and the Ugly Special Edition, released in May 2004. This reviewer took a look at the region 2/NTSC DVD from Japan, which is slightly different from the PAL version released in the UK and elsewhere.


Video & Audio


Filmed in Techniscope, MGM acquired a new Inter-Positive from producer Alberto Grimaldi and Technicolor Rome off the original negative. The results are simply superb. Though the film retains the graininess inherent in the two-perf negative frame, the 16:9 anamorphic image otherwise is razor sharp, so much so that you can see the pores on Lee Van Cleef's face. The color is also greatly improved from all previous video versions. This is especially noticeable in night-for-night scenes, and on dark objects such as Clint Eastwood's soaking cowboy hat in one scene. The DVD uses the animated English titles, and the title elements are in slightly less pristine shape, but overall the image is impeccable. Matching the stunning image is the soundtrack which, save for the monophonic main title music (presumably because of all the gunfire sound effects?) is in full stereo, which naturally brings out the best in Morricone's score, but which also includes fully directional dialogue and sound effects. For the Japanese DVD, audio options are: English 5.1 DTS, English 5.1 Surround, Italian and Japanese mono. Apparently the Japanese language track runs 111 minutes; I didn't give it a listen, but I assume the missing audio is supported with Japanese subtitles. Subtitle options are English and Japanese.


Extra Features


Missing from the Japanese edition is Christopher Frayling's audio commentary track and a booklet apparently included in the UK version. Why the audio commentary track was dropped is a mystery. MGM and Japanese distributor Fox Home Entertainment Japan have added Japanese subtitles to English-language commentaries in the past, including this writer's commentary track for Tora! Tora! Tora!. Besides the main feature, Disc 1 includes an Original Theatrical Trailer in 16:9 anamorphic. The trailer appears to have been directly adapted from the Italian/international one, as it's in that style, and amusingly points out that Leone is the same guy who directed Fistful of Dollars under the name "Bob Robertson," and that "John Wells" was none other than Gian Maria Volonte.


Disc 2 kicks off with the 20-minute A New Standard - Sir Christopher Frayling on For a Few Dollars More, in which the biographer articulates entertainingly and informatively the film's history and artistic merit, pointing to specific moments in the film, and through amusing tales culled from first-hand interviews with the cast and crew. It's one of the best featurettes of its kind. Back For More is a seven-minute interview with Clint Eastwood, from a 2003 interview conducted for the extended edition of The Good, the Bad, and the Ugly. It's less informative than the Frayling piece, but a delight anyway. Similarly, the 10-minute Tre Voci - Three Voices Remember For a Few Dollars More interviews producer Alberto Grimaldi, uncredited co-writer Sergio Donati, and actor Mickey Knox. Both this and the Eastwood piece use material not seen in their Good, the Bad, and the Ugly interviews, and Tre Voci especially benefits from the clever, useful editing of Glenn Erickson (alias DVD Savant), which livens these featurettes up and cuts to illustrate points rather than draw attention to itself. Each of these documentaries is 16:9 anamorphic.


Glenn's cutting also makes very clear the very slight differences between previous home video versions and this restored edition, in For A Few Dollars More: The Original American Release Version, which at one point actually uses a pointer to help the viewer spot the difference between the two cuts. This supplement is 4:3 letterboxed, presumably because an older LBX master was pulled for the American release version.


Restoration Italian Style features a very informative interview with reparatory director John Kirk (my next door neighbor when we worked at the MGM Tower in Century City!), who discusses the work done with both the picture and sound. A long but fascinating Location Comparisons, 1965-2004 is nothing but then-and-now shots, from myriad angles throughout the film. One Western street is long gone, another seems to have been converted into a tourist attraction. Some of the Almeria, Spain terrain is developed, but most of it looks much the same as it did 40 years ago. Fascinating stuff.


There are a whopping twelve Radio Spots, and another Trailer, this one a double-bill reissue trailer (of Fistful of Dollars and For a Few Dollars More) in 16:9 anamorphic format for 1.85:1 widescreen. "Each is better than the other!" asserts the narrator.


Wrapping up the long list of supplements is a Photo Gallery and an MGM Title Promotion, featuring annoyingly edited promos for the Leone DVDs and ads for Open Range (not an MGM film, by the way), and other unrelated titles.


Parting Thoughts


For Sergio Leone fans, this is a no-brainer, a double-dip DVD that's really worth the price. The 2001 DVD was never better than a reference video; this is a title for everyone's DVD library.


Stuart Galbraith IV is a Kyoto-based film historian whose work includes The Emperor and the Wolf - The Lives and Films of Akira Kurosawa and Toshiro Mifune and Taschen's forthcoming Cinema Nippon. Visit Stuart's Cine Blogarama here.
---
C O N T E N T

---
V I D E O

---
A U D I O

---
E X T R A S

---
R E P L A Y

---
A D V I C E
DVD Talk Collector Series
---
E - M A I L
this review to a friend
Sponsored Links
Sponsored Links