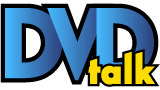 List Price: $27.99 [Buy now and save at Yesasia]
---
The Movie:
NOTE:This Korean Import DVD is coded for playback in Region 3 only. In order to watch this disc, you'll have to have either a player coded for Region 3, or a Region Free DVD Player.
The twelfth film from Korean art-house wunder-kid Kim Ki-duk (director of The Isle, Bad Guy, and 3-Iron) continues his trend of telling off beat love stories with minimal amounts of dialogue and a few surprising twists to keep things interesting. If you've seen 3-Iron then you know how capable he is of directing long stretches of film without any spoken words whatsoever and making them important to the narrative and never has that been more aptly illustrated than in The Bow (or, Hwal in its native Korea).
A young girl (HanYeo-reum of Samaritan Girl) lives on a boat with a man (Jeon Seong-hwang) easily three times her age. Neither of them are named, neither of them really talk much. They make a meager living by hosting fisherman who come to cast off of their anchored ship, taxied in by the old man's smaller motorboat that stays tied to the side of the larger ship. The vessel is adorned with a myriad of colored streamers and plenty of Korean flag logos and insignias despite its rather run down condition. Sometimes the old man will tell the fishermen their fortunes by having the young girl swing on the side of the ship in front of a painting and shooting arrows into it. He never hits her, they always zip right past her into the ship and depending on what part of the painting they hit, that's how he knows what will happen to them. He not only uses his bow to tell fortunes but also to fend off would be attackers who show an interest in the girl, and to make music late at night by use of a sort of make shift violin.
The old man, who we hear has raised the young girl since he found her when she was six years old, plans to marry her a month from now when she turns seventeen and becomes of legal marrying age. Until then, he's very protective of her and will gladly put an arrow into anyone who touches her. She, not knowing any better having spent the last ten years on the same boat with the same man, seems content with her life until a young man shows up with his father and a couple of friends for some fishing. He gives her his headphones as a gift and takes her picture and they start to fall for each other, despite the obvious protests from the old man. In the past, he's been able to control her, as she's never known differently, but now the object of his love, who he has held captive for a decade, is asserting herself and he will have to come to terms that what she wants out of her life might not exactly coincide with the way he sees things happening.
A powerful and thought provoking film, The Bow will keep you guessing until the end – there's no way you're going to figure this one out until it happens and even then, Kim Ki-duk leaves the end of the film very much open to interpretation. If you pay close attention to the way that the movie builds up you might think you've got it figured out but this one comes so far out of left field that you'd have to be psychic to catch it before you're supposed to. Whether or not what happens at the end of the film is meant to be taken literally or as a metaphor is left completely up to you to decide, which makes the result all the more effective depending on what you read into it.
Performance wise, the film is excellent. Both HanYeo-reum of and Jeon Seong-hwang are superb in their lead roles and the fact that neither of them has any dialogue doesn't hamper the flow or narrative of the film in the least. Like in 3-Iron they tell their story with actions and facial expressions that speak volumes, rendering whatever dialogue you might expect to be there completely unnecessary. The film, like many of the director's early pieces, deals with an out of the ordinary kind of love and the performers are completely up to the challenge of portraying the very different emotions that the story requires as it plays out. As can be expected by those who have seen any of his earlier movies, this one looks terrific as well, with all manner of interesting shot compositions (the continued placement of HanYeo-reum's character in front of the Korean flag, the matching of the deck furniture to the linen on the bed in the hull of the ship) keeping the movie interesting in a visual sense as well as a narrative one. If there's only one flaw that the film has it's that the soundtrack gets a little repetitive at times but that's such a minor quibble that it almost seems unnecessary to mention it. The Bow is a powerful and fascinating film and even if you don't necessarily 'like' the ending, at least it'll get your brain working a bit and make you think about it…
The DVD

Video:


The Bow gets a very nice 1.85.1 anamorphic widescreen transfer on this Korean import DVD. The blues in the sky scenes and the water scenes look especially vibrant and quite nice. There is a bit of
over saturation in the reds in a couple of spots but it's minor. Black levels stay very strong and very deep throughout and there are no problems with mpeg compression artifacts at all, through there is some very mild line shimmering noticeable in a few spots. Print damage isn't ever an issue, neither is film grain and we have a nice, clean picture to look at on this release with plenty of detail present in both the foreground and the background of the picture.
Sound:
You've got your choice of watching the film in its native Korean language using either a Dolby Digital 2.0 Surround mix or a more robust Dolby Digital 5.1 Surround Sound mix. Optional subtitles are available
in English and in Korean only. The English subtitles are handled very well and aside from the opening song they appear to be very much complete. The music used throughout the movie comes through with a fair bit of punch and the scenes that do have dialogue come through nice and clear. There are a few spots where the background noise on the boat plays a very big role
in the atmosphere of the film and during these times the 5.1 mix really has an advantage over the 2.0 mix but both tracks are of very nice quality and there's really nothing to complain about in terms of presentation here.
Extras:
There's only one extra feature on the DVD, a thirty seven minute behind the scenes look at the movie entitled The Making Of The Bow and it is in Korean only with no subtitles of any kind available. Not being fluent in Korean, all I can attest to is that most of the key performers in the film are
interviewed for this feature as is the director and a few other crew members. There is some interesting and candid behind the scenes footage that is interesting to watch in here as well. The packaging comes with a
slipcase cover to go over top of the keepcase which houses the disc as well as an insert (again, Korean language only).
Final Thoughts:
The Bow is liable to divide audiences even more than the director's earlier Bad Guy and some of the same reservations that apply to the earlier film are appropriate here as well. The ending aside (and that's really going to be the deciding factor for anyone) the film is exceptionally well made and the performances are excellent. The KD Media DVD looks and sounds very nice and despite the lack of English subs on the extra features, this one still comes highly recommended.
Ian lives in NYC with his wife where he writes for DVD Talk, runs Rock! Shock! Pop!. He likes NYC a lot, even if it is expensive and loud.
---
C O N T E N T

---
V I D E O

---
A U D I O

---
E X T R A S

---
R E P L A Y

---
A D V I C E
Highly Recommended
---
E - M A I L
this review to a friend
Sponsored Links
Sponsored Links