Kino // Unrated // November 7, 2006
List Price: $29.95 [Buy now and save at Amazon]
---
Kino International presents a special two-disc set for director Aleksandr Zarkhi' 1967 epic rendering of Leo Tolstoy's Anna Karenina. Obviously, no expense was spared (in comparison to average Soviet films) in bringing this literary masterpiece to life. Anna Karenina's two years of actual shooting in full color 70mm widescreen, with a cast of Russian cinema superstars enacting the famous characters, certainly seemed to promise the definitive version of this oft-filmed novel. Perhaps it is - although that depends first on how one sees the novel, and second, one's past memories of other film versions (most people love the Garbo version regardless of its fidelity to Tolstoy, while others are disappointed in the Vivien Leigh version because she's not Garbo). As for the intended epic scope, I wish I could say that's the saving grace of this film (or more specifically, this disc), but whether it is or isn't becomes hard to determine when one sees the quality of the print used for this DVD transfer. Sadly, the print used here is badly damaged, with rapid, disorienting color shifts, wave after wave of faded washes, as well as distracting compression halos and pixelation in the transfer.
Tolstoy's famous novel (if you don't remember the story, don't read too far down, or the ending will be spoiled for you) tells the story of beautiful Anna Karenina, who is trapped in a loveless marriage with passionless Alexei Alexandrovich Karenin, an influential politician and bureaucrat. Anna is called from St. Petersburg to Moscow, by her brother, Prince Stiva Oblonsky. He has been unfaithful to his wife, Dolly, and he wishes Anna to talk her out her plans to leave him. At the Moscow train station, Anna meets Count Alexei Kirillovich Vronsky, a dashing officer who is engaged to marry Dolly's younger sister, Kitty. However, he has no intention of marrying her, because he has fallen instantly in love with Anna. This is, eventually, good news for Konstantin Dmitrievich Levin, a childhood friend of Stiva, who loves Kitty. Vronsky follows Anna to St. Petersburg (after she leaves Moscow, afraid of her feelings for Vronsky). Despite her husband's warnings (based mostly on how it would appear to society, not out of jealousy), Anna returns Vronsky's love, and she becomes pregnant with his child. A divorce is almost granted to Karenin, yet he relents when Anna almost dies during childbirth. Anna, in her delirium, makes Karenin and Vronsky reconcile. Vronsky, overcome with guilt after momentarily bonding with Karenin, attempts suicide. Despite her own child with Karenin, and her attempts to lead a proper life as a good wife to Karenin, Anna eventually abandons her family, and runs off with Vronsky, becoming the scandal of Russian high society. Anna and Vronsky, without friends and limited within their society that spurns them, eventually understand that they cannot go on together. Anna leaves Vronsky, and commits suicide.
By the time that Anna Karenina went into production in 1965, Soviet cinema (which had flowered again after the fall of Stalin and the relative artistic "freedom" of Khrushchev's reign) had again become fodder for state control, when Khrushchev resigned (by force) in 1964. As well, there was an increased movement to re-visit the early traditions of Russian cinema that emphasized naturalistic, recreated realism, married to epic tragic romances and dramas - all of which were considered "safe" compared to the anything that smacked of artistic individualism that challenged the social conventions of the current Soviet order. That kind of film would be drastically altered by the State, or suppressed altogether. Therefore, Tolstoy's Anna Karenina seemed like a natural for director Aleksandr Zarkhi, a director never known for rocking the Soviet boat in the first place. I don't think it's a stretch to imagine that the Soviets, seeing the enormous international success of one of their own homeland works, Doctor Zhivago (no matter how politically suspect it may have been to the politburo) by David Lean, may have been goaded into making their own grandiose, epic love story for the international crowd.
It's difficult to tell what director Zarkhi intended with Anna Karenina, not only because the print here is questionable, with what looks to be missing scenes (more about that later), but also Zarkhi's own shaky execution of the production at the time. If one listens to the interviews (on disc two) with some of the actors involved in the production, it becomes apparent that Zarkhi himself wasn't sure how to approach the material. Their were numerous casting changes up until the day of production (always a bad sign), the script wasn't finished by the first day of shooting, and indeed, was being written and re-written during production (an even worse sign), and once production began, many involved in the production felt that cinematographer Leonid Kalashnikov had a firmer grip on the material, than Zarkhi (Kalashnikov was the sole director of the two best sequences in the film: Vronsky's horse race, and the tragic finale).
Key scenes integral to the plot seem to be missing here, and it's difficult to say whether Zarkhi decided not to shoot them, or he did shoot them and then cut them (according to one of the actors, an expensive subplot concerning Konstantin Dmitrievich Levin's brother, played by a big Soviet star, was shot, and then dropped), or that they've been left off this terrible print. The most glaring omission is any scene explaining Vronsky's sudden infatuation with Anna. He meets her at the station, and there's an obvious initial attraction, and the next we see them together, he's passionately telling her that he loves her, and what's more, she already knows it. Huh? Where did that come from? If you already know the story, you know where it came from, but not here. We never see the most critical underpinning of the story: their descent into love. It's just blatantly stated, after the fact. Boom. Done. There's a hint of a love scene (just a hint, and it's too bad, because Tatiana Samoilova, partially nude from behind, looks stunning), but trust me: you can't figure out if it's a dream of hers, a wide-awake fantasy, or an actual remembrance of what happened with Vronsky. Poor screenwriting? Poor direction? Poor editing? Or poor print? It's almost impossible to tell from this DVD.
There are many pleasures to be found here, despite the above problems. Chief among them are the performances and the cinematography. Tatiana Samoilova (Cannes favorite The Cranes Are Flying) is affecting as Anna; it's a different portrayal of this famous character than you're probably used to. By design by both the director and actress, she's a much less sympathetic Anna (as Tolstoy would have wanted it), alternately flighty and willful, desperately romantic, and yet, needy to the extreme of pushing Vronsky away (who doesn't come off very well as a hero, either). It's not an overly dramatic performance, but Samoilova accomplishes much with just her eyes (as all great actors do), and she makes interesting choices throughout the performance. Vasili Lanovoy as Vronsky cuts an appropriately dashing figure as the aristocratic army officer. But Lanovoy (interestingly enough, Samoilova's real-life ex-husband at the time of filming), doesn't play Vronsky as a tragic figure, either. Vain, selfish, wrapped up in his own needs and wants, once he has made Anna his own, he comes to realize that he's abandoned all of the principles and norms of his class, and rejects Anna in favor of them. It's an unheroic hero performance that lends depth to the proceedings.
Cinematographer Leonid Kalashnikov achieves some amazing effects - both large-scale and small -- with his restless, tracking camera and frosty palette of colors. Vronsky's horse race is a delirious series of close shots of charging horse heads, crowded in the frame, giving the viewer a vertiginous feeling of hanging onto the back of a steed. It's as exciting as the chariot race in Ben-Hur, unfortunately ruined by a final, furious, ridiculous montage that alternates shots of the horse's head and Anna's face, making the viewer laugh, and ruining the spectacular crash that follows. There's also the final scene, that achieves an almost spectral awe in its perfect, cramped mise-en-scene. Both scenes were shot exclusively by Kalashnikov (which further makes Zarkhi's contributions suspect). But perhaps my favorite moment in the film is a small, short one that you might almost miss, but that perfectly sums up the power and passion inherent in the film's main theme. Anna is sitting in her train compartment, rocking gently, sensuously, back and forth, as she remembers dancing with Vronsky. It's a perfect visual bridge from the earlier ballroom sequence where they dance togther, where Anna now "dances" on her seat, alone, lost in her sensual memory. The camera starts off blurry, and slowly racks into focus on her dreamy, dewy face. It's a breathtaking moment, and clearly an indication of Kalashnikov's art. It's such a shame that the print used here gives no indication of how clear and detailed the film might have looked, in its original, pristine 70mm clarity.
The DVD:
The Video:
Anything in 70mm, I don't care what it is (even Custer of the West, I don't care), automatically gets my attention. If you love movies, there's a cache, a weight to 70mm that's indescribable. So I was really excited to see Anna Karenina in 70mm. Sadly, as stated above, the image as presented here, is sub-par. None of the sparkling clarity of 70mm shines through the 2.20:1 widescreen image (there's one photo in the Extras photo album that shows the almost 3D quality that this film must have had in its original presentation). As well, the transfer does further injustice to the film by having compression and pixelation problems. It's sad when the video-shot interviews in the Extras section, are a welcome relief to the eyes.
The Audio:
Here, things get kind of weird. You have several choices on how you can listen to Anna Karenina. You can listen to the original Russian Mono track. It is the primary track to listen to, because, as you know, you lose a lot of character and nuance in the vocal performances when the film is dubbed. However, the soundtrack is obviously looped, so...it sounds kind of fake anyway. Still, you get the original voices of the actors, and that's invaluable. There's also an English and a French dubbed 5.1 Stereo track available. The main drawback to the English dub is that the vocal performances are pretty weak and over inflected (Anna's little child sounds, frankly, insane - exactly like Jason's Mom in Friday the 13th, I kid you not). On the plus side, it is easier to follow the story that way, and you can hear the frequent switches to French (a trademark of the supercilious Russian aristocracy) more readily. Plus, the 5.1 really blows out your speakers with the amazing musical score by Rodion Shchedrin, and the cool sound effects of the train (a crucial visual and aural metaphor throughout the film). However, a weird little quirk of the English soundtrack is that it occasionally drops out entirely, switching over to Russian. It happens several times during the film, and since the DVD doesn't say when the English dub was made (during the 60s; today?), it's hard to say exactly why this happens. If you leave the English subtitles on, there's no confusion. There's also French and Spanish subtitles, too, and you can have any combination if you chose ("I'd like the French 5.1 dub, with the Spanish subtitles, please.").
The Extras:
There's some quality extras on this Kino International release of Anna Karenina. Navigating the extras menus on disc two takes a little practice (they ask first if you want the extras in French or English, before you know what they're asking for, and then you have to choose subtitles separately), but they're worth the hunt. Thoughts About Leo Tolstoy is a short documentary that discusses the major themes and events of Tolstoy's life. I would bet, from the tone of the piece, and the look of the film, that it's from the early 70's, but there's no indication of that on the film. Aside from some laughable digs at capitalism and religion (which make me think it's a Soviet production), it's an entertaining, worthwhile look at the author. Chronikle is an assemblage of some very cool newsreel footage of the author, back in the teens. It's a fascinating glimpse (without narration) into Tolstoy's last years, including the deep, dark grave dug for him, out in the middle of the frozen Russian woods. The Making of Anna Karenina is a fairly useless little behind-the-scenes look at the production, which shows a brief shot of the train station mock-up, a short interview with Samoilova, and a clip from the film. Of real interest are separate interviews with the major stars of the production, as well as the cinematographer, with several text-only biographies of the cast and crew. There's also a photo album that's pretty slim. It's a shame there's no trailer; I would have loved to see how Mosfilm Studios tried to sell this one.
Final Thoughts:
Anna Karenina was produced during an ideological retrenching of the Soviet cinema. It was politically "safe" subject matter, that fit perfectly with its politically safe director. Zarkhi may not have made a Lean epic (and I doubt he would have wanted to - at least politically), but he did assemble an amazing crew of actors and technicians who bring a realistic, downbeat, almost anti-romantic feeling to this much-filmed novel, making it a worthwhile viewing experience. Pity that the print used here for the DVD is damaged, and that the DVD transfer compounds the image problems. Therefore, viewing Anna Karenina is recommended. It's doubtful that a better print will ever show up, so this probably will be your best bet at seeing this rare film. Recommended.
---
I received a great email from a reader, Jon Paul, who gave some good insight as to what might have happened to the print here for Anna Karenin. He's referencing RusCiCo's DVD of Sergei Bondarchuk's magnificent War and Peace, and the extras on the disc:
As to Soviet 70mm stock, some of the extras with RusCiCo's DVD of "W&P" explain that, in true Soviet fashion, a lot of the 70mm stock they received from the factory was junk, just really badly made, poorly machined so that it didn't always fit the cameras, sometimes with faded colour right from the first printing, emulsion peeling off the back of the film, etc., etc. There are some sections of "W&P" where the transfer is not great, but RusCiCo seems to be claiming that the fault is in the poor quality of the source materials. FYI, too; for interior shots, the 70mm stock was so slow, that the actors got queasy from being exposed to the massive heat of the lights needed, forcing Bonardchuk to get his shots in the fewest takes possible.
Here's another helpful email from reader Randy Riddle, who's commenting on Jon Paul's email:
I have some more information that might shed light on the quality of the DVD you're looking at.
The DVD of "War and Peace" you mentioned in the footnotes of the review was mastered from a 35mm print. "War and Peace" was also produced in 70 mm. The 70mm elements of the movie were being held in one part of the country in one of the only facilities that could handle the format. After the breakup of the Soviet Union, they weren't able to get the elements back to Moscow, so the 35mm print was used for the DVD release. The original six-track sound masters were still available, so they did use them for the DVD. From your description, it sounds as though "Anna Karenina"'s 70mm elements might have suffered the same fate. It's sad that much of the Soviet Union's film heritage isn't better preserved. With the horrid color filmstocks used by the Soviets at the time, some fascinating films are in danger of being lost in their original form.
---
Paul Mavis is an internationally published film and television historian, a member of the Online Film Critics Society, and the author of The Espionage Filmography.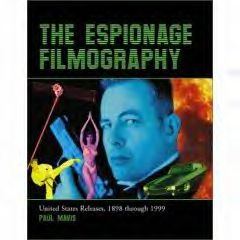 ---
C O N T E N T

---
V I D E O

---
A U D I O

---
E X T R A S

---
R E P L A Y

---
A D V I C E
Recommended
---
E - M A I L
this review to a friend
Sponsored Links
Sponsored Links