Mrs. Palfrey At The Claremont
List Price: $19.95 [Buy now and save at Amazon]
---
It would be easy to overpraise a film like Mrs. Palfrey at the Claremont. There's a wealth of sentimental, sad scenes, enacted by old pros like Plowright and Massey and Lang, that are ruthlessly calculated to tug at the heartstrings, and which suggest a better film in your memory and in your heart than what was actually on the screen. So let's not do that; let's give the film the proper respect it deserves. Mrs. Palfrey at the Claremont is a pleasant, poignant, though familiar fable, simply presented, and touchingly acted. No more; no less.
Mrs. Palfrey (Joan Plowright) a widow, has left her safe Scotland home for life in a London hotel. Having seen an advertisement for The Claremont Hotel in a magazine, she's disappointed to see reality not match up with her imagination. Her room is small; the view outside her window looks out on the wall of another building; the bathroom is down at the end of the hall, and the lift is in spotty repair. The other faded occupants of The Claremont don't exactly fit the bill of her imagination, either. Mrs. Arbuthnot (Anna Massey) is the cynical, morbid leader of the small group, who doesn't think twice about telling someone to go away if they're becoming tiresome. Mr. Osborne (Robert Lang) is a widower who blusters to himself as he eats his dinner alone, which is supplemented by entirely too much drink. Mrs. Post (Marcia Warren), a devourer of tabloid rags, talks the ears off anyone who is listening - and even those who don't - about relatives that never come to visit. Mrs. Burton (Georgina Hale) exhibits a theatrical flare, while dressing entirely too young for her age. And Mrs. De Salis (Millicent Martin) lives at the hotel with her middle-aged son, Willie (Michael Culkin). Every day, day in and day out, they can be found down in the hotel's dining room, like some tattered road company from Terence Rattigan's Separate Tables, enacting the same petty squabbles with the help, and complaining about the food, while they stare off into infinite boredom. Not exactly the kind of scintillating dinner companions Mrs. Palfrey dresses up for, on her first night down in the dining room.
On a chance errand at the library for Mrs. Arbuthnot, Mrs. Palfrey hurries home, trying to beat the rain, when she suddenly takes a fall in front of the basement flat of Ludovic Meyer (Rupert Friend), a struggling writer who's housesitting for a friend. Showing uncommon kindness for the injured old woman, Ludovic invites her in for a cup of tea and a rest, while he attends to her scraped knee. Taken with the young man's kindness, Mrs. Palfrey has an idea. For weeks, she has been trying to contact her grandson, who ignores her invitations to visit her at the hotel. Rather than becoming another sad case like Mrs. Post, Mrs. Palfrey, perhaps more lonely than she'd like to admit, asks Ludovic to have dinner with her at the hotel, to repay his kindness. And so begins a very close, emotionally intimate, as well as highly unlikely friendship between Mrs. Palfrey and Ludo. When Mrs. Palfrey tells the rest of The Claremont's guests that she's going to have company for dinner, they immediately assume it's the grandson Mrs. Palfrey always talked about - but which they never really believed existed. In a bind, Mrs. Palfrey now asks Ludo to pretend to be her grandson, which he does willingly.
Ludo, who carries some emotional baggage from his mother who disapproves of his chosen profession (as well as the disapproval of girlfriends who see his love of the past as a dodge of the present), becomes a vitally important part of Mrs. Palfrey's days, and begins to see her as his adopted grandmother. They grow extremely close, with each of them sharing emotional intimacies that they seem to be unable to get from their own families. When Ludo meets Gwendolyn (Zoe Tapper), a lovely, sweet-natured girl, he stops seeing Mrs. Palfrey on a regular basis, and she is suddenly caught in the exact same situation she found herself in before: she's alone. A disastrous fall on the steps of The Claremont lands Mrs. Palfrey in the hospital, and sets in motion the inevitable, sad last days of Mrs. Palfrey's and Ludo's relationship.
Despite the sentimental feelings that Mrs. Palfrey at the Claremont wrings out of its oft-filmed central theme - the passage of knowledge and wisdom from a person at the end of their life, to a person just at the beginning of theirs - there are problems with the film. Perhaps most troublesome is the character of Ludo, who is drawn in an rather unbelievably sweet light. By refusing to give Ludo even the most rudimentary conflicting emotions about all the time he spends with Mrs. Palfrey (as well as the level of emotional intimacy he invests in the relationship), the director keeps the story firmly on the grounds of fable, rather than a more honest, deeper exploration of a complex relationship. Don't get me wrong; I love fables. But with such a gifted actress as Plowright, who brings shades of exactly those kind of complexities to her character that are missing in Ludo, the director and screenwriter present a lopsided, sentimental fairy tale, and not the potentially arresting, complex drama that's lurking somewhere in Mrs. Palfrey at the Claremont.
And with the central relationship between the two leads flawed from conception, other problems emerge in Mrs. Palfrey at the Claremont which can't be overlooked. The film's framing device, of having Ludo narrating a story about Mrs. Palfrey, starts off well, but then drops out for large sections of the film, only to pop back in at the most unexpected times, causing the viewer to wonder for a moment who that person is who's speaking. It's a poorly executed narrative device that adds nothing to the film except repeating declarative statements that most observant viewers can pick up for themselves. In addition to the superfluous narration, the director, Dan Ireland (who directed the lovely The Whole Wide World) includes awkward scenes that go nowhere in the story, chief among them an ill-advised trip by Ludo and Mrs. Palfrey to Ludo's mother's house. Strands of character motivation pertaining to Ludo are introduced here, to tease the audience, only to be abandoned after this lone scene. Ludo's girlfriend, Gwendolyn, a potentially interesting character, is also abandoned by the director and screenwriter, who never flesh her out as whole person; she merely exists as a plot development to take Ludo away from Mrs. Palfrey in the second act.
As well, the director and screenwriter stand on shaky ground when it comes to other important scenes in the film. What exactly is the meaning of the beautiful, close-up shot of Ludo blowing on Mrs. Palfrey's wounded knee when he first meets her? It's the kind of shot that immediately telegraphs to the audience some kind of sexual undertone - which is in no way supported in the manner that the characters interact throughout the film. So why include it, and initially confuse the audience with expectations you're not going to explore? As well, there are several instances where the director allows a reaction shot of Mrs. Palfrey responding to Ludo's sexual comments. What's the purpose of that? Was that another theme in the book upon which the film is based? Was it an element of the script that was eventually cut out of the film? One can only wonder, but their inclusion in the film only causes confusion for the viewer.
Still, Mrs. Palfrey at the Claremont does deliver the goods when it comes to performances, particularly the amazingly subtle Plowright. She's really a wonder with her scenes, often imparting a range of unspoken emotions in the simplest of reaction shots. Never a big star on the screen, Dame Joan Plowright built an incredible resume on the British and American stage, so it's marvelous to see her given a big, leading screen role here - something that doesn't happen often in today's cinema, particularly for older actors. Rupert Friend has the difficult task of bringing the relatively unbelievable character of Ludo to life, and he does quite well by it. Both leads are ably aided by a marvelous supporting cast of British veterans who will be familiar to anyone who enjoys this kind of movie. Of particular note is Robert Lang as the pathetic Mr. Osborne, who upon his first date with Mrs. Palfrey, proposes marriage. There's a scene prior to that hilarious/sad sequence, where Lang initially asks Mrs. Palfrey out on a date. The director, to his credit, holds the scene just long enough for us to see Lang's tired, wrinkled face break into the most joyous smile when Mrs. Palfrey agrees to go with him. Looking at Lang, you can see the little boy in the old man again, so complete is his happiness (and so complete is the actor's skill at being totally honest). It's a most affecting moment, made sad by the fact that this was Lang's final performance; he died shortly after filming.
The DVD:

The Video:
The widescreen, enhanced for 16:9 TVs image for Mrs. Palfrey at the Claremont, is just okay. I'm not positive, but it looks as if portions of Mrs. Palfrey at the Claremont were originally shot on video (there's a distinct blurriness to some of the panning shots -- particularly when Ludo asks Mrs. Palfrey what he should wear to dinner -- that are tell-tale signs of video work). If so, the image problems, which are only slight, and only at brief times in the film, stem from the source materials, not the transfer. Still, you don't watch a film like Mrs. Palfrey at the Claremont for 70mm Ultra Panavision clarity. It's the emotions that count here; not pictorial splendor.
The Audio:
The Dolby Digital English 2.0 stereo track is adequate for this kind of film; the dialogue is paramount, and it can be clearly heard. Unfortunately, no one included captioning options, which may help with some of the thicker English accents.
The Extras:
There are a few extras for this disc presentation of Mrs. Palfrey at the Claremont. First, there's a director's commentary by Dan Ireland, along with Zachary Matz, one of the producers of the film. It's an interesting enough commentary, although it sounds like it was recorded in one of those London call boxes. There's also a video clip of an AARP Awards ceremony, where Joan Plowright received an award for her performance in this film. Angela Lansbury and Rupert Friend speak, as does Doris Roberts (Everybody Loves Raymond), who accepts the award on Joan's behalf. There's a video clip of Joan, who couldn't attend the ceremony, accepting the award. There's also a trailer (which seems entirely too upbeat and deliberately "English daffy") and a photo gallery included.
Final Thoughts:
Mrs. Palfrey at the Claremont is a shameless little sentimental piece that boasts a wonderful, tender performance by Joan Plowright. She lets us see a character we never see on the movie screens anymore: a fully functioning, fully emotional, vibrant, caring, intelligent older person in a lead role. And for that, Mrs. Palfrey at the Claremont gets my recommendation. If the movie blows the chance to be something more than just an at times affecting escapist fantasy, well, so what? It still lets us see a total pro in action, giving one of the best performances of her career. I recommend Mrs. Palfrey at the Claremont.
---
Paul Mavis is an internationally published film and television historian, a member of the Online Film Critics Society, and the author of The Espionage Filmography.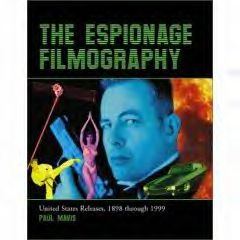 ---
C O N T E N T

---
V I D E O

---
A U D I O

---
E X T R A S

---
R E P L A Y

---
A D V I C E
Recommended
---
E - M A I L
this review to a friend
Sponsored Links
Sponsored Links