List Price: $19.99 [Buy now and save at Amazon]
---
Oh, man -- I remember seeing Moonlighting Wives at the drive-in when I was in high school back in the early 80's! We had a sweet neighborhood drive-in where the owner wasn't above keeping the odd print or two if they proved successful with the patrons, and Moonlighting Wives was definitely one title that seemed to show up every summer, usually at the very bottom of those great Friday and Saturday night triple features that ended right before dawn (if you were never able to experience this uniquely American rite of summer, I truly feel for you). Picking up the Moonlighting Wives DVD case, it didn't spark my memory in any way (probably because the cool cover art has nothing to do with the film). But as soon as that distinct cocktail music soundtrack of Stan Free's came on, I was immediately transported back to my cherry-red '66 VW Bug, laughing with my girlfriend at the hot dog that jumps in the bun, and hoping I wasn't going to get sick after eating those year-old (minimum) concession-stand egg rolls.
Most would agree that Moonlighting Wives belongs in the "sexploitation" category from the 1960s, but it's a difficult call because...there's zero nudity in it. That's right; it's clean, kids. I wanted to get that right out front in case you're just scanning this to see what's on display. With that being said, Moonlighting Wives is an okay little grindhouse drama: competently acted, well lit, directed with restraint, and edited with a sense of humor. In other words, Moonlighting Wives plays like Gone With the Wind in comparison to most of the abysmal nudies that were ground out like hamburger during the 1960s. In between the smoldering reaction shots, you can pick out some observations about women and independence through sexual freedom, as well as relationships between men and women and the power games in which they indulge. That being said, Moonlighting Wives is not the masterpiece that some fans would have you believe. Just because director Joe Sarno has become a rediscovered cult figure (and I question how much of that "rediscovery" is at the service of marketing purposes), that doesn't transform "competent crap" into "art."
Loosely based on a true story (according to the director), Moonlighting Wives tells the story of a suburban prostitution ring, created and staffed by polite, well-groomed, clean-cut suburban housewives. Joan Rand, tired of living from paycheck to paycheck provided by her hard-working but terminally dull husband Charles, decides to turn her two-person stenography business into a call girl ring. Immediately seeing the profit potential of hooking for a living, Joan starts to recruit other housewives from the neighborhood who need money - and who don't want to get it from their husbands. Setting her sights on the local country club where the real money resides, Joan convinces her friend Nancy that she must meet Nancy's lover, Al, who's the golf pro at the club. With Al pimping johns to Joan's stable, Joan builds up quite a nice little business, branching out by offering her services to local bars (by paying off the bartenders), while treating her girls to spa treatments and exercise classes in an effort to give her customers the very best.
Meanwhile, back at home, Charles (unaware of his wife's true vocation) is skipping work and drinking heavily because he can't handle having his wife being the true bread winner in the family. The couple's 18-year-old babysitter, Lorna, quickly takes pity on poor drunken Charles, sympathizing with him because Joan is never home to care for their eight year old boy. Further complicating matters are a couple of cops, Hank and Ken, who know something illegal is going on, but who prove clueless in discovering what, exactly, that criminal activity constitutes. Nancy, having been abandoned by her violent husband (because Joan spilled the beans on purpose about Nancy and Al), now finds herself recruited by Al into the call girl ring. But something doesn't sit right with her about the organization, especially when Joan and her "strong right arm" Venicia, threaten her with violence if she doesn't continue on as a prostitute. Will Nancy bust up the call girl ring? Will Charles find happiness with the babysitter? Will Joan and Al please explain exactly what they thought they were doing to that poor girl at the film's climatic, 15 second orgy?
As I said, there obviously was an effort by the producers to make Moonlighting Wives more than just your average plotless, grindhouse nudie fest. The script is interesting from the standpoint of showing wives who wish to be economically independent. It's not always for the best reasons, either. Tina, the first housewife that Joan recruits, has a severe gambling problem; she just needs the dough to stay out of trouble with her husband. And Joan herself is far from an admirable "feminist" role-model. She desires money largely for control. Sick of her husband whom she degrades for not bringing home enough money, Joan says she wants to make a better life for her son, but then proceeds to essentially abandon him when she finds out she loves being a hooker/madam. Power games also show up in Moonlighting Wives, with Al and Nancy's shifting dominance over each other given a lot of screen time. As well, Joan's growing control over her girls (dictating how they should look, what they should wear) spins out of control when she decides to break up Nancy's marriage, to bring her into her stable. She's well aware that Nancy's husband is violent, and yet goes ahead and calls him, telling him that Nancy is having an affair. While at best an ambiguous character from the start, Joan goes to full-blown villain after this moment, willingly causing Nancy's vicious beating by her husband to further line her pockets.
Other aspects of Moonlighting Wives indicate that director Sarno was reaching for more here. The editing by Pat Follmer is quite amusing, often setting up transitions with a funny punchline (a shot of Charles getting kissed is immediately followed by one of Joan's girls, in another sequence, saying, "Disgusting!"). And the acting, while spotty at times, is refreshingly restrained. Dianne Vivienne as Joan is affecting as the spoiled, ultimately evil call ring madam; she has a steady, almost blank gaze and somewhat strange accent (the liner notes say she's English, but she doesn't sound it), making Joan a real cool customer who starts to enjoy her role as sexual controller. The cinematography by Jerry Kalogeratos is also evocative; with cameo lighting that creates an almost-peephole effect during the numerous bedroom scenes.
However, there are still a lot of problems with Moonlighting Wives that keep it out of the "masterpiece" category. First and foremost: it's not a nudie. According to the director (there's an interview with him on the disc), nudity was shot, but excised out (it's a little fuzzy as to who did the cutting), but he claims it wasn't necessary to tell the story. Well, frankly, I think it was, because if Moonlighting Wives doesn't offer the mild titillation of some innocent nudity, it has precious little else to offer. Just because Moonlighting Wives tries to break the nudie mold by having an attempt at a story, with some halfway decent acting and production values, that doesn't make it a successful film in and of itself. And if you're going to make a sexploitation film in 1965, you needed to show at least a modicum of nudity. Bucking the trend here is like shooting a western without a horse, set in the East. I'm not a big fan of the nudie genre (they're mostly laughable), but if you're going to do one - do it.
And without the minor distraction of nudity, that screenplay (however unusual for the genre) has to stand on its own - which it doesn't. There are critical scenes in the film that go unexplained. The first time Joan decides to sleep with her boss, why does she do it? What makes her resist his advances at the beginning of the work day, only to succumb at night? And how does she convince her friend who's working with her as well, to sleep with the other boss? Have they done this before (it kind of seems like they have, but we're never sure)? It's a pretty important point of character motivation, and Sarno just ignores it. As well, the Sandy character is ambiguous to the point of total confusion. Is she just a hooker, or a madam, or a pimp? Others act as if they know her, but what was her previous interaction with them? And how about the Hank and Ken characters? What purpose do they serve? They pop up throughout the film, doing a bad Dragnet routine, only to disappear again. As for the climatic "orgy," how did Joan get Al to participate? He was just a pimp before, but now he's in the stable? And really, how sad is that final "orgy," which lasts all of about 15 seconds, and appears to consist of Joan and Al groping at some poor girl (off camera, of course) for about 5 seconds. I've seen more action in Beach Blanket Bingo. Sarno may well have been a pioneer in sexploitation films as the liner notes say (I haven't seen enough of his works to be able to tell), but if Moonlighting Wives is one of his best, I'd be skeptical of that claim if I were you.
Just one final small note of irritation with Retro-Seduction Cinema: if you put two documentaries on this DVD which discuss the need to restore these cinematic endeavors (which, by the way, I'm all for - they're part of film history, regardless of their artistic worth), why are you slapping your logo on the actual film every 15 minutes? Every fifteen minutes, "Retro-Seduction" pops up in the lower right hand corner of the frame (like the logos you see crowding up our TV screens). If this is just for the screener copy I have, you have my apologies (although I don't think it is). But if this is some kind of advertising, it's annoying in the extreme.
The DVD:
The Video:
Restoration work has been done on the full-frame Moonlighting Wives image (chief work seems to be a fairly decent color correction process), but it's still a rough looking print, with numerous large white vertical running scratches in the print. Considering the neglect that major studios had for their prestige prints and negatives, it's amazing that a low-budget effort like Moonlighting Wives looks as good as it does. And besides, the grainy, scratchy print adds nostalgia to the viewing.
The Audio:
The mono soundtrack is far better here than when I heard it over a tinny drive-in speaker.
The Extras:
There are some interesting extras for Moonlighting Wives. First up is an 11 minute interview with director Joe Sarno. He's an articulate, well-spoken guy, and he gives a good background to the making of the film. He puts forth his credo that he made films like Moonlighting Wives to make money, and to help free a sexually repressed society (Okay). Two brief restoration documentaries follow, which show the specific work done on Moonlighting Wives, as well as restoration work in general for the DVD label, Retro-Seduction Cinema. Next, there's a trailer vault for other Sarno work, including Suburban Secrets, Abigail Leslie is Back, Laura's Toys, and Confessions of a Young American Housewife. Finally, there's a pretty exhaustive set of liner notes, written by Michael J. Bowen, in full color with stills from the film.
Final Thoughts:
Despite the iffy results, I'm still going to recommend Moonlighting Wives, not because it's a particularly good film on its own, but because if you want to see a little bit of film history you're not accustomed to, you could do worse than this non-nudie nudie. It's tolerable, with some interesting sidelights in the screenplay that will keep you from too-strongly lamenting the fact that this is, ultimately, some pretty clean dirt. But if you're expecting an exciting peek at the salacious, taboo goings-on in that hotbed of lust and desire known as "Suburbia," you won't find that here. All of that is on television now.
---
Paul Mavis is an internationally published film and television historian, a member of the Online Film Critics Society, and the author of The Espionage Filmography.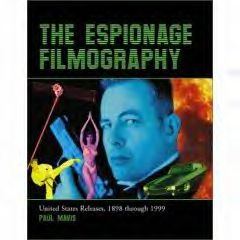 ---
C O N T E N T

---
V I D E O

---
A U D I O

---
E X T R A S

---
R E P L A Y

---
A D V I C E
Recommended
---
E - M A I L
this review to a friend
Sponsored Links
Sponsored Links