List Price: $19.99 [Buy now and save at Amazon]
---
Laura's Toys is my second Joe Sarno-directed effort to be reviewed this week (hey, did somebody mistake me for a Blue Room reviewer?), and it certainly doesn't pull any punches when it comes to adult content. Whereas Moonlighting Wives was a totally innocuous non-nudity nudie, Laura's Toys is a full-on, mid-70s Swedish soft-core pornography feature. That being said, many of the sex scenes in Laura's Toys are comparable with mainstream R-rated Hollywood films today (as well as cable shows like Nip/Tuck, for that matter), so the titillation factor is fairly tame. My reaction to Laura's Toys is the same reaction I had when seeing soft-core sexploitation films at the drive-in when I was in high school: about five minutes of anticipation, followed by general laughter at the script and acting, winding up in total boredom after the first 15 minutes. If you enjoy films like Laura's Toys, to each his own and more power to you. I've been known to enjoy an occasional Danielle Steel TV movie now and then - and nobody finds that socially acceptable. Nobody. At least Laura's Toys is relatively innocent and carefree when it comes to its script; it gives the viewers what they want, without being mean-spirited or violent in its sexuality. Still, it was a tough slog for me.
Walter Rockford (Eric Edwards), an archeologist working on a Scandinavian island, and his wife, Laura ("Rebecca Brooke"/Mary Mendum), seem to be having difficulties connecting emotionally. They're in love, but Walter doesn't feel that Laura is interested in his work. Actually, Laura is only really interested (it appears) in having sex. Anna (Katja von Graff), Walter's research assistant, is more than interested in Walter's work - as well as Walter himself. Soon, they become lovers, while Laura secretly watches. Laura also reunites with old boarding school friends Hanni and Gabielle, who invite Laura to bed with them, as well. Laura, who may (or may not, it's hard to tell with Brooke's acting) resent Walter and Anna's affair, decides to seduce Anna, which she does. They develop feelings for each other, but she leaves Anna to go off to the city. Will she return to her two lovers?
Director Joe Sarno, who some people feel is a real pioneer in the sexploitation racket, largely skips any real attempt at a viable dramatic storyline, instead using the briefest of dialogue set-ups to intro the next sex scene, which are copious. According to the rules of soft core pornography, no graphic, clinical depictions of sexual acts are shown here -- which is fine by me (although there were a few, very brief shots that break that rule). Eric Edwards, who gives an interview, along with a commentary track for the film, indicates that the sex scenes were in fact, not simulated. If that's important to you, I suppose that's good to know. Certainly Sarno is careful not to show anything drastic, and his emphasis does seem to be on showing emotion on the actors' faces during the acts, and not the actual mechanics of said acts. This reticence and for lack of a better word, "taste," probably killed any chance Laura's Toys had in getting a theatrical distribution in 1975 (as the liner notes indicate); hard-core trounced soft-core in the grindhouses, and an innocent, mildly erotic little piece of fluff like Laura's Toys had no chance among the really down and dirty sex flicks.
The acting in Laura's Toys isn't really too bad, actually. That is, there's an attempt on the actors' parts to read the dialogue with a suggestion of real thought behind them (supposedly a trademark of Sarno's productions). That's all well and good when you compare Laura's Toys to the other dreck that came out of this genre. But being better than dreck doesn't make it artistically successful, and set up next to even the most basic high school drama production, the dramatics in Laura's Toys suffer by comparison. Mendum in particular has an odd, halting way around a line of dialogue. von Graff (who looks like a cross between Jenny Agutter and Mackensie Phillips) seems natural enough, but she's a bit of a "low talker," so it's hard to tell. Edwards comes off the best here with a certain ease to his scenes that belies any inexperience he may have in real acting chops. The film itself has a bright, sunny look to it (as all Swedish sex films should, I would imagine), and it's competently (if unimaginatively) put together.
The DVD:
The Video:
The 1.78:1 widescreen, enhanced for 16x9 TVs video image for Laura's Toys is surprisingly clean. The bit rate could have been a little higher (I noticed some blacks not holding, and some pixilation at times) but seriously -- if you buy this, are you really looking for Star Wars-like picture quality?
The Audio:
The mono soundtrack captures every, um...realistic sound.
The Extras:
There are several extras included in the Laura's Toys DVD release. First, there's an interesting interview with director Joe Sarno and his wife, Peggy. Next, there's an interview with lead actor Eric Edwards, who proves to be a well-spoken, informative guy -- the same impression he leaves on his commentary track for the film. A lot of background information on these kinds of films are included in this commentary. There's a trailer collection including titles: Misty, Abigail Leslie is Back, Laura's Toys, Butterflies, Girl Meets Girl, Vampire Ecstasy, Swedish Wildcats, Seduction of Inga, two trailers for Inga, and Suburban Secrets. As well, there's a full color booklet with extensive liner notes by Michael Bowen, including stills from the film.
Final Thoughts:
While Laura's Toys isn't my cup of tea, it's innocuous enough in its soft-core aspirations. You'll be hard pressed to find one good line of dialogue, but the actors are at least conscious of some responsibility on their part to deliver them realistically. If the gamey allure of 70s Swedish sexploitation films is appealing to you, by all means, buy Laura's Toys. If you want to be slightly naughty and experience a kind of film you wouldn't normally watch, then rent Laura's Toys - it's harmless enough, and it won't corrode your soul like some of the stuff out there today (I'm referring to television, of course). But unless you're a hard-core exploitation buff, I can't see any other reason for watching Laura's Toys.
---
Paul Mavis is an internationally published film and television historian, a member of the Online Film Critics Society, and the author of The Espionage Filmography.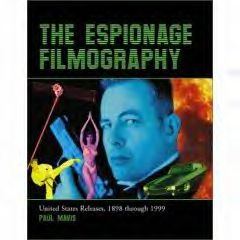 Sponsored Links
Sponsored Links