List Price: $29.95 [Buy now and save at Amazon]
---
2002's Sundance Film Festival Grand Jury Prize winner for Best Documentary, My Father the Genius tells the compelling, sometimes humorous, but mostly terrifying story of director Lucia Small's efforts to film a documentary about her father: "visionary" architect Glen Howard Small. Small, a California architect who early on in his career delivered more buzz and media hype than actual buildings, may have been an early prophet of green, ecological building with his celebrated "Biomorphic Biosphere" planned community, but he evidently was a disaster as a husband and father. Lucia Small, contacted out of the blue by her emotionally distant father to write his biography, decided to turn the project into a documentary exploring not only his aborted career, but also his fractured family ties.
There are no shortages of documentaries out there from filmmakers using the medium to reconnect with their parents, but My Father the Genius does have that added cache of the wacky, misunderstood "genius" that indie audiences seem to love. And there are plenty of sequences, like when Glen goes shopping trying to find the ingredients to make s'mores for his new girlfriend, that are supposed to be whimsical or comical to help endear him to us. As well, the director, Lucia Small, includes some self-indulgent animated sequences (another indie staple) that help serve to illustrate her particular role in all of this, but which really come off as superfluous. But after one sifts through this cliched indie docu-gunk, what's left is a fairly frightening view of the "all-consumed artist-as-rebel-as-unfeeling, uncaring bastard" archetype that should give pause to anyone who's put their obsession for work above their family.
Using archival photos, interviews with past wives and past friends, as well as newspaper clippings and film and television clips, Lucia tells the story of her visionary father who started out strong in his career, but who wound up deeply in debt, and almost totally estranged from his family. 28-year-old Glen Howard Small hit it big when he was hired by the Detroit Free-Press to do several futuristic projects illustrating how we might be living in the cities of the future. It generated a tremendous amount of publicity for Small, and after moving to California, he helped found the Southern California Institute for Architecture, a world-famous, influential center for advancing cutting-edge ideas in architecture. Small, a respected, popular teacher who nevertheless didn't get very many building contracts, continued to make headlines by pushing his truly revolutionary ideas such as his celebrated "Biomorphic Biosphere" planned community, which would have returned the L.A. basin to grassland while his airy, gossamer-like construction would float above it like a hammock.
However, Small's safe, theoretical, head-in-the-clouds world came crashing down in the mid-80s when he was dismissed from SCI-Arc. Filing a lawsuit against former colleagues who orchestrated his ouster, Small lost the case, and began a gradual downward career spiral that bottomed out with Small tens of thousands of dollars in debt, and living with his daughter. How could a guy with that much potential, and that much publicity as one of the visionaries of the architectural world, wind up $60,000 in credit card debt and homeless?
Well, after watching My Father the Genius, it's not hard to see why. To Lucia Small's great credit, she largely debunks her father's - and every other romantic's - thesis that the prosaic world's odds are stacked against true geniuses and visionaries. Small, in his own words, gives us a disturbing portrait of a man who cared nothing for the mundane realities of life, including the necessity of actually interacting with his kids, his ex-wives, or with his colleagues. His refusal to "play the game," as he puts it, to shmooze with clients, cost him untold building projects, and his confrontational, self-destructive attitude towards colleagues whom he obviously felt superior to, eventually cost him his tenured teaching job (wait till you see the archival footage of Small insulting future leaders of the architecture world to their faces at a SCI-Arc panel discussion).
Watching Small get his first building contract in years, the Nelson House, it's obvious this bitter idealist (his own words) still doesn't have the first concept of how most of us live our lives. Muttering about the injustices of "groveling" to make a living -- and by "groveling," he means actually working for a living by being a hands-on architect and not a philosophizing teacher - it's difficult to feel any sympathy for this guy. If he had the basic social skills to actually be able to interact with the "little people" he so obviously despises (the film starts with one of his misogynist quotes: "Masses are asses"), he'd find out what kind of true groveling 95% of people go through to survive day in and day out. And that groveling usually isn't connected with anything so cushy as designing houses for big fat fees.
His views on the masses, whom he condemns as sleepwalkers who don't have the sense or imagination to live in anything but little box houses, further alienates him from others -- and the viewers (he might want to consider those masses don't have the money for his services). It's easy for Small to ride around and deride the admittedly ugly section of town that is featured in the film, but precious little is offered by Small to alleviate such a situation. His planned "Green Machine" efficiency community (for the massed asses, we presume), where ugly Airstream-like trailers are parked on terraced, landscaped levels, was, to these untrained eyes, just as ugly as the little boxes he derides (imagine a whole landscape dotted with those monstrosities). While much time is spent by people who approve of Small's ideas on planned, enclosed communities, the film gives zero time to those who actually dislike his work, and reject the ideas of such enclosures (there are many who feel such projects are anti-humanistic, denying people the individual right to own their own land, while forcing them to live, work and play in an enclosed, sealed-off, hermetic environment).
But even more disturbing than his distaste for the absolute basics of making a living, and for the people who occupy this planet along with him, is his utter lack of understanding as to what his actions in his personal life did to his young family. Having three girls from his first marriage, and two other children from his second (these two don't appear for interviews), the obvious pain and emotional turmoil he caused these young people is heartbreaking to watch. Following a pattern of abandonment, Small blithely moved from "one world to another," as he states it, and never looked back. A particularly chilling moment comes when Lucia asks her father if he ever felt that he wanted to spend just a little more time with his children when he would drop them off after his weekly Sunday visitation. After a moment of palavering, he flatly states, "No." It's an awful moment of revelation, made particularly pathetic when you realize how much Lucia Small wants to reconnect with her father at this point in the story. As for Glen's views on women (here's a hint: it's not good), I can't see too many women at this point in the documentary caring one way or the other about Glen Howard Small, and his fight for recognition.
The final sequence in the film, where Lucia plays a phone message from Glen that indicates he has regret for his previous actions, is used by the filmmaker to indicate some kind of great emotional step forward for a man who's been incapable of expressing much if any support and love for his children. But after watching an hour and a half of Glen Howard Small, it's difficult to work up much enthusiasm for his tentative conversion or for his financial and professional "recovery." And that's what makes My Father the Genius such a rewarding experience. Far from being some kind of cliched, quirky, "funny" little documentary about yet another wacky genius -- as so many critics and viewers saw the film -- My Father the Genius is a particularly brave exploration of a daughter's disillusionment with her absentee father, and her unflinching dissection of the fantasy-world justifications of his emotional rejection.
The DVD:
The Video:
The full frame video image for My Father the Genius is fairly sharp and clear (with occasional soft, fuzzy pictures due to the filmmaker's hand-held camerawork), with no DVD transfer issues.
The Audio:
The English 2.0 stereo soundtrack is adequate for the presentation. Close-captioning is available.
The Extras:
There are several extras included on this My Father the Genius DVD. First, a short interview with Lucia and Glen Howard Small is here (it's up to you to decide if it's really necessary, or if it's damage control for Glen after how most viewers perceived him when the film came out). Next, Glen Howard Small's Super-8 Biomorphic Biosphere film is included, with commentary included by Glen. Next, other architects, including an interview with Thom Mayne whom Glen identifies as his archenemy, comment on Glen and his work. Next, there's a photo gallery of Glen's work, with narration. Next, we see some of the aftereffects of Glen's work, including some assessments of the application of his theories in modern architecture. And finally, we get a peek at the coming sequel to My Father the Genius.
Final Thoughts:
Far from being the cutesy, "Isn't he adorably wacky" documentary that so many critics described, My Father the Genius is actually a harrowing look at the deeply flawed, faux-romantic notion of the obsessed visionary and artist, and the painful, bitter wounds that such behavior can inflict on unsuspecting family members who are pushed aside by the all-consuming creative process of such individuals. I recommend My Father the Genius.
---
Paul Mavis is an internationally published film and television historian, a member of the Online Film Critics Society, and the author of The Espionage Filmography.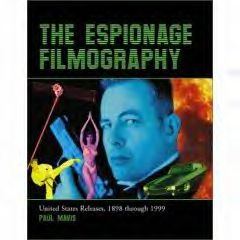 ---
C O N T E N T

---
V I D E O

---
A U D I O

---
E X T R A S

---
R E P L A Y

---
A D V I C E
Recommended
---
E - M A I L
this review to a friend
Sponsored Links
Sponsored Links