Baby Looney Tunes Volume 4: Tooth Fairy Tales
List Price: $14.98 [Buy now and save at Amazon]
---
Warner Bros. has released another volume of Baby Looney Tunes cartoons, Baby Looney Tunes Volume 4: Tooth Fairy Tales, which include eight, ten-and-a-half minute shorts, along with four animated sing-along songs that clock in at under a minute or so. Now, I've written before about the Baby Looney Tunes (please click here to read that review), and I've been vilified by one or two parents who emailed me and said I was the devil, and that my own kids should be put into foster care. Evidently, I may have lost a few readers on that particular review.
Perhaps to clarify my earlier position; all I wanted to convey in that review was that the Baby Looney Tunes shorts were cute, but that they were examples of the "socially responsible cartoon behavior" that have been force-fed down our kids throats the past two decades or so. I also commented on the fact that, quite contrary to the new "baby-fied" characters, the old Looney Tunes gang had no such moral, ethical, spiritual, political or social scruples: it was dog-eat-dog in vintage Looney Tune Land, and you had better keep your head up and your eyes open or Bugs would slam you over your top plate with a rolling pin ("Arise, Sir Loin of Beef! Arise, Milk of Magnesia!") That freewheeling, raucous, vicious, imminently violent, wise-crackin' and totally American form of cartooning is largely absent from little TV viewers' schedules (although thank god, they still show Tom & Jerry in the morning on Cartoon Network). Some people think that's progress (those dreaded "educators" mostly, as well as the equally horrific "psychologists" - oh come on, doctors: the sign of a healthy mind is the ability to laugh at oneself...), while others wonder what was so wrong with their own childhood's TV choices.
It's a debate that certainly won't be answered here (since I really don't want to be called the devil again). And it's important to remember that I originally said the little creeps were cute and funny, and that my own kids adored them. When that psychotically upbeat and happy theme song came on -- eight times in a row -- my three littlest ones went absolutely ape, running around and singing along. Baby Looney Tunes is obviously a kid-friendly series that works. So, let's put aside our differences, you purveyors of pusillanimous pap, and join hands: our children like the show. And if they happen to learn a lesson or two while watching - and forget the same lesson two minutes later when they start insanely screaming because one of their brothers or sisters is looking at them and then it's time for a throw-down because that's my Playdoh - well, so much the better. I know I feel good, knowing they learned something valuable for all of five seconds.
Here are the 8, ten-and-a-half minute episodes of Baby Looney Tunes Volume 4: Tooth Fairy Tales:
A Lot Like Lola
Lola's a little know-it-all, telling everyone that they should act more like her. And that's just what the gang does, much to her surprise. The sing-along song, Baby Elmer Had a Friend is included here.
Mother's Day Madness
Granny explains what Mother's Day is all about, and the gang try to make cards for their own mothers (I'm a little confused on this one: they have mothers, but we never see them, because they live full-time with Granny? If anyone knows why this is, don't email: you have too much time on your hands already).
Takers Keepers
Daffy takes Taz's Harry Scary doll, and hides it for himself. Looks like one duck needs to get the Taz buzz saw treatment. The sing-along song, D-A-F-F-Y is included here.
To Tell the Tooth
Bugs loses a tooth, and gets a visit from the Tooth Fairy. Now all the gang want their teeth knocked out!
Spinout!
Taz loses his ability to spin once he eats all the snacks Granny laid out for all the gang. Only through a healthy diet and a regimen of exercise is Taz able to kick his sugar habit, and again lead a normal, productive life. The sing-along song Taz's Fridge is included here.
Snow Day
It's a snow day for the little monsters, so they go outside and build Snowy the Snowman! Unfortunately, the gang doesn't realize that a snowman's natural enemy is a fully-heated living room.
Shadow of a Doubt
Tweety is first afraid of her shadow, and then delighted to find her new "Secret Friend." Make your own joke with that one. The sing-along song John Jacob Jingle Elmer Fudd is included here.
Christmas in July
It's too hot to play outside, so the gang decides to have Christmas indoors. Overeating and family fights soon follow.
The DVD:
The Video:
The full frame video image for Baby Looney Tunes Volume 4: Tooth Fairy Tales looks bright and clear, although there were occasional compression issues and edge enhancement. Which will surely make your little tykes rise up in outraged indignation!
The Audio:
The Dolby Digital English 2.0 stereo mix is quite nice, with dialogue clear and strong, and the music nicely balanced. English subtitles and close-captioning are available.
The Extras:
There are no extras for Baby Looney Tunes Volume 4: Tooth Fairy Tales.
Final Thoughts:
Okay, alright. They're babies and they're Looney Tunes. I get it. It's okay. They teach lessons of tolerance and understanding and all that other crap that's vital to young minds searching for a cartoon where people get smashed over the head, and then learn...to forgive. Seriously, it's a pretty cute show, and for innocuous entertainment that might give your kids a good lesson along with the fun songs, you can't go wrong with Baby Looney Tunes Volume 4: Tooth Fairy Tales. I recommend it.
---
Paul Mavis is an internationally published film and television historian, a member of the Online Film Critics Society, and the author of The Espionage Filmography.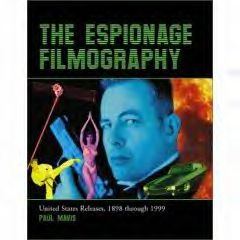 ---
C O N T E N T

---
V I D E O

---
A U D I O

---
E X T R A S

---
R E P L A Y

---
A D V I C E
Recommended
---
E - M A I L
this review to a friend
Sponsored Links
Sponsored Links