Kino // Unrated // September 4, 2007
List Price: $24.95 [Buy now and save at Amazon]
---
Director Roland West's 1929 expressionistic crime thriller Alibi, an Academy Award nominee and an important title in the early talkie stage of film history, is being released on DVD by Kino International. West, known for his moody, violent crime mysteries such as The Bat Whispers, delivers up in Alibi a refreshingly modern take on cops and robbers, creating a nightmarish world of dark, vicious motives on both sides of the law, with corrupt, brutal violence distinguished only by who may or may not be wearing a badge.
Based on the Broadway play Nightstick written by John Griffith Wray, J.C. Nugent, and Elaine S. Carrington, and written for the screen by Roland West and C. Gardner Sullivan, Alibi tells the story of Chick Williams (Chester Morris), a handsome, slick gangster who was framed by police sergeant Pete Manning (Purnell B. Pratt) on a bogus rap, and who is now just getting out of the joint. Hooking up with his old gang, Chick also manages to wheedle his way into Joan Manning's (Eleanore Griffith) heart, a naïve do-gooder and the daughter of Police Sergeant Manning. Horrified that his daughter is interested in a criminal, he allows fellow cop Tommy Glennon (Pat O'Malley) to pursue his daughter, but she refuses Tommy's advances; she's not interested in another crooked cop like her father.
When a beat cop is murdered in cold blood during a warehouse burgalry, an undercover police detective, Danny McGann (Regis Toomey) suspects Chick of the crime. McGann, posing as an ever-drunk Wall Street broker, has wormed his way into the confidences of Chick's gang, and he's sure William is involved. He tips off Tommy and Pete, who snag one of Chick's associates, Soft Malone (Elmer Ballard). Threatening to murder him unless he names Chick as the killer, a terrified Soft Malone gives up Chick, and the race is on to catch the psychotic gangster.
SPOILERS
Filmed simultaneously as a silent (when studios still had to provide content for the vast numbers of cinemas that weren't yet equipped for sound), Alibi bears the unmistakable marks of similar transition talkies. Silent, beautifully composed, silkily-gliding trucking and dolly shots are interspersed with stage-bound dialogue scenes, shot by a rock-still blimped camera so as not to create noise for the crude microphones placed about the sets. Gratuitous musical numbers (musicals were all the rage in 1929 cinema) are inserted throughout the film, while obviously silent-shot scenes are synched up with extraneous sound effects (birds chirping, a woman humming while she does her work) to create a fuller aural atmosphere.
What distinguishes Alibi from quite a few transition talkies, at least from a stylistic approach, is the expressionistic use of sound in certain scenes. While quite a few talkies from this period ladled on "sound" - any sound - with little regard to its inherent cohesiveness with the rest of the picture, director West takes the opportunity to use post-dubbing, as crude as it was at the time because of the sound-on-disc process of adding music and effects to actual recorded sound-on-set, to aesthetically enhance the film. The opening shots of Alibi, with a cop rhythmically tapping his nightstick, or the stomping of the prisoners' feet as they move through their expressionistic prison corridor, are prime examples of West using sound not just to tickle audiences who wanted to hear something, or anything, but to marry sound and image to create a unified aesthetic. There's a marvelous scene, the robbery scene where a police officer is brutally shot in the back by the murdering gang, that shows cops, one by one, rapping their nightsticks on lamp posts and sidewalks, trying to call to each other in some kind of code. Shot on dark, studio-simulated noir streets, as the sound of the cops' sticks echo back and forth, frantically trying to convey their position, this sequence is as eerily effective today as it must have been almost eighty years ago, and is a testament to West's experimentation with sound at such an early stage in its development.
As well, Alibi plays quite well with audience expectations concerning its central theme of cops battling criminals in the country's urban jungles. West creates a morally diffused world in Alibi that jerks us back and forth between our sympathies, first asking us to side with the criminals, and then to cheer on the brutal, vicious cops who murder the thugs in cold blood. Chick Williams, played by smooth Chester Morris, comes off as the innocent party during the first half of the film. Knowing that he was framed for his previous crime, and seeing that he was able to land sweet soul Joan, we're encouraged to believe that he's a victim of a corrupt justice system. West shoots the central warehouse burglary and subsequent murder of the beat cop in such a way that we can't really tell who's involved. And when Pete treats Chick so badly when he finds out Chick has married his daughter Joan, Chick's relative innocence is cemented with us, particularly when the police are shown in such a bad light.
The police, represented by Tommy and Pete, aren't above framing a known crook to get them off the streets. Pete, a dictatorial father who orders Joan around like one of his perps, even spies on his own daughter when Tommy proposes to her, in order to get information on where Chick is hiding out. And of course, Tommy and Pete's perfunctory, blasé willingness to murder Soft Malone and make it look like a justified shooting, takes them down to the same level as the criminals they hunt. But Alibi turns the tables on our expectations halfway through, letting us see the real Chick Williams, for the lying, murdering gangster that he is. Obvious that he's using Joan for an alibi, he confesses to the crime of killing the beat cop, and murders undercover agent McGann in cold blood, setting up a truly remarkable death scene by Toomis (who before this point had been insufferable as the fake drunk businessman) that plays out for some length, while he slowly dies in his friend Tommy's arms. By the time Chick is shown to be a disgusting coward when faced with the same kind of death he callously dished out to McGann, you're rooting for the previously hated cop Tommy to plug him full of lead (I won't spoil West's neat little twist ending here, but it fits in perfectly with the notion of "fate," so central to expressionistic film art).
There are drawbacks to Alibi, particularly some of the long, drawn-out dialogue scenes that clash with obviously superior silent-shot scenes (I love West's dollies, shot from down low with wide angle lens, that make the interiors look like toy houses). There are also continuity issues that I would imagine cropped up during the shuffle between sound and silent versions of the film. There's an intriguing sequence, obviously originally shot silent, where police are holding a line-up and fingerprinting suspects in the cop killing, with a marvelous shot of a group of men, all wearing dime-store masks. Are they witnesses for the line-up? Are they participants in the line-up? Either way, why are they masked? The arresting visual isn't explained here, unfortunately, but I wonder if it was more clear in the silent version of Alibi that was released at the same time this sound version played the bigger theaters (I also wonder if the silent version still survives). The primitive sound recording, done at the time of production on waxed, synchronized disc, is quite poor, despite Kino's efforts to clean it up, so you're going to strain trying to hear a good chunk of the dialogue.
Quite a few people mention the expressionistic atmosphere of Alibi when discussing it; it's certainly there in some of the sets (by legend William Cameron Menzies) and lighting (the spectral cop, eerily reflected in the door glass during the famous interrogation scene, is the film's highlight), as well as inherent in the nicely fatalistic ending where Chick realizes he's going to die exactly the same way he killed McGann, as Tommy, holding a gun on him, savors taunting and torturing him with that knowledge. However, it's important to remember that quite a bit of Alibi consists of flatly staged dialogue scenes - a compromise to the primitive sound technology at the time - that aren't particularly well-lit or engagingly acted. If you're not familiar with the acting styles from this period of Hollywood filmmaking, it can be a bit of a shock at first. Certainly Toomis stands out in a particularly bad performance (although his death scene is a wonder), while Morris is quite good (except for some exaggerated mugging that was perfectly acceptable technique at the time) as the two-faced gangster. Still, anyone interested in the progression of cop and gangster thrillers through the decades will want to see this early gem.
The DVD:
The Video:
The full frame, 1.33:1 black and white video image for Alibi is fine, considering the age of the film. All sorts of screen anomalies pop up, including splices, scratches, dirt and contrasty brightness, but I've seen much worse from films half this old. I saw no transfer issues, either.
The Audio:
Kino International put a special notice on the back of the DVD hardcase, saying that "a good degree of improvement and consistency has been attained" in restoring the sound-on-disc soundtrack of Alibi. I have no doubt improvements were made, but that still doesn't eliminate the generally terrible original source material here. Frequently, dialogue is impenetrable. What annoys me is that Kino went to the trouble of "cleaning up" the soundtrack, but they didn't put in close-captioning or subtitle options to fill in the blanks that still remain.
The Extras:
There are no extras for Alibi.
Final Thoughts:
With a refreshingly gauzy take on the morality of both cops and crooks, Alibi succeeds in upturning our expectations, while providing some startling expressionistic touches in the film's visuals. While some of the acting is subpar, and the original soundtrack often wonky, Alibi is necessary viewing for those interested in the evolution of the crime film, as well as for tracing antecedents of expressionism and film noir elements in Hollywood films. I recommend Alibi.
---
Paul Mavis is an internationally published film and television historian, a member of the Online Film Critics Society, and the author of The Espionage Filmography.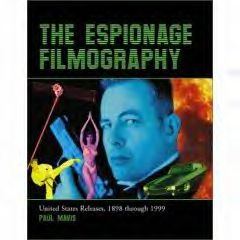 ---
C O N T E N T

---
V I D E O

---
A U D I O

---
E X T R A S

---
R E P L A Y

---
A D V I C E
Recommended
---
E - M A I L
this review to a friend
Sponsored Links
Sponsored Links