List Price: $26.99 [Buy now and save at Amazon]
---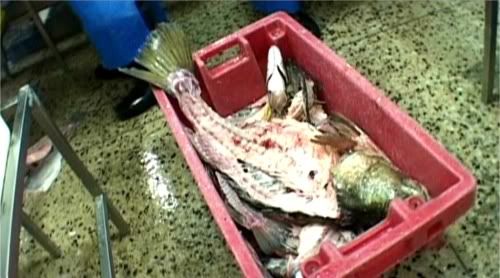 Weaving around a number of scathing social and political issues in just under two hours, Hubert Sauper's Darwin's Nightmare (2004) is one of the most visually arresting documentaries you're likely to see. Our story leads us through dilapidated towns and villages in Tanzania; most of the locals wallow in extreme poverty, even though they live practically right next door to an extremely valuable export. The fish species known as the Nile Perch is Tanzania's crude oil, filleted and whisked away to foreign markets via airplane for a hefty sum. Unfortunately, most of the locals aren't in on the action.
While some have benefited from the fish-centric employment (at a low wage, unfortunately), the gradual destruction of the local ecosystem has caused its fair share of damage. Reportedly introduced into Lake Victoria roughly 40 years ago, the Nile Perch proved to be a formidable predator; it literally wiped out most of the native species, some of which kept the lake clean by eating algae. The Perch even devoured its own young in many cases, severely limiting its own chances of survival in the region. Nonetheless, the soon-to-be-valuable fish are caught by the ton and carved up for shipment. Workers are shown filleting with skill and speed, discarding the bones and heads. The remains of the Perch are piled high in local dumping grounds.
Oddly enough, Darwin's Nightmare breaks its focus often, and for little reason other than emotional impact. We're introduced to a group of prostitutes, one of which is killed by a client during filming. Young children are seen sniffing glue and smoking cigarettes in back alleys. A pastor advises local fisherman not to use condoms---in spite of the rampant AIDS epidemic---because contraceptives are against God's law. This suggests that poverty and poor living conditions have driven these parties to their "sins", as if personal wealth somehow eradicates such temptations. When we see a group of young boys fighting greedily over a bowl of food, should we feel sorry for them? From an objective standpoint, how are they different than those who sell the Nile Perch for their own benefit?
In either case, Darwin's Nightmare is a grim depiction of humankind, a true portrait of near-hopelessness and economic decline. When Sauper's documentary finds its focus, the message is fairly clear and concise---but in many cases, it simply points fingers in every direction, hoping something will stick. Case in point: it's strongly suggested that the planes carrying the fish return to Tanzania with smuggled European weapons, yet the only proof is comments from a few locals. Darwin's Nightmare serves up plenty of cynical accusations, yet the lack of evidence makes the film feel sensationalistic and incomplete. Still, there's plenty to chew on: Sauper has obviously poured his heart and soul into this bitter documentary, resulting in a visually arresting collage that deserves to be mulled over.
Presented on DVD by Home Vision Entertainment, Darwin's Nightmare arrives on disc in passable but unspectacular fashion. The technical presentation isn't exactly overwhelming, though a few semi-appropriate bonus features offer a bit of support. It all adds up to a flawed but interesting package, more of a prime weekend candidate than a worthy blind buy. Let's take a closer look, shall we?
Quality Control Department
Video & Audio Quality
Presented in its original 1.78:1 aspect ratio and enhanced for 16x9 displays, Darwin's Nightmare looks passable but rough around the edges. It's obvious that most of the inherent problems are due to the source material (including muddiness and excessive grain during indoor and nighttime sequences), so these can be overlooked. Other mild distractions include a modest amount of edge enhancement and digital combing, though Darwin's Nightmare isn't exactly a visually pleasing film to begin with.
The audio is presented in Dolby Digital 2.0 Surround (a mix of English and Swahili), but it's also a fairly mixed bag. Outdoor sequences are typically punctuated by subtle atmospheric touches, while scenes in close quarters are often claustrophobic and muffled. Dialogue is often very tough to decipher, but this is partially eased by optional English captions for the deaf and hard of hearing---so trust me, these will come in handy. Removable English subtitles are also included (for translation purposes only) as a separate option, so it's good to see both on board.
Menu Design, Presentation & Packaging

Seen above, the animated menu designs are basic and easy to navigate. The 106-minute main feature has been divided into 22 chapters, while no obvious layer change was detected during playback. This one-disc release is housed in a standard black keepcase and includes no inserts of any kind.

Bonus Features

Though an audio commentary hasn't been included, a few interesting extras offer a mild amount of support for the main feature. The centerpiece is a lengthy Interview with director Hubert Sauper (70:16), who discusses the conception, planning and difficult production of Darwin's Nightmare. There's no moderator during this interview (the "questions" are divided by chapters, with text titles only), so it's a slight exercise in patience but worth watching. Sauper speaks candidly about the film's impact, as well as how earlier projects like Kisangani Diary (his award-winning short documentary) influenced his filmmaking style and mission statement.

On a related note is the inclusion of Kisangani Diary itself (42:29), Sauper's 1998 document of Rwandan refugees tucked away in Zaire. Roughly 80,000 people are shown living in seclusion deep inside the rainforest, while hundreds die each day from disease and starvation. This short film documents the problematic United Nations expedition, which is hampered by failed attempts at humanitarian aid and outbursts of rebel violence. Though the inclusion of Kisangani Diary seems a bit self-indulgent in this context, it's a solid documentary nonetheless.

Closing things out is the film's Theatrical Trailer (1:51), which does a fine job of capturing the film's provocative style without giving away too much. All bonus features are presented in 1.33:1 and anamorphic widescreen formats, while forced English subtitles are included for translation purposes only.

Final Thoughts

Though the film's lack of focus will turn off some viewers, Darwin's Nightmare is a passionate and provocative documentary on its own terms. The unrelenting bleakness of the Tanzanian landscape and the plight of its citizens make for an arresting visual experience, yet the film hurls barbed accusations without showing enough hard evidence to support every claim. Still, it's easy to see that Sauper's film is very much unlike most documentaries today, both in structure and execution---and for that alone, it's worth a good look. Home Vision's DVD package is passable in certain respects, pairing a thin technical presentation with a handful of bonus features. The subject matter alone doesn't exactly make Darwin's Nightmare blind buy material, but there's still enough here for a weekend viewing. Rent It.
---
Randy Miller III is an affable office monkey based in Harrisburg, PA. He also does freelance graphic design projects and works in a local gallery. When he's not doing that, he enjoys slacking off, second-guessing himself and writing things in third person.
---
Sponsored Links
Sponsored Links