John Schneider's Collier & Co.: Hot Pursuit!
List Price: $19.98 [Buy now and save at Amazon]
---
Hey, listen; John Schneider's a nice guy (I even met him once years ago, and he couldn't have been a classier guy). And I'm a Dukes of Hazzard fan, through and through. I even paid good money to see the terrible Eddie Macon's Run (well, it was really to see Kirk Douglas). And while I admire Schneider's pluck in trying to write, produce, star in, direct, and even distribute John Schneider's Collier & Co.: Hot Pursuit! on his own, there's no way I'm recommending this car wreck of a home movie. Good intentions, as I've written at least a hundred times before, don't make good movies: good acting, good writing, and good direction do. And unfortunately, John Schneider's Collier & Co.: Hot Pursuit! isn't firing on any of those cylinders.
The plot, such as it is, involves J.R. Collier, a former champion race car driver, who has hit the skids in his personal and professional life. His wife, Becky (Elly Castle, Schneider's wife in real life), keeps asking him to sign their divorce papers; J.R.'s dangerous profession and his immature ways have convinced her that he's never going to be a mature, steady, reliable family man to her and their daughter, Dani (Karis Schneider). J.R., hoping to convince Becky that he can settle down, is trying to start up a luxury used car business with the help of friend Uncle Billy (Rex Smith).
What he doesn't want Becky to know is that he using his trusty 1969 orange Dodge Charger "Traveler" to sucker rich would-be dragsters into racing for pink slips, thereby supplying the cars for J.R.'s business. Unfortunately, J.R.'s latest race with Tex (Phil Redrow) goes wrong when the Shelby J.R. wins winds up having a much desired package in its backseat that Tex, his boss Quaid (Kyle McClure), and his boss Fanning (Fred Welch) desperately want back. Soon, heavy Shorty (Marcus Milton) teams up with Tex to track J.R. down and get the package back - even if it means kidnapping his family to force J.R.'s hand.
The pity of John Schneider's Collier & Co.: Hot Pursuit! is that there's a good movie actually lurking in there somewhere, but it would time out at only about three-and-a-half minutes long if rescued. Literally, only three or four short scenes work, and the rest of the interminable 107 minute running time is wasted on unbelievably bad camera work, worse scripting, and sometimes unfathomable acting. Schneider opens the film with a clip of him driving in a car, directly addressing the audience as himself, not Collier, telling us his intentions with making John Schneider's Collier & Co.: Hot Pursuit! (in the director's commentary - yes, this dog even has a commentary - Schneider likens this filmed segment to what Walt Disney used to do on his TV show, if you can believe the hubris). When I saw Schneider basically apologizing for the film in this opening clip, saying it was a "labor of love" from family and friends (shorthand in the film world for "an unqualified disaster"), and telling the audience John Schneider's Collier & Co.: Hot Pursuit! was an antidote to inappropriate movies out there, I knew we were in big trouble.
I admire Schneider's willingness to put it all on the line to make his own kind of family film; I actually agree with him that too many films out there aimed at families are in reality, totally inappropriate for young children. And I also get a kick out of anybody trying to "four-wall" a film (actually taking your own print of a film you made, and personally booking a theater to show it in) like the grand old days of Billy Jack and Gone in 60 Seconds (Schneider specifically mentions these films as inspirations for John Schneider's Collier & Co.: Hot Pursuit!). But none of those reasons and intentions and goals can excuse the truly amateurish quality of John Schneider's Collier & Co.: Hot Pursuit!.
Speaking first just from a visual standpoint, the Hi-Def videography of John Schneider's Collier & Co.: Hot Pursuit! is on a par with your average wedding or birthday party video. I haven't seen darker, shakier camerawork since my Uncle Ed got blasted at a wedding and grabbed somebody's camcorder for five minutes. Shots that in the commentary Schneider says are better than Steadycam work, are laughably inept, with the results more akin to those surveillance cameras that catch earthquake footage in Japanese office buildings, rather than anything remotely approaching Steadycam quality. Editing is even worse, with long, drawn-out, pointless scenes grinding on and on, broken up by innumerable jump cuts and inexplicable switches in P.O.V. perspective.
I could forgive all of that, if only there was something to actually listen to in John Schneider's Collier & Co.: Hot Pursuit!. The script, such as it is (Schneider says he wrote it back in 1982 - can you imagine the suits at the studios having to hear that pitch?), comes off as ad-lib ramblings that could have been cobbled from a hundred other better films. The framework is of the most stereotypical construction. Smith's Uncle Billy can be found in every buddy action movie ever made, and Schneider chosing to let his daughter's character suffer from diabetes to up the tension factor in the final chase sequence, is a most puerile and facile convention. Schneider in particular comes off quite badly, with many of his big dialogue scenes (delivered in this weird, AM Radio DJ voice) hysterically slipshod in their intent and execution. Schneider, a personable actor when given professional lines and direction, is abandoned by his own guidance here; in a classic case of wearing too many hats, whatever necessary distance and judgment Schneider could have (and should have) brought to John Schneider's Collier & Co.: Hot Pursuit!, is lost in the myriad production chores he performed himself.
Most criminal of all, John Schneider's Collier & Co.: Hot Pursuit! is flat out boring. Bad dialogue, worse performances, and inept direction have never been obstacles to exploitation fare (in fact, they can, perversely at times, actually aid the movie's appeal). The number one rule of thumb with exploitation fare is: keep it moving. Pour on as much action as you can. Distract the audience from your ineptitude with some flash. But John Schneider's Collier & Co.: Hot Pursuit! doesn't move. The first action scene (the race with Tex) is so poorly executed (dark to the point of being almost totally obscured, with only one or two geniune "action" shots) that any anticipation you may have initially brought to the film evaporates. And the big helicopter/car chase finale is so herky-jerky in design (and so generic in its low-budget stunts) that any chance to save the movie in the last act is squashed.
I always try to find something, no matter how small, of value in a film, regardless of how poorly it comes off, and in John Schneider's Collier & Co.: Hot Pursuit! I do have to say that in a couple of scenes, Schneider and his real-life wife, Elly, have a relaxed, funny chemistry. Had an experienced director been able to direct them, he or she might have pulled out two enjoyable, sustained performances from the couple (Elly actually comes off slightly better than the more experienced John). Unfortunately, they're just isolated scraps of moments, lost in the general incompetency of John Schneider's Collier & Co.: Hot Pursuit!. Likewise, Redrow and Milton have one or two moments, too, that, in the hands of a professional director, might have been properly brought out. But they die, too, in the arid wasteland of John Schneider's Collier & Co.: Hot Pursuit!.
The DVD:
The Video:
I put John Schneider's Collier & Co.: Hot Pursuit! on all three of my DVD systems, including my computer (I even took it over to a neighbor's to quadruple-check), and it played the same on all four systems: characters moved in a herky-jerky manner that suggested either the transfer or the disc was compromised. It didn't happen all the time, but it happened enough to be on the lookout if you're planning on getting this disc (and please; why would you be thinking that?). The letterboxed 1.78 widescreen image is, as I stated above in the review, one of the worst looking films I've seen this year - and no, Schneider wasn't deliberately aping Lynch's Inland Empire.
The Audio:
There's a surprisingly strong Dolby Digital 5.1 Surround mix available - but it only really stands out during the chase scenes. A regular 2.0 stereo mix is also available. English subtitles are also available.
The Extras:
I've never seen an inverse ratio of more extras for such a slight film than John Schneider's Collier & Co.: Hot Pursuit!. On disc one, there's a full-length director's commentary by Schneider. Again: nice guy, but obviously unable to see this picture in any way other than as a success (which, I suppose, is how all directors should see their films). There's also a cast commentary, a gag reel (not funny), a music video for "Traveler" by Paul Casey, and a photo gallery. Disc two (yes, John Schneider's Collier & Co.: Hot Pursuit! is a two-disc special edition) has a featurette documentary, Collier & Co.: Hot Pursuit! - When Why, Where & How (which are just the questions to be asked when a crime like this movie is committed) that runs an ungodly one hour and twenty minutes. There's also another featurette, On the Road with Collier & Co. which is actually pretty interesting; the viewer gets to see Schneider "four-walling" his film all over the South. Music cues are available, as well, and a couple of original video trailers, too.
Final Thoughts:
It's Amateur Night for the Schneiders in John Schneider's Collier & Co.: Hot Pursuit!, a truly wretched excuse for a family action drama comedy home video. Schneider is a personable guy, but he took on too many roles in this production, and the thin spread shows. Nothing works right in John Schneider's Collier & Co.: Hot Pursuit!: not the dialogue, not the dramatics, not the comedy, not the laughable stunts and special effects, and not the acting. And to add insult to injury, there's no real horsepower to the few inept action scenes. I'm the last guy to want to shoot down an intended family film, but even my kids (who'll watch anything) walked out on John Schneider's Collier & Co.: Hot Pursuit!. Ardent fans of John Schneider will no doubt buy this, but all others: skip it.
---
Paul Mavis is an internationally published film and television historian, a member of the Online Film Critics Society, and the author of The Espionage Filmography.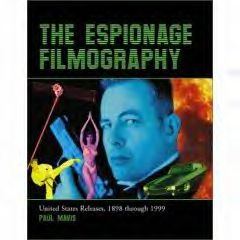 Sponsored Links
Sponsored Links