List Price: $19.98 [Buy now and save at Amazon]
---
There's a compelling true-life story of Hollywood during its golden age and the sordid reality of a young girl caught in its machinations lurking somewhere in David Stenn's self-aggrandizing documentary, Girl 27, but you'll have to pick through all the specious suppositions, and self-congratulatory excess to find those isolated bits and pieces. It's a shame that this important story wasn't told by someone else; as it is, Girl 27 winds up as a largely repulsive act of directorial manipulation (of his actual subject, Patricia Douglas) and an obvious, failed attempt to make the director a film presence in his own right.
In 1937, Metro-Goldwyn-Mayer, then the crème-de-la-crème of movie studios in Hollywood, held a days long convention in Los Angeles for its national sales staff. 120 chorus girls and extras were "tricked" into attending a nighttime party held at the old Hal Roach ranch, where the 500 hundred salesmen were well fortified with alcohol. One dancer, Patricia Douglas, recounted that she was forced to drink alcohol, and was then pursued out into the night, where she was raped by David Ross, a M-G-M salesman from Chicago.
Amazingly, Douglas went ahead and filed charges against Ross and M-G-M (amazing not only because of the stigma attached to rape victims at that time, but also because Douglas had to know how powerful M-G-M was in Hollywood), where her case eventually went to the federal courts. Of course, as you can imagine, M-G-M bought off all the participants in the case (including, apparently, Douglas' mother), and Ross was never charged with any crime. Although her crime made headlines, her story was quickly forgotten and she faded into obscurity. Until David Stenn, a biographer of Clara Bow and Jean Harlow, discovered her story and pursued Douglas, who lived in relative isolation in Las Vegas.
Let's get something clear in this review right away: after watching Girl 27, I believe Douglas' story. I believe she was raped by Ross, and I believe that M-G-M covered up the story. The facts of the case seem fairly clear-cut. My problem with Girl 27 isn't Douglas' veracity, but with writer and director David Stenn's motives and his ultimate conclusions concerning Douglas' story.
Looking at Girl 27 strictly as an investigative piece, it's a sorely lacking document, because Stenn keeps insisting on making huge speculative jumps with the facts, instead of either concentrating on the facts that are indeed known, or digging further to substantiate his hazy suppositions. Frequently offering up thunderous, ominous drumbeats on the soundtrack, aiding in the telegraphing of his notion that Hollywood was a den of inequity where women were easy prey for the grasping hands of powerful men (as if we didn't know that already), Stenn wants to make conclusions in Girl 27 that may indeed be true, but which he fails to adequately support in the film.
Much is made of the party that Douglas attended, and Stenn's contention that M-G-M "tricked" the underaged girls into attending. Did M-G-M trick them? It sounds right, but from the opinions offered up in the film, I could argue equally well that M-G-M didn't trick them. Douglas was told to report to Western Costuming for a cowboy outfit, and that her phone call about the party, as best as she can remember (her memory, or lack thereof, is crucial to other aspects of her story), told her to report to the isolated Hal Roach ranch for a film shoot with over a hundred other girls. Stenn says that this was a "trick," furthering the ominous notion that M-G-M's corporate culture was just as responsible for Douglas' rape as David Ross. But considering that other celebrities were there at the party to entertain, including Laurel and Hardy, and also taking into account that M-G-M filmed almost all big events like this convention for publicity purposes (some footage of which Stenn features in the film), it's entirely likely (and indeed probable, since this event was the talk of Hollywood and underaged or not, these girls had worked in the business before) that all of those girls knew exactly what was expected of them at that party: to be hostesses. And to probably be filmed, too, at a big M-G-M event. An archivist from UCLA is heard to say about these extras: "I don't think they paid a whole lot of attention to what they were doing," in regards to getting a phone call to appear at the ranch. That's the extent of Stenn's argument that the girls were somehow "lured" to the ranch under false pretenses. While Stenn deepens the notion that these girls were "served up" by M-G-M by stating that they were all underage (no proof is offered of this contention), he offers absolutely no compelling evidence or proof that such was the case (he also states, with nothing to back it up, that since M-G-M was the top studio in Hollywood, it's helped "contribute" to the feeling that these salesmen were "above the law.") Douglas was raped, but Stenn doesn't come close to proving that M-G-M deliberately set out to have something like this happen.
Where Stenn is more successful is in looking at how M-G-M covered up the case. It's not difficult, looking at the facts that are presented in Girl 27 to see that M-G-M probably paid off participants to make the whole mess go away. Stenn is still light on actual hard facts (we only have the word of a lawyer and TV personality Greta Van Susteren that after looking at the case, a "fix" is the only conclusion), with the most damning testimony - a now-deceased studio guard said he heard screaming during the night and saw Ross running away - still coming as hearsay evidence from his daughters. Again, though; it's certainly not a shock to come to the conclusion that M-G-M covered up this tragic event (although from Stenn's frequently breathless narration, you'd think he was the first one to clue us in on corporate Hollywood's crummy facade).
As investigative piece, Girl 27 is lacking. But as an exploitive, manipulative exercise in egotism and selfishness, it's a resounding triumph. Not happy with just making a film about Patricia Douglas, Stenn decided to make Girl 27 a movie about himself, and about how he found her, and befriended her, and badgered her into confessing her story, because a "public record is needed," as he can be heard disingenuously saying in the background at one point. I've never encountered a documentary before where the purpose of the director has been so naked exposed, and in such a repulsive manner. Using recent footage of a tired, emotionally wary and exhausted Douglas, shot before she died, Stenn relays to us how he hounded and badgered Douglas (he's quite proud of it) to tell a story she resisted telling anyone for decades, and him for months. He eventually convinced her it would be cathartic, but you decide if telling it did her any good - she certainly doesn't look vindicated to me at the end of the film. Stenn, in a truly disturbing sequence where he's keyed up in a hotel room from anticipation at meeting Douglas for the first time, is so nakedly obvious in his desire for a big, fat, juicy story, presents an awful picture of someone who is willing to do anything to get a sensational story out to a scandal-obsessed public. If you don't believe that, wait until you see Stenn queasily smiling and admitting on camera to scrubbing her toilets for her in a bid to get her to talk, as well as professing his half-hearted love for her ("I guess I love her"). Listening to Stenn's dispassionate voice-overs in his taped telephone conversations with Douglas, it's apparent that sympathy or tasteful regard for Douglas' privacy or emotional well-being are not obstacles for getting a juicy good scandal on print.
A lot of smoke is blown around by Stenn about how Douglas was an inspiration to him, a fighter, but anyone watching Girl 27 will recognize Douglas as a deeply troubled individual well before her attack (by her own words, her terrible childhood is a classic breeding ground for dissociative behavior). Stenn, who after prying Douglas out of her self-imposed exile could have at least tried to give a balanced, layered look at her, instead goes for cheap sentiments about how she was either an innocent or a doomed victim, buffeted by forces she couldn't control. However, after listening to the truly compelling words of her daughter (who charges that her mother, among other things, "offered" her up sexually to Douglas' then-husband to keep him at bay from Douglas), a far more un-romanticized view of Patricia Douglas comes through - a view that Stenn seems incapable of exploring.
As a director, Stenn can't seem to embrace the notion of staying on track with his subject matter, either. How else can one explain the inclusion of utterly superfluous sequences such as a montage on the dance step "trucking" (cued when Douglas said Ross asked her to learn the step), or a cross-cutting montage between a J-Lo (!) music video and a vintage 30s Hollywood musical number (cued by Douglas supposedly telling Stenn she danced like Lopez), or the totally bizarre inclusion, right in the middle of the film, of an examination of the scandal involving Loretta Young and Clark Gable's illegitimate child. How in the world does that have anything to do with Patricia Douglas' story? It's just another example of the fuzzy-headed thinking and execution that went into Girl 27.
The DVD:
The Video:
The letterboxed, 1.78:1 video image for Girl 27 is quite good, although I did notice some compression issues during some of the darker scenes. Colors are fine.
The Audio:
The Dolby Digital English 2.0 stereo audio mix is adequate for this largely dialogue-driven documentary. There are no subtitles or close-captioning options.
The Extras:
Extras for Girl 27 include Hollywood Extra Girl, a vintage 1935 short from Paramount that's especially ironic and sad played next to Douglas' story. There's a director's commentary from Stenn (as if we didn't have enough of his presence already in the film), a photo gallery, and an original theatrical trailer for the film.
Final Thoughts:
Now that Stenn has brought out the story of Patricia Douglas, a true documentarian should pick up this sad, tragic story, dig into the facts, and give it its due. Or better yet, leave it all alone; Patricia Douglas has been punished enough with her rape, her treatment by the press, by M-G-M, by the courts, and now this insensitive, shameless documentary. Girl 27 isn't The Patricia Douglas Story, it's The David Stenn Story, and I've never seen a more naked attempt by a director to put himself at the center of a show, by stepping on his subject to get there. It's amazing to me that Stenn seems oblivious to the parallels between his own behavior and David Ross's. Girl 27 is worth a rental just to get some background on this Hollywood scandal, but be prepared to suffer through Stenn' manipulative, repulsive showboating.
---
Paul Mavis is an internationally published film and television historian, a member of the Online Film Critics Society, and the author of The Espionage Filmography.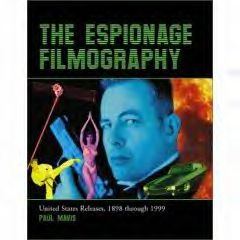 Sponsored Links
Sponsored Links