Heartland Horrors - Season 1
Elite // Unrated // October 9, 2007
List Price: $9.98 [Buy now and save at Amazon]
---
Elite Entertainment has released Heartland Horrors, a compilation of ten short films from the Kansas-based production companies, Senoreality Pictures and Gunn Park Entertainment. I don't have The Horror Channel, where I understand these films are shown as part of a series, so I wasn't sure what to expect when the DVD arrived. I was pleasantly surprised. Shot on video with zero money and local actors, these idie horror efforts have a lot of style and economy of storytelling, with a nicely warped sense of humor that gets the viewer over the obvious drawbacks of some of the tentative acting choices and the budgetary restrictions.
Ten short films are included here, with run-times from a little over three minutes to twelve and thirteen minutes each. And while many of the shorts have an obvious Twilight Zone-inspired feeling to their "twisted-back-on-itself" plot revelations, the brevity of the run-times, and the genuinely creepy air that some of the shorts manage, more than make up for any feelings of deja vu viewers may experience with these sorts of stories.
What struck me first with the Heartland Horrors collection, was the admirably ordinary settings and locations that worked quite well within the horror genre. The rather stark, eerily beautiful Kansas landscapes are used to good effect in A Mile Back Aways, a combination ghost story/Driver's Ed. instructional film (one of the earlier efforts in this collection), and Café at the Crossroads, a nicely tuned little post-apocalyptic jive set in a shabby diner. And the marvelously square neighborhoods featured in Smoke and The Last Laugh give one the sense that these outrageous little shockers aren't so incongruously set. All one has to do is read the papers to believe that these sick, twisted tales of sadism and torture in Heartland Horrors - filtered through a Lynchian Looney Tunes sensibility - may indeed be playing out in some of those plain, anonymous houses we pass every day.
And while some of the acting in Heartland Horrors is amateurish and limited, the directing prowess of Patrick Rea and Kendal Sinn more than make up for the thespian shortfalls. Frequently razor-sharp in shot selection and in the tight, tight editing schemes (Josh Robison), these shorts move, making their point and exiting before you have a chance to see the cracks. Woman's Intuition, one of the most successful shorts in this collection, manages more suspense, with its laser-like correctness in framing and editing, in ten minutes than I've seen in most recent big budget feature films out there this year. Not all of the shorts work; Bitter Sweets is an amateurish attempt at holiday mayhem that looks all too entirely "home made," while Out to Pasture, although technically proficient, is just too abbreviated even for a short form film, to really work. But those are minor quibbles in a collection of horror shorts that consistently maintain interest due to some snappy direction and an admirably sick, twisted sense of humor.
Here are the10 short horror films included in Heartland Horrors, and my thoughts on each film (in blood red, naturally, with PLOT SPOILERS, as well):
The Thing About Bannon's Lookout
Two cops, out on patrol in nighttime rural Kansas, come upon a parked car with a horrific surprise inside.
Nicely tense, with the direction keeping the lensing tight on the performers during the extended build-up at the beginning. The lead performers are quite good, and the ending was pleasantly out of the blue.
Copy
A woman is warned by a copy machine not to hire the man sitting in front of her for an office interview.
One of the funnier entries here, Copy takes its simple little premise - the copy machine spits out warnings to the woman when she tries to photocopy his driver's license - and gives it a macabre, funny, Hitchcockian twist at the end that had me laughing out loud. Clever, amusing ending.
The Last Laugh
A belligerent clown holds a mime captive, threatening torture if the mime doesn't laugh out loud. Probably my favorite short in this collection, The Last Laugh combines the neat trick of being just as funny as it is creepy, with the clown's hammer-blow to the mime's genitals, both sick and hilarious. Like some perverted cross between John Wayne Gacy and Tom and Jerry, The Last Laugh has a memorably bizarre fade-out, with the dead clown seated in a lawn chair, his waving hand attached to balloons as neighbor kids wave back.
Woman's Intuition
A young woman goes to the doctor, convinced that her never-failing premonitions are now foretelling her own doom.
Beautifully mapped out suspense, with a surprisingly decent special effect of a meteor headed languidly for our heroine's head. Plays perhaps most like a feature film, out of all the shorts here.
A Mile Back Aways
A drunk driver wakes up in a ditch, and passes the same hitchhiker over and over again on the road - until he decides to pick her up.
A little too obvious right from the start (and too self-consciously "student film-y," it does offer up some nicely framed images of the slightly creepy Kansas backwoods. The lead actor doesn't sell the role, though.
Smoke
A young man goes to the store to buy some smokes for his mother - who's tied up in the basement.
The opening shot, right out of Lynch, with the lead actor striding down the picket fenced sidewalk, costumed in 1950s-like preppie regalia, promises more than the standard torture denouement.
Shed Out of Luck
A hunter is tied up in a shack, and given "mystery meat" for his dinner. But where is his friend, who was captured as well?
Full-on repulsive, with the sound effects of the lead actor eating competing with the gore effects for stomach-churning nausea. Nicely turned out, though, with good twist ending.
Out to Pasture
A young couple is saved from marauding ghouls by a lethal farmer.
Exciting, even scary at the very beginning (with a couple of good shock cuts to make you jump), but it's over before you know it, and you're left with no backstory and no satisfactory build-up or pay-off. Too bad this wasn't longer (although the director's commentary indicates the short length was mandatory, considering the nature of the assignment).
Bitter Sweets
A psychotic loads up caramel apples with razor blades, for Halloween treats, but then gets a visit from the kids he killed.
The lead performance is the worst kind of amateur night theatrics, and the premise is too jokey to be taken seriously. The least successful short in this collection.
Café at the Crossroads
A stranger appears at a café, where survivors of a plague wait. He's there to collect their souls, but is he in over his head? One of the best shorts in the Heartland Horrors collection, the story is adept at leading you down one path - the familiar "collector of souls/devil feeding on the last survivors," and turns it on its ear, with the survivors turning out to be far more powerful, ancient and evil, than we ever dreamed. This one definitely works on you, as you try and figure out where it's going. The interior visuals, though, aren't too terribly exciting, particularly when the exterior shots are so involving.
The DVD:
The Video:
All of the shorts are presented in anamorphically enhanced widescreen, with the exception of A Mile Back Aways, which is presented in a flat letterboxed format. Everything looks clean and sharp, except when the original elements show signs of budgetary or time limitations (low-light levels or unexpected grain).
The Audio:
All the shorts sport a Dolby Digital 5.1 option, as well as a 2.0 stereo option, with the exception of Smoke, which is just presented in the 2.0 mix. All the dialogue is crisp and clear, and the sudden music cues and screams sound good in 5.1. There are no close-captioning options.
The Extras:
Each short is accompanied by a director's commentary, except for Smoke. It's an enthusiastic dialogue between Rea and other members of the Senoreality production team, with some specific information on how shots were accomplished, along with some of the realities of indie short form filmmaking. It sounds like a pretty even-tempered group of people who have a lot of fun making these shorts.
Final Thoughts:
I've never watched a compilation of horror shorts before, so I was quite impressed by the clever, sick, twisted little films here that play like a cross between The Twilight Zone and O. Henry. Tight direction, evocative cinematography, even tighter editing, and some amusing flashes of humor make Heartland Horrors a fun, speedy 100 minutes of Halloween TV viewing. I recommend Heartland Horrors.
---
Paul Mavis is an internationally published film and television historian, a member of the Online Film Critics Society, and the author of The Espionage Filmography.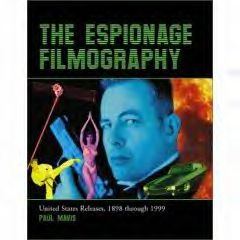 ---
C O N T E N T

---
V I D E O

---
A U D I O

---
E X T R A S

---
R E P L A Y

---
A D V I C E
Recommended
---
E - M A I L
this review to a friend
Sponsored Links
Sponsored Links