List Price: $19.98 [Buy now and save at Amazon]
---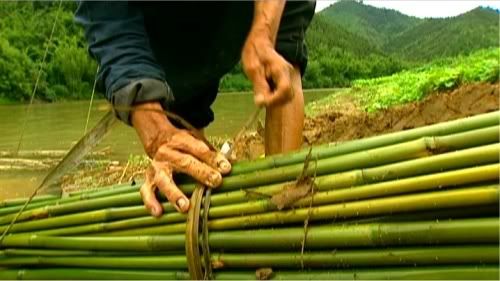 I could count the number of times I've been fishing on one hand, but that didn't stop me from enjoying Trout Grass (2007), a short documentary about bamboo and its contributions to the sport...or hobby...or just a way to catch dinner. Directed by Ed George and Andy Royer, this 48-minute film drifts along two continents, providing a short history of the plant and its many uses...including as a fishing rod, a practice in effect for well over a century. Written and warmly narrated by fly fishing enthusiast David James Duncan, Trout Grass takes a down-to-earth look at a most unique corner of the bait-and-tackle industry.
Collected on the mountains of southern China and carried down in carts a half-ton at a time, the bamboo in question is carefully stripped and inspected for quality and overall strength. Though locals often construct basic rods for procuring lunch, some makes its way back to America for the deluxe treatment. Master fishing rod craftsman Glenn Brackett is our host for the film's second act, giving us a step-by-step look at how his quality rods are constructed by hand. From start to finish, the painstaking process takes upwards of 60 hours per rod. Glenn has made more than 2,000 in his career. Retailing at roughly $1,000 apiece, it's fairly easy to see why.
From the collection and refining of bamboo to the master craftsmanship involved in creating a high-end rod, there's plenty of interesting stories along the way. Trout Grass ends appropriately with a casual afternoon of fly fishing in Montana, bringing the short documentary full circle in just under and hour. It's a straightforward, honest slice of life---and though Duncan's narrative seems a bit meandering in certain respects, this mostly adds to the film's charm and appeal. Fishing enthusiasts should enjoy every second of Trout Grass but don't let a lack of casting experience hold you back: this is an entertaining, informative and thoughtful film that deserves to be seen.
Presented on DVD by Volcano Motion Pictures, Trout Grass doesn't get much in the way of support, unfortunately. The technical presentation is decent but hardly overwhelming, while the bonus features are completely nonexistent. It's not necessarily solid blind buy material, but this makes a great weekend catch for documentary fans. Let's take a closer look, shall we?
Quality Control Department
Video & Audio Quality
Presented in its original 1.78:1 aspect ratio, Trout Grass has not been enhanced for 16x9 displays. Despite this unfortunate oversight, the transfer still looks decent: the earthy colors are natural and bold, image detail is fine and blacks are generally solid. Mild amounts of shimmering and jagged edges can be spotted along the way, but it's hardly distracting overall.
The 2.0 Stereo mix is clean and surprisingly robust during several sequences, boasting well-recorded dialogue and strong music cues. Unfortunately, no optional subtitles or Closed Captions have been included.
Menu Design, Presentation & Packaging

Seen above, the animated menu designs are basic and easy to navigate. The 47-minute main feature has been divided into a generous 14 chapters, while no obvious layer change was detected during playback. This one-disc release is housed in a standard black keepcase and includes no inserts of any kind.

Bonus Features

Unfortunately, only a few pages worth of Production Notes have been included, though it's doubtful that anything other than interviews or deleted scenes would've been appropriate. The main feature stands up fairly well on its own, but those looking for added value will be disappointed. In any case, $20 for a 47-minute film is a fairly tough sell.

Final Thoughts

Honest and refreshingly straightforward, Trout Grass will hold the attention of most audiences, whether they've been fishing for years or never stepped foot in a river. David James Duncan's narration pairs well with impressive scenery on both sides of the Pacific, creating a lean documentary that doesn't waste much time at all. Volcano Motion Pictures' DVD package is disappointingly thin, skipping the bonus features entirely and ignoring anamorphic enhancement. Only the most ardent fishing enthusiasts will want to hunt this one down and pass it around, but there's still enough here to recommend Trout Grass as a worthy weekend candidate. Rent It.
---
Randy Miller III is an affable office monkey based in Harrisburg, PA. He also does freelance graphic design projects and works in a local gallery. When he's not doing that, he enjoys slacking off, second-guessing himself and writing things in third person.
---
Sponsored Links
Sponsored Links