Looney Tunes: Spotlight Collection Volume 5
List Price: $26.98 [Buy now and save at Amazon]
---
Warner Bros. has again simultaneously released a smaller Spotlight collection of cartoons sampled from their more extensive (and more expensive) Golden collection of classic Looney Tunes animated shorts. This time, Looney Tunes: Spotlight Collection 5 carries over the Bugs and Daffy disc, as well as the "Fairy Tales" disc, from the Golden collection. Thirty insanely funny cartoons are included here, with some bona fide classics thrown into the mix, as well as some more obscure ones that I've never seen before.
I've written before about the Looney Tunes series of cartoons in my review for the Looney Tunes: Spotlight Collection 4 disc set (please click here to read that review), so I'm not going to retread why I think the Looney Tunes are perhaps the single funniest series of cartoons ever produced. Did I really need to even write that down in the first place? The enduring popularity of Bugs Bunny, Daffy Duck, Yosemite Sam, Foghorn Leghorn, Speedy Gonzales, Sylvester and Tweety, Coyote and the Road Runner, Porky Pig and Elmer Fudd, to name a few, gives proof to the theory that the Looney Tunes series - cartoons made by adults for adults, as well as kids - probably appeal to the broadest possible spectrum of movie viewers out there, and they've been doing so for over sixty years now.
Not everything that's funny sixty or seventy years ago is funny today (I'm sorry, but The Ritz Brothers), but the Looney Tunes show absolutely no signs of dating. The stories may have jokes pertaining to topical issues (war rationing, TV icons of the 1950s, etc.), and the characters may embrace ethnic humor that's verboten to today's touchy, uptight P.C. goon squads (Speedy Gonzales, most notably), but as any parent with a young child knows, these elements fly right over the heads of kids who know "funny" when they see and hear it.
And my opinion of the Spotlight series hasn't changed, either, since I wrote my review of the fourth volume collection. While of course, as a lover of classic animation, I'd prefer to own the more thorough, extras-loaded Golden Collections, the bare-bones Spotlight Collections do offer a cheaper alternative to buyers who don't want to invest 50 bucks on a set of cartoons. The Spotlight Collections make a nice gift choice, too, for someone not sure if the intended receiver wants to plow through all those toons and extras, but who may just want a taste of that Warner Bros. Looney Tunes madness. The cartoons are still cleaned up and intact here - they didn't use inferior transfers for this less-expensive set - and an effort was made to glean only the best from the Golden Collection (which, of course, is subject to debate I suppose). I've included run times for all the cartoons included in the Looney Tunes: Spotlight Collection 5, as well as my thoughts on each short.
Here are the thirty cartoons included in the two-disc Looney Tunes: Spotlight Collection 5:
DISC ONE: BUGS BUNNY AND DAFFY DUCK

14 Carrot Rabbit (1951) (7:13)
A Friz Freleng effort, this Bugs/Yosemite Sam "gold rush" short features Sam screaming non-stop. The audio clip of Sam yelling, "SHUT UP!" as he chucks a rock at Bug's head, is worth the entire cartoon - which ends lamely, when an awkward, surreal gag involving an ocean liner shows up.
Ali Baba Bunny (1956) (6:54)
A Chuck Jones gem, this Bugs/Daffy take on Ali Baba and the Forty Thieves contains my favorite portrait of Daffy's unhinged greed, as well as some of my favorite Looney Tunes one-liners, including, "He's lying! Chop him! Chop him!" and "Consequences Schmonsequences, as long as I'm rich." Kids from my generation used to go around yelling, "Hasan, CHOP!" all the time.
Buccaneer Bunny (1947) (7:27)
A Bugs/Yosemite Sam effort by Friz Freleng, this oft-reworked story has Bugs tormenting Sam on a pirate ship. Listen to the terror in Sam's voice when he squeals, "NO!" as he chases Bug's thrown match down in the dynamite-filled hull. Bug's Charles Laughton impersonation is priceless.
Bugs' Bonnets (1955) (6:47)
A Bugs/Elmer Fudd short, directed by Chuck Jones, has the classic bit where Bugs, as the snarliest D.I. you've ever seen, calls out Elmer on why he has a gun, and everyone else has a rifle. The abstract backgrounds are beautiful. Bugs and Elmer get married at the end (didn't that happen a couple of times in these shorts?).
A Star is Bored (1956) (7:11)
A Friz Freleng insanity, with Bugs and Daffy on the set of a big Hollywood feature film. Includes the classic cry, "MAKE UP!" anytime Daffy has his beak blown off.
A Pest in the House (1946) (7:17)
Chuck Jones directed this earlier Daffy/Elmer entry, with Daffy playing a hotel bellman making things tough for a surly guest who just wants to sleep. This early Daffy, who always reminded me a bit of Woody Woodpecker, is hysterically funny when he's retelling the classic "Traveling Salesman" joke, in-between chokes of laughter.
Transylvania 6-5000 (1963) (6:59)
One of my favorite Chuck Jones' Bugs Bunnys (where he's at a vampire's haunted castle), with those marvelous Maurice Noble background. This short had a genuinely creepy atmosphere when I was a kid, and of course, the sick joke of having Bugs continually say, "Abracadabra!" to squash the vampire bat over and over again, is gold.
Oily Hare (1951) (7:11)
Our first Robert McKimson short here in the collection, this funny Bugs Bunny/Texas oilman (who looks like a first cousin to Yosemite Sam) duel features some terrific sight gags, including my favorite where the tycoon reacts horrifically to the sight (hidden by his hands) of his lower jaw blown off by dynamite. "Oh, Maverick!"
Stupor Duck (1955) (6:38)
Another brilliant Robert McKimson Daffy Duck entry, spoofy Superman, which sports an almost epic sideways camera pan whenever a flying Daffy spots a potential target of sabotage down on the earth below. One of the top ten Daffy Duck toons.
The Stupor Salesman (1947) (7:02)
An absolutely insane, terrifically energetic effort by Arthur Davis featuring Daffy as a door-to-door salesman trying to sell something to a vicious gangster. Sensational Carl Stalling opening music cue, as well as some memorable lines ("Ain't that a lu-lu?" and "This'll make it as shiny as Gabriel's heater."), make this one of the best Daffys.
The Abominable Snow Rabbit (1961) (6:03)
A memorable Chuck Jones Bugs/Daffy "traveling underground" short, with some great, sick pain jokes with Daffy being mangled by the over-affection snow beast. Great moment when Daffy declares, with utter disdain, that he's returning to "Perth Amboy."
The Super Snooper (1951) (7:08)
A Robert McKimson Daffy Duck film noir effort, which suffers from a conflicted tone, although Daffy screaming, "Not so TIGHT!" to the girl squeezing the trigger is pretty funny.
The Upstanding Sitter (1948) (6:48)
A fun, fast-paced Robert McKimson Daffy, with Daffy working for the Acme Baby Sitting Agency. His charge? An egg that hatches ornery Henery Hawk.
Hollywood Daffy (1946) (7:01)
A Friz Freleng spoof of the Warner Bros. backlot, with Daffy encountering Bette Davis, Johnny Weissmuller, and Jack Benny.
You Were Never Duckier (1947) (7:57)
A Chuck Jones Daffy/Henery Hawk vehicle, with fast-paced gags and a nicely wise-cracking duck. Gorgeous, full late 40s look to the animation.
DISC TWO:

Bewitched Bunny (1953) (6:55)
A very funny Chuck Jones effort with Bugs/Witch Hazel, and Hansel and Gretel thrown into the pot (literally), as well. I love the depiction of the chowing down German kids (who can't be bothered to stop eating even when they're in a covered pot). And their put-down of Witch Hazel ("Your mother rides a vacuum cleaner!") is priceless.
Paying the Piper (1947) (7:05)
A great Robert McKimson Porky Pig, with some great reaction shots from Porky (I love it when Supreme Cat - in full Brooklynese - says Porky's sister smokes corn silk, to which Porky replies, "My sister doesn't smoke corn silk. She works in a butcher shop and smokes hams.") Classic.
The Bear's Tale (1940) (9:06)
Our first Tex Avery short in this collection, and quite funny, with the constantly laughing Poppa Bear and the little bear's naked bottom, highlights. Gorgeous multi-plane camera effects.
Foney Fables (1942) (7:59)
A Friz Freleng compendium of short fairy tale scenes, with some pretty funny war-related gags (the goose that lays the golden eggs lays aluminum ones here for the war effort, and a dog rats out Old Mother Hubbard for being a "food hoarder"). Prince Charming, snapping Sleeping Beauty awake with a screamed, "Wake up, you lazy good-for-nothing!" is probably the highlight.
Goldimouse and the Three Cats (1959) (6:23)
A Friz Freleng Sylvester/"Spoiled Brat Cat" Junior short, which has some funny 50's humor (Junior has a Davy Crockett coonskin hat; they family has a bomb shelter), as well as the classic "bag over the head" gag for Junior. "Oh, the shame!"
Holiday for Shoestrings (1945) (7:05)
A Friz Freleng fizzle, about the elves helping out the poor shoemaker, which had been done better before.
Little Red Rodent Hood (1951) (7:06)
A Friz Freleng take on the Sylvester/Teeny/Granny battle in the American Suburban Household, which always comes out in these Looney Tunes as a veritable chamber of horrors, in terms of the violence going on inside them.
Little Red Walking Hood (1937) (7:42)
An early Tex Avery Technicolor riot of color and fast gags. I love the grandmother's order to the grocery - which includes a case of gin!
Red Riding Hoodwinked (1955) (6:55)
A Friz Freleng Sylvester/Big Bad Wolf piece, with the granny funny when she does Ralph Kramden. I always love how they hustle out the grannies in these Red Riding Hood take-offs.
The Trial of Mr. Wolf (1941) (7:18)
A nicely subversive version of the Red Riding Hood tale, with grandma a bloodthirsty furrier! More multi-plane camera work, and a Katherine Hepburn sound-alike again for Red.
The Turn-Tale Wolf (1951) (6:57)
A little-seen Robert McKimson effort, which takes the basic "Sylvester/Spoiled Brat Cat Junior" framework, and grafts it onto the Big Bad Wolf. I like the game, "Swat the Fly," played with big, thick 2 x 4s.
Tom Thumb in Trouble (1940) (8:12)
A real anomaly in this collection, this gorgeously drawn fable doesn't have any of the characteristic Looney Tunes antics, just a sentimental story about a big lumberjack father and his tiny little boy. Marvelous.
Tweety and the Beanstalk (1956) (6:42)
Friz Freleng directed this Sylvester/Tweety opus, with some spectacular perspective shots in the giant's castle. The apple coring itself when it hits Sylvester dead square, is probably the best gag here.
A Tale of Two Kitties (1942) (6:37)
Our first Robert Clampett effort in this collection, with the Abbott & Costello rip-offs Babbitt and Catstello making for a seriously one-note, one-joke cartoon.
Porky's Pooch (1941) (7:06)
Our only black and white effort here in this collection, this Robert Clampett Porky is restrained next to some of the crazier Porkys, but the Carmen Miranda bit is pretty funny.
,/p>

The DVD:

The Video:
The full screen, 1.33:1 video images for the cartoons in the Looney Tunes: Spotlight Collection 5 are better than you ever saw them on TV reruns. Sure, screen anomalies pop up, but so what? Some of these cartoons are over sixty years old. And most look amazing here, with deep, saturated colors and super-sharp images.

The Audio:
The Dolby Digital English mono accurately recreates the original theatrical (and broadcast) presentations. Subtitles are included.

The Extras:
There's a strained bonus featurette, The Looney Tunes Guide to Fairy Tales, which tries to marry Joseph Campbell's theories with the Looney Tunes series. Why in the hell anyone thought that would be funny or interesting is beyond me - and the flat-footed production doesn't help in the slightest, either. A real dud.

Final Thoughts:
The Looney Tunes: Spotlight Collection 5 may not contain all the toons and extras from the same Golden collection, but the cream of the crop are included here, at a much more affordable price. Luckily, the consumer can choose which set best suits his or her needs. I highly recommend Looney Tunes: Spotlight Collection 5.
---
Paul Mavis is an internationally published film and television historian, a member of the Online Film Critics Society, and the author of The Espionage Filmography.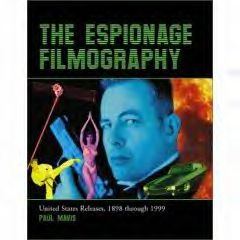 ---
C O N T E N T

---
V I D E O

---
A U D I O

---
E X T R A S

---
R E P L A Y

---
A D V I C E
Highly Recommended
---
E - M A I L
this review to a friend
Sponsored Links
Sponsored Links