Laverne & Shirley - The Third Season
List Price: $38.99 [Buy now and save at Amazon]
---
"One, two, three, four, five, six, seven, eight! Schlemiel! Schlemazl! Hasenpfeffer Incorporated!"
I've often written about the phenomenon of watching older TV shows that I loved as a kid, but which unfortunately didn't carry over decades later. But it's rare when the opposite happens, when a show you didn't particularly like suddenly seems quite good decades later, such as with Laverne & Shirley: The Third Season. Growing up in the 1970s, it was near impossible not to have caught at least a glimpse of either Happy Days or its megawatt hit spin-off, Laverne & Shirley, both probably the last massive "Big Three" Nielsen hits prior to the explosion of cable. And while I found Happy Days quite funny (particularly the first single-camera season), Laverne & Shirley grated on me no end, save for the momentary hilarity of Michael McKean's and David L. Lander's gloriously stupid lowlifes, Lenny and Squiggy, whenever they would bust in on the girls' apartment, with Lander's trademark, "Hello!" called out.
Penny Marshall's and Cindy Williams' antics, however, always struck me as the lowest form of bargain-basement slapstick, with the ugly, flatly-lit series endlessly recycling variations on old Lucy and Ethel comedic situations from I Love Lucy. And if that weren't enough, at the end of seemingly every episode, we had to suffer through a totally insincere, obligatory reaffirmation of the "common values" of the plucky little bottle cappers from Milwaukee's Shotz Brewery, which we already got a dose of in the series' horrifically bland, generalized theme song ("There's nothing we won't try; never heard the word 'impossible.' This time, there's no stopping us - we're going to do it!"). Really? Well go "do it" somewhere else; I'm watching The Richard Pryor Show.
Critics at the time hated this series aimed squarely at the "beer and pretzel" set. And it's hard not to sympathize with their scorn, particularly when you see that ABC's mid-to-late 1970s "bubble gum" TV line-up (courtesy of the likes of Fred Silverman, Michael Eisner, and Garry Marshall, among others) that included shows like Happy Days, Laverne & Shirley, Three's Company, Charlie's Angels, That's Incredible! and Mork and Mindy, were clearly dominating the far more cerebral, witty, socially conscious works of producers like Norman Lear and Grant Tinker in the ratings. A significant portion of America's TV audience by the mid-to-late '70s, had had enough of strife and turmoil, and they just wanted to veg out in front of the TV. And if Laverne & Shirley provided 30 minutes of mindless slapstick and mawkish sentimentality, filtered through a phony "us versus them" class warfare framework (anybody in a suit is automatically the villain in Laverne & Shirley), so be it; the American public made it the number one show on television two years in a row.
So why then did I find myself laughing - out loud at times, which almost never happens - at Laverne & Shirley: The Third Season? Well, the easiest answer, and the most annoying, is, quite simply, that it was funny. Divorced by decades from the original bad associations I had with the show (I'm sure I haven't seen it since its original run), I was quite surprised at how much of Laverne & Shirley: The Third Season I found funny. It's not by any means a perfect show, and I still have big problems with certain aspects of the series (I particularly dislike the "feats of strength or skill" segments, like Laverne jumping rope for example, that are served up just to get a cheap round of applause from the audience), but there's no denying that when Marshall and Williams get a physical set piece to clown around in, they can generate big laughs.
This isn't subtle humor; this is the broadest farce and slapstick, so don't look for nuance here. Williams, far more adept at getting laughs with smaller bits of business, can get swamped at times by Marshall's cruder, almost at times grotesque mugging, but together, they do have an undeniable chemistry that by this point in the series, was working quite well for them. By all accounts, Laverne & Shirley was a tempestuous, chaotic production, with lots of back-biting and in-fighting among the cast and producers which later drastically affected the success of the show (producer Garry Marshall and Penny are brother and sister, which caused some friction between Williams and Marshall among charges of nepotism, ultimately leading to Williams leaving the show). But here, the series was still fresh and new with viewers, who made it the number one show for the year in the Nielsen's (it had immediately debuted at number three for the year in its first season in 1976, despite being only a mid-season replacement, coming in second for the year during its first full, second season).
And at the risk of losing my membership in the OFCS, I still maintain that Lander's and McKean's Lenny and Squiggy are one of the most memorable comedy teams in TV history. Always cued up for their entrance by one of the girls describing something vile or disgusting (which then prompted the duo to bust through their apartment door, with Squiggy bleating out, "Hello!"), Lenny and Squiggy were the absolute polar opposites of Richie Cunningham and the Fonz over on Happy Days. McKean, all spastic jerkiness and goonish, buffoonish giggling, is the sweeter, more leveling member of the team. Lander on the other hand, outfitted with a leather jacket and greasy D.A. in an imitation of a 50's greaser punk - a look he ruins by wearing high-top sneakers - is the sniveling, grotesque toad who constantly talks tough about fighting and sex in a pathetic attempt to cover up his obvious incompetence in both fields. Simply put, Lander and McKean are hilarious together, with Lander in particular able to wring big laughs out of his strange, weird vocal readings and his misshapen, twisted face (watch Lander's delivery on the line, "They're dead, Lenny! They're dead!" in An Affair to Forget, when he discusses his dead moth collection). Their trademark spasms anytime sex is brought up in a conversation, or when a good-looking girl walks by (with the actors turning into hysterical live-action versions of a Tex Avery cartoon), never fails to get a laugh. I thought Lander and McKean might have branched out into a spin-off of their own, or even possibly become a movie team (their appearance in the brilliant cult comedy, Used Cars, is memorable), but for whatever reasons, neither came about. Still, they show up in every episode of Laverne & Shirley: The Third Season, and they knock it out of the park each and every time.
Memorable episodes this season include the opening entry, Airport '59, which finds Laverne trying to land a plane when the pilot is knocked unconscious (Roseanne may claim to have had the first female kiss on network television, between her and Mariel Hemmingway, but Laverne and Shirley beat her to it two decades before - Marshall, after getting kissed full on the mouth by Shirley, deadpans, "We'll talk about that later, Shirl."). The Horse Show allows Williams to sweeten the Shirley character even more this season (by this third season, Shirley is almost unrecognizable from the bimbo that made out with Richie Cunningham on Happy Days, where the characters of Laverne and Shirley were first introduced). New Year's Eve - 1960 memorably features Squiggy as a human fly. The Obstacle Course and Tag Team Wrestling are two good examples of episodes featuring heavy slapstick. Robot Lawsuit is quite funny, particularly when the randy little robot tries to maul Laverne in a most rude way. But the stand-out episode this season has to be Laverne and Shirley Meet Fabian, where Shirley finally meets the object of her desire after a torturous walk out on a high hotel balcony. Once the girls are in Fabian's hotel room, the two actresses really show their stuff as they come up with one funny bit of business after another to show their unconstrained hysteria at seeing the pop idol. Fabian, a funny performer in the right vehicle (see North to Alaska) is obviously amused at Williams and Marshall's antics, particularly when Shirley gets on her knees and shrieks, before banging her head repeatedly onto the floor in a fit of uncontrolled hysteria. It's a very funny scene, and representative of the simple, uncomplicated pleasures that can be found in Laverne & Shirley: The Third Season.
Here are the 24, one-half hour episodes of Laverne & Shirley: The Third Season, as described on its episode guide insert. PLEASE NOTE: As with most vintage TV series released by CBS/Paramount, there is a small disclaimer at the back of the DVD slimcase that states, "Some episodes may be edited from their original network versions. Some music has been changed for this home entertainment version." There is no further explanation of what cuts, if any, were made. I don't have a photographic memory of the series, but nothing looked too egregious as far as the editing (it was always a choppy show, anyway). It's possible, though, that these are the syndicated versions, which may account for the minor cuts for time. It's also possible, as quite a few of us suspect here at DVDTalk, that these kinds of disclaimers are now de facto run for legal reasons, and may (and I stress "may") not pertain to each and every box set they appear on. Certainly, with a show like Laverne & Shirley: The Third Season, old music cues, which frequently featured authentic rock 'n' rolls tunes from the era, may now be subject to license royalties that CBS/Paramount isn't prepared to pay, which may account for generic music cue substitutions:
DISC ONE:

Airport '59 (9/20/77)
Laverne and Shirley take their first plane trip! But they become unexpected first time pilots when the real pilot passes out!
Tag Team Wrestling (9/27/77)
Laverne exchanges rough words with a bad driver. Later, with Shirley filling in as her partner in a benefit wrestling match, she unfortunately learns that their opponents are the ladies Laverne had insulted that morning!
The Pact (10/4/77)
The girls have an argument after Shirley's new boyfriend (Dale Robinette) asks Laverne out.
Robot Lawsuit (10/25/77)
While shopping in a toy store, Lavern is attacked by a giant robot! So she decides to sue the toy company.
Laverne's Arranged Marriage (11/1/77)
Laverne's dad, Frank, arranges a marriage for her to a wealthy cheese manufacturer who's also a mobster! Even though Frank means well, Laverne doesn't like the idea one bit!
An Affair to Forget (Part 1) (11/8/77)
When Laverne and Shirley discover that they're short on cash for their upcoming vacation cruise, Carmine finds them temporary employment at a shoe store.
DISC TWO:

An Affair to Forget (Part 2) (11/15/77)
Lenny and Squiggy are caught as stowaways on the cruise ship. Meanwhile, Shirley's afraid that attentive Ensign Benson is getting too serious.
Laverne and Shirley Meet Fabian (11/22/77)
The girls want to meet Fabian but don't even have concert tickets. Even so, they make a bet with Rosie that they'll not only meet him, but get their pictures taken with him too.
The Stakeout (11/29/77)
When the FBI suspects Carmine of being a counterfeiter, they decide to use Laverne and Shirley's apartment as a stakeout to trap him!
Shirley's Operation (12/6/77)
Shirley is taken to the hospital and learns that her appendix is about to burst. Afraid that she'll lose her hair for the operation, she tries to hide from the gang, who are trying to find her before her appendix bursts.
Take My Plants, Please (12/13/77)
When the girls get laid off from their jobs at the Brewery, they start their own business selling flowers and plants door-to-door.
New Year's Eve - 1960 (12/27/77)
New Year's Eve, 1960 finds Laverne dropped by her date, Shirley sick with a cold, and Squiggy attempting a stunt as a human fly.
DISC THREE:

The Mortician (1/10/78)
Laverne has a crush on Stan, a mortician who seems more interested in death than in life. Since she wants to get to know him better, Laverne asks Shirley to pretend she's dying.
The Horse Show (1/17/78)
Shirley rescues Buttercup, a horse doomed to the glue factory, and stables her at home. She and Laverne do their best to try to find Buttercup a new home before it's too late!
The Slow Child (1/24/78)
Mrs. Babish's mentally challenged daughter, Amy, comes for a visit, and develops a relationship with Lenny.
The Second (Almost) Annual Shotz Talent Show (1/31/78)
Mr. Shotz asks Laverne and Shirley to feature his less-than-talented nephew in the company's upcoming talent show.
The Dentist (2/7/78)
Laverne goes to Shirley's dental student cousin, Mikey. As a favor to Shirley, she allows Mikey to fix her tooth. He's a lousy dentist, but Laverne can't let on.
Bus Stop
Laverne and Shirley take a bus to a distant city to visit two medical students, but end up being stranded by them!
DISC FOUR:

The Driving Test (2/21/77)
Squiggy fails the written portion of his driving test. But in order to keep his truck-driving job, he must retake it.
The Obstacle Course (2/28/77)
Shirley wants to become a member of the Ladies' Auxiliary Milwaukee Police, but must complete an intense obstacle course first. Can she do it with Laverne's help?
Debutante Ball (5/9/78)
Lenny takes Laverne to a debutante ball, where he discovers that he's 89th in line for the Polish throne!
2001: A Comedy Odyssey (5/16/78)
Laverne dreams she and Shirley are in their 80s, and still living together as spinsters. Since Lenny and Squiggy are still single too, they propose marriage to the girls.
The Dance Studio (5/23/78)
Carmine's having trouble financing his own dance studio, so Laverne and Shirley try to help him out.
Breakin' Up and Makin' Up (5/30/78)
Frank and Edna break up when Edna's ex-husband comes to town, so Laverne and Shirley try to get them back together.
The DVD:
The Video:
Shockingly, the full frame, 1.33:1 video image for Laverne & Shirley: The Third Season is beautifully clear and sharp - looking far better than I even remember it on television. Colors are generally good, and picture detail is super-sharp.
The Audio:
The Dolby Digital English mono audio mix accurately recreates the original broadcast presentation. Close-captioning is available.
The Extras:
There are no extras for Laverne & Shirley: The Third Season, which is kind of a shame, considering the level of success this show enjoyed. Even if the principles didn't want to do interviews or commentaries, I'm sure there are plenty of vintage promos and other marketing items out there that would have been of interest here.
Final Thoughts:
Nobody was more surprised than I when I found myself laughing out loud during the 24 episodes of Laverne & Shirley: The Third Season. Never a big fan of the show during its original run (except for the brilliant David L. Lander and McKean), I nevertheless found the Lucy-inspired antics of Marshall and Williams easy to take today. The show has big problems, but chemistry is chemistry, and Williams and Marshall obviously have it. I recommend Laverne & Shirley: The Third Season.
---
Paul Mavis is an internationally published film and television historian, a member of the Online Film Critics Society, and the author of The Espionage Filmography.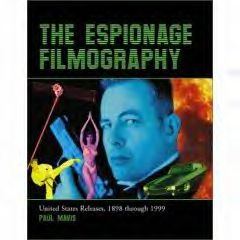 ---
C O N T E N T

---
V I D E O

---
A U D I O

---
E X T R A S

---
R E P L A Y

---
A D V I C E
Recommended
---
E - M A I L
this review to a friend
Sponsored Links
Sponsored Links