Strictly Confidential: The Complete Series
List Price: $29.98 [Buy now and save at Amazon]
---
Warning signs for Strictly Confidential, the 2006 six-part drama from England's ITV network, pop up almost immediately at the start of the series. The very first opening shot, which features a nude couple in bed trying unsuccessfully to have sex, is accompanied by huge, artificial whooshing sounds as the blades of the ceiling fan go around and around. Later, a crime scene is marred (for the viewer, that is) by an annoying smear of something down the middle of the camera lens, causing some confusion as to what we're actually seeing - even when it's a normal shot and there's nothing salacious to hide. Seeing these two totally arbitrary, "arty" pretensions in the span of ten minutes or so, I was worried that Strictly Confidential would be yet another empty, flashy exercise in modern TV dramatics. I shouldn't have been. Oh, Strictly Confidential is still fairly empty and disposable - but at least the camera work finally settles down a bit as the familiar, fractured story creeps along.
Strictly Confidential tells the story of Linda Nelson (Suranne Jones), an ex-cop who now works as a psycho-sexual therapist at a community outreach program. The clinic is also run by therapist Greg Nelson (Tristan Gemmill), her brother-in-law. Linda's husband, Richard (Cristian Solimeno) works as a corporate "adventure planner." Prior to marrying Richard, Linda had her eye on Greg, which becomes an issue when Linda finds out that Richard is infertile. Linda, desperate to have a baby, proposes that Greg be the sperm donor - much to Richard's consternation.
Equally troubling for Linda is her part-time work as a police consultant for crimes involving sexual perversion. Called in to a crime scene (the victim died by auto-erotic asphyxiation) by one-time lover Detective Sergeant Angie Morton (Eva Pope), Linda doesn't pick up the signs that Angie might be interested in getting back together with her. But Richard certainly does, who is feeling less-than-confident in his relationship with Linda when she expresses anger at him for being infertile. Events become even more complicated when a patient of Linda's and Greg's, a nymphomaniac who engaged in "breath-play," dies in the exact same manner as the first auto-erotic asphyxiation victim - and all signs point to her husband Richard's involvement. Which doesn't help matters, either, when Linda finds herself drawn to Greg.
SPOILERS ALERT!
Mixed messages abound in Strictly Confidential, which shouldn't be surprising, considering it really constitutes two separate stories - a murder investigation and the daily life of a sex therapist - neither of which are successfully integrated into a whole, cohesive artistic statement. Discounting the murder mystery angle (which is decidedly routine and shockingly easy to figure out), Strictly Confidential doesn't know where it stands as far as its feelings towards sexuality and its various permutations that are brought up for dramatic - and worse - comedic effect.
For each one-hour episode of this six-hour series (presented here on two discs by Koch Vision), two couples with various sexual dysfunctions are introduced as filler for the main story arc. The series' overall tone is one of tolerance for these dysfunctions, which is fine, but the series can't make up its mind what dysfunctions deserve sympathy, and which ones are to be a concern. Obviously, the "breath-play" (there's a euphemism for you) elements are potentially troublesome, considering the two deaths, and Linda continually expresses suspicion and fear over this form of sexuality. Which again, is fine (I would imagine most viewers will agree here). But that concern doesn't jibe with Linda's continual crusade for people to understand their sexuality, regardless of the at-large society's prejudices and stereotypes. If Linda has a line that can't be crossed, why doesn't the series come out and state that? As it stands, it's an amorphous gray area that I suspect the series creator, Kay Mellor, didn't want to touch, and another indication that Strictly Confidential is less-than-honest about its subject.
Worse, these sexual subplots are treated either in a slipshod dramatic fashion or for strictly comedic value - which again tends to negate the central message that these problems are serious and that they need to be addressed in an adult, grown-up manner. Employing the standard "let's wrap up a complex problem in 50 minutes" TV form of therapy, most of the sexual problems these various supporting characters exhibit seem to be cracked by the therapist in one visit, with the sources of the dysfunctions often times the hoariest of bargain-basement Freudian clichés. As for the outright comedy elements, they jar bizarrely against the more serious moments in the series, particularly when they're not very funny in the first place (note to the screenwriters: since you obviously think it's funny to see women beating up men - one protracted sequence has a woman cold-cocking a guy, with further vicious pummeling meted out to the poor hapless bastard, all for comedic effect - can you try writing the exact same scene, but reverse the sexes? And make me laugh? I thought not).
Not helping matters in the slightest is the fact that the lead character, Linda, is such an unattractive person. Obviously, Suranne Jones isn't physically unattractive (as a long-time fan of Coronation Street, her crazy/sexy turn as Karen MacDonald was a highlight of the series). But Linda, not exactly a fully formed character to begin with (the series' idea of fleshing out her character is to have her ride a rebellious motorcycle - hey, cool!), is largely unsympathetic here, particularly when she outright rejects her husband when he discovers he's infertile. As Richard rightly states at one point, it's all about her needs, but the series backs her viewpoint up by allowing her to have her affair (which is presented without guilt) which conveniently gets her pregnant, as well. Obviously willing to break up Greg's nice family (Kate Isitt, a terrific actor, is wasted in the throw-away role as Greg's wife), Linda is shown constantly whining about her feelings and how unfair everything is, even though circumstances seem to be going her way the entire time. It's an off-putting performance by Jones, as well, although to be fair, what was she supposed to do with such an annoying malcontent (enough with the over-enthused all-purpose facial expression of joy/wonder/outrage/irritation), and not particularly a very courageous one, either. If the point of the other sub-plots is to show the actors "naked," both figuratively and literally in the service of being "honest" about the drama, why don't the leads get naked as well?
As for the murder angle, it's strictly by-the-numbers, and not even remotely mystifying. Admittedly, I'm terrible at figuring out these kinds of mysteries (I like to be in the dark; I just let the story happen. I don't try and figure things out), but the culprit here was so ridiculously obvious that I'm surprised nobody behind the scenes said something during production about it. Perhaps worst of all, the series' final scene, where Linda apparently gets to have it all, guilt free, without the slightest repercussions, is a total negation of everything that preceded it. Unless of course, you recognize that all the dramatics were phony to begin with in Strictly Confidential.
The DVD:
The Video:
The anamorphically enhanced, 1.78:1 widescreen video transfer for Strictly Confidential has the distinct blur during camera movements of a PAL transfer. It's not a deal breaker, but you'll notice it on your large monitor. Otherwise, the picture is relatively sharp, with a good color balance (although the blacks didn't hold during some of the night scenes).
The Audio:
The Dolby Digital 2.0 stereo audio mix is surprisingly muddy, not aided at all by the strong accents and no subtitles or close-captions. That's a frequent mistake with these releases from England, one that needs to be addressed if they want these titles to sell over here in the States.
The Extras:
There's a fairly thorough behind-the-scenes featurette on the making of Strictly Confidential, with the cast and creative team discussing the show and its purported impact. It runs 47:38.
Final Thoughts:
Evidently, the makers of the psycho-sexual therapy drama/sub-standard TV murder mystery Strictly Confidential feel that "explicit" and "gratuitous" equal "honest," which then must equals "valid" as a work of dramatic art. In the included behind-the-scenes documentary for Strictly Confidential, the series creator, Kay Mellor, acknowledges the series has gratuitous sex scenes, but claims there's a good story there, too, and that she's happy to make "certain" people "uncomfortable." You can come to your own conclusions about whom she's referring to here, but as far as I'm concerned, the only "certain" people who will be "uncomfortable" with Strictly Confidential are those who value well-written, well-integrated TV drama. Those into soft-core porn scenes shot for TV might want to rent, but anyone looking for a serious drama exploring these issues won't find it here. Skip Strictly Confidential.
---
Paul Mavis is an internationally published film and television historian, a member of the Online Film Critics Society, and the author of The Espionage Filmography.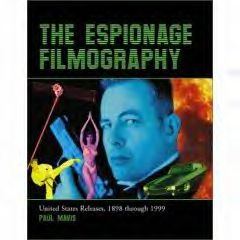 Sponsored Links
Sponsored Links