Ring of Honor: Bloodstained Honor
List Price: $14.98 [Buy now and save at Amazon]
---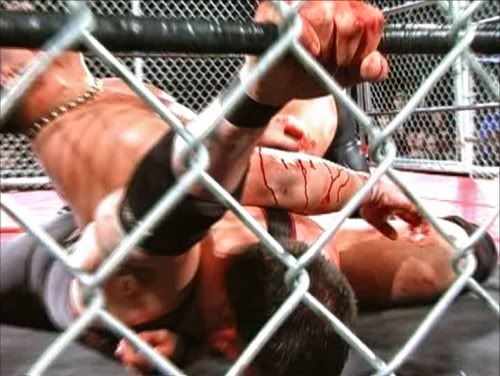 Generic Pre-Review Wrestling Disclaimer: Somewhere between my affinity for globetrotting documentaries, Martin Scorsese films and The Criterion Collection, I found a soft spot for professional wrestling. Don't ask me how this happened; it just did. Despite this declaration, I shower daily, all my teeth are accounted for, I have a college degree...and, most importantly, I have a wife with the same merits. I'm not alone, of course. The wrestling fans I know aren't slack-jawed yokels; they simply appreciate the spectacle and illusion that this genuine sport creates, in the same way movie lovers enjoy fast-paced fights and thrilling chase sequences. Long story short: we know this stuff is "fake", but we like it anyway. Give us a break.
Having not watched WWE on a regular basis for the last five years, I've managed to scratch my wrestling itch through screeners and the occasional blind buy. My first exposure to the Ring of Honor promotion occurred roughly four years ago, after ordering one of their catalogue DVDs on the recommendation of a friend. It was such an impressive show that I've purchased a dozen or more titles since then---and obviously, each has been worth the money. First-time viewers will liken ROH to a faster, more technically-grounded and even less orthodox version of 1990s-era ECW, or a close cousin to the Japanese incarnation of everyone's favorite staged sport. ROH is simply a spectacle to behold, packed with innovative maneuvers, strong technical wrestling, ridiculous high spots and razor-sharp crowd interaction. In short: those weaned on WWE (or WWF, for that matter), WCW, TNA and everything in-between are in for a real treat.
Though DVD sales have been a saving grace for those unable to attend the company's East Coast-based live events, Ring of Honor is still a relatively unknown entity---after all, any up-and-coming promotion, regardless of location or budget, automatically pales in comparison to the WWE juggernaut. As long-time fans will testify and new viewers will learn, however, ROH is well worth seeking out. The promotion's first stab at major DVD distribution begins with this month's dual releases of Stars of Honor and Bloodstained Honor, both through Koch Vision Entertainment. The former, reviewed here, is a collection of star-studded matches featuring current WWE and TNA wrestlers from the past few years...and doubles as a terrific entry-level ROH title. The latter is a compilation of ROH's bloodiest brawls...and, of course, the subject of today's review.
As a word of warning, let me say up front that I'm not a huge fan of blood-soaked wrestling matches. I never really cared for them in ECW and my opinion hasn't changed much: I can stomach the violence, but it's simply not what drew me to wrestling in the first place. With that said, such a bias shouldn't extend over the entirety of Bloodstained Honor, because it's got a bit more to offer than just barbed-wire bats and crimson masks. You won't find much in the way of technical prowess here, but ROH's continued dedication to longer matches and innovative maneuvers helps to...ahem...ease the pain. Presented in chronological order, this collection spans a three-year period and features plenty of familiar faces. The complete match listing is as follows:
Complete Match Listing
(8 matches on 1 single-sided DVD)

Samoa Joe vs. Jay Briscoe (Steel Cage Match - 3/13/04)
CM Punk & Ace Steel vs. Dan Maff & BJ Whitmer (Chicago Street Fight - 7/24/04)
CM Punk vs. Jimmy Rave (Dog Collar Match - 5/07/05)
Generation Next vs. The Embassy (Steel Cage Warfare - 12/3/05)
Colt Cabana vs. Homicide (Ghetto Street Fight - 2/25/06)
Team ROH vs. Team CZW (Inter-Promotional Match - 4/22/06)
Colt Cabana vs. Jimmy Jacobs (Windy City Death Match - 2/24/07)
Kevin Steen & El Generico vs. Jay & Mark Briscoe (Boston Street Fight - 8/10/07)


Right off the bat, it's easy to see that Bloodstained Honor will give blood-hounds their money's worth. Samoa Joe treats young Jay Briscoe to the biggest forehead gash this side of Mass Transit in their rough-and-tumble Steel Cage match. Culminating in several dangerous suplexes and throws from great heights, this bout is almost worth the price of admission alone. Even so, the Chicago Street Fight that follows it is perhaps more engaging and entertaining---and it's usually true during ROH events, but the lively crowd makes all the difference here. Most matches keep the pace quite nicely despite clocking in at 20 minutes or more; though there's a bit of lag during the middle, the rowdy ROH-CZW match and bookending Boston Street Fight are easy standouts. Even the Dog Collar match (which are seldom interesting, at least in my opinion) between CM Punk and Jimmy Rave ends up being pretty darn entertaining. There's not a bad bout in the bunch, yet only the most ardent masochists will have the desire to view this 200-minute compilation in one sitting.
With that said, let me remind new viewers how much differently ROH carries itself, especially in comparison to WWE. The athletes aren't nearly as big, for starters: even the physically dominant Samoa Joe would be dwarfed on Raw or Smackdown. This isn't a criticism, of course, it just means that ROH athletes need to work that much harder for the action to be believable. Storylines and feuds exist (especially during Bloodstained Honor, for obvious reasons), but they're generally pushed to the background. Again, the emphasis on longer matches and innovative maneuvers brings plenty of entertainment value and "Holy shit!" moments to the table---so at the very least, there's never a dull moment. Though Stars of Honor is the more consistent of these two Koch Vision titles (and the preferred blind buy for those new to ROH), Bloodstained Honor is a worthy collection that holds its own nicely. In short, it's better than the bulk of what WWE produces on a regular basis.
Just a footnote: The entrances for these matches are cut and a few end quite abruptly, presumably due to music rights issues (as many ROH wrestlers use existing rock songs instead of newly-created tunes). This shouldn't be a deal-breaker, but it's worth noting.
Quality Control Department
Video & Audio Quality
Let's get this out of the way: ROH's production budget is probably equal to WWE's catering costs, so don't expect a pretty picture. These shows are shot on the cheap and feature a generally dull color palette and only average image detail. The lighting schemes during certain matches ensure that we can see everything, but the end result is an often blown-out picture similar to those taken on disposable flash cameras. The 1.33:1 transfer is also moderately peppered with digital combing, pixellation and compression artifacts. With that said, Bloodstained Honor doesn't look any better or worse than comparable ROH shows from the 2004-07 era, so most fans should know what to expect.
The audio presentation is equally as rough, but it's all due to the source material. You won't get an incredibly dynamic or engaging soundstage here, but crowd noise and other sounds usually don't fight for attention too much. The only real issue is the poor recording and mixing of certain play-by-play commentaries, which often sound as if they were recorded at a later date (and in a much smaller room!). Word has it that a few of Stars of Honor's commentaries were newly dubbed, so this wouldn't be a surprise. Still, such an issue will hardly be an issue for ROH loyalists.
Menu Design, Presentation & Packaging

Seen above, the animated menu designs are basic and easy to navigate. This three-plus-hour compilation has been divided into 8 chapters (one for each match), while certain segments are preceded by retrospective comments from ROH personalities Dave Prazak and Lenny Leonard. This one-disc release is housed in a standard black keepcase and includes a Koch Vision promotional one-sheet and a "collectible trading card" (as big as a full-sized insert!). I got Chris Hero...again. Anyone want to trade?

Bonus Features

Unlike Stars of Honor, no extras have been included here. Given the subject matter, I doubt that interview footage would've added much to the festivities.

Final Thoughts

For visceral wrestling enthusiasts only, Bloodstained Honor certainly earns its title from the very first match. Plenty of familiar faces are on hand during these eight lengthy bouts, each packed tightly with great crowd moments and plenty of the red stuff. The focused theme of this event obviously excludes some of ROH's more memorable matches, allowing fans to dig deeper if they like what they see. Koch Vision's DVD presentation can't squeeze much out of ROH's skimpy production values, while the lack of bonus features is also slightly disappointing. Still, let's look on the bright side: old and new fans alike can get over three hours of action for under $15...and that's never a bad thing. Firmly Recommended.
---
Randy Miller III is an affable office monkey based in Harrisburg, PA. He also does freelance graphic design projects and works in a local gallery. When he's not doing that, he enjoys slacking off, second-guessing himself and writing things in third person.
---

---
C O N T E N T

---
V I D E O

---
A U D I O

---
E X T R A S

---
R E P L A Y

---
A D V I C E
Recommended
---
E - M A I L
this review to a friend
Sponsored Links
Sponsored Links