Confessions of a Young American Housewife
List Price: $29.95 [Buy now and save at Amazon]
---
Retro-Seduction Cinema has released Confessions of a Young American Housewife, another soft-core porn/imitation European drama from famed sexploitation director Joseph Sarno, in a nicely appointed 2-disc special edition. If you've seen Sarno's attempts at pushing the boundaries of soft-core porn before, then you'll now what to expect here: some fairly good (but distressingly few) soft-core scenes (which might scrape by with a PG-13 rating today), along with some decent acting (for the genre, that is) and a fairly well-thought out story (again, in comparison to most other titles from this genre at the time).
Beautiful, horny, blonde Carole (Rebecca Brooke) lives in a posh New York home with her horny husband Eddie (David Hausman). Their best friends, married couple Anna (Chris Jordan) and Pete (Eric Edwards), are their equally horny bedmates as the attractive couples swap partners on a nightly basis. Into this maelstrom of sexuality comes Carol's beautiful young mother, Jennifer (Jennifer Welles), a 37-year-old widow who has remained the same prim and proper housewife she was when she won an award for domestic excellence ten years before. Really into baking pies, Jennifer's extended visit elicits lust from Anna, who can't seem to cram enough of Jenny's baked goods into her mouth (in-between her daily and nightly sex sessions with her friends), as well as driving Pete and Eddie mad with desire, who are both hoping to break down Jennifer's chilly reserve. What everyone will soon learn is that Carole harbors an unnatural attraction to her mother, as well.
Pushing the boundaries of what the swapping couples do with Jennifer in the house, their nightly lovemaking sessions are heard by Jennifer, whose repressed libido goes into overdrive at the sights and sounds of her daughter and her friends making love. Soon Peter makes the first move on Jennifer (successful after an initial rebuff) before Carole gets up the nerve and comes closer and closer to revealing her taboo feelings for her mother (aided by her friends, who prime her by making Carole scream, "Mommy!" over and over again during a sex session). A trip to a local medium/sex orgy guru Shandara (Arlana Blue) certainly loosens up Jenny and Carole (Jennifer almost kisses Carole, but pulls back in self-disgust), before Jenny finds love with the grocery store delivery boy (yep, him). Needless to say, something's gotta give in this ménage a cinq, but will Carole and Jennifer act on their unspoken attraction?
SPOILERS ALERT!
I've reviewed two other films by Joe Sarno, and I have to give him credit for at least trying something substantial different within the sexploitation genre. If you've ever seen the types of films that overwhelmingly dominate this genre from the late 60s and early-to-mid 70s, you know that Sarno, regardless of his actual talent, is to be commended for attempting to make honest-to-goodness films, complete with storylines and relatively sophisticated characterizations and thematic motivations - elements that were virtually non-existent in almost all the other grindhouse nudies of that time.
With that qualifier in mind, though, it's entirely fair, then, to judge Sarno's films against the aesthetics of standard mainstream dramas - and to find them lacking. It's not enough to just say, as his champions so often do, that since Sarno was willing to try and marry soft-core porn with legitimate drama, that that's the same as succeeding at that attempt. Granted, the vast majority of sexploitation films competing with Sarno's are absolute dreck, making his films look like classics by comparison. And that's fine, within that lowered expectations framework. But Sarno clearly wants his films to be judged alongside mainstream dramas, and within that framework, his films suffer by comparison.
It's obvious watching Confessions of a Young American Housewife that Sarno is trying for some kind of European, Bergmanesque stylistics in his scripting and particularly in his direction and framing. With the angular, stark apartment serving as a background for Sarno's actors (who are frequently placed in Persona-like close-ups), Sarno's strong suit is creating a genuinely palpable sense of legitimate dramatic "space" in which the performers can interact. His scenes of Carole and Ann walking through the winter woods, has that "art house" feel of so many films from that period, and they work reasonably well, integrated in-between the other exposition and sex scenes. However, once Sarno's characters open their mouths within his studied framework, that "art house" atmosphere goes right down the drain.
Sarno the director of actors' performances, as well as Sarno the screenwriter, pales in comparison to Sarno the editor and (one would assume) Sarno the camera framer. The biggest problem with Sarno's works are the utterly inane things his performers have to say - and say badly, I might add. Typical of one of Sarno's sequences is Pete's first attempted seduction of Jennifer in the kitchen. Working up a fair degree of heat, Jennifer Welles seems right in the moment with Eric Edwards...up until Eric brings everything to a grinding halt when he seriously intones, "Your tits drive me out of my bird!" "Out of my bird"??? What is he, 12? It's a ridiculous moment, completely ruining the mood of the scene, and this kind of disruption happens often - far too often - in Sarno's scripts. In one of the better scenes in the film, where Carole first confronts Jenny about her swingers status, the actors move back and forth with in the tight frame in a fairly good approximation of Bergman...until Carole breaks the news with this opener: "Mama, I can tell you now...I'm a very hot, horny girl!" Uh...moment over.
And while Brooke and Jordan are by all appearances at least competent actresses, the lines they have to deliver for Sarno frequently drag down their performances to the level of unintentional humor. Jordan's character is supposed to be the comedy relief here, with her constant eating and snacking inbetween lovemaking. It's a broad performance but a correct one, and yet it's not nearly as funny as when Anna, making love to Jenny, tells her - in all seriousness - that she truly loves her. It's unintentionally funny because it's so poorly written, but more importantly, because it's totally unmotivated.
Indeed, Sarno tries to cram in subplots all throughout Confessions of a Young American Housewife that make little sense within a legitimate drama. Along with Anna's inexplicable declaration of love, Eddie decides he wants Jenny to move away with him. Where did that come from? I'm not even sure the two characters shared a scene alone together prior to this sex scene/love declaration. Even more problematic is Sarno's central theme of incest between Carole and Jenny. There's no actual contact between the characters (which is just fine by me), but too much of the script hints at the importance of this seeming "inevitability" between Carole and Jenny, which is then cheaply thrown away in the finale. Explaining Jenny's departure from the house, Sarno has Carole saying they both knew this attraction was between them, that it had always been there, and that Jenny left the house to protect herself. It's a rather abrupt, unsatisfying denouement (particularly after an hour and a half buildup) that might have looked like "art" back in 1974, but which looks undernourished (and thematically cowardly) today. Quite a bit of Confessions of a Young American Housewife is made up of people talking (which had to freak out grindhouse patrons who just wanted the nudity), with a surprisingly limited number of fairly tame sex scenes. As a grindhouse soft-core porn feature, it's only just satisfactory. But as a legitimate drama, Confessions of a Young American Housewife is guilty of incompetence.
The DVD:
The Video:
According to the DVD box, Confessions of a Young American Housewife is presented in a "new digital telecine from 35mm film elements," which translates into: "This looks way better than it should, but still don't expect too much here." The 1.33:1 full frame print has quite a bit of damage in places (such as reel changes), including scratches and dirt, while the color variances are noticeable, as well (which could have been a result of the original elements, too). Compression issues are negligible, though.
The Audio:
Confessions of a Young American Housewife is presented in a 1.0 English mono mix, which is adequate for getting across all the moans, screams, sighs, and poor dialogue. There are no subtitles or close-captions.
The Extras:
There's an extensive look at the film by Sarno biographer Michael J. Bowen in a full-color 12-page booklet. In addition, there's a second disc that features the music of frequent Sarno collaborator Jack Justis (not bad, actually). Next, there's an interview with Joseph Sarno himself, concerning Confessions of a Young American Housewife, that runs 12:23 (from 2006), and finally, there are three deleated scenes (Foursome, Eric Edwards and Jennifer Welles, and Tantric Sex, which are very brief (and in rougher shape, print-wise).
Final Thoughts:
Confessions of a Young American Housewife looks pretty good when compared to most other sexploitation soft-core porn nightmares that were produced for the grindhouses back in the late 60s and early 70s. There's actually a story, and some effort to create an real "film" rather than just an extended sex reel. But Confessions of a Young American Housewife as an "art house" film - a distinction Sarno is obviously going for - fails to live up to its promise. I'm going to suggest a rental of Confessions of a Young American Housewife as a time capsule for that period of filmmaking, and as a nod to Sarno's efforts, however successful, to create something different within the sexploitation genre.
---
Paul Mavis is an internationally published film and television historian, a member of the Online Film Critics Society, and the author of The Espionage Filmography.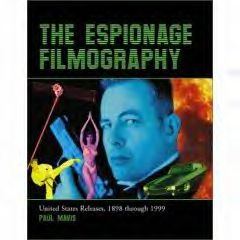 Sponsored Links
Sponsored Links