Laverne & Shirley - The Fourth Season
List Price: $29.99 [Buy now and save at Amazon]
---
Paramount has released Laverne & Shirley: The Fourth Season, a four-disc, 23-episode collection of 1978-1979's number one show in the Nielsen ratings. Starring Penny Marshall as the slightly trampy Laverne, and Cindy Williams as the sweet, innocent Shirley, Laverne & Shirley: The Fourth Season doesn't differ in the slightest from the equally successful third season. Shirley is still fending off the advances of Carmine "The Big Ragu," Laverne is still looking for sailors to spend time with (while maintaining a porous "good girl"/"bad girl" self-image), Pop De Fazio is still yelling at Laverne. And Lenny and Squiggy are still busting through the girls' door, yelling "Hello!" before launching into one of their disgusting routines.
Back in November, I wrote for the first time about Laverne & Shirley, defending its simple aims and tastes, while enjoying its surprisingly durable humor. I won't go into detail again about the show's aesthetics (you can read the third season's in-depth review here), because absolutely nothing has changed here for the fourth season. Nothing. Not unlike some of the later Hogan's Heroes seasons I previously reviewed, I was amazed at the rock-solid steadiness between these two seasons of Laverne & Shirley. Obviously, producer Garry Marshall stuck with the old adage, "If it ain't broke, don't fix it," and he was rewarded with the number one show in the Nielsen's for the second year in a row.
Sometimes it's next to impossible to go back and look at a TV series that held high ratings, and try and figure out what was going on in viewers' minds that they would elevate that particular show over another. There are surprisingly few TV shows that have held the number one spot in the Nielsen's for two or more years in a row - only 13 of them in the past 58 years of ratings - and Laverne & Shirley is one of them. Why did the show appeal so strongly to so many people, at that particular time? Certainly its buzz-worthy night helped. ABC's 1978-1979 famed Tuesday night line-up made NBC's recent "Must See Thursdays," look positively paltry, with Laverne & Shirley, Three's Company, Happy Days, and Taxi delivering the first, second, third and ninth most popular shows for the year. It was just one of those unstoppable nights that viewers wouldn't, couldn't miss, lest they feel left out when co-workers or friends or schoolmates discussed the programs the next day.
As for the show itself, as I wrote before, its premise couldn't be more simple (or simple-minded). Two lower-class single girls from Milwaukee, Laverne and Shirley, live together in a crummy basement-level apartment, where, after finishing their shifts as lowly bottlecappers at the local brewery, they either spend time at the neighborhood pizzeria/bowling alley (owned by Laverne's father), or go out on a series of dates/adventures/disastrous mishaps which frequently involve Shirley's "boyfriend" Carmine Ragusa (Eddie Mekka), who has an "understanding" with Shirley that they can both date others, or with their slimy, repulsive upstairs neighbors, Lenny and Squiggy (Michael McKean and David L. Lander). And that's really all there is to Laverne & Shirley. Faux-late 1950s schmaltz is served up equally with slapstick as our plucky little bottlecappers get knocked about by the cruel fates, before the girls ultimately triumph in the end over physical adversity (quite often the girls find themselves in ridiculous physical gags), social inequity (class warfare is at the heart of the show's politics), and emotional peril (friendship and love vanquish all obstacles in this world). It's crudely designed, and in fact it revels in and celebrates that crudity, but Laverne & Shirley's simple goals are achieved effortlessly, week after week, through the genuinely accomplished, frequently hysterical performances of the talented cast.
Perhaps it was that utter simplicity of the show's set-up, and the reassuring sameness, week in and week out, that kept viewers coming back. Anyone who has kids knows that they love having the same stories read to them over and over again, as well as having the same movie played umpteenth times. Slotted in the now long-gone "Family Hour," Laverne & Shirley with its silly physical sight gags and over-broad comedic acting (along with the patina of its fake nostalgic late 50s, early 60s setting) certainly had an appeal with kids and families; Moms and Dads could sit down and not have to worry about anything showing up on Laverne & Shirley that would warp little Junior's mind. Women viewers, as well, were a substantial percentage of the audience; while I'm not going to go so far as to make some kind of case that Laverne & Shirley appealed to feminist politics in women viewers, there's no denying that part of the series' appeal for women was the notion of two strong-willed, independent single girls, out in the world, making their way through it just fine, thank you (cue that godawful theme song).
Probably, though, Laverne & Shirley dominated in the ratings because, even thirty years later, it's funny. Of course there were far wittier, far more sophisticated comedies on television that year - M*A*S*H, All in the Family, and Barney Miller, to name a few - but they were all beaten in the ratings by the two little bottlecappers from Milwaukee. It may be the kind of show you can't believe you're laughing at, but it does deliver guffaws, time and time again. It certainly doesn't deploy a complex, erudite approach to wit, or humor (or even slapstick); Laverne & Shirley is "baggy pants-dropping" clowning at its most basic (and base). But within that primitiveness, there is a crudity of energy that works, and it works because the performers in the series are so proficient.
Although I've always thought Cindy Williams the superior member of the team, she does work well off the loud, brassy Penny Marshall, her sweetness and expert timing contrasting hilariously against Marshall's braying and obscene mugging. There's a scene in the premiere episode of this season, The Festival, where Laverne and Shirley, attending an Italian street festival, bicker over what prize Shirley is going to pick after winning at a game booth. I can't tell you exactly why it's so funny (who can describe a funny scene that isn't funny for any particular reason?), but Shirley's whining indecision and Marshall's exasperation-turned-bullying-violence had me on the floor. The scripted dialogue was in no way funny; the way the scene was shot or blocked wasn't inherently amusing. The scene worked because both actresses were so in tune with each other and with each other's character that whatever was already funny within the actors, became amplified in concert. One wonders what Laverne & Shirley's reputation would have been if these two talented comedic actors had been given scripts on par with the other TV comedies mentioned above.
As for Lenny and Squiggy, what can one say except, as I've asserted before, they're one of the funniest comic duos to ever appear on a TV series. It's interesting that McKean, now so lauded for his wonderful turns in Christopher Guest's big-screen films, would have quite a few of his new, younger fans turn up their noses at watching him here as the seriously dumb Leonard Kosnowski. Which is too bad, because he's brilliant as the nasally, herky-jerky, spastic Lenny. He has a nice solo effort in Lenny's Crush, where he thinks he's fallen in love with Laverne; he works well with Marshall (they have a nice scene together, as well, in A Visit to the Cemetery, where they discuss feeling abandoned by their mothers), allowing the tenderness and sensitivity of the Lenny character to come through with adept subtly. I'm not sure you could find "tenderness" and "sensitivity" in the Squiggy character - and thank god for that. David L. Landers is...not of this world when he plays the repulsively funny Squiggy. I've never seen a TV character designed to be so thoroughly, hilariously loathsome as Squiggy, and Landers never, ever allows the character to wink to the audience or milk them for comic pathos. Squiggy is a nauseating, odious little worm, through and through, and Landers never lets us forget it. There are a few isolated moments in Laverne & Shirley: The Fourth Season where Landers made me laugh as hard as I've ever laughed at anything (after McKean's Merchant of Venice "If you cut us, do we not bleed," takeoff in Dinner for Four, Lander's tops him with a line reading, "The answer to all these questions is yes!" that left me absolutely paralyzed). Why he isn't given the respect he deserves for this character in TV history, I'll never know.

Standout episodes this season include the opener, The Festival, where Laverne returns to her father's old New York neighborhood (when Laverne answers, "Yeah?" to a neighbor who asks if that's her, the neighbor yells back, "Shut your mouth!"). As well, there's a memorable Squiggy and Lenny extended bit where they discuss hitchhiking to New York (Squiggy can't understand why the longer they stayed in someone's car, the faster they drove to get them to New York). In The Robbery, Shirley and Carmine are amusing as they make out on the coach, moaning their conflicting stances on premarital sex (Carmine's "Ah huh!" to Shirley's "Un huh!"). Shirley gets to do one of her patented "Shirley shuffles," too, to entice Carmine. The Quiz Show has Shirley suffering the all-time classic fake TV malady - personality change due to amnesia, due to blow on the head - which culminates in a pretty nice strip-tease by the sexy, dolled-up Williams. Squiggy may have his best entrance in A Date with Eraserhead when he slams open the girls' door, screams, "HELLO!," and states he has a "brain to pick with you, De Fazio!" (he gets even bigger laughs when he comes back and yells, with his ridiculous out-of-tune machismo, "Look, woman!"). Laverne & Shirley Move In is a funny flashback episode, with Squiggy memorably screaming, "Double make-out!" as he attacks Shirley, and Who's Papa? has Squiggy momentarily convinced Shirley's his sister, which makes him cry, "Unclean!" as he admits to fantasizing about Shirley.

All of this may be stupid - really stupid - but there's no denying it's funny as hell, too.
Here are the 23, one-half hour episodes of the four-disc box set, Laverne & Shirley: The Fourth Season, as described on the DVD insert:
DISC ONE:

The Festival (Parts 1 & 2)
Laverne and Shirley visit Laverne's New York family and attend the Italian festival, where Grandma makes Squiggy an honorary member of the family. Then Frank enters the climbing-the-greased-pole contest hoping to win a trip to Italy for Grandma.
Playing the Roxy
Shirley gets a bump on the head, and suddenly imagines herself to be a famous stripper.
The Robbery
Laverne goes out on a date with Jake, a local tough guy, but things get complicated when the date includes robbing a grocery store.
The Quiz Show
Laverne and Shirley, along with Lenny and Squiggy, compete on a TV game show. When the girls are the winners, they then have to decide to either take the over for their prize, or go for broke.
Laverne & Shirley Go To Night School
Shirley and a reluctant Laverne attend night school to become medical assistants and encounter a troublesome model skeleton and a madcap German professor.
DISC TWO:

A Date with Eraserhead
Shirley has her most unusual blind date ever with Warren, a.k.a.: "Eraserhead."
The Bully Show
Lenny and Squiggy are strong-armed into arranging a date between Laverne and their foreman, Bif.
A Visit to the Cemetery
Laverne makes her first visit to the grave of her late mother.
A Chorus Line
Laverne decides to audition for a part in the musical "West Side Story."
Laverne and Shirley Move In
Shirley reminisces about when she and Laverne first became roommates.
Dinner for Four
Laverne and Shirley meet Hank and Rob at the Pizza Bowl. The girls think they've been invited to dinner, but all the guys wanted was two maids for an evening with their girlfriends.
DISC THREE:

It's a Dog's Life
Shirley handcuffs herself to a homeless dog at the pound to rescue him.
Oh, Come All Ye Bums
Frank decides against hosting his annual charity dinner.
Who's Papa?
Curious that she's the only petite brunette in an otherwise tall, blonde family, Shirley decides to find out if she's adopted.
The Third Annual Shotz Talent Show
Laverne and Shirley put together an act as human puppets for the Third Annual Shotz Talent Show.
Supermarket Sweep
Laverne finds that she has more friends than she thought when she wins three minutes of free shopping at Slotnick's market.
Lenny's Crush
Lenny misunderstands a conversation with Laverne, and falls in love with her.
DISC FOUR:

The Fire Show
Laverne and Shirley both fall for the same fireman after he comes to put out the fire in their apartment.
Squiggy in Love
Laverne and Shirley are worried that Squiggy's beautiful new girlfriend might just be using him to help her move into her new apartment.
The Feminine Mistake
Laverne wants Shirley to help her soften her image in order to impress Joey.
Tenants Are Revolting
With good intentions, the girls call in a building inspector to make repairs, but it backfires when their landlady Edna faces potential fines.
There's a Spy in My Beer
Laverne decides to prove to her doubting coworkers that she really did see an industrial spy in the brewery.
Shirley and the Older Man
A jealous Carmine is resentful of Shirley's friendship with a rich older man.
The DVD:
The Video:
Again, as with the third season, the full frame, 1.33:1 video image for Laverne & Shirley: The Fourth Season looks incredibly clear and sharp for this kind of series. Color variance is under control, and there are no significant compression issues.
The Audio:
The Dolby Digital English mono audio mix accurately recreates the original broadcast presentation; all dialogue is heard cleanly and clearly. Close-captioning is available.
The Extras:
Unfortunately, there are no extras for Laverne & Shirley: The Fourth Season. Come on...not even one commentary from the girls or the boys?
Final Thoughts:
It's still funny. It's the same show as the season before, and we're not talking Noel Coward, but when Shirley starts her whining, and Laverne starts bullying, and Lenny starts herky-jerkying around, and Squiggy...just is, big laughs are to be had here. I highly recommend Laverne & Shirley: The Fourth Season.
---
Paul Mavis is an internationally published film and television historian, a member of the Online Film Critics Society, and the author of The Espionage Filmography.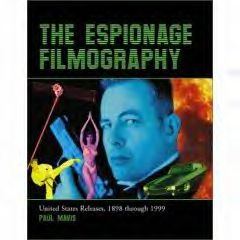 ---
C O N T E N T

---
V I D E O

---
A U D I O

---
E X T R A S

---
R E P L A Y

---
A D V I C E
Highly Recommended
---
E - M A I L
this review to a friend
Sponsored Links
Sponsored Links