Ring of Honor: Best in the World
List Price: $14.98 [Buy now and save at Amazon]
---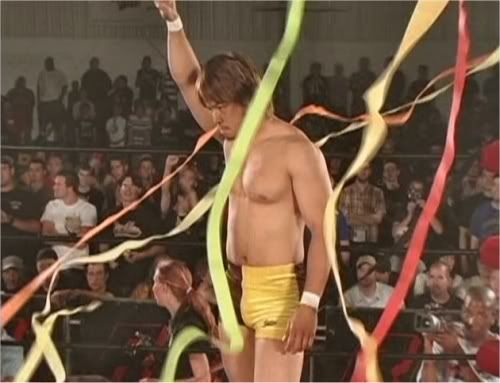 Generic Pre-Review Wrestling Disclaimer: Somewhere before my affinity for globetrotting documentaries, Martin Scorsese films and The Criterion Collection, I found a soft spot for professional wrestling. Don't ask me how this happened; it just did. Despite this declaration, I shower daily, all my teeth are accounted for, I have a college degree...and, most importantly, I have a wife with the same merits. I'm not alone, of course. The wrestling fans I know aren't slack-jawed yokels; they simply appreciate the spectacle and illusion that this genuine sport creates, in the same way movie lovers enjoy fast-paced fights and thrilling chase sequences. Long story short: we know this stuff is "fake", but we like it anyway. Give us a break.
Having not watched WWE on a weekly basis for the last five years, I've managed to scratch my wrestling itch through screeners, online news sites and the occasional blind buy. My first exposure to the Ring of Honor promotion occurred roughly four years ago, after ordering one of their catalogue DVDs on the recommendation of a friend. It was such an impressive show that I've purchased a dozen or more titles since then---and obviously, each has been worth the price of admission. First-time viewers will liken ROH to a faster, more technically-grounded and even less orthodox version of 1990s-era ECW, or even a close cousin to the Japanese incarnation of everyone's favorite staged sport. ROH is simply a spectacle to behold, packed with innovative maneuvers, strong technical wrestling, ridiculous high spots and intense crowd interaction. In short: those weaned on WWE, WCW, TNA and everything in-between are in for a real treat.
Though DVD sales have been a saving grace for those unable to attend the company's East Coast-based live events, Ring of Honor is still a relatively unknown entity; after all, any up-and-coming promotion, regardless of location or budget, automatically pales in comparison to the WWE juggernaut. As long-time fans will testify and new viewers will learn, however, ROH is well worth seeking out. The promotion's first stab at mainstream DVD distribution began with the one-two punch of Stars of Honor and Bloodstained Honor a few months back, when both were released by Koch Vision Home Entertainment. Thankfully, the company has continued to offer low-priced ROH collections---which brings us to the subject of today's review, Best In The World (another volume, Greatest Rivalries, was released simultaneously and will be reviewed here in the near future).
Best In The World, obviously enough, is a more internationally-themed ROH compilation, though it's not quite as globetrotting as its name implies. The bulk of these matches feature wrestlers from Japanese promotions like Dragon Gate, NOAH and All Japan, while other athletes hail from Canada, Switzerland, the United Kingdom and elsewhere. Some participants are ROH part-timers; others are simply honored guests. For the most part, these newcomers and their varied styles help to diversify the pace and feel of several matches considerably; most are allowed to run for 20 minutes or more, but the solid pacing ensures that they're anything but dull. Nine matches are included in all and most speak for themselves...so let's get to the card, shall we?
Complete Match Listing
(9 matches on 1 single-sided disc)

Samoa Joe vs. Kenta Kobashi (New York, NY - 10/1/05)
AJ Styles & Matt Sydal vs. Dragon Kid & Genki Horiguchi (Detroit, MI - 3/30/06))
KENTA vs. Austin Aries (Chicago Ridge, IL - 6/24/06)
Samoa Joe vs. Kikutaro w/ Mick Foley (Elizabeth, NJ - 2/19/05)
Bryan Danielson vs. Lance Storm (Chicago Ridge, IL - 4/1/06)
CM Punk vs. Terry Funk (Philadelphia, PA - 9/20/03)
Jay & Mark Briscoe vs. Naruki Doi & Shingo (Liverpool, UK - 3/3/07)
Claudio Castagnoli vs. El Generico (Edison, NJ - 7/28/07)
Takeshi Morishima vs. Nigel McGuinness (Edison, NJ - 4/14/07)
From top to bottom, this is an incredibly solid card with plenty of easy highlights. Samoa Joe vs. Kenta Kobashi (above left) is as good as it sounds on paper: these two larger athletes battle it out during a lengthy brawl with plenty of hard hits and near-falls. The New York crowd is incredibly vocal from start to finish---and often favors the living legend Kobashi, not surprisingly---which makes this technically sound match all the more entertaining. KENTA (at top) vs. Austin Aries is another amazing match, as these two gifted athletes utilize their ring skills and natural charisma to put on an excellent show. The Briscoes vs. Naruki Doi & Shingo is the best tag match of the bunch, featuring plenty of fast-paced action and last-second saves. Claudio Castagnoli vs. El Generico is a solid match that also offers a few well-timed gags, but these two athletes still mean business and work incredibly hard in the ring. Last but not least, Takeshi Morishima vs. Nigel McGuinness (above right) is a hard-hitting finale---and though Morishima is a bit too doughy for his own good, his high-risk attempts and ring presence are truly formidable.
Other matches are certainly watchable but don't exactly steal the show. Samoa Joe vs. Kikutaro (with Mick Foley) is a perfect example of this: it's played for laughs like Claudio Castagnoli vs. El Generico, but this lopsided brawl is ultimately too silly to fit in with the rest of these matches. Bryan Danielson vs. Lance Storm is a fine match with a pair of truly gifted athletes, but even a passionate response from the crowd doesn't cover a few notable patches of dryness. Finally, CM Punk vs. Terry Funk isn't half bad, but this slow-burning fight is cut short before it really goes anywhere...and in any case, it's not exactly "international" (it is inter-generational, though!).
In any case, the highlights of Ring of Honor: Best In the World far outweigh a few slower spots. This is top-notch entertainment for fans of wrestling, whether you're a seasoned ROH fanatic or simply looking for an easy opportunity to get hooked. This one-disc package by Koch Vision Home Entertainment follows suit with past ROH releases: the technical presentation is nothing to write home about and the extras are non-existent, but it's tough to complain about three hours of terrific wrestling for under $15. Let's take a closer look, shall we?
Just a footnote: The entrances for these matches are cut and a few end quite abruptly, presumably due to music rights issues (as many ROH wrestlers use existing songs instead of newly-created tunes). This shouldn't be a deal-breaker, but it's worth noting.
Quality Control Department
Video & Audio Quality
Let's get this out of the way: ROH's production budget is probably equal to WWE's catering costs, so don't expect a pretty picture. Events are shot on the cheap and feature a generally dull color palette and only average image detail. As these particular matches have been taken from different events, the quality varies even further from start to finish; one such example is AJ Styles & Matt Sydal vs. Dragon Kid & Genki Horiguchi, which is considerably darker than the other bouts. The 1.33:1 transfer is also moderately peppered with digital combing, pixellation and compression artifacts. With that said, Bloodstained Honor doesn't look any better or worse than comparable ROH shows from the 2004-07 era, so most fans should know what to expect.
The audio presentation is equally as rough, but this is also due to the source material. Fans won't get an incredibly dynamic or engaging soundstage here, though crowd noise and other sounds usually don't fight for attention too much. The only real issue is the poor recording and mixing of certain play-by-play commentaries, many of which were recorded at a later date (and in a much smaller room!). As expected, no subtitles or Closed Caption support is offered during these matches.
Menu Design, Presentation & Packaging

Seen above, the animated menu designs are basic and easy to navigate. This three-plus-hour compilation has been divided into nine chapters (one for each match), all of which are preceded by retrospective comments from ROH personalities Dave Prazak and Lenny Leonard. This one-disc release is housed in a standard black keepcase and includes a Koch Vision promotional booklet and a "collectible trading card" (as big as a full-sized insert!). I got Nigel McGuinness this time, breaking my 2-0 streak of Chris Hero cards. :(

Bonus Features

Like Bloodstained Honor, no extras have been included here. This proves to be somewhat disappointing, but the low price tag and extensive content more than make up for it.

Final Thoughts

Ring of Honor has released four collections from the vault so far---and of the three I've reviewed, Best In The World is probably the strongest from start to finish. Chock full of exciting matches, thrilling near-falls, enthusiastic crowd reactions and a handful of new faces, it's perfectly accessible to new fans and solid enough to satisfy ROH disciples. Koch Vision's DVD package (like the previous collections) is virtually barebones and hardly a technical marvel, but the sheer entertainment value of this three-hour collection---combined with a rock-solid price point, of course---makes it an easy choice for wrestling fans of all experience levels. Highly Recommended.

DVD Talk Review Links: Other ROH Releases
---
Randy Miller III is an affable office monkey based in Harrisburg, PA. He also does freelance graphic design projects and works in a local gallery. When he's not doing that, he enjoys slacking off, second-guessing himself and writing things in third person.
---

---
C O N T E N T

---
V I D E O

---
A U D I O

---
E X T R A S

---
R E P L A Y

---
A D V I C E
Highly Recommended
---
E - M A I L
this review to a friend
Sponsored Links
Sponsored Links