List Price: $14.95 [Buy now and save at Amazon]
---
I picked it because of the cover art, okay? How was I supposed to know? Next time I check the IMDB first. Genius Products and RHI Entertainment have released Something Beneath (themselves), a 2007 Canadian tax write-off that previously appeared on On Demand and the Sci-Fi Channel, and which now employs some fairly sweet (and completely deceptive) cover art to mask this soggy environmentalist/horror/sci-fi/comedy/priest-in-love mishmash. Kevin Sorbo is in it, if that helps you.
Out in the middle of nowhere, a wealthy developer, Lowell Kent (Frank Adamson), has decided, come hell or high muck, that he's going to build a luxury conference center. Despite the pleas of criminally nerdy Dr. Connolly (Brendan Beiser) that the site will be an environmental disaster for the surrounding ecosystem, Kent pushes ahead with his plans (while ignoring the mysterious death of one of his workers who was laying in the sewer pipes for the center). One year later, the Cedar Gate Conference Center is open for business, and its first convention, dedicated to saving the environment, is headlined by asthmatic writer Eugene Herman (Rob McLaughlin) and Paris Hilton knock-off Mikaela Strovsky (Brittany Scobie), who wants to save the planet if it gets her a free weekend in the mountains and tons of publicity. The convention was organized by crusading priest Father Douglas Middleton (yes, Kevin Sorbo) - which is just fine by Cedar Gate Events Coordinator Khali Spence (Natalie Brown), who takes one look as the mountain-sized, rippling Father, and starts crossing herself something fierce over the naughty thoughts she's having.
And as one would expect with any conference dedicated to saving the environment, people start disappearing and bumping themselves off left and right. And nobody seems to understand why. And while we're at it, can someone explain why there's this mysterious black goo dripping down from pipes and sinks and drains, all throughout the hotel? Because apparently, if you get this gunk on you, you start hallucinating big time, and then you proceed to off yourself. Sorbo doesn't know what's up. But he's hanging around pretty Khali a lot, who's afraid of dogs because a wolf bit her when she was a kid, and whose Native American grandmother gave her a protective amulet to ward off evil spirits (if that sentence sounds arbitrary and awkward, it's Proust in comparison to how they work it up in the movie). Soon, people are wadding around in sewers and dying, and wondering if there are any more cinnamon rolls for the free continental breakfast.
SPOILERS ALERT!
I don't expect much from these Sci-Fi Channel staples - and that's exactly what I keep getting. I like a good, schlocky horror/sci-fi film as much as the next guy, but there's not a whole lot to work with in Something Beneath. It's not consciously funny enough to keep my spirits up through its long-seeming 90-minute run. And it's not so terrible that it's unintentionally comical. There aren't any thrills or chills to speak off (my 14-year-old's one-word review at the end of the film: "Lame."), with the sewer-dwelling slime monster turning out to be a singularly unprepossessing villain. So if it's not on-purpose amusing, or ineptly witty, or even remotely scary (and ix-nay on any nudity), what's the point?

We'll get to all of the side-line stuff later (unimportant elements like script, direction and performances), but first and foremost, in any kind of film like Something Beneath, you need some kind of scary monster/alien/foreign organism that will appeal to the jaded genre fans out there who have seen it all before a hundred times. And while the idea seems clever that this subterranean ooze-beast can drip on people and make them hallucinate themselves into suicide, based on their worst, primal fears, it never makes too much sense in the film. If the black ooze is the monster (the part that's seeping through walls and pipes and the ground), then why does it need that alien head thing that eats the two maintenance guys? And what manifestation of the monster, down in the main sewer line, is that huge, tentacled, phallic rhododendron gone ape sh*t on MiracleGrow? Is it made of goo? Or does it ooze goo? Is it part of that alien head? Kevin Sorbo doesn't know. And really, the black funky gunk that drops on people isn't the most frightening visual I've seen; when someone gets a spatter on their face or hand, it looks more like, in the immortal words of Dudley Moore and Peter Cook, that a particularly large bird had done his "doo-dahs" on them.
As for the script, aside from the fact that it operates mainly as a set-up for the tired spook-em sequences (courtesy of 1-2-3 direction by David Winning), it tries to be overtly funny, but largely fails (the Paris Hilton wannabe is particularly annoying), while the "serious" lines get the biggest laughs ("Something bad is going on around here. And whatever it is, it's getting worse" - you're telling me). One or two lines do deliver (I admit to cracking up when the screwed-up doctor, played somewhat amusingly by Beiser, coos, "I...can't...wait...to puuuuubbbblisssh!" when he takes in the enormity of his scientific find). But they are few and far between, with most of the dialogue consisting of inordinate amounts of exposition, narrated by characters talking to themselves, because evidently, nobody could figure out how to make an actual film where the story unfolds cinematically, instead of it being dictated to us.
Now what am I to do with Kevin Sorbo here? An Episcopalian priest? Sorbo is competent with a light, flirty line when he's talking with Khalie. Who knows? Maybe he's a light comedian hidden behind all that bulky muscle. But junk like this isn't going to win him any new converts who might sense possible untapped potential. As for Natalie Brown, she too seems a far better actor than what's asked of her here, but aside from that pretty face and a rather sexy little curl to her mouth, she doesn't register, either. The rest of the performances are so broad as to be labeled "burlesque," and are better left alone.
Same with the film.
The DVD:
The Video:
The anamorphically enhanced, 1.78:1 widescreen image for Something Beneath is agreeable enough, with reasonable color values, a sharpish image, and minor compression issues when things get dark down in those sewers. Not the greatest, but okay.
The Audio:
The Dolby Digital English 2.0 stereo mix isn't terribly dynamic, but it's loud enough to maybe give a little kid a jump. All dialogue is clearly heard, and mixed properly with the music and special effects. No subtitles, though.
The Extras:
There are no extras for Something Beneath.
Final Thoughts:
A mucky mess. Kevin Sorbo wears a priest collar, Natalie Brown curls that sexy little mouth of hers, and someone spilled too much MiracleGrow down the drain. Cheap special effects, cheap one-liners and cheap thrills equal Something Beneath, which is something entirely beneath your consideration. Skip it.
---
Paul Mavis is an internationally published film and television historian, a member of the Online Film Critics Society, and the author of The Espionage Filmography.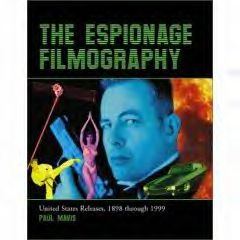 Sponsored Links
Sponsored Links