P.D. James: The Essential Collection
List Price: $149.98 [Buy now and save at Amazon]
---
Koch Vision has re-released its 2005 DVD boxed set, P.D. James - The Essential Collection, upgrading it with the inclusion of two more TV titles - 1991's Devices and Desires and 1995's A Mind to Murder - in the Commander Adam Dalgliesh series (those films include: 1983's Death of an Expert Witness, 1984's Shroud for a Nightingale, 1985's Cover Her Face and The Black Tower, 1988's A Taste for Death, 1993's Unnatural Causes, and 1997's Original Sin). Not having viewed this earlier set, I did a little digging on this previous release, and apparently, all extras (and they're very slight) are included here, with no new ones, outside of the additional films added. So double dipping should be cautioned if the two new titles are available singularly. As for the mysteries themselves...I can't say P.D. James' popular sleuth is my new favorite English detective. And that's an understatement.
It's important to state here that I haven't read any of P.D. James' Adam Dalgliesh's mysteries, either. I've heard of the character (it's hard not to notice James' name in the bookstores), but other than knowing his name and that he was a police officer, I didn't have a clue about the character when I sat down with the P.D. James - The Essential Collection set. I mention this so devotees of the author's works and the films will understand I'm judging only these TV films - not P.D. James' books or her skills as a mystery writer. Having seen probably thousands of such film adaptations of literary works, I'm well aware of how very often a film adaptation can vary substantially from its literary inspiration.
That being said, I couldn't work up a lot of enthusiasm for either this cinematic version of Commander Dalgliesh, nor for the mysteries he solves (or doesn't solve, as the case is for at least one of the stories here). It's always hard to put your finger on exactly why a character doesn't work for you in a film - particularly when the character, like Dalgliesh, is so reserved and taciturn in the first place; it's not like he's putting a lot out there to begin with. Obviously, readers of James have a distinct advantage in that they've had the pleasure of getting to know Dalgliesh on the written page, where an author can supply a myriad more opportunities for the reader to delve deeply within her lead character's personality, his desires, his dislikes, his foilbles, and his obsessions.
That level of character exploration is far more difficult to accomplish on film. Readers already familiar with the Dalgliesh character are bringing quite a bit of background to their viewings of these mysteries, with the cinematic version of the sleuth fulfilling an almost supplementary role rather than the primary experience he is to a first timer like myself. He can be shadowy or vague or incomplete (or spot-on) to a reader of James, and either be a disappointment or a pleasant incarnation of what the reader imagined Dalgliesh would be in the flesh. But the perception, whether positive or negative, orients from the book first.
And my first encounter with Dagliesh, in 1983's Death of an Expert Witness, left me...rather cold. And subsequent visits with the tall, imposing, stern Dalgliesh (essayed with detached...detachment by Roy Marsden) did absolutely nothing to warm me to the character. Reading up a little bit on James, I came across an interview where she said she wanted to make sure Dagliesh wasn't an eccentric like Christie's Poirot or Marple, but instead a competent, assured professional - as realistic a copper as she could draw. Of course, he does have one trait not usually associated with fictional detectives - he's a published poet - but however much that particular accomplishment is central to understanding the literary Dalgliesh, it serves almost no purpose in these mysteries (except for the final film, Original Sin, where his writing past is directly related to the characters and plot). I never got a feeling for Dalgliesh, one way or the other, concerning his past efforts as a poet, nor for anything else in his private life, for that matter. Other characters occasionally bring up that he's a poet, and it's obvious that the filmmakers want me to understand that this is a significant element of his makeup, but nothing is made of it overtly, and pensive looks alone from Marsden don't cut it as character development.
A brief scene in Death of an Expert Witness establishes that Dalgiesh is married, with a wife who's expecting a child, but it's over so quickly that you can't connect with any pain he's supposed to be feeling later in the film, when it's revealed (indirectly and rather obtusely) that's he's lost both of them. One may assume that the following TV movies find Dalgliesh still mired in depression and sadness from this loss, but again, almost nothing about Dalgliesh the person, is explored in the films. One or two woman drift in for a scene or two (literally, in The Black Tower, there's one scene where we have to guess that the woman named "Harriet" giving Dagliesh a bunch of flak, is a girlfriend in the process of dumping him. We think), but not until Unnatural Causes do we see him have a lover throughout the film - where she winds up being more important in advancing the mechanics of the plot, rather than shedding light on Dagliesh's troubles with maintaining a relationship.
Certainly the part of Dalgliesh as a fully-rounded character is underwritten in these miniseries and films (the first six mysteries average 3, 90-to-100 minute episodes; the seventh and eighth run under two hours, and the last film runs almost two-and-a-half hours). It doesn't help, either, that Roy Marsden is such a stiff as Dalgleish. Writing that may be sacrilege to the millions of fans who apparently adore him in the role, but he left me unimpressed with his alternately arch or bored manner. There's something almost pissy about Marsden's portrayal, a willingness to purse his lips in tired disapproval far too many times for my liking. It's an extremely lethargic performance he gives in each film, too, accompanied by a slightly supercilious tone that turned me right off the character from minute one. It certainly makes it difficult for a viewer to become engaged in over 34 hours of programming when the lead actor seems like such a lanky, stilted ass. Again, that may be the character as written by James; I don't know. But I did find it interesting that in the booklet that accompanies the P.D. James - The Essential Collection, there's a reprinted interview with the author who is loquaisous and positive when it comes to every subject brought up except Marsden and his portrayal of her literary creation. When the interviewer asks if Marsden looks like her creation, she relies succinctly, "No, not at all." And when the interviewer presses the point, and asks if James sees a different person than Marsden when writing the character, again she gets right to the point: "Oh, yes." No ringing endorsement of Marsden. No acknowledgment of the series. Nothing. She may very well have stated her approval of Marsden somewhere else, but she certainly didn't take the opportunity there to elaborate on her feelings for these cinematic adaptations - adaptations which of course she didn't write.
Which leaves us then, with the mysteries themselves. The problems with the mysteries in the P.D. James - The Essential Collection, individually and collectively, lie heavily with the surprisingly shoddy productions that unfortunately can be quite common in these kinds of contemporary British TV productions. It's not so much that the mysteries themselves are routine or poorly constructed, but certainly, many of the films themselves fail to rise above the most elementary 1-2-3 direction and editing. The actual physical productions of the films, up until the final two or three, are sometimes appallingly bad. Shot on videotape for the first six films (with the remaining three looking like film, although certain shots liked like they were actually videotaped and then transferred to film - a cost-cutting shooting method), even allowing for the deterioration of the master tapes over time, one can tell that these weren't the best looking films out there. Framing is almost exclusively head-and-shoulders or long shots, with absolutely no regard for telling mise-en-scene or even the simple pleasures of a well-framed shot. The editing often appears to have been done with a chainsaw, and the sound reproduction for many of the films approaches some of the most incompetent recording I've ever heard (lots of real locations, such as small rooms, miked to get every single ping and echo imaginable). In the end, it's difficult to concentrate on the plot's killings and sleuthing, when you're either bored to tears with the look of these talking-heads films, or straining under the weight of camcorder-like audio recordings.
Which in turn brings us full circle back to the Dalgleish character and his role in solving the crimes. My understanding of James' mysteries, through the admittedly little research I did, involves quite a bit of background and exposition before the actual murders take place. I can believe it from these adaptations. While James may be highly successful at taking her time in delineating these characters in her books, leisurely exploring their motivations and interconnected relationships in regards to the murders, that approach on film, in a five hour miniseries, can be deadly dull if the filmmakers mistake plodding thoroughness for clarity through detail. While the mystery plots are agreeably dense and thickly plotted, it's tough to get involved with them when the screenplays are so sluggish (which are doubly hindered by lackluster direction). As each film unrolled, I kept trying to put my finger on why exactly these films weren't working for me, and why the experience of watching them over a month's time, seemed more like six months. And then it dawned on me: these films gave me absolutely no desire to seek out James' novels - and that almost never happens when I watch an adaptation of a literary work...even when they're poor (in fact, that usually makes me all the more eager to read the original). All of the drawbacks mentioned above - the vague, shadowy Dalgleish character, the humorless Marsden enacting him, the piss-poor production values, and the desultory scripts - all contributed to me never wanting to give P.D. James' Dalgleish a go - and I adore a good English mystery. Fans of these films - and they're apparently legion - will despise me for saying this (as no doubt James would, too, if she ever read this) - but give me Christie (and a Christie film adaptation) any day over this dreary, pedestrian, falsely-morose world of Dalgleish.
Here are the 9 Adam Dalgleish mysteries included in the 15-disc P.D. James - The Essential Collection:
Death of an Expert Witness
When a forensic biologist turns up dead at an isolated, rural forensics laboratory, Dalgleish is called in to sort through the many suspects who all had a motive for bumping off Dr. Lorrimer.
Shroud for a Nightingale
At the remote Nightingale House, a hospital nursing school, a young nurse is found dead and another is killed right in front of Dalgleish's eyes. But what do the deaths of Jewish concentration camp victims have to do with these nurses and their murders?
Cover Her Face
A beautiful single mother winds up dead at the estate of a wealthy family - a family that has plenty of secrets to hide. Including the key, perhaps, to a drug case he's working on.
The Black Tower
Toynton Grange, a palatial estate converted to a convalescent home by monk-like Wilfred, is in reality a very dangerous place, with people falling off cliffs and hanging themselves at the drop of a hat.
A Taste For Death
What do a recently resigned Minister of the Crown and a derelict boozehound have in common? They've both had their throats' slashed in the vestry of St. Matthew's Church. And what's more, the Minister had just met with Dalgleish, prior to his murder.
Devices and Desires
The "Norfolk Whistler" is roaming the rural roads, strangling any woman he (or she) sees, and it's up the Dalgleish to bring the murderer to justice. Or not, considering he doesn't really solve anything in this rather silly mystery.
Unnatural Causes
A body - minus his hacked-off mitts - washes up on the beach, and it's connected with Dalgleish's money-laundering case.
A Mind to Murder
An exclusive rehab facility is in upheaval due to a brutal murder of one of the staff, and Dalgleish must solve the case - even when MI-5 might be indirectly implicated in the murder.
Original Sin
Peverell Press, a gorgeous Venetian palace on the Thames where Dalgleish had his first book of poems published, is the setting for a particularly gruesome murder.
The DVD:
The Video:
As I wrote above, the video quality of most of the full-screen, 1.33:1 transfers for the films in the P.D. James - The Essential Collection are not at all up to snuff for current DVD standards. Video noise is rampant, along with smearing, haloing, and jiggering. Colors are usually a muddy mess (when they're not boardering on pea-green). Only the final three films look halfway decent.
The Audio:
The Dolby Digital English mono audio track for most of the films in the P.D. James - The Essential Collection...are some of the worst sountracks I've ever heard. Period. At one point in Unnatural Causes, when Dalgleish is speaking in his apartment, there's an echo that sounds like he's speaking from the inside of a heavy aluminum pot. It's utterly ridiculous! Koch had to know these audio tracks were piss-poor (from the original laughably inept British recording masters), but no one included subtitles or close-captions to help out confused viewers, straining to understand the impenetrable dialogue. Hands-down the worst audio tracks I've heard on any disc this year. Period.
The Extras:
The "extras" are nothing more than lame text bios and bibliographies of James and Marsden, repeated over and over again on each disc. There's a small booklet included as well in the book-like holder. It's thin, as well, on useful information.
Final Thoughts:
Not my cup of tea. Fans are legion for P.D. James' Commander Adam Dalgleish, and apparently, these British TV adaptations from the 1980s and 90s were popular, as well. But I don't see the appeal. Dalgleish, a remote, prickly drudge, may be interesting in the books (or maybe not, for all I know), but as essayed by the terminally boring Roy Marsden, the Metropolitan Police Commander comes off as a pompous, stuck-on-himself ass. After Marsden pursed those lips of his in an umpteenth display of prissy, grandmotherly condemnation, I was hoping the killers would get away with their crimes. Ridiculously inept production values for most of the films, along with some of the worst audio tracks I've heard on a DVD in quite some time (owing to the original materials), make the 34-plus hours of the P.D. James - The Essential Collection a fate far worse suffered than the assorted murder victims who litter these mysteries. A rental is the best I can go here, and that's just for English murder mystery addicts (and that's only if Marple and Poirot - and just about anyone else - are rented out). Everyone else can skip it.
---
Paul Mavis is an internationally published film and television historian, a member of the Online Film Critics Society, and the author of The Espionage Filmography.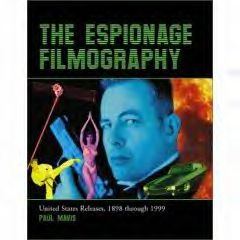 Sponsored Links
Sponsored Links