List Price: $14.99 [Buy now and save at Amazon]
---
Twaddle. Echo Bridge Home Entertainment has released A Very British Gangster, a 2007 documentary on one Dominic Noonan, the notorious Manchester, England crime boss who took over as head of the infamous Noonan gang back in 2003, and who is now sitting in prison on a weapons charge. Directed by British TV tabloid journalist Donal MacIntyre (in an apparent effort to fawn unquestioningly all over this monster), A Very British Gangster revels in letting Noonan endlessly spin his bullsh*t into the camera while MacIntyre inserts pretty pictures of the industrial, downtrodden Manchester - and all to naught effect. This is glorification of someone who doesn't deserve a pedestal, with a faux hands-off moral approach that's as gutless as it is unedifying.
Filmed over a three year span for two shorter TV documentaries on the Noonan gang that MacIntyre then spliced together for this feature, A Very British Gangster looks at Dominic Noonan, whose own self-aggrandizing moniker, "Lattlay Fottfoy" ("Look After Those That Look After You. F*ck On Those That F*ck On You") should give you an idea of his narrow outlook on both life and humor. The Noonan family, long a scourge of the Manchester police, began to take dominance over the gritty industrial town in the late '80s and early '90s, when the leader of the Cheetham Hill Gang, who controlled most of Manchester at the time, was assassinated in 1991. Dominic's older brother, Desmond "Dessie" Noonan, a truly frightening gang enforcer who is also featured briefly in A Very British Gangster, took over control of the gang until his downward spiral into drugs led to his murder in 2005. Dominic Noonan, a veteran of strong-arm jobs robbing banks and security vans (as well as a self-admitted torturer and murderer), then ascended to the Noonan family throne, where presumably he still runs the organization...from behind prison walls.
MacIntyre, who evidently has a reputation in England for these bogus "fly on the wall" documentaries that do little more than further sensationalize the already sensational stories being covered, gained access to Noonan when, covering a gangland killing trial at the courts, Dominic quite cheerily came up to MacIntyre and told him that Dessie had once been ordered to kill the reporter. A friendship of sorts was drummed up, and MacIntyre was given full access to Noonan to shoot these two documentaries.
Of course, the definition of "full access" can be subjective. Noonan certainly shoots his mouth off a lot here, and there's no denying, considering his criminal record, that he's probably as evil a character as he's reported to be here. MacIntyre takes a phony "hands-off" approach to Noonan, refusing to openly judge him (i.e.: call him on his bullsh*t) in exchange for his trust and "full access." But since Noonan does nothing here in A Very British Gangster that would incriminate him with the police (MacIntyre, in an effort to save his own neck, fessed up right from the start that anything Noonan said could be used by the police, prompting the dodgy criminal to promptly clam up about anything of real importance concerning his criminal life), we're left with a thoroughly uninteresting look at an all-too common thug who likes to hear the sound of his own voice.
And so, apparently, does MacIntyre. While print interviews with MacIntyre stress that he wasn't passing judgment on Noonan, and that in fact, he may have been satirizing the criminals, allowing them to metaphorically "hang themselves" with their own words of petty ambitions versus the enormous harm they've caused to their victims, nothing in the film suggests that. In fact, quite the opposite impression is given. MacIntyre lovingly shoots Noonan and his young, feral charges in beautifully bleak, carefully framed images that do nothing but glamorize the criminals (MacIntyre even includes a black & white still montage sequence showing the gangsters enjoying the fruits of their labors as they shop and hang out in the city's hot spots). This is aggrandizement of illegality purely for the titillation of the TV audience - nothing more. Indeed, the director's unchallenging tone with Noonan, as well as an often-times heard joviality and concern in the director's voice and demeanor when talking with Noonan, indicates the director was far too involved with his own subject, glorying in being considered one of Noonan's pals, rather than a dispassionate journalist (a charge that apparently has been brought against many other works of MacIntyre's).
Of course, any time you hear a documentarian claim total objectivity, it's a thoroughly amusing statement from someone who obviously doesn't know what the hell they're talking about (MacIntyre invoked the Maysles brothers as an influence in this "total objectivity," which cracked me up no end). What MacIntyre doesn't realize is that even trying to take a "no judgement" stand with a documentary...is indeed "taking a stand." But MacIntyre isn't even remotely successful in couching his viewpoint in a lot of artistic gobbledy-gook like the thoroughly busted Maysles. His admiration for Noonan is front and center on camera for anyone to see. When MacIntyre plays a phone recording of Dominic informing the director of his brother Dessie's death, the genuine shock and concern in the director's voice for the death of a gangland enforcer who earlier had giggled on camera about all the murders he committed, is sickening.
Of course, MacIntyre doesn't show one solitary victim of Dominic's violence, preferring to allow Dominic to parrot the old chestnut about how criminals only "kill those that what deserve it," which indeed may include other equally heinous criminals deserving of a such a fate, but who may also be anyone, such as yourself, dear reader, who may not cotton to Noonan's fascist reign, or anyone who "gets in the way" by being a conscientious citizen, testifying in court against Noonan, or anyone who just may look at him the wrong way one day when he feels like bashing someone for the hell of it (something he admits to liking to do). MacIntyre buys this crap whole cloth, never questioning Dominic's rationalizing, and never doubting Noonan's frequent attempts to put the blame on everyone else (society, poverty, sexual abuse in prison) for his psychotic behavior. MacIntyre is quoted as saying that no one is born "bad," a ludicrous statement that goes a long way towards explaining the depth and breadth of this sham of a documentary. Only when MacIntyre shows the influence that an animal like Noonan has on the younger children that surround him - including his seriously troubled son and godson - does MacIntyre have a leg to stand on with A Very British Gangster. But he even blows that by unnecessarily staging these moments (including a gratuitous, patently phony shot of both boys discussing their dreams by the riverside as MacIntyre uses a crane shot, for god's sake), making the viewer doubt the sincerity of even these potentially worthwhile observations. Ultimately, A Very British Gangster plays out like a very slick Geraldo Rivera piece: flashy, overly emotionalized and intellectually compromised - and empty as hell.
The DVD:

The Video:
The anamorphically enhanced, 1.66:1 widescreen video transfer for A Very British Gangster looks quite sharp (although I did notice some edge enhancement issues, but thankfully, no PAL conversion problems). Image clarity is excellent, and color values correct.
The Audio:
The English 2.0 stereo audio track takes advantage of some too-conspicuously placed songs on the soundtrack, although dialogue is surprisingly clear and sharp. Subtitles are provided within the film (not optional) any time someone speaks with a thick Northern accent - which is helpful.
The Extras:
There are 9:42 worth of deleted scenes included in this DVD release of A Very British Gangster, some of which have interesting information of the individuals involved. They would have been better served if they had been included in the actual film.
Final Thoughts:
Tabloid adulation of illegality, masquerading (poorly) as dispassionate, unbiased reportage -- of which it is most decidedly not. Rampant British gangster fans might rent, but others may safely skip A Very British Gangster.
---
Paul Mavis is an internationally published film and television historian, a member of the Online Film Critics Society, and the author of The Espionage Filmography.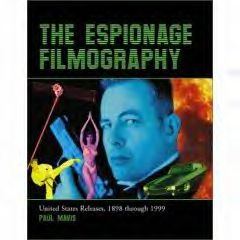 Sponsored Links
Sponsored Links