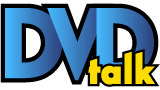 Encounters Of The Spooky Kind
Other // Unrated // November 12, 2001 // Region 2
List Price: $29.99 [Buy now and save at Sendit]
---
The Story : Courageous Chueng (Sammo Hung- Pedicab Driver, Eastern Condors, Dragons Forever) has a reputation to maintain. Like his name implies, he is known in his village for his martial skills and his supposed- but never proven- fearlessness. The Ghost Festival has begun and in this time when the spirit world is closest to our own, it seems like an opportune moment for Courageous Chueng's bravery to be tested. But, his friends dares and pranks are secondary to Chueng's latest concern- the fact that his wife appears to be cheating on him. And, he is right, not only is she cheating on him, but the man she is involved with is Mr. Tam, local bigwig and wannabe politician, who Chueng frequently pulls around in his pedicab.

Mr Tam fears his identity will be discovered and Chueng will either kill him or ruin his political career, so Mr. Tam hires an evil Taoist sorcerer, Chin Hoi (Peter Chan Lung- Fong Sai Yuk 1&2, Prodigal Son, Buddhist Fist), to get rid of Chueng. Chin Hoi's attempts involve getting Chueng to take an innocent dare, to spend the night in a haunted crypt, where the sorcerer has control of a vampire/zombie inside the tomb. Luckily Chueng finds an ally in Chin Hoi's fellow Taoist, brother and rival, Chin Tsui (Chung Faat- Magnificent Butcher, Incredible Kung Fu Master, 13 Cold-Blooded Eagles), who does not agree with using their magical talents for money and murder. Soon, Chin Tsui is aiding Courageous Chueng, giving him advice on how to break the spells beset against him. The stakes are raised even hirer when Chueng is framed for murder, so he is pursued by the police and the evil sorcerer, and in the end, only Chin Tsui's mysticism and Chueng's own martial skills will save him.


The Film : Writer/Director/Action Choreographer/Actor and all around Hong Kong visionary Sammo Hung's 1980 film Encounters of the Spooky Kind (aka. Close Encounters of the Spooky Kind, Spooky Encounters, literally Ghost Against Ghost)
was forerunner of things to come. Before Spooky Kind, there had been horror/supernatural films, and action films, and comedy, but never had the three been blended together successfully. While there had been action and supernatural films like the Shaw Bros./Hammer Horror crossover film Legend of the Seven Golden Vampires, that teetering balance of comedy-action-horror-suspense-silliness-and seriousness had never been big box office. Sammo managed a full scale hit with Spooky Encounters. Its hard to imagine the amazement of those first audiences. Years later the style would prove massively popular with such box office hits as the Mr. Vampire series (1985, no coincidence, produced by Sammo and would be the career defining role for Lam Ching Ying, who co-stars in Spooky as the constable out to arrest Sammo) and the Chinese Ghost Story (1987) series. The supernatural action-comedy-horror would become a cinematic mainstay from The Seventh Curse and Peacock King, to Big Trouble in Little China and the Evil Dead series.


If Spooky Kind could be faulted, it would be due to that usual HK schizophrenia, the combination of elements making it unique but also awkward. It begins with the usual comedy logic- Such as, one prankster friend disappears (is grabbed by a ghost) only to have his missing never discussed. Likewise, after Courageous Chueng survives his first night in the crypt with the vamp, the man (and evil Taoist sorcerer cohort) who bet him gets a stunned and in shock Chueng to accept another dare, basically so we the film viewers can see him try to survive another night. Its as logical as a Abbot and Costello movie, but what makes it odd, is that Abbot and Costello would never seriously state they would kill the man cheating with his wife, and they would never be framed for murder. Also, HK fans (and general martial fans), are not treated to any Sammo martial arts until well into the film, really only three or four fights. HK audiences are notorious for their impatience, so it is a testament to Sammo's skills as a director that he could make an entertaining film, yet save the fights for the end. And those fights are impressive- Sammo in the restaurant taking on a dozen sword wielding guards. And the finale, one of Sammo's shining moments, with Sammo possessed by various spirits, the Monkey King included, showcasing that big acrobatic frame and his awesome spear skills.


For those Anglos that dont know, the Chinese vampire is not strictly what we know as a vampire. They are more zombies or ghouls usually controlled by wizards and spells. The Chinese vampire traditionally sought out its victims by smelling their breath (which led to a gag in 1987's One Eyebrow Priest where someone farted in a vamps face to mislead it), could only move in straight lines, and usually hop because of stiff joints from rigor mortis. Of course there are always wildy varying exceptions, as the more outlandish the better in HK cinema, and some vamps could speak, or sought flesh and blood like a Western vampire, some move with acrobatic skills and fly. But, Spooky Kind employs the more traditionally seen, mummified, hopping, slightly dexterous, foul breathing, and sometimes running corpses.

In a final note, it would be ten years before Sammo would do a sequel to Spooky Encounters in 1990. By that time the genre he had helped launch would be all too familar territory, with many films of more over the top fantasy and manic combinations of styles. So his sequel, although entertaining, would be a little paler and nowhere close the innnovator as the original.


The DVD : Hong Kong Legends, Region 2, PAL DVD. Not content with just getting good prints, Hong Kong Legends do their titles justice by launching full scale restoration efforts with every title they release, and Spooky Encounters is no exception.


Picture - Anamorphic, widescreen, 2.35:1. Absolutely no dirt or lines (something that has always plagued it). Generally detailed image with goodcolor; fleshtones are perfect, as are the vivid reds, blues, and yellows of the costumes and moody lighting (like the penetrating blue hue to the vampire crypt). Most of all, filmed with many night scenes and expressive darkly lit interiors, the contrast is the deepest blacks (too deep?), with only a minor hint of the old horrible worn Spooky Encounters prints (like the Mega Star DVD) that were always either too dark or too bright... There is slight layer change stutter and minor edge enhancement an d softness, but this transfer is still pleasing.



Sound -Dolby Digital 2.0 Stereo, Original Cantonese and English dub tracks with optional English Subtitles. Not all films need a 5.1 remix, and HKL manage to keep it simple in the audio department while still being impressive. The track is pretty much free of any glaring distortions and hiss, and certain moments have been pumped up, like the hopping of the vampire which has a heavy bass thud, making even something as silly looking as a Chinese vamp pretty intimidating... As far as the subs go, HKL decided to add a British slant their new translation, including words like "git" and "bugger", and they chose to rename "Courageous" Chueng, "Bold" Chueng for some puzzling reason. Other than that the subs are great.


Extras - 30 Chapters--- Picture Gallery --- Biography Showcase, a 20 minute bio of Sammo with animated stills accompanied by a voice over, while a tad tedious in presentation, it is a welcome retrospective of Sammo's career and filmography.--- Trailers, original theatrical trailer, the HKL promo trailer, plus HKL trailers for their other classic Sammo releases Iron Fisted Monk and Magnificent Butcher. And, an additional "Also Available" section of trailers, covers, and text info for other HKL releases Miracles, 2000 A.D., Police Story, Game of Death, Way of the Dragon, Once Upon A Time In China, Hong Kong 1941, In the Line of Duty, The Big Boss and Fists of Fury--- Feature Archive Section: with a "Restoration Featurette", an neat 18 min behind the scenes look at HKL's restoration process from the picture, sound, subtitles, menu designs, trailers, everything. And, a "Sammo Hung Interview", 13 mins. Although it is nice, it unfortunately is not specifically about Spooky Encounters instead it is generalized, with Sammo covering his past, how he got started in the business, who he worked for, and such. It could be an extra on any Sammo film (and parts have apparently been used on other HKL Sammo titles), and there is a dubious amount of Jackie Chan film clips while Sammo talks about their relationship.--- Finally, feature length Commentary by HK film expert, author of "Hong Kong Action Cinema", HK insider, and Sammo friend , Bey Logan. Logan gives exactly what one needs in a solo commentary, a seemingly endless knowledge of facts and anecdotes, pleasantly presented, never condescending or too lackadze and jokey. Having interviewed/worked for/or knowing people involved in the film, such as Wu Ma, Lam Ching-Ying, and Sammo, he gives good insider info on many of the films particulars. As well, he has insightful info about Chinese culture and the supernatural and religious aspects of the film. It was a great commentary track (and I generally don't like them) from a well informed fan and insider. HKL chooses to completely remove the film audio during the commentary, which was a peculiar first for me (a few times Logan mentions things going on in the audio, but we cant hear it, of course).


HKL though gets a grumble from me for putting a sticker on the DVD that says "FROM THE STAR OF TV's MARTIAL LAW". That will probably turn more people off of the film, and HK/Sammo purists will all groan over it. Also, the sticker was on the actual DVD case, not on the shrinkwrap, making it a hassle to remove.


Conclusion: Groundbreaking, amazing film + good transfer + great extras = a must for any HK action junkies collection.
---
C O N T E N T

---
V I D E O

---
A U D I O

---
E X T R A S

---
R E P L A Y

---
A D V I C E
Highly Recommended
---
E - M A I L
this review to a friend
Sponsored Links
Sponsored Links