List Price: $9.98 [Buy now and save at Amazon]
---
S'More Entertainment, in cooperation with the UCLA Film & Television Archive, has gathered together three episodes from ventriloquist Shari Lewis' eponymously-titled early 1960's TV show, for A Shari Lewis Christmas. Featuring the whole gang from Shari's sock-puppet act, including the adorable little Lamb Chop, Hush Puppy, and Charlie Horse, A Shari Lewis Christmas is a wonderful trip back to black & white TV Land, when children's programming was executed with care and intelligence and most importantly, love (and also yes, of course, with an eye towards selling Bosco and Cremoland Butter). A pair of nifty extras help make A Shari Lewis Christmas a most welcome holiday surprise.
Shari Lewis, whose artistic parents encouraged her to enter show business (her father, a professor at New York's Yeshiva University, performed magic tricks in Central Park, while her mother was the music coordinator for the New York Public School system), picked up some pointers on ventriloquism at an early age from legendary vaudeville performer, John W. Cooper, who used to entertain children at the various New York City parks. Invited to perform on CBS' Arthur Godfrey's Talent Scouts in 1952, she won the evening's performance, and was then invited by NBC to host her own short Sunday afternoon kid's show, Facts 'N' Fun, on WNBT-TV, Channel 4 (NBC's flagship station in New York City). Other short programs followed for various New York stations as her reputation grew (her Sheriland program in 1956 won her two local Emmys, and introduced for the first time her famous sock puppets Lamb Chop and Hush Puppy). After spending two years on her hit weekday morning show, Hi Mom! (an episode of which is included as a bonus here on the A Shari Lewis Christmas disc), Shari headlined The Shari Lewis Show, a Saturday morning kids program that ran for three years, and was nominated for several Emmys (it wound up winning a prestigious Peabody Award, as well).
I can't say for certain if the three episodes of The Shari Lewis Show gathered here are complete (beginning and end titles pop up irregularly, so at least those have been clipped), so I'm not sure if other elements such as cartoons or live commercials were incorporated into the show (the format may have been altered for the holiday themes present in these three episodes, as well). But what is here consists of a musical variety format featuring the multi-talented Lewis (who, along with her many other skills, sings and dances here, along of course, with her ventriloquism). Her company includes her most famous creation, Lamb Chop, the six-year-old little girl/lamb with the adorably squeaky voice and not a small amount of moxie, Charlie Horse, the deadpan wiseacre of the group, Jump Up, a large, silent bulldog (played, I believe, by Clive Russell?), and Mr. Goodfellow (Broadway actor Ronald Radd), Shari's kind-hearted English neighbor. Shari, either on-screen with one of her puppets, or off as the puppets perform alone, interacts with her remarkably expressive sock puppets, trading hipster/Borscht Belt quips with Charlie Horse, while bringing forth surprisingly emotional moments with the tender-hearted Lamb Chop. And interspersed throughout are very small-scale musical numbers, highlighting Shari's impressive singing and dancing skills (as well as a really nice set of pins).
The Shari Lewis Show was way before my time, and Lewis' big PBS hits in the 90s came way after the time I was watching that kind of programming (or at least admitting to it), but I do seem to remember Lewis and Lamb Chop being very much around in the 1970s, whether it was appearing on TV specials or commercials. Certainly Lamb Chop is one of the most famous ventriloquist "dummies" (even though she's just a sock with buttons sewn on for eyes), but I can't say if kids today recognize the character (my own children didn't). As a kid, I thought Lamb Chop was quite funny, with a sly kind of passive/aggressive humor (she's rowdy one minute, and then almost painfully shy the next - just like any normal little six-year-old girl) that was acceptably "naughty" (as in "bad behavior") for a child-surrogate entertainer back in those still-innocent early 70s network times.
Watching now as an adult, I was more than impressed by Shari Lewis herself. Of course, it goes without saying that Lewis is Lamb Chop, but a kid would never make that connection - even when they can obviously see it's just a sock on Shari's arm. Lamb Chop seemed very real to me as a kid, and even watching today, it doesn't take long to view the character as "separate" from Lewis. So I never really appreciated Shari's straight-man part of the act until now. Seeing these productions from this early stage of her career, I was delighted with Lewis' savoir faire with a kooky, hipster line, and her really quite brilliant, minimalist puppetry of those ridiculously-cheap looking socks. Lamb Chop, whose "mouth" is just the toe of the sock pushed into Shari's fingers, pulls off, time and time again, some of the funniest double-takes I've seen from any ventriloquist act. It may look easy to duplicate something like that, but I suggest putting a sock on your hand, and manipulate it in a manner that's both realistic and inherently funny, while timing the mouth movements to your own ventriloquist miming, while telling a story, switching back and forth from your voice to your dummy's voice (or even two dummies, as she does in the first episode while singing a spectacularly complicated Jingle Bells number), while also singing a song, and while also being funny in your own right. That's what Shari Lewis could do, and I don't think I've ever seen anyone do it better than her.
I hadn't known that Lewis was so multi-talented, as well. Evidently, she could also play the piano, the violin; she could juggle and perform acrobatics, but in The Shari Lewis Show we get to see quite a bit of her singing and dancing, and she's delightful. With a beautifully throaty voice (who knew she was such a doll back then?), she's quite effective singing her holiday songs here, while she neatly pirouettes amid the ridiculously spare sets of her inexpensive Saturday morning kids show (the absolute bottom rung of importance to the TV networks at that time). As lovely as she is performing alone, it's her interactions with her friends Charlie Horse and Lamb Chop, though, that really showcase her charm and quick wit. Charlie Horse (as well as Southern-fried hipster Hush Puppy) usually go for the out-and-out jokes - and they're still funny today. When Charlie introduces a dance number with Shari, Mr. Goodfellow and Jump-Up coming to life as wooden soldiers on Christmas morning, he follows with a perfectly timed, "Isn't that a stupid idea!" And when irritated at how his Christmas is turning out, Charlie calls out to the invisible viewers out there, "Ho! Ho! Ho! Put a sock in your fireplace!" Priceless.
When Shari's with Lamb Chop, though, the jokes are still funny, but there's an incredible sweetness to the routine, a maternal knowingness to Shari's interaction with Lamb Chop, that's palpable right through the screen (and past some fifty-odd years of countless imitators). My little kids were utterly fascinated with Shari's scenes with Lamb Chop, a sassy, sensitive little girl who connected on an almost-genetic level with my little boy and girl. Lewis is able to animate Lamb Chop on such a realistic emotional level, that their scenes together reach a level of sensitivity and artistry that goes way beyond simply telling funny little jokes and stories. When Shari tilts her head down as Lamb Chop looks up at her, their mouths frequently touching as they both talk, with Lewis' expressive eyes lighting up as she laughs at Lamb Chop's funny, child-like view of the world around her, it's a magical moment. And there are plenty of those in the A Shari Lewis Christmas disc.
Here are the three episodes of The Shari Lewis Show collected for the A Shari Lewis Christmas disc:
December 24, 1960
At Thimbles Department Store, Charlie Horse decides that since no one is going to buy him the present he really wants (a five dollar top hat), everyone should take their Christmas money and buy themselves a gift. Of course Shari says that isn't exactly the way one should celebrate the Christmas spirit - a lesson Charlie will have to learn on his own
December 23, 1961
At the upcoming Christmas party, Charlie Horse decides he's going to be the center of attention, performing all the skits, and even imitating the other guests. But Shari tells him that's not nice, and not at all in the Christmas spirit. Will Charlie Horse save Lamb Chop when her voice disappears and she can't sing at the party?
December 22, 1962
Mr. Goodfellow is lonely this Christmas. His family lives far away in England, and the sounds of Shari enjoying her Christmas with Lamb Chop and Charlie Horse makes him all the more depressed. So imagine his delight when he's invited for his very own special Christmas party? But why is Lamb Chop so adamantly against anyone opening their presents?
The DVD:

The Video:
The full-screen, 1.33:1 black & white transfers for A Shari Lewis Christmas are taken from kinescopes of the original network broadcasts, so picture quality is necessarily compromised. Image clarity is generally soft and certainly darker than normal, while print imperfections from the 16mm kinescopes do crop up. Still, my little kids didn't seem to mind (they didn't even comment on the black & white), and overall, it's about what you'd expect for this kind of archived show.
The Audio:
The Dolby Digital English 2.0 stereo audio mix is just a mono split, but the levels are acceptable, and except for variations in the original recording source materials, the track is acceptable. No subtitles or close-captions are available, though.
The Extras:
A full 58-minute Christmas edition of Hi Mom!, Shari's previous TV show, is included here. The quality of the kinescope is much improved over The Shari Lewis Show copies, while the audio seems stronger, as well. What's terrific about this extra is that it appears to be the entire episode (the run-time would certainly support that), including the live commercial spots for Boaco and Cremoland Butter, as well as plugs for films Tom Thumb and The Seventh Voyage of Sinbad. That's what vintage TV fans want in their DVDs. It's a fun show, as well (wait till you see that meal Josephine McCarthy makes for you!), and Shari is a delight, as always. There's also a brief, full-color theatrical promo clip (with perhaps a bit of an anamorphic squeeze?) showing Shari and Lamb Chop wishing the theatre audiences out there a Merry Christmas. It's great to see the two in color, and it's a funny bit, besides.
Final Thoughts:
What a delight. If you grew up on Shari Lewis and Lamb Chop at one of the stages of her many-decade career, you'll no doubt remember how funny her little sock puppet characters were. However, these early Christmas episodes of her Peabody Award-winning series, The Shari Lewis Show, showcase not only her dazzling ventriloquism and puppetry skills, but also her own winning talents in dance, song, and comedic patter. She's wonderful (and a doll, too), and these Christmas episodes hit the nostalgic spot for viewers who still remember those comforting, ghostly black & white shadows that filled our TV rooms on countless Christmas Eves, not so long ago. I highly recommend A Shari Lewis Christmas for the Christmas holiday.
---
Paul Mavis is an internationally published film and television historian, a member of the Online Film Critics Society, and the author of The Espionage Filmography.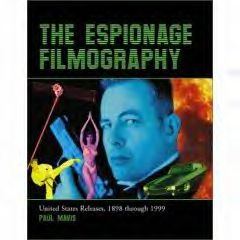 ---
C O N T E N T

---
V I D E O

---
A U D I O

---
E X T R A S

---
R E P L A Y

---
A D V I C E
Highly Recommended
---
E - M A I L
this review to a friend
Sponsored Links
Sponsored Links