Looney Tunes: Spotlight Collection, Vol. 6
List Price: $26.98 [Buy now and save at Amazon]
---
Warner Bros. has again simultaneously released a smaller Spotlight collection of cartoons sampled from their more extensive (and more expensive) Golden collection of classic Looney Tunes animated shorts. This time, Looney Tunes: Spotlight Collection 6 doesn't carry over entire discs from the Golden 6 collection, but picks and chooses from all four of those discs, including some titles, nonsensically, from the second volume of the Golden collection, while eliminating the bonus commentaries and featurettes included on the more pricey editions. Thirty very funny cartoons are included here, some considered classics within the Looney Tunes canon, with eight "bonus" cartoons to round out this cheaper alternative for the Looney Tunes fans.
I've written before about the Looney Tunes series of cartoons in my review for the Looney Tunes: Spotlight Collection 4 disc set (please click here to read that review), so I'm not going to retread why I think the Looney Tunes are perhaps the single funniest series of cartoons ever produced. The enduring popularity of Bugs Bunny, Daffy Duck, Yosemite Sam, Foghorn Leghorn, Speedy Gonzales, Sylvester and Tweety, Coyote and the Road Runner, Porky Pig and Elmer Fudd, to name a few, gives proof to the theory that the Looney Tunes series - cartoons made by adults for adults, as well as kids - probably appeal to the broadest possible spectrum of movie viewers out there, and they've been doing so for over sixty years now.
Not everything that's funny sixty or seventy years ago is funny today, but the Looney Tunes show absolutely no signs of dating. The stories may have jokes pertaining to puzzling topical issues (war rationing, TV icons of the 1950s, etc.), and the characters may embrace ethnic humor that's considered verboten to today's touchy, uptight P.C. goon squads (Speedy Gonzales, most notably), but as any parent with a young child knows, these elements fly right over the heads of kids who know "funny" when they see and hear it.
And my opinion of the Spotlight series hasn't changed, either, since I wrote my review of the fourth volume collection. While of course, as a lover of classic animation, I'd prefer to own the more thorough, extras-loaded Golden Collections, the bare-bones Spotlight Collections do offer a cheaper alternative to buyers who don't want to invest 50 bucks on a set of cartoons. The Spotlight Collections make a nice gift choice, too, for someone not sure if the intended receiver wants to plow through all those toons and extras, but who may just want a taste of that Warner Bros. Looney Tunes madness. The cartoons are still cleaned up and intact here - they didn't use inferior transfers for this less-expensive set - and an effort was made to glean only the best from the Golden Collection (which, of course, is subject to debate I suppose). I've included my thoughts for all the cartoons included in the Looney Tunes: Spotlight Collection 6 below.
Here are the thirty cartoons included in the two-disc Looney Tunes: Spotlight Collection 6:
DISC ONE: CARTOON SUPERSTARS

Baby Buggy Bunny (1954)
A personal "Top Five" Looney Tunes favorite, this Chuck Jones/Michael Maltese effort has the simplest of builds, but consistently gets more amusing with each passing minute. "Baby Finster" is one of Bug's greatest antagonists (too bad the premise eliminated any chance of their meeting again), while Bugs' line readings (courtesy of the great Mel Blanc), are hysterical. Despite Nervous Nellies who often edited out Bugs' punishment of Ant Hill Harry, Bugs' insanely funny fury as he shakes "Baby Finster," growling, "How many times have I told you not to play with the dirty money!" may be the single funniest moment in Looney Tunes history.
Broom-stick Bunny (1956)
Another beloved Chuck Jones short, June Foray's Witch Hazel is a beautifully modulated vocal performance, with the actress getting laughs with even the simplest lines. The stylized backgrounds (often just line drawings with splashes of color) allow Bugs and Witch Hazel to stand out front and center in their back-and-forth verbal and physical battle. And if the story that the transformed, glamorous Witch Hazel at the end of the short is really a characterization of Foray herself...well then, hello Foray!
To Duck...or Not to Duck (1943)
An early Chuck Jones Looney, with Arthur Q. Bryan providing a good accounting of Elmer Fudd as he boxes in the ring with Daffy Duck. Elmer's dog Larimore is here, but the situations seem fairly familiar, with the boxing angle having been worked before (and it will be reworked consistently in the future).
Birth of a Notion (1946)
An oft-repeated central theme - someone has to remain quiet in a house or face repeated beatings - is reworked here with Daffy Duck, Leopold the dog (who looks a lot like Foghorn Leghorn's nemesis, Barnyard Dawg), and a mad scientist drawn to look exactly like Peter Lorre. Daffy's great when he coyly exclaims to Leopold, "Oh, you mad, impetuous boy, you!"
Crowing Pains (1947)
A Robert McKimson effort that's frantic, but all over the place. Notable for having Foghorn Leghorn, Sylvester the Cat, Henery Hawk and the Barnyard Dawg all together, but it could have been tighter. I love Henery's iconic opening logo.
Raw! Raw! Rooster (1956)
My favorite Foghorn Leghorn short, this Robert McKimson effort starts off with a hilarious entrance by Foghorn, who, while reclining as several pretty chickens fan him, asks the audience, "I wonder, I say I wonder what the poor chickens are doing today?", and only picks up more speed as it goes along. Hated college chum and star halfback at Chicken Tech Rhode Island Red, doing a fair approximation of Jackie Gleason, was a terrific match for Foggy (too bad he didn't show up again), and his ukulele rendition of Freddie the Freshman is priceless.
My Favorite Duck (1942)
One of the better "Daffy torments Porky on the lake" Looneys, it opens spectacularly with Porky singing On Moonlight Bay, with Daffy joining in for an impromptu, perfectly harmonized duet. A brisk, energetic effort, with the fun, self-reflexive ending where the film reel supposedly tears apart - a gag that would be employed countless times in future Looneys.
Jumpin' Jupiter (1954)
A beautifully designed Chuck Jones effort with a funny, weird amalgamation of Elmer and Sylvester in space, that unfortunately has no payoff. Elmer is great when he calmly intones, "Sylvester, get off of me, or I shall kill you," but the short just...ends, without fulfilling the unique premise.
Satan's Waitin' (1953)
A crisply designed Friz Freleng effort, with some very funny death scenes for Sylvester as his nine lives are counted down before going to Hell. Unfortunately, no big final pay-off again leaves a promising premise to abruptly end.
Hook, Line and Stinker (1958)
A Michael Maltese/Chuck Jones Road Runner cartoon, this one has some great, big gags (I love Wile E. Coyote's slow upward swing into a thundercloud, only to get hit by lightening), and that soundtrack that evidently nobody likes, but which I think has a bold, brassy, big-scale sound to it.
A Ham in a Role (1949)
A Robert McKimson "Mac" and "Tosh" Goofy Gophers effort, with the overly-polite gophers really sticking it to the dog who wants to be a Shakespearean actor. The Gophers were really passed around from one Looney director to the next, never getting the respect they deserved (a reputation compounded by their comparison to Disney's Chip 'n' Dale).
Heaven Scent (1956)
A not-bad Pepe Le Pew, although the physical gags are a tad skimpy here as he pursues for the umpteenth time Penelope Pussycat. He does have a great line here: "All you need is a little occupational therapy...like making love!"
Often an Orphan (1949)
A 1949 Charlie Dog effort, his "50 percent" bit about his lineage is always funny, and Porky Pig's condescending, "Why you poor, unsanitary, old, underprivileged mongrel, you," is a classic.
Dog Gone South (1950)
Probably the best-known Charlie Dog short from Chuck Jones, this is the one that had kids my age screaming, "Oh Belvedere! Come here, boy!" around the house until our parents told us to shut the hell up. A great character that wasn't used nearly enough, his sign-off here, "Chitlins forever, y'all!" is fall-down funny.
By Word of Mouse (1954)
Co-produced by the Sloane Foundation, this is one of those Looney Tunes (and there are more in the bonus section) that emulates those instructional films businesses and schools used to screen regularly. Here, Sylvester chases Hans and Willie Mouse, as they learn about mass production and consumption.
DISC TWO: ONE-HIT WONDERS

Rocket-Bye Baby (1956)
A beautifully designed Chuck Jones one-off, this classic Freudian exploration of a father rejecting his child is especially funny in the context of its UFO-mad mid-50's framework. "Yob! Yob! Where's my Yob?" is an oft-repeated line, while the old lady blowing a harmonizer to get the tone of her scream just right (after she sees the green-skinned baby), is hilarious.
Fresh Airedale (1945)
An interesting Chuck Jones effort that paints "man's best friend" as a glory-hound rat, and the usually (in cartoons) hated cat character, as the true good guy. Not particularly funny, though.
It's Hummer Time (1950)
A manic Robert McKimson effort with that strangely anonymous cat (who could have been Sylvester...but he isn't) getting big laughs, particularly when the bully dog grabs him, and the cat screams, "No! Not The Thinker! Not The Thinker!" (which turns out to be one of the settings on his cement mixer, casting the cat into the famous Rodin statue).
Much Ado About Nutting (1953)
A clever little Chuck Jones one-off, with an anonymous squirrel trying to crack open a coconut. A very simple premise, cleverly designed (the backgrounds are quite nice), but the squirrel character isn't very distinctive, giving the short a second-tier feeling.
Goo Goo Goliath (1954)
A classic Friz Freleng one-off, Goo Goo Goliath seems like a future live-action film waiting to be remade. Incredible visual design (Junior's toys are life-size tanks and trucks) along with a funny subtext of a father's terror at having a new baby in his life (I love the dad screaming in abject hysteria as the baby teeters over him, before squashing him), makes this one of the best of the non-star character Looneys.
The Draft Horse (1942)
Notable for "introducing" (unofficially) the character who would become Private Snafu, this plucky war-time comedy has a bright moment where the draft horse does an amusing strip-tease. But overall, a fair-to-middling effort.
Lights Fantastic (1942)
An interesting, but not entirely successful Friz Freleng effort that starts out with some cool color footage of Broadway, and segues into a labored parody of NYC billboards come to life.
Rookie Revue (1941)
A strange depiction of Army life (considering the time it came out) from Friz Freleng, which openly mocks military life, showing a general so incompetent, he blows up his own headquarters. I can't imagine this got much play once the war went into full swing.
The Weakly Reporter (1944)
A Chuck Jones/Michael Maltese spoof of home-front America, The Weakly Reporter has some amusing gags (the lady charged $1.19 just to smell a Porterhouse steak), but it fails to jell with its scattershot targets.
Wild Wife (1954)
A nicely feminist take on the "spoiled suburban housewife," this Robert McKimson effort will strike a chord even today with put-upon career women, while the Casper J. Fragile character, going to the blood bank to make a withdrawal, is pretty funny.
The Hole Idea (1955)
A gorgeously stylized later outing from Robert McKimson, this builds beautifully to its funny climax, where Satan, having had Professor Calvin Q. Calculus drop his nagging wife down a hole to Hell, pops back and says, "Isn't it bad enough down there without her?"
Page Miss Glory (1936)
An uncredited Tex Avery effort (the only one from this master on this collection), this somewhat amusing short features some gorgeous Art Deco stylings, with even a nod to Busby Berkeley in one overhead shot.
Now Hear This (1962)
A Chuck Jones/Maurice Noble co-direction effort, this short is abstract in the extreme, utilizing sparse, almost non-existent backgrounds, and an emphasis on audio gags. Not exactly funny, but experimental enough to be interesting.
Norman Normal (1968)
A collaboration between Peter, Paul and Mary's Noel Stookey and director Alex Lovy, this counter-culture short tries to be hip and deadpan, but it's mostly dead, with a self-serious, self-important attitude that's oft-putting. If it was designed to be the first of many Norman Normals to come, it didn't work.
A Cartoonist's Nightmare (1935)
A forerunner to shorts like Duck Amuck and Rabbit Rampage, this early black and white effort finds Beans the Cat fighting off villains that threaten the sole cartoonist left at his drawing board. Snappy and quickly paced, with some funny, herky-jerky gags.
The DVD:
The Video:
The full screen, 1.33:1 video images for the cartoons in the Looney Tunes: Spotlight Collection 6 are better than you ever saw them on TV reruns. Sure, screen anomalies pop up, but so what? Some of these cartoons are over sixty years old. And most look amazing here, with deep, saturated colors and super-sharp images.
The Audio:
The Dolby Digital English mono accurately recreates the original theatrical (and broadcast) presentations. Subtitles are included.
The Extras:
Eight bonus cartoons are included this time around, giving previous Spotlight buyers a nice uptick in the number of shorts they can get for the same amount of money. Unfortunately, some of the transfers are subpar in comparison to the main short features, with what look to be inferior video masters used for a handful of these bonus cartoons. Disc one includes Friz Freleng's 1955's Heir Conditioned (where Sylvester learns about investing from Elmer Fudd); 1956's Yankee Dood It, another Sloan Foundation co-produced short, with Elmer Fudd the Elf King giving a lecture on the economics of mass production; Sniffles Takes a Trip, a gorgeously designed 1940 Sniffles short with some fun scare gags at the end; and Rabbit Rampage, a lesser 1955 sequel to the superior Duck Amuck, this time with Elmer Fudd giving Bugs the easel board runaround (who wants to see Elmer Fudd get the better of Bugs?). On disc two, Wild Wild World, a very funny 1959 short from Robert McKimson (which may have been adapted for the next year's The Flintstones); Punch Trunk, a bizarre little short from 1953 which introduced a 5-inch tall elephant; Bartholomew Versus the Wheel, a slight 1964 effort, and Sleepy Time Possum, a very funny 1951 effort.
Final Thoughts:
Since these are the last releases under the Golden and Spotlight collections from Warner for their Looney Tunes library - with no word yet on what may become of their remaining catalogue - fans of the series may want to snatch these up in the face of a Looney drought. This may not be the most successful of the Spotlight collections, but there are enough great titles here - at the right price - to make Looney Tunes: Spotlight Collection 6 a recommended release.
---
Paul Mavis is an internationally published film and television historian, a member of the Online Film Critics Society, and the author of The Espionage Filmography.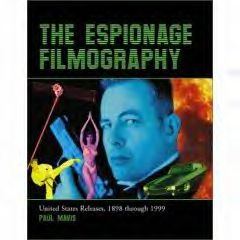 ---
C O N T E N T

---
V I D E O

---
A U D I O

---
E X T R A S

---
R E P L A Y

---
A D V I C E
Recommended
---
E - M A I L
this review to a friend
Sponsored Links
Sponsored Links