B.L. Stryker: The Complete Series
List Price: $54.95 [Buy now and save at Amazon]
---
Hey, blame Stroker Ace. If Burt Reynolds had just taken the role that James L. Brooks had specifically written for him - that of amorous astronaut Garrett Breedlove in 1983's multi-Oscar winner, Terms of Endearment - instead of sticking with Hal Needham's, um...ahem, Stroker Ace, where he appeared...in a chicken suit with Loni Anderson, there never would have been a need six years later for B.L. Stryker. Arts Alliance America has released the entire 12-episode series of B.L. Stryker: The Complete Series, one of the rotating installments that made up ABC's unsuccessful 1989-1990 re-booting of the venerable 1970s series, The NBC Mystery Movie. Anyone looking for anything more substantial than good 'ole Burt doing what good 'ole Burt did best - ten years prior to B.L. Stryker, that is - won't find it here, so your devotion to the movie star of the late 70s and early 80s will determine your level of need for some Stryker action.
Taking one or two (or 47) pages from the fictional world of John D. MacDonald's "salvage consultant," Travis McGee, B.L. (Buddy Lee) Stryker, a former cop and criminal profiler from New Orleans who got into a bit of trouble roughing up a suspect, returns to his home of Palm Beach, FLA (the less fashionable side of West Palm Beach, of course). Accompanied by his friend, former boxer Oz Jackson (Ossie Davis), Stryker reluctantly sets up shop as a private investigator, operating out of his 150-year-old, funky houseboat, a shuttered restaurant substituting as an office, and his all-original (minus some paint, a taillight, and a few other odds and ends) white 1960 Cadillac. He takes on a kooky secretary/part-time actress, Lyynda (Dana Kaminski), along with her cute dog, Fred (he hates dogs, of course). Constantly short of cash, Stryker and company take the occasional investigative job, which always winds up being far more complicated and dangerous than when first presented to them. When he's not getting shot at, he spars with marina-owner Oliver (Alfie Wise), a diminutive, fabulously wealthy weasel who hates Stryker and his dilapidated houseboat. Providing steady, but arms-length, romantic interest - along with all the female clients that instantly fall for B.L. - is Stryker's ex-wife, the many-times married Kimberley Baskin (Rita Moreno), who can't seem to stay away from Stryker, but who also can't start over again with him, either.
Yes, it is as tired and familiar-sounding as it reads. Now before any Burt Reynolds fanatics start emailing, there was no more loyal fan of Burt's than yours truly growing up in the 1970s. Watching The Longest Yard at the drive-in with my old man was about as good as it got as far as movie-going went at that time. I saw all his pictures in the theatres then (even misfires like Lucky Lady and At Long Last Love - beat that!), and I stayed strong during the dark, post-Stroker Ace years, when I would sit alone in matinees (because I couldn't even beg anyone else to go with me), watching Burt titles like Cannonball Run II, Stick, Heat, Malone, Rent-a-Cop (Rent-a-Cop, for christ's sake!), Switching Channels, and Physical Evidence. So when B.L. Stryker came on the scene in the spring of 1989, I had earned the right to be a little embarrassed for him. After all, for five years straight, starting in 1978, Burt Reynolds had been the number one movie star in the world (no one had done that before, not five years in a row). He was the movie star of my teen years, and to see him forced to return to television, to the relatively lowly stature of previous TV outings like Dan August and Hawk, was, in a word, depressing.
And it wasn't just his involvement with B.L. Stryker that was disheartening; the whole ABC Mystery Movie retread smacked of desperate, ill-fated nostalgia. The original NBC Mystery Movie, which ran from 1971 to 1977, was beloved by classic TV fans not only for showcasing one of the greatest TV detectives in the history of the medium - Peter Falk's brilliant Columbo - but also for a whole slew of other clever, well-written mysteries that still resonate with TV viewers from that period: McMillan and Wife, McCloud, Banacek, Hec Ramsey, Madigan, and even The Snoop Sisters. For the 1988-1989 season, ABC, hoping to bump-up its overall ratings (it had powerhouses Rosanne and Who's the Boss?, but little else outside Monday Night Football and the fading Growing Pains), tried to get in on the CBS Murder, She Wrote and NBC Matlock action by reviving NBC's innovative mystery movie "umbrella" program as a mid-season replacement (filling the slot of seasonal Monday Night Football). Scoring a major coup by securing Peter Falk to reprise his role as Lt. Columbo, ABC also had Oscar-winner Lou Gossett, Jr. starring as Gideon Oliver to complete the tri-part program, with each series alternating an episode every three weeks or so. Gideon Oliver would be dropped in the fall for none other than Telly Savalas, reprising his iconic role as Kojak (along with a little-seen fourth segment, Christine Cromwell). It looked like Burt was in good company for a much-need career resuscitation.
Unfortunately, what need life-support was the B.L. Stryker format itself. Decidedly hit-and-miss, with a fair-to-decent episode followed by a misfire, the lapsed time between appearances didn't help viewers become accustomed to the storyline or the characters - not that they needed much help, considering B.L. Stryker looked like a hundred other detective shows from that time period and before (the pilot episode rips-off The Rockford Files, Baretta, and Miami Vice within about five minutes). It's bad enough that the show aped the infinitely superior Travis McGee character (by the way: when is somebody finally going to do a decent film adaptation of that iconic literary figure?). Travis' boat was The Busted Flush; B.L.'s is The No Trump. The Florida setting, and the quasi-private investigator role (Travis was never an official P.I., while B.L., who doesn't really want to be a P.I., has his license pulled all the time), along with the funky characters brushing up against the hobnobbers and the rich, all of whom are entangled in complicated, illegal schemes, smacks too much of McGee for comfort.
Driving the overly familiar framework even further into cliché are the slight mysteries (anyone with a few years of TV-watching under their belt shouldn't have much trouble negotiating the B.L. Stryker waters), along with Reynolds' insistence on packing his projects with TV, film and dinner theater friends of his, creating a weary déjà vu feeling that robs the stories of any chance of succeeding. Now don't get me wrong: I love guys like Charles Nelson Reilly (Match Game!), Jerry Reed, Ned Beatty, and Ricardo Montalban, but moving into the second season of B.L. Stryker, the program starts to resemble those "home movies" that Burt liked to call "feature films," like the Cannonball and Smokey/Bandit series, along with his numerous game show and TV appearances. We know Burt likes Dom DeLuise; we know they pal around together off camera, and we know they break each other up. But putting DeLuise in a "serious" role on B.L. Stryker (the Die Laughing episode) just because they're buddies, is a disastrous move that compromises the whole feel of the show. When current wife Loni Anderson finally shows up (just like you knew she would), the feeling of Burt entertaining himself rather than you, comes over pretty powerfully through the screen.
As well, Burt himself falls back on the same themes - and shtick - that we had all become too familiar with by 1989. Yes, we know Burt loves the old times, and old songs, and old antiques (all the cutesy-pie crap with his car, and his love of his broken-down houseboat, and his broken-down desk, and his broken-down friend, etc.). And we know he loves kids (this was after years of interviews where he rhapsodized idealistically about having kids - spoken exactly like someone who didn't have them at the time), and we know he's a big softie and a romantic and yet still a bruiser who can't control his anger, and all that other myth-making b.s. that fans had heard ad nauseum for years. Couple all of that with Burt's tendency to fall back on his well-imitated vocal and facial shtick (just look up Norm MacDonald for a rundown) whenever things slow down, and you've got a recipe for a clichéd role-call of "Burtisms" in the tired B.L. Stryker. The Burt of Deliverance and Hustle and even the earlier, excellent Fade-In, is gone by B.L. Stryker, replaced by an intuitive actor of great skill who long ago quit trying. There are a few good episodes here (although "good" is a relative term when discussing Burt's efforts from this time period). Austin Pendleton (always excellent in so many films, particularly What's Up, Doc? and Mr. & Mrs. Bridge) has a nice, layered role in the perky Blind Chess, while Burt scores some laughs directing Neil Patrick Harris in the funny, romantic Blues for Buder. Carol Alt is quite good in Plates, while probably the most entertaining (from an action standpoint) episode is High Rise, a total Die Hard rip-off that none-the-less, provides the campy good fun of a typical late 80s action film (the fact that Burt is recreating yet another role that could have transformed his career - yep, he was offered Die Hard and turned it down - only adds to the creepy fun).
But too many episodes either lay there or fall flat altogether (DeLuise's episode has got to be seen to be disbelieved), with surprisingly creaky production values at times (that boom mic appears way too many times, while some scenes are shot out of focus), along with misguided efforts to jump-start the failing series (the addition of Ted McGinley - the exalted killer of all TV series - as young, handsome, and dumb P.I. Mitch Slade, is a fairly pathetic example). The ABC Mystery Movie, airing on Mondays from 9 to 11pm, actually came out of the gate fairly well in the second half of the 1988-1989 season, tying with former ratings behemoth Dallas for the 29th highest-rated show of the year, where it held its own against movie programs over on CBS and NBC. But instead of keeping the show underwraps until the end of Monday Night Football, as it did its first year, ABC decided to put The ABC Mystery Movie on as a full season starter for the 1989-1990 season...opposite ratings killers The Golden Girls (6th in the Nielsen's), Empty Nest (9th) and Hunter (24th) on Saturday nights. Against that kind of competition, The ABC Mystery Movie - along with B.L. Stryker - quietly disappeared.
Here are the 12 episodes of the seven-disc set, B. L. Stryker: The Complete Series, as described on the DVD hardcases:
SEASON ONE

DISC ONE

The Dancer's Touch (February, 13, 1989)
Stryker is called in on a case involving the ritualistic attack and rape of young society girls, deadly - and hauntingly similar - to his last case on the New Orleans Police Force.
Carolann (March 6, 1989)
Stryker's childhood playmate, now a Middle Eastern queen, is stalked by assassins after her husband, an arms supplier, is killed.
DISC TWO

Blind Chess (March 27, 1989)
Stryker regrets helping his secretary's brother Danny Lynnox, who orchestrates a daring prison escape, causing Stryker's license to be revoked.
Auntie Sue (April 17, 1989)
Stryker's incorrigible Aunt Sue will stop at nothing to acquire an old mansion for herself and two of her friends.
DISC THREE

Blues for Buder (May 15, 1989)
Stryker attempts to save a self-appointed, hellishly obnoxious schoolboy preacher from a corrupt evangelist.
SEASON TWO

DISC ONE

The King of Jazz (November 18, 1989)
While working on opposite ends of the same case, Stryker and an old friend, now a Special Agent with the FBI collide...then revive their cop instincts in order to track down terrorist mercenaries.
Die Laughing (December 16, 1989)
Stryker finds his assignment as bodyguard to the legendary comedian Toby Beaumont more tragic than funny when murder clouds Toby's dream of bringing MacBeth to the stage.
DISC TWO

Winner Takes All (January 13, 1990)
Stryker, who once carried the ball as a promising collegiate player, runs headlong into a story of football, money and murder.
Grand Theft Hotel (February 24, 1990)
B.L., McGee and Oliver are on the prowl at a Bahamian jewelers convention to foil a cat burglar before he lays his paws on a priceless necklace.
DISC THREE

High Rise (March 10, 1990)
Kimberly and Oz are taken hostage at the top of a high rise building when they go to visit a fashionable jeweler. Their captors are a group of ruthless burglars who are prepared to die rather than be taken prisoner.
Plates (April 14, 1990)
Oz is mistaken for a major drug dealer after Stryker has been kidnapped, lied to, punched-out and nearly killed when a beautiful woman drags B.L. into a chase in which everyone has a surprise tucked away.
DISC FOUR

Night Train (May 5, 1990)
There are two would-be mob assassins pursuing the little girl Stryker is escorting on a train to Manhattan, and soon it seems that not one soul on board is telling the truth about anything.
The DVD:
The Video:
The full-frame, 1.33:1 video transfers for B.L. Stryker: The Complete Series are about as hit-and-miss as are the episodes themselves. While most look about on par with what you'd expect from a late 80s TV show that hasn't been restored (okay color, some softness, minor scratches and dirt, grain), some episodes have an almost duped look (Blind Chess in particular) that suggest the original master tapes weren't available for some (if not all) of these transfers.
The Audio:
The Dolby Digital English 2.0 stereo mixes are adequate, although music cue levels are sometimes overpowering when trying to catch some of the dialogue. The first season discs indicate that close-captions are available, but they did not engage on any of my equipment. There are no subtitles or close-captions on the second season.
The Extras:
There are a couple of DVD-ROM pdfs you can download of some of the scripts for B.L. Stryker: The Complete Series, but honestly...who the hell would want to?
Final Thoughts:
Writing as a former die-hard Burt Reynolds fan...even I tuned out from this series back when it debuted in 1989. And the subsequent years have not been kind to this imitative, clichéd private detective show. Only those who firmly and fondly remember this series as worthwhile should check it out again...as a rental. Everyone else can safely skip B.L. Stryker: The Complete Series.
---
Paul Mavis is an internationally published film and television historian, a member of the Online Film Critics Society, and the author of The Espionage Filmography.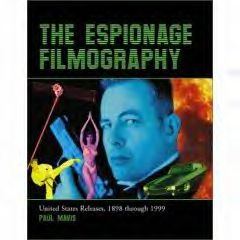 Sponsored Links
Sponsored Links