Mitzi Gaynor: Razzle Dazzle! The Special Years
List Price: $24.98 [Buy now and save at Amazon]
---
Spectacular! City Lights has released Mitzi Gaynor: Razzle Dazzle! The Special Years, a tour-de-force showcase for that Hungarian heat-seeking missile who wowed TV audiences (particularly all the dads out there) for a decade with her yearly song-and-dance specials back in the 1970s. Featuring interviews with co-workers, critics, and Miss Gaynor herself, the Mitzi Gaynor: Razzle Dazzle! The Special Years documentary rightfully reestablishes Mitzi Gaynor's place as one of television's most versatile, talented performers, giving fans and newcomers a generous sampling of her exhilarating routines.
Born Francesca Marlene de Czanyi von Gerber in 1931 Chicago, Mitzi Gaynor trained as a ballerina from the youngest age, working her way steadily up through the ranks of dancers through regional and national companies and productions, and soon appeared on Broadway before being tapped for a 20th Century-Fox movie contract in 1950. Always in the wings as a potential replacement for Betty Grable (and no doubt used as a threat by the studio against the older star), Gaynor's career in Hollywood hit a peak with her surprise starring role in director Joshua Logan's critically panned but immensely popular adaptation of Rodgers and Hammerstein's South Pacific in 1958. Strangely, only three more films were in the cards for Gaynor before she left Hollywood filmmaking behind in 1963 to concentrate solely on stage performing, which she had started again in 1961, working up a sensational act for the Las Vegas showrooms that was the hit of the Strip. An appearance on 1967's televised Academy Awards, where Gaynor performed a musical number for the nominated song, Georgey Girl, resulted in the longest-held ovation in the Awards' history, creating a firestorm of publicity for the dancer/singer/actress that resulted in her first TV special, Mitzi, in 1968. Ratings for the variety special went through the roof, and for the next decade, Mitzi's TV specials, such as Mitzi...The First Time, Mitzi...A Tribute to the American Housewife, and Mitzi and a Hundred Guys, were must-see TV events during the 70s.
Anyone growing up on early 70s TV watched (and probably enjoyed) quite a few "variety" specials; they had been a staple of network programming right from the start of TV, all the way up until the late 70s when they suddenly fell out of favor (i.e.: the multi-talented stars who frequented them were increasingly deemed "too old" for the youth-oriented TV market, and were subsequently bypassed). Certainly the most widely watched (at least in terms of audience numbers over the years) were the yearly Bob Hope specials, which often incorporated a few "variety" sequences in amongst the comedy. But Mitzi Gaynor's TV specials drew boffo ratings in a framework that was more the inverse of Hope's brand: a few comedy skits here and there, amongst the longer, more elaborate song-and-dance routines. And what really set her specials apart from all the rest, was just that elaborateness, that gloss, and that technical prowess in front-of and behind the camera.
It seemed like anybody who was "somebody" on TV wound up with their own variety special at one point or another in the 70s - whether they deserved one or not (I particularly remember the absolutely hysterical Telly...Who Loves Ya, Baby?, from 1976, starring who else, Telly Savalas. Can someone please release that on DVD?). And while variety specials like Telly or The Paul Lynde Halloween Special were on the outskirts of what we might label as true song-and-dance specials, there were far more legitimate projects in that genre (such as offerings by Doris Day, Suzanne Somers, Dick Van Dyke, Mary Tyler Moore) that routinely appeared on the network schedules. But regardless of those other projects' pedigrees, no other star came close to achieving what Mitzi Gaynor accomplished on her shows. Simply put: while others put on TV specials, Gaynor put on theatrical and Broadway-worthy programs that just happened to be shot for TV, which resulted in a big difference in the quality of the production numbers. Someone new to the TV variety special genre might watch Mitzi Gaynor: Razzle Dazzle! The Special Years and think TV back then was filled with similar specials. But they'd be wrong. Gaynor's specials were always a marked cut-above the rest, and viewers knew it; that's why her specials always pulled in big numbers, particularly with viewers who weren't predisposed to watching that kind of TV programming.
And if you're wondering why that might be, there's a simple one-word answer: sex. Now, saying Mitzi Gaynor pulled in viewers because she's sexy isn't meant to diminish her talents. Quite the contrary. It's a testament to her technical skill and grace as a dancer and singer, as well as her sharp comedic acting chops, that she was able to come across as devastatingly sexy by way of her art. Sure she has a terrific body and a gorgeous face (even today, I might add) in these specials, but that alone wouldn't have been enough for people to sit up and take notice of these variety specials, making them the ratings events they were for ten years. That came from her skills as a performer. Angelina Jolie is sexy as hell on screen, but put her up on a Hollywood stage, and have her sing, dance, tell jokes and perform in comedy skits for an hour - all to a degree that would rank her with the very best in each of those fields - and she'd disappear like a wisp of smoke.
No, Gaynor's sexuality (and trust me; after watching this special and hearing her talk: she's fully aware of its power and she quite enjoys it) isn't a bonus to her talent, or a byproduct that shouldn't be discussed, lest you "sully" her art. It's integral to what she achieved in these specials, as her frequent collaborator, the equally legendary costume designer, Bob Mackie, rightfully identifies. At one point in the documentary, he comments on one of his famous "nude" outfits (the first he ever designed was for Gaynor's first special), saying Gaynor's entrance is, "all about the dress and the body." Exactly. With Mackie's startlingly sensuous, form-fitting creations, often constructed out of little more than a bit of fabric here, and a whole lot of flowing spangles there, the viewer gets to see Gaynor's form, her silhouette and profile, transformed into a highly sexualized, erotic work of art, in and of itself. Her "instrument" (a term that's appropriate, although it always sounds vaguely pretentious) is her body, and its, quite frankly, spectacular appearance is a testament to her hard work and craft. During the opening, hypnotic Let Go performance, the effect of Gaynor's undulating, swaying body, perfectly in rhythm to the samba beat, is the very essence of dance as an expression of human sexuality - and I mean the adult kind, folks. And thank god for that.
In addition to Gaynor's technical skills, her behind-the-camera crew was top-of-the-line, as well, with frequently featured Bob Mackie on costumes, and choreographers and directors such as Peter Gennaro (Annie, West Side Story), Danny Daniels (The Tap Dance Kid), Robert Sidney (The Dean Martin Show, and most importantly, Tony Charmoli (Woman of the Year), who proved equally groundbreaking in his innovative camera movements and special effects in capturing Mitzi's numbers. Simply put: the song and dance numbers in the Mitzi Gaynor specials were lightyears ahead of the vast majority of similar offerings on other TV variety specials at that time. Intricately choreographed, innovatively blocked out for the cameras, and executed with a painstaking precision that would be worthy of the best of Broadway (there's a scope and size to these productions that's mind-boggling), these sequences justly captured the attention of jaded viewers back in the 70s, giving these Gaynor shows a reputation for excellence that's still around today - and which is very much on display here in the Mitzi Gaynor: Razzle Dazzle! The Special Years documentary.
As for the documentary itself, it's professionally produced, with a glossy spiffiness to it that's right in line with the subject being explored. Clips of Gaynor's various musical numbers are interspersed with interviews with Gaynor today, as well as Charmoli, Mackie (who's always funny), Carl Reiner, and Rex Reed, among others (Reed, the kind of movie critic I miss - just like these variety shows - is an enthusiastic cheerleader for Mitzi here, and a delight, as always). If there's one complaint I had with the documentary, it was that it's far too short (at just 58 minutes) to adequately cover its subject. As well, you might experience a bit of irritation when a clip of Mitzi in action is set up, only to be interrupted or cut away from for a snippet of interview with someone commenting on what you were just watching. Luckily, the producers of the DVD have included eight intact musical numbers in the bonus section so you can watch Gaynor strut her stuff uninterrupted. Minor carping aside, I found Mitzi Gaynor: Razzle Dazzle! The Special Years did what it was probably intending to do right from the start: it made me want to see those specials again. Here's hoping Mitzi Gaynor: Razzle Dazzle! The Special Years will generate enough interest to accomplish that very thing.
The DVD:
The Video:
Critically, the documentary was shot and is presented in an anamorphically enhanced, 1.78:1 widescreen ratio, with the 1.33:1 full-frame clips of Gaynor inserted, giving those older full-frame clips, which have been digitally remastered, a significant "pop" on your big monitor. Nicely done.
The Audio:
As well as improved video here, the audio soundtrack from those old numbers have been upgraded to a Dolby Digital English 5.1 stereo mix, and it's phenomenal. There's a surprising amount of separation to the mix, along with some sizeable levels, making this a crystalline-clear audio presentation. This was smart-thinking on the producers' part: so many times these older video presentations are left languishing in the audio department. Close-captions are included, as well.
The Extras:
Extras are significant and plentiful (in fact, they run 20 minutes longer than the feature). First, there's a new featurette, Mitzi & Mackie: Look Back in Fashion, running 17:37, which has Mitzi speaking with Bob Mackie at his what looks like his workshop. They both reminisce about past triumphs, as they cue up clips with various archival Mackie sketches. Mitzi Remembers The Beatles Outtake, running 4:00, has Mitzi recounting her famous 9-minute segment on The Ed Sullivan Show which was sandwiched inbetween The Beatles's U.S. television debut. Mitzi & Friends Salute Sondheim's Company, from 1974, features Jerry Orbach, Ted Knight, Suzanne Pleshette, Jane Withers, and Cliff Norton, along with Mitzi, of course, singing The Little Things You Do Together (and singing it quite well, too). It runs 6:14. Mitzi's Late Show Movie Parody is a hoot at 3:59, while Mitzi as "The Kid", featuring two skits from her first two specials, is less successful (I prefer Mitzi as a grown woman, quite frankly). Finally, 8 extended musical performances from her various specials are included: Pretty, from 1968; the hypnotic Let Go, from 1969; Limehouse Blues, from 1973; You Are the Sunshine of My Life, from 1974; Most Beautiful Guy (which features an appearance by Mitzi's husband); a rowdy version of New Orleans Hop Scop Blues, from 1976; Yankee Doodle Dandy, from 1977, and finally Hot Time in the Old Town Tonight, from 1978.
Final Thoughts:
Mitzi Gaynor: Razzle Dazzle! The Special Years is a triumphant reminder of the triple-threat talents of Mitzi Gaynor: dancer, singer, actress. No one else on TV came close to approximating the glittering, technical proficiency of her productions, nor in generating the heat (and laughs) Gaynor herself so effortlessly conjured up with her masterful dancing, singing, clowning, and her rather startling sexuality. Hopefully, the documentary Mitzi Gaynor: Razzle Dazzle! The Special Years will spur a release of the full TV specials on disc. One of my favorite documentaries this year. I highly, highly recommend Mitzi Gaynor: Razzle Dazzle! The Special Years.
---
Paul Mavis is an internationally published film and television historian, a member of the Online Film Critics Society, and the author of The Espionage Filmography.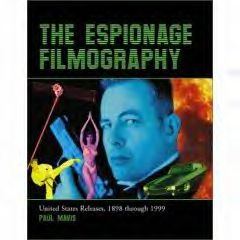 ---
C O N T E N T

---
V I D E O

---
A U D I O

---
E X T R A S

---
R E P L A Y

---
A D V I C E
Highly Recommended
---
E - M A I L
this review to a friend
Sponsored Links
Sponsored Links