McLeod's Daughters - The Complete Seventh Season
List Price: $79.98 [Buy now and save at Amazon]
---
Enough! Seriously...it's all just...I mean, who are these people? Where are McLeod's daughters? Koch Vision has released the eight-disc, 32-episode boxed set, McLeod's Daughters - The Complete Seventh Season, and it's just as bad I suspected it would be, after the ominous signs of Season Six put a pall over that go-around. All but one of the original cast members have finally left the series (and even he pulls a runner halfway through this season), leaving the viewer with the strange sensation of seeing relative strangers inheriting the McLeod's Daughters format, running around Drovers, getting into constant emotional, physical and romantic trouble while enacting all-too familiar story set-ups from earlier seasons, and all without the slightest bit of audience identification to anchor the season. My understanding is that Season Eight (which is currently filming and airing in Australia) is finally the last one for the recently axed McLeod's Daughters. Good.
A quick recap of the series for newcomers who may still want to venture into uncharted waters here (and McLeod's Daughters is newcomer-friendly; you can jump in at any time and sort yourself out fairly quickly as to the plots - a "Previously on McLeod's Daughters" recap at the beginning of each episode helps). McLeod's Daughters concerns a cattle ranch in the spectacular Australian outback, now run by part-owner Stevie Hall (Simmone Mackinnon), a rough-and-tumble redhead who oversees the farm; Jodi Fountain (Rachael Carpani), the gorgeous blonde ranch hand whose mother Meg (Sonia Todd) used to work at Drovers and who, as it was revealed in Season Five, is actually a McLeod daughter as well, and Regan McLeod (Zoe Naylor), the daughter of brother Hugh McLeod. Killarney, the expansive, successful neighboring farm, is now run by hotheaded lunkhead Alex (Aaron Jeffrey), who is now divorced from gorgeous, rich (and lying) Fiona (Michelle Langstone). Working on Killarney is handsome ranch hand Riley Ward (Dustin Clare), who catches the eye of Tayler Geddes (Gillian Alexy), the daughter of the miner who died as a result of Regan's geological report, and who now is staying at Drovers. Mystery man Marcus Turner (Matt Passmore) shows up at Killarney at the behest of Alex's real father, Bryce Redstaff (John Stanton), who now owns half of Killarney.

SPOILERS ALERT!

Obviously, by this point in McLeod's Daughters, the writers have run out of any original ideas on how to keep the weekly dramatics going at what has to be the most event-filled, notorious cattle ranch in the world (seriously, camera crews would be camped outside this place 24/7 if one tenth of these fictional shenanigans had happened at a real ranch). And as a result, far too much of this Seventh Season feels far too familiar. It's bad enough that the actual physical set-up of the mechanics of the production are increasingly rubber-stamped (not only are the camera set-ups distressingly the same, but the actual blocking and physical working-out of the various plot points are reoccurring with Xerox-precision), but the storylines and the various character motivations are being cloned, as well. In addition to the standard McLeod's Daughters scenes like someone chasing after another character on a deserted road (or almost missing hitting them with their car); the overnight camp-out in the bush where characters romantically bond; the arrival of a stranger with potentially devastating news for the survival of Drovers; some kind of psycho taking a character hostage (they threw in a woman ready to give birth at the scene, as well); someone robbing Drovers; various car accidents, and someone secretly paying off a debt because they secretly love that person, we're getting characters re-branded with different names to re-enact the same old dramatic plotlines.
Since Alex and his brother Nick (Myles Pollard) were such a good source of fraternal friction for so many seasons, Pollard's departure from the series doesn't have to be a deal-breaker - the producers just clone him into Marcus, Alex's surprise new brother. And if the death of series' villain Harry Ryan (Marshall Napier) leaves too big a hole in providing enough tension between Drovers and Killarney, the producers just bring in Alex's real father Bryce, and have him plot to control both ranches. And if the viewers miss a scheming female villain they can hiss, such as the scurrilous, but ultimately misunderstood Sandra (Inge Hornstra), that's okay; they'll just plug-in Alex's surprise new sister, Ashleigh (Sam Healy), to skulk around Killarney, alternately alienating everyone with her duplicitous business deals, while making some of the more gullible boys fall in love with her wounded vulnerability. And anytime a McLeod "daughter" leaves Drovers, one only has to beat the bush to conveniently scare up another one. While this strategy might have worked had the writers at least put some effort into making these "new/old" characters operate within original, creative storylines, everything old is new again in McLeod's Daughters's Seventh Season, with the same old plot clichés turning up with droning regularity.
Certainly the most obvious example of this - and a rather stunning one for its blatancy - is the whole Jodi/"Matt"/Rob reboot, where Jodi's lover "Matt" returns to Drovers after successfully negotiating the witness protection program (he now goes by his real name, Rob), only to have some unnamed criminal stalk him yet again with pistols and high-powered rifles, while Jodi wonders if their love will survive yet another uprooting and relocation. Why did the writers think that the viewers would want to see Jodi's and Rob's love story re-enacted again, note for note? And why didn't anyone bother to come up with at least some pathetic attempt at justifying these attempts on Rob's life? Anyone watching these scenes would think they were mistakenly watching Season Six, not Seven.
And other subplots are equally familiar, and surprisingly awkward in their execution. One of the hallmarks of earlier seasons of McLeod's Daughters was the facility with which the writers were able to juggle multiple story arcs over seasons as well as within individual episodes (while making us connect with newly arriving characters), but that strategy seems to have been abandoned by this point. New plot points and characters are introduced and subsequently breezed over before we can get it straight who, exactly, any of these people are, and what the hell they're actually doing at Drovers. Regan (a shady, undeveloped character to begin with) inherits Jodi's portion of Drovers, but then she hands over a paper to her newly arrived sister, "wildcat" Grace (Abi Tucker), telling her she's inherited part of Drovers Run, too. Now...from whom did she inherit a part of Drovers? Jodi? Did Jodi know Grace? Or was it from her father? And who's her father again? I don't know, but before I could try and figure that out, Grace is going around telling people to get off her land while we're still trying to figure out who the hell Grace is. And nobody seems bothered by all of this. There's no sense of continuity or sustained character development here; just cardboard props to be moved around the various set pieces.
And what lame set pieces they are, too. When we're not fretting over whether or not Rose (Basia A'Hern) will walk again after her fake paralysis and suicide attempt (jesus - enough with this character's constant sour disposition and her endless carping and whining and bitching. Shaddup!), we're watching Jodi take a fake tumble down a two-degree decline land-pit, or Tayler getting stuck inbetween the walls of Drovers' main house, or robbers again invading Drovers (with brave little Rosie trying to wheel herself out of the way), or various McLeod daughters chasing various wayward farm animals, or someone seemingly getting into a car accident every other episode, while the girls dance naked out on the lawn, praying for rain. Previous seasons of the series had some decent action scenes, but by this point, everything is as dry as the sun-parched Drovers' prairie. The final cliffhanger, with Riley, Grace, Patrick and Tayler going into a deep mud puddle, is as predictable as it is hilarious - the only pity is that they weren't hauling a trailer behind them holding the rest of the show's characters.
And seriously, enough with the ghosts and spirits and guardian angels! Is this a cattle farm or Spook Central? It's bad enough we have poor little Jodi getting some kind of creepy stigmata on her wrists and ankles when the ghost of Emma McLeod's lover's shackles are found (I'm not making this up), but then she's hallucinating all over the place, hearing a woman's crying in the house while seeing Emma's lover repeatedly shot and killed over by the fence. Grace has her own close encounter of the silliest kind when her dead father comes back to Drovers (switching back and forth between being young and old) to guide her into accepting her role at Drovers' Run, a return preceded, perhaps, by Grace miraculously pulling Hugh's knife out of a barn pole after having rusted there for decades (that's Excali-bull). That certifiable basket case Kate (Michala Banas) has several tinfoil hat moments this season, including seeing signs of 10 biblical plagues descending on Drovers (again - not making this up), along with dreams that she's a big, naughty kitty; a sexually ravenous jaguar, complete with Natassja Kinski's Cat People eyes. And to top it off, that thoroughly annoying Moira is having visions again; this time it's a guardian angel - complete with wings, no less - come to save Rose (hysterically, he only manages to make her legs tingle...and she's not even paralyzed! Big deal!). What with Jodi hallucinating and Moira stumbling around in her own visions, it's a wonder they don't hourly knock heads together as the unfinished work piles up around Drovers. Parched Drovers' Run doesn't need a thunderstorm; it needs an exorcist.
Here are the 32, one-hour episodes of the eight-disc box set, McLeod's Daughters: The Complete Seventh Season, as described on their hardcase back covers:
DISC ONE:

Episode 171 - Second Chances
Jodi has the day planned to the last detail. But her confidence and control are tested when - totally unannounced - Matt suddenly appears. With the trial over, he has journeyed back to the girl who has meant so much to him.
Episode 172 - All the Wrong Places
A charming man arrives at Drovers looking for Killarney. His name is Marcus Turner, and he is quite enamored with Stevie. Meanwhile, Tayler is trying to prove herself to the Drovers' girls by volunteering to do a branding job.
Episode 173 - Digging Up the Past
Believing Regan should be returning from her mother's, Tayler is worried when she hasn't arrived. When she and Patrick find an injured possum inside the house, Tayler insists on caring for it.
Episode 174 - Thicker Than Water
When Marcus phones Nick in Argentina to talk business, it's the last straw for Alex. Meanwhile, Riley's estranged father Bill makes an unannounced visit to Drovers Run.
DISC TWO:

Episode 175 - Reaching Out
Alex, angry that Marcus lied to him for so long, is doing his best to not deal with the fact that he and Marcus are brothers. Meanwhile, Tayler gets in trouble with Stevie over trying to do extra work with the brumbies.
Episode 176 - Returned Favor
Riley and Matt both declare their love for Jodi, but who will she choose? Jodi decides to have an overnight vigil in the national park, where her horse Tucker is bitten by a tiger snake.
Episode 177 - Of Hearts and Hunters
It's sibling rivalry gone mad when Marcus and Alex compete to woo Stevie. Jodi has her own gut-wrenching decision to make when Matt is forced back into witness protection - will she choose love over Drovers Run?
Episode 178 - Climb Every Mountain
Kate uncovers the shocking truth about Jodi and Matt's murder. Meg returns for Jodi's funeral with a bizarre secret. Surprises are also in store for Regan, who receives a legacy from Jodi's will.
DISC THREE:

Episode 179 - Sisters Are Doing It For Themselves
Regan tries to reconcile with her wild-at-heart sister, Grace McLeod, after Grace inherits a part share of Drovers Run. Meanwhile, Riley is seduced by a sexy cowgirl, with disastrous results.
Episode 180 - Rules of Engagement
Alex's plan to propose to Stevie goes horribly wrong when a series of accidents and disasters threaten to ruin their relationship. Another relationship is tested when Kate and Riley are caught in a game of theft and deception over stray cattle.
Episode 181 - Bloodlines
When sheep rustlers steal Drovers Run's breeding stock, reckless Grace takes the law into her own hands. Impressed with Grace's determination, Regan struggles to convince her to stay permanently at Drovers Run.
Episode 182 - Warts and All
Bryce resorts to blackmail to force Alex and Stevie into signing a pre-nuptial agreement. Marcus deals with financial troubles of his own when he buys a racehorse.
DISC FOUR:

Episode 183 - Conflict of Interest
Loyalties are tested when Grace forces Regan to choose between her family and her new lover. Meanwhile, the women fight to stop Drovers Run from becoming the site of a toxic waste dump.
Episode 184 - Flesh and Stone
Grace kidnaps a government official to prevent the toxic dump from going ahead, while Tayler and Patrick use guerilla tactics of their own to save Drovers Run.
Episode 185 - All's Fair In Love and War
Old wounds are reopened when Stevie's estranged mother visits Drovers Run and Rose tries to force a reconciliation. Passions are also aroused when Stevie and Alex organize a laser skirmish for their combined bucks and hens party.
Episode 186 - Ever After
It's Alex and Stevie's wedding day, but will Alex get out of jail in time for the service? Also standing in the couples' way is Alex's sister Ashleigh, who tries to ruin their wedding and take control of Killarney.
DISC FIVE:

Episode 187 - Grace Under Fire
With Alex away on his honeymoon, Ashleigh undermines Marcus' authority on Killarney. Ashleigh seduces Patrick, and Tayler is surprised to find herself feeling jealous.
Episode 188 - Gift Horse
Grace is determined to resist Heath's charms - but for how long? Grace questions her future on Drovers Run when her best friend dies suddenly.
Episode 189 - Hot Water
Grace and Kate are taken hostage by a bankrupt farmer. Moira has a premonition that someone will be shot by the gunman - but who will it be?
Episode 190 - Leaving the Nest
Stevie's daughter Rose suffers a tragic farm accident, which will change the lives of everyone forever. Meanwhile, Grace resorts to desperate measures to repay her secret loan from Ashleigh.
DISC SIX:

Episode 191 - A Spark From Heaven
A guardian angel visits Drovers Run to make the girls' dreams come true. Rose returns from the hospital in a wheelchair and is involved in a freak car crash. But was it really an accident?
Episode 192 - The Courage Within
While the girls investigate a mysterious explosion at the fuel dump, wheelchair-bound Rose is trapped in the homestead during a brazen robbery attempt.
Episode 193 - Divided We Stand
Stevie is forced to leave Drovers Run when Grace accuses her of disloyalty. Riley also makes a dangerous enemy of his own when he rejects Ashleigh's advances.
Episode 194 - On the Prowl
Blinded by love, Kate helps her new beau Mitch hide from the police when he is accused of trading stolen army weapons. Meanwhile, a dangerous beast is killing Drovers' stock. Is it a wild dog, or something more exotic?
DISC SEVEN:

Episode 195 - Fanning The Flames
Drovers Run and other local farms are the victims of a professional arsonist. Stevie and Grace investigate the attacks and uncover a conspiracy to bankrupt local farmers. Could Phil Rakich be responsible?
Episode 196 - My Enemy, My Friend
When a stud bull is murdered on Drovers Run, the girls are convinced someone is trying to bankrupt them. Grace's new friendship with Ashleigh is destroyed when she discovers Ashleigh is the culprit.
Episode 197 - Knight in Shining Armour
Grace is shocked when Heath proposes marriage. Will she accept? The future of Drovers Run hangs in the balance when Ashleigh forces Grace to sell her heritage.
Episode 198 - The Short Cut
While Grace takes drastic action to catch a cattle thief, Ashleigh has to face the impending death of her father. The women of Drovers are hit with more devastating news when local bank manager Adam Gardiner returns.
DISC EIGHT:

Episode 199 - Seeing is Believing
Kate is convinced she has killed Ashleigh in a hit and run accident, but where is the body? Meanwhile Tayler meets her long-lost mother under bizarre circumstances.
Episode 200 - Second Chances
A mysterious stranger forces Grace to reconsider her future with Heath. Is the love of her life being faithful to her? Grace weighs the heavy decision of whether or not to end their relationship.
Episode 201 - Mixed Messages
Marcus suspects Heath is cheating on Grace. Is jealousy clouding his judgment? Grace continues to question Heath's love for her, until he surprises her with an amazing gift.
Episode 202 - Silent Night
It's Christmas Eve, and Alex makes a surprise return from Argentina to visit Stevie. But the happiness is short-lived when Grace, Riley, Tayler, and Patrick are involved in a shocking car accident. Who will survive?
The DVD:
The Video:
The anamorphically enhanced, 1.78:1 widescreen video transfers for McLeod's Daughters: The Complete Seventh Season look spectacular, as usual. Colors are brilliantly realized, in a crisp, clean, compression-free image (one of the few genuine pleasures this go-around).
The Audio:
The Dolby Digital English 2.0 soundtrack is more than adequate for this largely dialogue-driven drama. No subtitles or closed-captions are available, though, unfortunately.
The Extras:
No extras are included for McLeod's Daughters: The Complete Seventh Season.
Final Thoughts:
Just end it. It's enough. Almost all of the original cast members are gone (and the lone holdout scoots out halfway through), and the situations and stock dramatics are painfully obvious and recycled from past, better seasons. What was once a clever, romantic night-time soap, is now a crude, cardboard farce. Die-hards who have followed the show this far could rent, but that's all. Others will skip McLeod's Daughters: The Complete Seventh Season.
---
Paul Mavis is an internationally published film and television historian, a member of the Online Film Critics Society, and the author of The Espionage Filmography.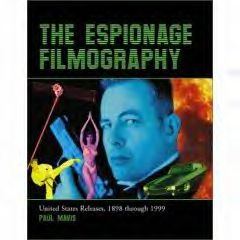 Sponsored Links
Sponsored Links