List Price: $24.98 [Buy now and save at Amazon]
---
"Tears are for losers. What kind of a sissy word is 'fair?'"
An event. The second TV adaptation of Budd Schulberg's What Makes Sammy Run?, the most infamous, the most searing Hollywood insider novel ever, has been restored to its full length and released onto DVD by The Archive of American Television and Koch Entertainment. What Makes Sammy Run?, directed by Marty helmer Delbert Mann, and co-starring John Forsythe, Barbara Rush, Dina Merrill, and Larry Blyden in a simply astounding turn as the amoral, hustling Sammy Glick, is just as potent and forceful an evocation of the backstabbing jungle that is Hollywood, as you're ever likely to see - which is quite a feat when you consider this taped production originally aired back in 1959. Koch and The Archive have taken their usual care with the What Makes Sammy Run? DVD, including some terrific extras, such as an interview with Schulberg (looking and sounding impossibly good at 94!) and a commentary track by Rush and Merrill, as well as an informative reference guide written by archivist and researcher, Jane Klain. For fans of vintage TV and for those who seek the seamier side of Tinseltown, it simply doesn't get any better than What Makes Sammy Run?.
Al Manheim (John Forsythe) is a New York drama critic, bemused and appalled by his new copyboy, Sammy Glick (Larry Blyden). Sammy, alternately coarse and obsequious, is intent on moving up in the world - and it doesn't matter to whom he lies, cheats, or ruins in the process. Frequently stating Al is his mentor and best friend, Sammy sees his chance at an "in" when he spots a mistake in the copy of one of Al's reviews. Instead of going to Al, though, Sammy heads straight to Al's editor, Mike Crowley (Horace McMahon), who appreciates Sammy's go-getter energy. Al may be ticked that Sammy stabbed him in the back, but this little deceit is nothing compared to what Sammy plans for the future. Muscling in on Al's column space by cribbing a bit of Somerset Maugham, Sammy impresses Crowley again and gets his own radio column. After Sammy befriends a fellow writer, Julian Blumberg (Milton Selzer), he brazenly pushes Blumberg's script as his own to a famous Hollywood agent, and suddenly, Sammy is on his way to Hollywood...with Al shaking his head at the amoral chutzpah Sammy displays in his naked ambition to succeed, to run.
Brought out to Hollywood by Sammy's in with World-Wide Pictures, Al meets Kit Sargent (Barbara Rush), a novelist that Al had admired who now works as a contract scripter for the studios. Both Al and Kit are fascinated by Sammy's obvious machinations to succeed in Hollywood, as well as repulsed by his methods to get ahead: namely, his appropriation of Blumberg's script, and now his under-the-table payments to Blumberg to act as Sammy's uncredited ghostwriter. That repulsion, though, also signals stronger emotions in Kit, who finds herself drawn to Sammy's unceasing energy, a sexual desire that she can't control, as well as a redemptive impulse that compels her to try and change the unchangeable Sammy. Al, of course, is heartbroken about this development - one that Sammy feels no compunction at all in proudly rubbing Al's face in, particularly when he openly castigates Al for not only being a "loser" screenwriter, but also for not being enough of a man to hold Kit. Al flees Hollywood, after unsuccessfully asking Kit to come with him, while Kit latches onto Sammy, as he backstabs his way up the Hollywood ladder from screenwriter, to B-movie producer, to head of the studio...but at what cost? And more importantly: why? As Al asks throughout the teleplay, why does Sammy run?
SPOILERS ALERT!
The novel What Makes Sammy Run?, long the bane of studio moguls and executives who not only despised it for its scathing take on the soulless, venal process of movie-making, but also for the supposed anti-Semitic portrayal of the amoral, hustling Jew, Sammy Glick, has yet to be turned into a feature motion picture - although to this day it still attracts top-tier talent who express interest in bringing it to the big screen, only to see it stall yet again before the cameras roll (Ben Stiller was the latest actor to supposedly attach himself to an adaptation, but that was years ago). Budd Schulberg, the son of a famous Hollywood executive, became an instant pariah in the industry when the best-selling book was published in 1941 (although he did work sporadically on Hollywood projects, including winning an Oscar for 1954's ode to squealers, On the Waterfront, as well as penning the superior attack on television, pop culture and politics, 1957's A Face in the Crowd). The character of Sammy Glick, the fast-talking, brusque steamroller of a grasping industry climber, entered the popular vernacular, often used as shorthand for someone who unrepentantly climbed over his colleagues to get ahead "in the game." As many others have noted, Schulberg's fictional creation was wholly original to the American literary scene, and one whose characteristics quickly became absorbed into other works, and other characters (you can find dozens of examples in movies and TV alone, from Tony Curtis' slimy hustler Sidney Falco in Sweet Smell of Success, to Jeremy Piven's cringe-worthy Hollywood agent, Ari "Let's hug it out, bitch" Gold).
The novel had been adapted prior to Delbert Mann's production; The Philco Television Playhouse presented a live, hour-long version in 1949 starring Jose Ferrer as Sammy (so far, no kinescope has been found of this version, and it is now considered lost). The version we have today, produced for NBC's Sunday Showcase anthology, was filmed in color and broadcast over two Sundays in October of 1959. Through the years, only the first part of the play was known to exist; according to the commentary track on this DVD, co-star Dina Merrill (who's excellent as the icy, wealthy, perverse bitch Laurette Harrington, who marries Sammy) instigated a search in 2005 for the missing second part, and through the efforts of archivist Jane Klain, What Makes Sammy Run? was finally restored to its full length when the second half was discovered at the Library of Congress (having been cataloged simply under Sunday Showcase, not under its own title).
Watching What Makes Sammy Run?, I was again reminded of how "edgy" vintage TV was (particularly the live drama anthologies) during a period of network television history that is now often incorrectly labeled as pasteurized, bland, and conventional (even the sitcoms that everyone seems to universally dismiss from this period were surprisingly layered). There are moments in What Makes Sammy Run? that are far more "adult" than anything you'd see in a typical feature film drama from 1959; indeed, watching some of these sequences, I was frankly amazed they got past the censors. As with any literary adaptation to the small or large screen (particularly during this less graphic period of time in the popular culture), elements and themes critical to the book's structure may alternately get emphasized or watered down in accordance with the guidelines required of the medium (certainly the sticky problem of whether or not Sammy Glick is an anti-Semitic character is avoided, since the teleplay doesn't touch on this aspect of the novel - nor does it visit the entire Writers' Guild subplot, either). Obviously, a lot of the sex and language were toned down in this adaptation (thankfully performed by Schulberg and his brother, Stuart), as well as any overt references to Sammy's ethnic heritage. But what does remain is, well...rather shocking, if you will, if you consider how the network and/or could have insisted on completely sanitizing the story (a realization made even more remarkable when you consider the show was sponsored by squeaky-clean Proctor & Gamble).
Along with Sammy's insatiable urge to climb to the very top of the Hollywood ladder is Sammy's open acknowledgment of, and reveling in, his sexual needs, as well - a skill he utilizes as crudely and successfully as his pushy, almost bullying fast-patter. Kit, although fully aware of his "dreadfulness," also thinks he's wonderful in how patently open he is with his crude desires. And even though she later tells Al that she won't return to New York with him because Sammy, by now clearly moving up to big things at the studio, makes her feel like a success after her failed career as a novelist, it's also understood that she prefers sex with Sammy, too. And why shouldn't she? Apparently, Sammy is up for anything, with an educated palate for advanced sexual situations. In certainly the teleplay's most remarkable moment, Sammy, after being turned down initially by Kit (who momentarily sees right through Sammy's empty soul and gives him a "Sieg Heil!"), calls a girl for a date. As the camera trucks in, and Sammy's voice becomes dangerously demanding, he tells the willing girl not to send home her girlfriend, sneeringly spitting out, "You two kids can chaperone each other!" with Blyden's delivery of the line more than adequate to convey that Sammy is suggesting - and getting - a threesome (Blyden, whom I had only known from his hosting duties on the new To Tell the Truth, is a revelation here). If the viewer needs more proof, Sammy hammers home his intention by snarling, "I'll be over in a flash in the flesh," with the unmistakable capper, "We're gonna make like crazy!" with Blyden conveying almost demonic sexual rapacity.
Later in the story, when Al and Kit confront Sammy about his plagiarism of Blumberg's screenplay, Al tries to unsuccessfully parlay Kit's outrage at Sammy's business methods into her sexual rejection of Sammy - a move Sammy laughingly knows won't work. Getting right into Al's face, Sammy calls Al on this play, knowing that Kit will choose him in bed, and further rubbing Al's face in the knowledge that Sammy controls Kit sexually, when he tells Al to tell his secretary to take "a coffee break" on his way out - the classic Hollywood exec move when a higher-up wanted to have sex in their office, which Blyden makes clear with his innuendo-dripping delivery. And finally, in another remarkably explicit scene, on Sammy's wedding night, he finds his bride, Laurette, making love to a cowboy actor (who previously told Laurette at a party that he "can ride anything," and that she should come out to his ranch where he'll show her how he "breaks the wild ones"). Leaping onto the bed, screaming, "You slut!", Laurette clearly welcomes this assault, sexually writhing on the bed as Sammy starts to strangle her, demanding him to finish (Dina Merrill is delightfully perverse in this role, turning up the wattage considerably in this scene when she huskily implores Sammy to, "Come on!"). Try and find any that going on over at Father Knows Best.
While certainly not as sensationalistic an element as What Makes Sammy Run?'s sexual politics, its take on the grasping, dog-eat-dog world of Hollywood is spot-on, as well, telegraphing the same themes and ideas we've been seeing in more current Hollywood insider tell-alls like The Player and Swimming with Sharks. With the TV networks at the time allowing considerably more leeway for a teleplay's writer to tackle more controversial topics (as long as the sponsor agreed), it's hard to imagine at this time a mainstream Hollywood feature film that would have attacked its own industry in such a relentlessly negative light (a classic such as The Bad and the Beautiful may seem like its devouring its own, but it ends on an essentially upbeat, positive note). There's nothing positive about the moviemaking experience in What Makes Sammy Run?, with writers treated like hired field hands, contributing chop work (if they even get credit for it before it's stolen by someone higher up on the food chain), actors treated as little more than prostitutes (indeed, Zizi, the star Sammy makes famous and whom he beds until her popularity begins to dim, lets loose at a party that she used to be a prostitute - another "wow" moment in the teleplay - a prior occupation not at all different than the one she now has), and directors as willing hacks who mouth the platitudes of the "suits" who hack apart and piece together the films to pander to the lowest common denominators as well as satisfy the money-men who back the productions, and who have no interest in making "art," only profit. And Sammy's ascension is the perfect example of this, where talent and genuine artistic vision are meaningless next to a climber who will lie, cheat, and steal - all with everyone's open acknowledgment of those misdeeds, which are in turn applauded, with everyone agreeing that that kind of behavior is what it takes to be a success in Hollywood. Results are all that matter, with cruelty and guile taken as the necessary tools to get the job done. You won't find this kind of open contempt for Hollywood in too many big-screen movies from this period (perhaps Aldrich's The Big Knife?), making What Makes Sammy Run? all the more notable for its gutsy take on the insiders who no doubt took note of this production.
The DVD:

The Video:
The full-screen, 1.33:1 video transfer for What Makes Sammy Run? looks as good as can be expected, taken from a kinescope copy. All the video glitches that one might expect are present, but they're not obtrusive, with an overall clean black and white image (viewing the DVD, I don't believe that there has been any computer "boosting" of the image, which can yield remarkable film-like results for old kinescopes).
The Audio:
The Dolby Digital English mono audio track is serviceable, with all dialogue heard cleanly. Hiss is apparent, though, due to the original recording techniques. English subtitles are available.
The Extras:
There are some quality extras included here, which is a good move considering the importance of the title. First, there's a full length audio commentary track featuring Barbara Rush and Dina Merrill (conducted by phone from two separate locations), which has the two pros (who are terrific here in Sammy) discussing the shoot. Rush really keeps the conversation going, which spurs Merrill on to add her own comments, as well. They provide an informative, and entertaining, track. There's also a filmed interview with Budd Schulberg, from October of 2008, where the spry writer (who has some difficulty speaking) holds forth on the teleplay and his book...and Hollywood. Schulberg confirms all those rumors that screenwriter and producer Jerry Wald was the primary inspiration for Sammy Glick, while he lays it out on the line about Communists and the Writers' Guild (it's an eye-opener for those who think that the blacklist, as reprehensible as it was, was somehow based on unfounded political fantasy). There's also a great 16-page booklet, written by researcher Jane Klain, giving quite a bit of background info on the teleplay, with plenty of stills to illustrate.
Final Thoughts:
If you think television was safe and bland and stodgy back in the fifties, you need to watch What Makes Sammy Run? pronto. Until a kinescope of Jose Ferrer's earlier TV version of What Makes Sammy Run? is found, this is the only filmed version of the searing Hollywood tell-all - and it's simply fantastic. Larry Blyden seemingly comes out of nowhere to deliver one of the best interpretations of a Hollywood creep I've ever seen, and he's matched scene for scene with the excellent supporting cast. Author Budd Schulberg adapted his own novel, keeping quite a bit of the sensationalistic aspects of the tell-all intact - a big surprise for a network offering in 1959. A winner all the way down the line, and a major event for lovers of vintage television drama. Considering the excellence of the content, as well as Koch Entertainment's and The Archive of American Television's careful production of the disc, I'm giving What Makes Sammy Run? our highest ranking here: the DVD Talk Collector Series rating.
---
Paul Mavis is an internationally published film and television historian, a member of the Online Film Critics Society, and the author of The Espionage Filmography.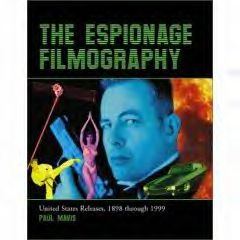 ---
C O N T E N T

---
V I D E O

---
A U D I O

---
E X T R A S

---
R E P L A Y

---
A D V I C E
DVD Talk Collector Series
---
E - M A I L
this review to a friend
Sponsored Links
Sponsored Links