Route 66 - The Complete Second Season
Other // Unrated // November 4, 2008
List Price: $49.98 [Buy now and save at Amazon]
---
"Are you free?"
Just for the record: nobody is going to make me conform.
"Sounds like easy come, easy go."
"Not exactly. You see, well...we're sort of looking for a place where, uh...where we really fit. A kind of a niche for ourselves, you know? But until then, I guess we'll just sort of keep moving and living."
"The good people either dig each other right now, or forget it. Two half-truths never made an integrated single. But two truths together...man, that's a crazy square root."
The journey continues. But something's slightly...off during this second season of certainly one of the best anthology dramas of the 1960s, Route 66, until in its final episodes, the wheels really come off the show, and the concept vapor locks and dies. Roxbury Entertainment has released Route 66 - The Complete Second Season, featuring all 32 episodes of the iconic, existential road-trip anthology series' 1961-1962 season - presented in its correct full-frame, 1.33:1 aspect ratio (apparently, a split-season second volume of the first season was released to howls of protest when the transfers were "cropped" for a faux-widescreen look). Don't get me wrong: there are still marvelous episodes and moments in Route 66 - The Complete Second Season, more often than not, where co-creator and main writer Stirling Silliphant presents a prescient picture of a shook-up, fractured American society that was already taking shape outside the ken of most mainstream network TV offerings. But maybe, just maybe, the series was at its best during that first, fresh season.

I wrote extensively about the first season of Route 66 (you can click here to read that review), so I won't go into too much detail on the background and aesthetics of the series. The premise is simple, but the stories are quite layered. Straddling the time period (as well as the sociological and psychological road map) that lies between Neal Cassaday and Jack Kerouac's travels, chronicled in On the Road, and the coming counterculture hippies Wyatt and Billy of Easy Rider, who dropped out of society altogether, Route 66's existential wanderers, Tod Stiles (Martin Milner) and Buz Murdock (George Maharis), willingly flaunt the conventions of society (or at least "TV society") that expected young men like themselves to settle down and raise families, and to help maintain "the American Century" through their own industry and right living.

However, Buz and Tod were having none of that. Buz, a tough young orphan who grew up in the hard-scrabble world of Hell's Kitchen, and Tod, a well-heeled prep school attendee whose comfortable world came crashing down when his beloved father died, leaving him penniless (except for that totally sick 1960 Chevy Corvette...which was updated, without explanation, with a new model each year the series was on, courtesy of the show's sponsor, Chevrolet), have no thoughts about marriage, no thoughts about putting down roots, and only go where the next bend in the road takes them. Occasionally, one of the boys will talk about putting down "roots" when they "find what they're looking for," but for the most part, the art of their lives lies in the traveling. They just have to move, to be free, to get away from the garbage of the city (Tod's father ran a barge on the filthy East River, where Buz crewed during summers) and to feel the wind in their faces - made easy by that sweet, sweet Corvette convertible. It's important, too, that both are fatherless; that rigid rudder of emotional stability (or instability, depending on the author) in most American fiction and storytelling - the father - is absent here. Even though Tod is stricken by the memory of the loss of his father, the gift of the Corvette has given him means to explore America his way, with no strings attached. There's no one to go home to for Tod and Buz; that car is their home, endlessly prowling the great ribbons of highways and back roads that crisscross the country.
Which was all very well and good for the first season of Route 66. But with 32 episodes from that first season firmly establishing the concept - while also perfecting Silliphant's message - an additional 32 episodes sometimes feel...warmed over, if you will. It's difficult to pin down precisely where my disappointment lies with this second season (a minor existential dilemma that understanding, cool-cats Buz and Tod would no doubt forgive me for), but the closest I can get to it is that while Tod's and Buz's first season adventures seemed to flow organically from the concept, in this go-around, these new travels seem to shore up the concept ("Okay, they're on the road...still...what are they going to do this week?") - an indication, perhaps, that the combination of concept and message only really clicked when they were both new to the viewer. In the first season, Tod and Buz are hurting. Buz, perpetually angry and wounded, yet willing to embrace the wide open spaces of America, found a soulmate in Tod, whose introduction to the harsher aspects of trust and security was as abrupt as Buz's was protracted. And when they rolled off in search of...whatever it was they were searching for, their adventures felt fresh and relatively realistic (as much as they could be for a television show). Money was a constant concern, and the hard, manual labor they sought out accurately reflected not only their physical situation (two young drifters without a permanent address or references), but also their psychological orientation: hard, punishing, manual labor would help take their minds off their troubles. In fact, salvation could possibly be found in the "simpler" ethos embodied by that kind of basic, hard-scrabble lifestyle; there's no room for mendacity, false aspirations, and sickness of the soul due to the relentless consumer culture out there in those potato fields (uh...try living that way sometime and see how it really feels).
But with this second season, we've already had that "newness of experience" with Tod and Buz, so their continuous encounters with equally damaged people in complicated, tense emotional situations, sometimes can feel...familiar. It's not that individual episodes are poorly written or executed; on the contrary, many are quite good - as good as many in the first season. But the resulting impact of the very concept of the series - that first adventurous striking out into the great, huge America to assuage the pain both travelers are feeling - becomes lessened necessarily by familiarity. The realities of a commercial network offering, trumps the initially new, existential delight that Silliphant managed in his first go-around. The stories are still well-drawn and telling here in this second season, but that underlying explosion of new discovery, is gone, taking away a lot of that indefinable "otherness" the first season of Route 66 effortlessly, almost spookily, conjured up, week after week. The occupations and situations become a little more exotic, a little more far-fetched (working at CBS's Television City; experimental speed boat driver, Buzz becoming temporarily blind, working at Pacific Ocean Park - which CBS partly owned, and JungleLand, and perhaps most ludicrously, Buz becoming a junior executive for a large corporation), and the realistic, almost documentary gestalt of the first season, slips away. And finally, when Maharis begins his slow exit from the show, leaving Milner on his own for the final episodes, the spell is completely broken.
Along with his other writers, producer/creator Stirling Silliphant, who wrote an incredible 19 episodes this go-around, continues to explore themes and avenues of interest that preoccupied him during Route 66's first season. The dichotomy of unfettered personal freedom versus the necessary "grounding" as a result of committing emotionally to someone else, is prominently on display in several episodes. In the excellent season opener, A Month of Sundays, Buz tries to offer whatever comfort he can to dying actress Anne Francis (stunningly beautiful here, as always, and such a fine, underrated actress, too), a love she rejects at first because not only is she flailing in the darkness, hoping a trip back home will somehow stave off the inevitable, but also because she knows she wants to die on her own terms - and not within the confines of someone else's expectations. Blue Murder is a strange offering, where lovely Suzanne Pleshette goes from the bed of one brother to the next, hoping that one of them will eventually take her off the ranch she feels is stifling her - until there are no brothers left to help. First Class Mouliak, filmed in the old Polish section of Cleveland, Ohio, looks at the expectations a loving but controlling father has for his son, to continue the traditions of his culture by staying put in the old neighborhood, despite the son's wish to be anywhere but there. In Once to Every Man, it's Tod who must choose between his newly found freedom, and his newly found love: a shipping heiress who truly loves Tod, but who cannot help herself in trying to control his life ("No, Empress, I'm not going to tell you how to live, and you're not going to tell me ever again." "Tod, I love you." "That's not enough! I need more than you're willing to give, and you take too much of what a man has to keep."). And in the beautifully modulated How Much a Pound is Albatross?, both Buz and Tod encounter a true free spirit - Julie Newmar, who rides around on a motorcycle, without a license plate, or a license for herself. Despite Buz and Tod's best efforts to win her, she remains resolutely free, attached only to her sense of discovery and independence (and her Zen philosophy - which was straight out of Silliphant's own personal lifestyle). It's a beautifully sad, funny, idealized portrait of the soon-to-be marketed "flower children" ("It's not easy being a pilgrim, or a rebel. But how else can you give yourself to life?"), one that again expresses Silliphant's need to explore personal freedom versus emotional commitment.
The notion of women unhappily trapped within their circumstances, both personal and societal - a relative rarity for network offerings back in the early sixties - is also frequently explored here during this second season of Route 66. Certainly the aforementioned Blue Murder is a good example of this theme, with Pleshette desperate to find anyone who will take her off that ranch. One of the best episodes this season, A Bridge Across Five Days, written by Howard Rodman, features the recently passed Nina Foch in an absolutely mesmerizing portrayal of a mentally ill women returning to the world after years of confinement in a hospital. A quite literal translation of this recurring theme, the episode doesn't go for easy answers (even though the character does find some semblance of peace and self-awareness at the finale), discussing not only the character's own responsibility in getting the help she needs, but also the circumstances that helped put her in the hospital (a destructive marriage). Mon Petit Chou, featuring Lee Marvin and the lovely Macha Meril, is a fast-moving, violent take on this theme (watch the sensational fistfight between Milner and Lee, staged by director Sam Peckinpah, which resulted in Marvin's broken nose - an event Marvin credited to Milner for improving his looks). Burning for Burning features an atypical villain role for Beulah Bondi as a matriarch who will stop at nothing to control the memory of her dead son - even if that means rejecting his newborn son. In another terrific episode, A City of Wheels, written by Frank Chase, while the lead character, a Korean War veteran played by Steven Hill, is confined to a wheelchair for the rest of his life, the woman that loves him unconditionally (Jacqueline Scott), is equally trapped, knowing she can't reconcile her love for him versus his rejection of her based on self-hatred. In Blues for a Left Foot, written by Leonard Freeman, a former dancer is spiraling down into depression and isolation after her lover dies, a depression compounded by her self-doubts about her ability to stage a difficult comeback. As with many episodes of Route 66, despite some writers and historians assigning the series with a reputation for being strictly "liberal" in outlook and philosophy, Blues for a Left Foot has Buz yet again offering tough, hard, uncompromising advice for the floundering dancer (well played by Elizabeth Seal): "Take a look around you! The world is full of losers. It takes character to win!" It's a pragmatism Buz has espoused before, and one that is at odds with today's devolution of "liberalism" into moral equivalency and victimization (I love it when heroin addict Robert Duvall, in Birdcage on my Foot, tries to excuse away personal responsibility for his addiction, with Buz then sneeringly running down a litany of societal and personal clichés for Duvall's actions, only to bat them away with an indignant, "So what!").
Other episodes stand out this season, including the truly weird and chilling Aren't You Surprised to See Me?, where religious fanatic/serial killer David Wayne kidnaps Buz in a continuing effort to "become" his victims ("I don't want your money. I'm you."). The Thin White Line gives Milner a chance to shine, going from mild-mannered Tod to crazed, psychotic Tod, courtesy of a mind-altering drug he's accidentally slipped, while And the Cat Jumped Over the Moon gives early workouts to James Caan and Martin Sheen as gang members playing a deadly game of "Follow the Leader" over the rooftops of Philadelphia. And Love is a Skinny Kid starts out promisingly, with Tuesday Weld creating an indelibly spooky image as she walks around a small Texas town, wearing a grotesque Halloween mask. But while the majority of episodes for this second season are quite good to excellent, misfires do crop up, particularly towards the end of the season's run. To Walk With the Serpent is a grotesquely obvious (and poorly structured) rant on reactionary politics, while You Never Had it So Good vainly tries to justify the major character switch of having Buz suddenly amenable to being a hep-cat Man in the Grey Flannel Suit junior executive (a fairly torturous script that tries to have it both ways with the Buz character, to absolutely no avail). Go Read the River is a familiar work-out of the absent father/tortured child dynamic, made more uneasy by the relative illogic of Tod becoming a test driver for a highly secretive high-speed racing boat (the boat is that important to these multi-millionaires, who are worried about industrial espionage...so they go to an employment agency for a trained driver? Ridiculous). Even Stones Have Eyes may be poignant in spots, but how much is it reaching for Buz to be temporarily blinded so the screenwriter can highlight the troubles of the blind? Kiss the Maiden All Forlorn is a confused, vague suspenser, while There I Am, There I Always Am seems like an out-and-out rip-off of John Sturges' 1953 actioner, Jeopardy, with Barbara Stanwyck.
After these increasingly compromised episodes began appearing in the second season, perhaps the "true" end of Route 66 comes with the last four episodes of this go-around. Reports vary according the participants involved, but for whatever reasons, George Maharis began to inch away from the show at this point in the production, claiming a recurring bout of hepatitis that necessitated his absence from these last four episodes (while the producers claimed it was Maharis merely drumming up an excuse to eventually quit Route 66 to pursue his ultimately failed big-screen film career). Regardless of the reason, and despite the fact that Maharis would return for more episodes in the third season, before finally breaking away entirely from the series in 1963, the aura of Route 66 was irrevocably tarnished by this change-up. Simply put: the series just doesn't work with Tod alone traveling in his Corvette. There has to be that ying/yang, push/pull opposition from the dark-haired, fiery Buz, and the outwardly patrician, more calm, cool and collected light-haired Tod, for there to be believable tension within the context of the revolving story lines. Besides, the journey began with both characters; taking away one with whom we've become emotionally invested merely points out that a certain phase of their journey for them - and for us - has ended, and can't be brought back. Sure, Buz showed up during Season Three...for awhile. But the realistic feel of the series suffered when these four episodes (which are quite poor in and of themselves) showed Tod either calling or visiting an unseen Buz (who supposedly was in the hospital). It felt fake, like a put-on, and when you couple that with the fact that the show's inherent interest was probably already spent due to repetition, those feelings don't go away. It was a nice ride while it lasted.
Here are the 32 episodes included in the eight-disc box set Route 66: The Complete Second Season, as described on the disc holders' fold-outs (just a brief note: some of the episode summaries are flat-out incorrect, such as the one for Birdcage on My Foot, which incorrectly labels Buz as a "former drug addict" (!), and Shoulder the Sky My Lad incorrectly identifying the murder of Ed Asner as an act of "anti-Semitism," when in fact, the killers offer up no indication they even know their victim is Jewish. It may seem like a small matter, but seriously Roxbury Entertainment, get somebody to actually watch the episodes before the synopses are written - it looks bad (and you can hit that email link above, R.E., if you're offering that job to me!):
VOLUME ONE

DISC ONE

A Month of Sundays (51:23)
Buz falls in love with actress Arlene Sims (Anne Francis) who has a fatal disease and has returned to her home town to die. Filmed in Butte, Montana.
Blue Murder (50:50)
Tod and Buz deliver "Blue Murder," a wild rodeo stallion, to Jim Bludge's ranch. Later, Bludge is found dead with the mark of a horse hoof on him. Guest star: Suzanne Pleshette. Filmed in Butte, Montana.
Good Night, Sweet Blues (51:10)
Ethel Waters plays a dying blues singer who asks Tod and Buz to locate her old jazz band for one last show. Guest star: Ethel Waters, who becomes the first African-American actress nominated for an Emmy Award for her performance. Filmed in Pittsburgh, Pennsylvania.
Birdcage on My Foot (51:03)
Buz uses his experience as a former drug addict in an attempt to rehabilitate heroin addict Arnie. Filmed in Boston, Massachusetts.
DISC TWO

First Class Mouliak (51:26)
Tod and Buz are working for Jack and Mike at a steel mill in a Russian-American neighborhood. Mike's daughter is found dead and Jack's son was with her when she died. Guest star: Robert Redford. Filmed in Cleveland, Ohio.
Once to Every Man (51:15)
Tod and Buz are working on a fishing boat. The owner is killed in an accident and when his wandering daughter returns for the funeral, she takes over the boat and falls in love with Tod. Filmed in Gloucester, Massachusetts.
The Mud Nest (51:14)
In a small Maryland town, Buz meets people who physically resemble him (played by Maharis' relatives). He has been searching for his mother and thinks she may be there. Guest stars: Lon Chaney and Ed Asner. Filmed near Baltimore, Maryland.
A Bridge Across Five Days (50:54)
Tod and Buz are working at a shipyard where they meet another employee who has been released from a mental hospital. Filmed in Baltimore, Maryland.
DISC THREE

Mon Petit Chou (51:07)
Tod and Buz meet French singer Perette and her controlling tough-guy manager. Directed by Sam Peckinpah. Guest star: Lee Marvin. Filmed in Pittsburgh, Pennsylvania.
Some of the People, Some of the Time (51:19)
Maximillian Coyne is running a local beauty contest. Claiming connections to Hollywood, he promises that the winner will get into pictures. But Tod and Buz discover he's a fraud. Directed by Sam Peckinpah. Filmed in Carlisle, Pennsylvania.
The Thin White Line (45:50)
While at a party, Tod is accidentally given a powerful psychosis-inducing drug and Buz struggles to keep him from killing himself. Filmed in Philadelphia, Pennsylvania.
And the Cat Jumped Over the Moon (50:50)
When Johnny quits a juvenile gang, Packy takes over and also claims the ex-member's girl. Guest stars: Martin Sheen and James Caan. Filmed in Philadelphia, Pennsylvania.
DISC FOUR

Burning for Burning (50:44)
Tod and Buz are working on a chicken farm where they meet Agnes Brack who doesn't like her son's widow and tries to cause her trouble. Filmed in Boiling Springs, Pennsylvania.
To Walk with the Serpent (50:57)
Tod and Buz encounter right-wing extremists armed with plastic explosives. Filmed in Boston, Massachusetts.
A Long Piece of Mischief (50:54)
Ollie Crump is a rodeo clown in love with Babe Hunter. Guest star: Slim Pickens. Filmed in Mesquite, Texas.
1800 Days to Justice (50:54)
After five years in prison, David Job and his mob return to take over the town and put its leading citizens on trial for sending them to jail. Guest stars: DeForest Kelley and Marion Ross. Filmed in Harcourt Junction, Texas.
VOLUME TWO

DISC FIVE

A City of Wheels (51:23)
Tod and Buz work with wheelchair patients at a veteran's hospital, where a nurse falls in love with a patient. Filmed at the Veteran's Hospital in Long Beach, California.
How Much a Pound is Albatross (50:50)
Tod and Buz meet Vicki Russell, who is cruising around on her motorcycle without a driver's license or plates. Guest star: Julie Newmar. Filmed in Tucson, Arizona.
Aren't You Surprised to See Me? (51:10)
Tod and Buz are delighted to be staying at a hotel hosting a secretary's convention...until a religious serial killer kidnaps Buz and threatens to kill him unless the city "repents." Filmed in Dallas, Texas.
You Never Had it So Good (51:03)
Tod and Buz are working in construction, but end up in a corporate executive training program. Guest star: Peter Graves. Filmed in Phoenix, Arizona.
DISC SIX

Should the Sky My Lad (51:26)
Tod and Buz befriend a Jewish boy whose family is a victim of anti-Semitism. Guest star: Ed Asner. Filmed in Phoenix, Arizona.
Blues for the Left Foot (51:15)
Tod and Buz work with a former Broadway show dancer who is trying to make a comeback in a television show. Filmed in Hollywood, California.
Go Read the River (51:14)
Tod is working as a high-speed boat test driver. Guest star: John Astin. Filmed on the Colorado River.
Even Stones Have Eyes (50:54)
Buz is blinded in an accident. At a school for the blind he falls for a girl, but his sight returns and he must leave. Filmed in Austin and Kerrville, Texas.
DISC SEVEN

Love is a Skinny Kid (51:07)
Tod and Buz encounter Miriam, who steps off a bus wearing a mask. Guest stars: Cloris Leachman and Tuesday Weld. Filmed in Lewisville, Texas.
Kiss the Maiden All Forlorn (51:19)
Tod and Buz meet a fugitive swindler who has returned to the U.S.. Guest star: Douglas Fairbanks, Jr.. Filmed in Dallas, Texas.
Two on the House (45:50)
Several school children are touring Lake Erie aboard an excursion boat when "poor little rich boy" Ritchie McIntyre falls overboard. Once rescued, Ritchie claims he was pushed. Filmed in Cleveland, Ohio.
There I Am, There I Always Am (50:50)
Tod and Buz visit Catalina Island. A woman on the beach has caught her foot in a rock and the tide is coming in. Filmed on Catalina Island.
DISC EIGHT

Between Hello and Goodbye (50:44)
Tod and Buz visit Pacific Ocean Park, a southern California amusement park, where they encounter a woman with two identities. Filmed at Pacific Ocean Park, California.
A Feat of Strength (50:57)
A refugee Hungarian wrestling champion finds that American wrestling has its own set of rules. Guest star: Jack Warden. Filmed in Los Angeles, California.
Hell is Empty, All the Devils are Here (50:54)
Tod goes to work for Peter Hale, who owns a wild animal park and whose first wife was killed by an animal. Remarried, his new wife is frightened. Guest star: Peter Graves. Filmed at Jungleland, in Thousand Oaks, California.
From an Enchantress Fleeing (50:54)
Tod works as a dental assistant to Dr. Anna Martin. Her husband, a famous inventor, has moved out and is living at a religious retreat. Filmed in Southern California.
The DVD:

The Video:
I was more than pleased with the full-screen, 1.33:1 transfers for Route 66 - The Complete Second Season. The previous first-half season I reviewed had its share of dark, grainy original elements, but these transfers look quite clean and bright, with a frequently smooth, creamy gray scale and minimal grain. Of course, anomalies do pop up, including scratches and dirt, but in comparison to the first-half season I reviewed, this is a step up in visual terms.
The Audio:
I did, however, have a problem with a number of audio tracks that sounded slightly squelchy to me. The English mono audio tracks, for the most part, are reasonably clean, with hiss apparent but not too distracting. But several episodes, even the season opener, sounded subpar. Is this a matter of the transfer, or the original materials provided? That's open to debate (but I suspect the original materials, which no doubt are not the original master tracks). Still, overall, they're acceptable.
The Extras:
The only extras included here are selected video clips of some of the supporting cast members, with text filmographies. I also noticed that in You Never Had it So Good, there was a Chevy bumper intro included, along with a Philips Milk of Magnesia commercial included ("Janie needs a laxative!").
Final Thoughts:
The end of the road for Tod and Buz. No, it's not Season Three. Buz does come back for episodes in that go around. But he disappears towards the end of Route 66 - The Complete Second Season, and his absence, along with the familiarity of the concept (which necessarily takes away from the adventuresome, new, "otherness" feel the series had in its first season), spell the end of the series...even if it did have two more seasons to go. Many of the scripts are still excellent, but something starts to fade away towards the end of the season, some perhaps indefinable "spirit" the series had when it was first fresh and new: the concept becomes the product. I still highly recommend Route 66 - The Complete Second Season, although we'll just have to see where things wind up in the third season.
---
Paul Mavis is an internationally published film and television historian, a member of the Online Film Critics Society, and the author of The Espionage Filmography.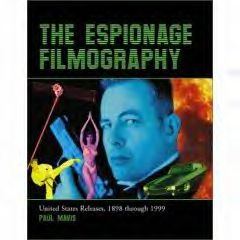 ---
C O N T E N T

---
V I D E O

---
A U D I O

---
E X T R A S

---
R E P L A Y

---
A D V I C E
Highly Recommended
---
E - M A I L
this review to a friend
Sponsored Links
Sponsored Links