Sergeant Preston of the Yukon: Complete Season 1
List Price: $39.98 [Buy now and save at Amazon]
---
"On King! On, you huskies!"
"I arrest you in the name of the Crown!"
"Well, King, this case is closed."
Sony's Classic Media and Infinity have released Sergeant Preston of the Yukon - Complete Season 1, a five-disc, 33-episode collection of the CBS color adventure series that premiered in 1955. Starring Richard "Dick" Simmons as the square-jawed, pencil-thin-mustachioed Royal Canadian Northwest Mounted Police sergeant, with his loyal lead dog, Yukon King, Sergeant Preston of the Yukon is primitive yet enjoyable action fare that should delight nostalgic vintage TV fans and young children alike. Advertised on the back of the slipcase box as "digitally remastered for unparalleled picture and audio quality," I can't say whether or not these transfers are the same ones Sony used for their 2006 release of Sergeant Preston of the Yukon's first season (what made them re-release this?), but the lack of extras yet again doesn't exactly help Sony convince previous buyers to double-dip for this particular edition.
The wild, savage Yukon territory in the summer, fall, and winter of 1898. Gold fever sweeps the cruel land as good men and bad battle each and the elements to wrest the precious yellow metal from the unyielding ground. Patrolling this vast, untamed wilderness is Royal Canadian Northwest Mounted Police Sergeant William Preston (Dick Simmons), a scrupulously fair-minded, intrepid officer who, with the aid of his wonder dog, Yukon King - a preternaturally intelligent Alaskan husky - rides his magnificent black-coated steed Rex back and forth between the isolated mining camps, supply outposts and settler communities, dispensing the Crown's justice in a land that yearns to remain lawless. Friend to all who swear allegiance and respect to Her Majesty Queen Victoria, and dogged, unrelenting foe to those who resist the Crown's decrees, the brilliantly-attired Preston, in his crimson tunic and black leather gauntlets explains his uniform, while making his code, his creed, his duty, as clear and as pointed as his piercing blue eyes: "This tunic is a warning to the lawless. That no matter where they go, justice is not far away. It's probably saved more lives than armor plate. And done more to bring peace to the Yukon than all the guns of Her Majesty's army....A Mountie always gets his man."
Sergeant Preston of the Yukon premiered on CBS's Thursday night TV schedule in September of 1955, but its origins go back to Challenge of the Yukon, a radio series that originated at Detroit's famed WXYZ Station (home of similarly-themed and structured The Lone Ranger and The Green Hornet) in 1938, running there until the show moved to the ABC Network in 1947, where it ran until 1950, with the show moving one final time to MBS until 1955. Suggested by WXYZ's station owner, George W. Trendle (who was looking for another Lone Ranger hit, this time featuring a working dog as the central hero), Sergeant Preston of the Yukon was created largely by radio screenplay writer Tom Dougall, who apparently was responsible for picking the breed of the dog (a husky) and his iconic name, King. Once the radio series ended, the concept was deemed appropriate for the content-hungry TV schedules (with previous inspiration The Lone Ranger enjoying a healthy eight year run over on ABC), with CBS putting the Hollywood-shot (with Colorado location work) Sergeant Preston of the Yukon right up against Clayton Moore on Thursday nights at 7:30pm - just in time before the small fry were sent to bed.
Sergeant Preston of the Yukon is one of those pop culture entities that everyone seems to "know" or "get" even if they've never actually seen the show. I had heard and read about the series prior to this DVD set, but it didn't play in my syndication market when I was a kid (although the similar The Lone Ranger certainly did). I have some childhood memories of my old man yelling, "On, you huskies!" as we pulled our toboggans back up the town's sledding hill, while the iconography of Yukon King and Sergeant Preston seem so familiar from other literary, film and TV reference points, such as London's Call of the Wild, DeMille's North West Mounted Police, and of course, Jay Ward's Dudley Do-Right. Watching my first episode of Sergeant Preston of the Yukon, and allowing for its similarity in execution to The Lone Ranger's production, I felt like I had already experienced the show on some fundamental level.
That being said, Sergeant Preston of the Yukon stays pretty rigidly to form, both in content and structure, resembling the tightly-crafted narratives of the radio plays that inspired it (if you close your eyes, it even sounds like those plays at times, with both the narrator and Sgt. Preston, speaking to King, putting out a lot of exposition to cover gaps in the narrative and to smooth over production lapses). This is storytelling for storytelling's sake, with the emphasis on moving the plot along and cramming it with as much action and business as possible; character development is virtually non-existent (Sgt. Preston is exactly who he is from the first episode to the last). The stories, many of them remarkably similar in set-up, execution and resolution - little morality tales about following the law, punishing the greedy, learning to accept differences in others, and of course, the eternal battle between good and evil - are cut to the bone in set-ups, maximizing the limited budgets while creating a sense of crude speed that's primitive and quite spirited. And like the stories with the same four or five plotlines reused and modified time and again here, the actual physical production of the series follows that ideal of thriftiness, with the same handful of buildings (shot in the ghost town of Ashcroft, Colorado) used for most of the exteriors, and the two or three interior cabin and "snowdrift" mock-ups utilized in each and every episode (quite a few location action shots are reused, as well).
All of which gives Sergeant Preston of the Yukon a rudimentary, coarse, comic-book vitality that's quite effective. Of course, even the most common entertainment with "nothing on its mind" has even a little something on its mind, and Sergeant Preston of the Yukon is no different. Aimed no doubt for family and kiddie audiences back in 1955, Sergeant Preston of the Yukon maintains the "cleft chin and true heart" heroism of Preston as an unassailable ideal - or what older viewers might describe as "when heroes were good and true and honest." "Simplistic" might be the first word that comes to mind when trying to describe the aesthetic outlook of Sergeant Preston of the Yukon, and certainly with the series' refusal to show the characters as anything other than cardboard cut-outs, one might leave it at that and label the show hopelessly outdated. But taken within its context, I found that simplicity - as I always do with these kinds of vintage TV shows - admirable. Certainly the messages put out by Sgt. Preston are worthwhile (if romanticized or idealized). Preston often encounters the indigenous people of Canada, and shows unfailing respect and fairness towards the Canadian Indians and Eskimos he is duty-bound to protect. Defending Yukon Indians as "honest, respectful" people, Preston makes clear, time and again, that the law of the land should unite the different people, not separate them ("We love our Red brothers, and we don't wish to see harm come to them"). Often times, it's unscrupulous Whites, mad with gold fever, who stir up the native people against the other settlers and the Crown; at one point, Preston says to a venal miner who's prejudiced against the Indians, "Savages? The only bad thing this tribe ever did, you taught them." And while respectful and inclusive of the Indians' customs and methods, he's not afraid to challenge those methods if they're used to harm or hold back the tribes from advancing within the new civilization (one episode has Preston calling out a medicine man who uses his powers to keep his tribe isolated, risking killing them in the process during a typhoid outbreak). Naturally today, most would question that notion of "civilization" pressed on a native people who may or may not have wanted rule by "the Crown" (as well as whether or not such an act was harmful or beneficial to the Indians). But considering Sergeant Preston of the Yukon's progressive attitudes concerning respect and tolerance for different cultures (during a time when supposedly all products of American pop culture were "racist" - according to most new critics who haven't really seen the material from that period), as well as its positive reinforcement of understanding people and valuing the law over the emotions of man, it's not particularly important if this is how it really was in the Yukon at that time - or indeed if it ever was, or will be, this way with anyone. These are idealized morality tales, and the central messages are positive.
Heavy stuff aside, Sergeant Preston of the Yukon is a lot of fun if you just concentrate on the simplicity of content and execution. Dick Simmons, looking like an Americanized David Niven, with that marvelous baritone voice of his, is physically perfect as the stalwart Mountie, Sgt. Preston. With his wavy dark hair, pencil-thin moustache, and bluer-than-blue eyes, he's the perfect idealized hero for young viewers who still have room for such figures in their imaginations. Yukon King (whom I don't believe had a "real" name for the dog performer), a beautiful Alaskan Malamute subbing for a husky, gets plenty of chances to show off his well-trained skills, although I have to say that many of the "fight" scenes where King is supposedly tearing a criminal to shreds aren't too convincing - the dog performer is obviously too docile to appear that threatening (he's often wagging his tail while the human actor is shoving King around!). The production is colorful in a primary way, with the visual effect of Preston's scarlet coat set against the Colorado blue skies and the pine green forests akin to a color TV test pattern. At first, during the first 15 episodes or so, I was somewhat disappointed because all the episodes take place supposedly during the summer months; I was primed for Preston to get King in harness and whip those huskies onward into the snow. The summer episodes' location work is still impressive, but I wanted a little of that Yukon winter coming through (I thought perhaps the series couldn't afford shooting in the more challenging snow environment). However, once the shift to winter comes at the halfway mark of the season, Sergeant Preston of the Yukon does quite a credible job of mixing snowy location work (that's obviously Simmons in some shots on the dog sleds) with "snow bank" mock-ups that don't look any more fake than the ones used in higher-budgeted Ice Station Zebra (and what is that fabulous black fur coat Preston is wearing? Mink? Sable? It's gorgeous). Some adults may quibble (or giggle) at the level of intelligence Yukon King displays here (seriously? He can understand Preston's complicated directions on not only where to drop a stick of dynamite...but when, too? I got lost trying to follow him), but kids won't care when the magnificent Yukon King leaps into the action. Taken an episode at a time (you don't want to watch too many of them in a row, or the similarities become all to obvious), Sergeant Preston of the Yukon provides solid, reliable action, along with simple but effective morality tales for the kiddies.
Here are the 33, one-half hour episodes included in the five-disc box set Sergeant Preston of the Yukon - Complete Season 1, as described on the back of the slimcases:
DISC ONE

Vindication of Yukon King (September 29, 1955)
When his beloved canine, Yukon King, is sought for killing a man, Preston searches for the real murderer, uncovering along the way a suspicious connection to a gold claim.
Rebellion in the North (October 6, 1955)
Preston must discover the truth when a man hoping to take over a local fur trade lies to a group of Eskimos to convince them to rebel against a local trader.
Trouble at Hogback (October 13, 1955)
When an Indian is killed during a gold delivery to a mine, Preston uncovers a plant to sabotage the mine's operations.
Incident at Gordon Landing (October 20, 1955)
Preston investigates a man who, while wanted for murder, attempts to steal money and gold from his brother's trading post.
Bad Medicine (October 27, 1955)
When the son of an Indian chief dies of a disease, the chief decides the white man is at fault and holds Preston prisoner as retribution.
Hidden Gold (November 3, 1955)
After a man is framed for gold theft, Preston and Yukon King track down the real criminals.
Last Mail From Last Chance (November 10, 1955)
Preston sets out to find a band of thieves who have stolen a mail delivery containing gold and cash and recover the stolen goods.
The Assassins (November 17, 1955)
When a crooked gold commissioner and his henchmen conspire to swindle innocent residents out of their gold-bearing land, it's up to Preston to stop them.
DISC TWO

Golden Gift (November 24, 1955)
A man receives a letter from his late uncle revealing the location of a gold chain. When the letter is stolen, Preston takes action.
Cry Wolf (December 1, 1955)
A man's gold is stolen and Preston must save him from crooks who don't believe he's telling the truth about the rich mine he says exists.
Girl From Vancouver (December 8, 1955)
Framed for murder by his business partner, a man relies on Preston to uncover the truth and prove his innocence.
Treasure of Fifteen Mile Creek (December 15, 1955)
Preston and Yukon King are hot on the heels of two crooks searching for a violin that contains a map to a gold claim.
The Boy Nobody Wanted (December 22, 1955)
While Preston is investigating a robbery, a boy arrives to live with his aunt. Problem is, she doesn't seem interested in having him around.
The Mad Wolf of Lost Canyon (December 29, 1955)
An inspector from Scotland Yard asks for Preston's help in apprehending a murderer.
One Bean Too Many (January 5, 1956)
Say cheese! A newspaper photographer seeking adventure finds more than he bargained for on his trip to the Yukon.
DISC THREE

Crime at Wounded Moose (January 12, 1956)
Preston gives an ex-convict, unjustly accused of involvement in some gold thefts, a dangerous assignment that will help clear him.
Dog Race (January 19, 1956)
Upon learning that a gambling syndicate has tried to fix the outcome of a dog sled race by poisoning the lead dog of the favored team, Preston enters the race to find the saboteurs.
Phantom of Phoenixville (January 26, 1956)
A young married couple arrives in the Yukon to take over the ghost town they've inherited. Unknown to them, a pair of dangerous gold robbers have made their headquarters there.
Trapped (February 2, 1956)
Preston must thwart a desperado who, after being nursed back to health by the wife of a prospector, repays the kindness by trying to take over the family's claim.
Justice at Goneaway Camp (February 9, 1956)
After a man is falsely accused of murdering a loan agent, Preston believes he knows the identity of the real killer and sets out to prove it.
Skagway Secret (February 16, 1956)
When his life is endangered by the leader of a gold-smuggling gang, Preston joins forces with U.S. Marines stationed in the Yukon to bring the gang to justice.
DISC FOUR

Relief Train (February 23, 1956)
An unseemly bargain is struck between two greedy renegades and a band of Yukon newcomers who strike it rich but are out of food.
Totem Treasure (March 1, 1956)
Two scientists studying an Indian tribe disappear. One is soon found. Preston and the missing man's son search for him amidst speculation that the mythic "Totem Treasure" may be more than mere legend.
One Good Turn (March 8, 1956)
Even Preston isn't safe when a man's partner wants to get rid of his brother-in-law and take his claim for himself.
The Cache (March 15, 1956)
While tending to his claim, a man with a coveted cache of food is overtaken by two thieves, prompting Preston to investigate.
Cinderella of the Yukon (March 22, 1956)
Preston and Yukon King investigate a couple of ex-cons blackmailing a widow to get her inheritance.
Go Fever (March 29, 1956)
Preston is in hot pursuit of murderers who killed a man for his valuable animal pelts.
DISC FIVE

The Fancy Dan (April 15, 1956)
Preston threatens to stop a boxing match if the fight promoter doesn't run a legitimate contest. He agrees to Preston's terms, but can our Mountie stop the promoter from running off with the prize money?
The Coward (April 12, 1956)
Preston pursues a group of vigilantes accused of murder, kidnapping and the destruction of a newspaper company.
Father of the Crime (April 19, 1956)
Preston investigates when a man resorts to stealing gold from a crooked landowner to help his brother settle a legal case.
Remember the Maine (April 26, 1956)
The show must go on, but Preston isn't having any of a group of entertainers' plan to rob a tavern and frame a former war hero for the crime.
Love and Honor (May 3, 1956)
The brother of a woman about to marry a Mountie robs a bank and asks that the Mountie then help him make his escape.
All is Not Gold (May 10, 1956)
A man exaggerates the value of his gold shipment and unwittingly helps Preston capture two thieves.
The DVD:

The Video:
Not having seen the 2006 Sony release of Sergeant Preston of the Yukon - Complete Season 1, I can't say if this edition is an improvement or just the same transfers. I can say that image clarity and color vary significantly from episode to episode. Some look quite clean and bright, with vibrant color and a relatively sharp image. Others, however, such as Rebellion in the North and Bad Medicine, for example, look quite faded and pink (some episodes have a sickly yellow or green tint, as well), with softer images. The Boy Nobody Wanted has an odd, short black and white insert shot, which suggests syndication prints were sought to fill in the gaps where needed. Print damage is evident with most episodes, to a degree, with scratches and dirt (as well as some tears, at times) coming up often. Still, overall, the quality was...okay, considering how this title probably wasn't archived.
The Audio:
The English mono audio tracks vary from episode to episode, as well, with some coming off tinny and squelchy, and others sounding just fine, with minimal hiss. Again, I would assume these variations come from the original materials used, not the actual transfer process. No subtitles or close-captions are available.
The Extras:
No extras are available, which seems a strange move if Sony wanted to entice double-dippers or newcomers who may wonder why this is getting re-released after only two years.
Final Thoughts:
Action-packed, square-as-the-day-is-long, with a simplicity borne out of primitive storytelling. Sergeant Preston of the Yukon - Complete Season 1 is a natural for nostalgic vintage TV fans, and not at all a bad choice for younger kids who will no doubt love Yukon King and his exciting adventures. I'm looking forward to Season Two. I recommend Sergeant Preston of the Yukon - Complete Season 1.
---
Paul Mavis is an internationally published film and television historian, a member of the Online Film Critics Society, and the author of The Espionage Filmography.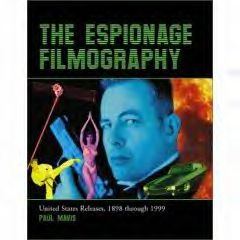 ---
C O N T E N T

---
V I D E O

---
A U D I O

---
E X T R A S

---
R E P L A Y

---
A D V I C E
Recommended
---
E - M A I L
this review to a friend
Sponsored Links
Sponsored Links